San Diego is filled with outstanding beaches, snow-capped mountains, and expansive forests—all merely a short drive away. Indeed, there are numerous picturesque drives to take in this gorgeous Southern California city; whether you're seeking a one-hour cruise to enjoy solo or a lengthier road trip with the family, San Diego has the perfect scenic route for you. Although San Diego's 59-Mile Scenic Drive is among the most popular, there are a few others worth mentioning.
The Best Scenic Drives in San Diego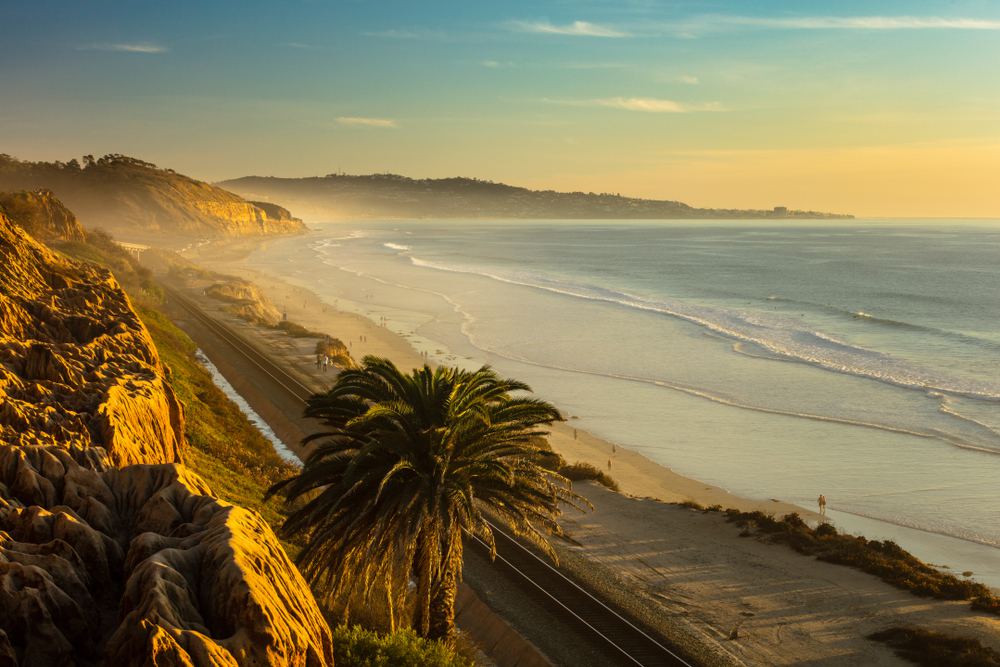 Pacific Coast Highway
The iconic Highway 1, also known as the Pacific Coast Highway, follows the beautiful California coastline from Dana Point all the way up to Mendocino. A favorite among tourists and locals alike, the Pacific Coast Highway can easily provide you with an entire day (or even a full week_ of fun and adventure, thanks to the numerous destinations you'll pass along the route. While the famous Big Sur coastline and the redwood forests of Northern California are the well-known gems on this road, there are many other scenic views to catch your eye in San Diego.
Highway 1 charges by the pristine San Diego beaches and spans 70 miles, stretching from La Jolla to Oceanside before continuing up the coast toward L.A. You can stop by Torrey Pines for a spectacular coastal hike or for a round of golf at one of the best golf courses in California. In Del Mar, you can continue your exquisite oceanside adventure with your furry best friend by visiting the town's dog-friendly beach. With so many other attractions for you and your family to visit along this highway, such as Legoland in Carlsbad, this road trip will be far from boring.
North County Backcountry Ride
North County is yet another one of San Diego's unique landscapes. You can explore Northern San Diego's beauty through this backcountry route. The desert region provides visitors with a distinctly different view. Start your trip in Escondido by driving along Highway 78, where you'll pass by charming, locally owned storefronts that offer a wide variety of old-fashioned treats. You can turn this route into a loop by taking Highway 79 all the way to Highway 76 and finally reaching the top of Palomar Mountain. Head back down Highway 76 and connect to Interstate 15, which will lead you back to Escondido.
If you're coming from bustling downtown San Diego and want to extend your journey, make a road trip out of it. Planning your escapades is almost always half the fun, and on this picturesque car ride, you can stop at various restaurants and rest your head at hotels along the way.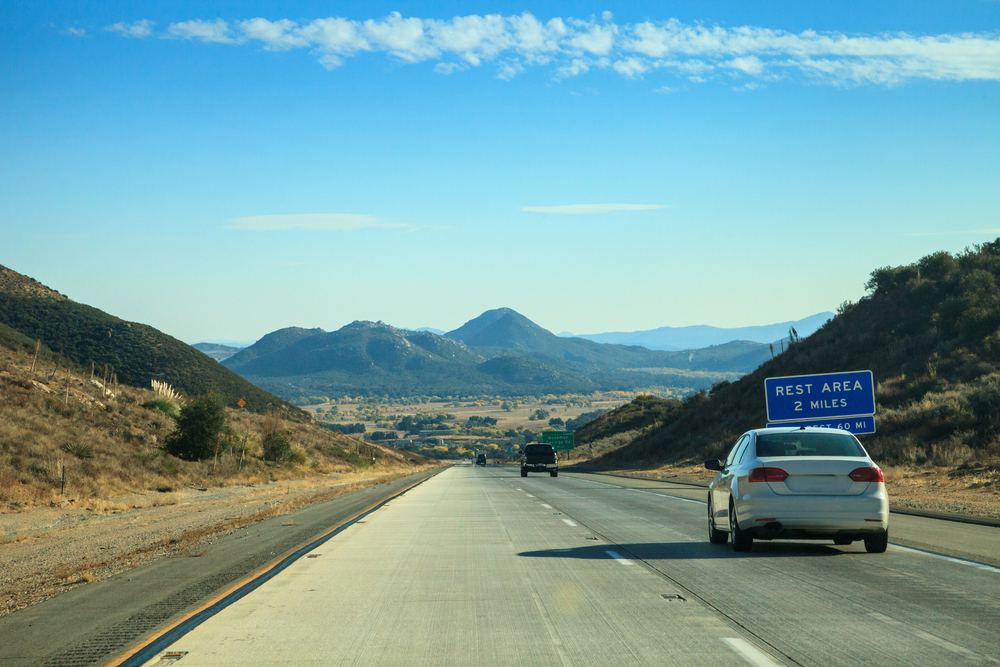 Sunrise Scenic Byway
Particularly beloved during the spring and summer months, this 24-mile road takes travelers through East San Diego and up to Laguna Mountain Recreation Area. This route winds through the Cleveland National Forest, bordering the Pacific Crest National Scenic Trail. Begin your trip at the junction of I-8 and Country Road S-1, and follow it all the way to Laguna Mountain. Once you reach your destination, you will be captivated by the scenic beauty of the park. After that, you can hop back into your car and ride back north on S-1 until you get to Highway 79.
With an expanse of green meadows, summits blanketed in an abundance of forests, and remarkable desert views that overlook Anza-Borrego Desert State Park—the largest California state park—the Laguna Mountain Recreation Area will surely have you appreciating all that nature has to offer, no matter what time of year your visit.
The Palomar Mountain Loop
Palomar Mountain is home to Palomar Observatory, one of the nation's best observatories. Driving along the Palomar Mountain Loop on the way to the observatory will give you an unbelievable view of the Southern California city. Start your drive on Highway 76 at Lake Henshaw, and get ready to take in the gorgeous scenery as you head up the mountain. Once you reach the top, you will have to head down the sharp western side of the mountain, where you can witness the beautiful panoramas. (Be sure to pull over and take some photos along the way.)
You will also want to make a pit stop at Palomar Mountain State Park, where you can enjoy hiking, picnicking, wildlife viewing, and fishing at Doane Pond. Check out the spectacular vistas with the ocean to the west and desert to the east, and breathe in the scents of pine, fir, and cedar trees.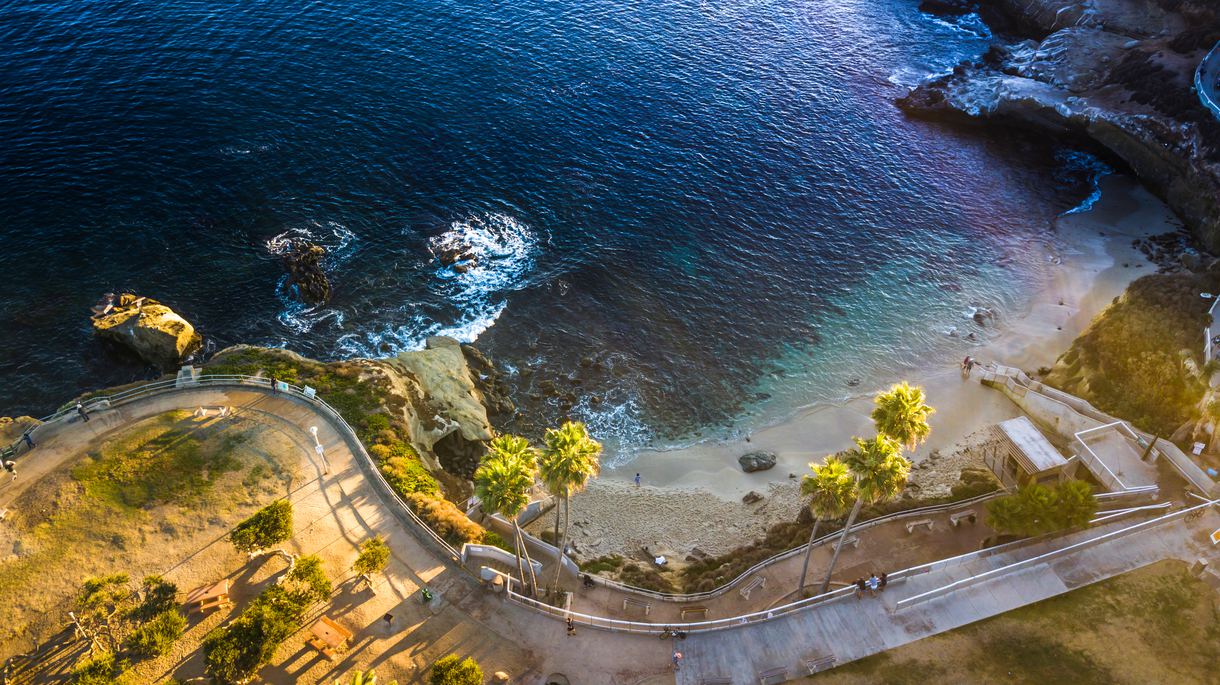 59-Mile Scenic Drive
If you are looking for a splendid view of everything San Diego has to offer, the 59-Mile Scenic Drive will take you through some of the highlights. From Point Loma, to Ocean Beach, to La Jolla, to Balboa Park, this loop route reveals the city's charming neighborhoods, unique attractions, and natural wonders. You can admire a splendid view of Mexico and its surrounding mountains along with the fabulous San Diego skyline and shimmering ocean. The full coastal drive takes about three hours to complete, however, it can be broken up into smaller sections for you to explore at your leisure.