Given California's high rent and home prices, many parents need to work full-time to make ends meet, so they depend on daycare or nanny services during the workweek. The weekends, however, present a world of possibilities and give families the chance to spend quality time together. No matter where you live in California, there are likely plenty of things to do within an hour's drive of your home—and many more faraway destinations await for your next summer vacation or winter break. Since there are innumerable things to do with kids before they grow up and move away for college, for jobs, or in search of new adventures, it can be hard to decide where to go as a family and which experiences are best for a day out with the nanny.
From cultural activities that instill a better perspective of the world, to outdoor recreation that teaches an appreciation for nature and the many ecosystems throughout California, to the fun-filled amusement parks that create lifetime memories, there are endless opportunities for learning and exploring.
While the national parks, lakes, and theme parks throughout the state call for several days of adventure, there are many iconic museums and attractions that can be seen in a single day and can make for entertaining, educational field trips that children can do with their nanny or caretaker.
National Parks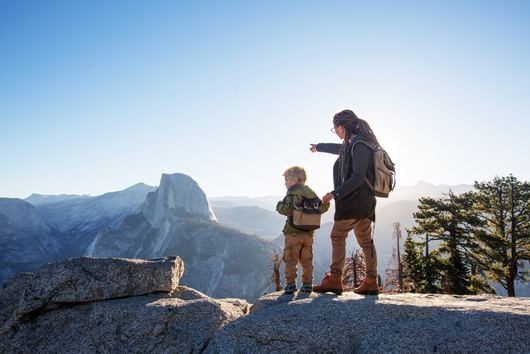 Lassen Volcanic National Park
Pack your binoculars, hiking boots, and sense of adventure before making your way to Lassen Volcanic National Park. Filled with volcanic gas vents, mud pots, and seafoam-colored pools of boiling-hot water—which are heated by a body of molten rock beneath Lassen Peak—this sprawling expanse is a spectacle that shouldn't be missed.
Make sure to stay on the trails and boardwalks that wind through the natural attractions, as thin slices of land keep acidic ponds of water out of sight, and hydrothermal cauldrons and vents are plentiful. Hike along Warner Valley to the Devils Kitchen loop, where you can take in bubbling pools, steam vents, and mudpots. Then, head out to Boiling Springs Lake to view a tumultuous, 125-degree lake and to watch the humongous steam vent of Terminal Geyser burst from the center of a creek.
Yosemite National Park
A California classic, Yosemite National Park offers plenty of activities for the whole family. The hundreds of miles of hiking trails swerve past towering ancient sequoias, meander along the edges of emerald waterfall pools, border rushing rivers, and traverse meadows of wildflowers.
Stay in a cabin or in your own tent on one of the campsites scattered throughout the park, and spend the days exploring the various trails, gazing at the majestic beauty of the rock formations, and taking photos of the natural wonders.
You and your kids will always remember a hike to the top of Half Dome, a picnic along the river bank, a swim near a flowing waterfall, making smores at dusk, and the road trip games played on the way there.
Joshua Tree National Park
The Mojave and Colorado Deserts collide at Joshua Tree National Park, providing scenery unlike any other park in the state.
Stay at one of the intentionally designed home shares in the surrounding area or at one of the park's campsites where hiking and biking trails are readily accessible. Make sure to catch the sunrises and sunsets that make this region so stunning, take pictures of the famed Joshua trees—which are only found in a few places on the entire planet—and visit all of the sites that exemplify the different landscapes of Southern California.
Lakes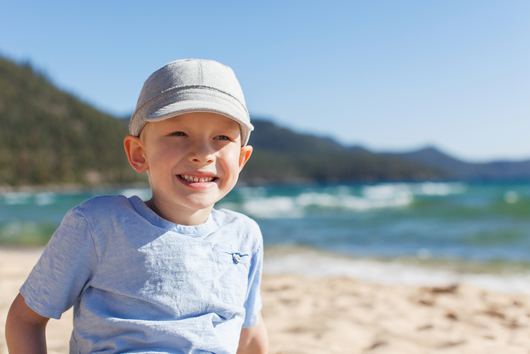 Lake Tahoe
No matter the time of year, Lake Tahoe is an absolute must-see location. From the snowy peaks meant for skiing, to the crystal-clear lake perfect for paddleboarding, to the mountainous terrain great for hiking, the Tahoe area is ideal for trying new things with your family.
Get out on the water by going for a boat ride, a swim, or a kayaking excursion in the warmer months, or enjoy sledding or a snowball fight during the winter. Regardless of when you go, make sure to explore the quaint neighborhoods and dine at the incredible eateries that make Tahoe the ultimate vacation destination.
Lake Shasta
Breathe in the fresh mountain air and prepare for incredible memories at Lake Shasta. Surrounded by lush and vast wilderness, Lake Shasta is a great getaway for all kinds of water sports; from wakeboarding, to swimming, to fishing, to waterskiing, there are innumerable opportunities for kids to improve their skills and have fun without technology.
Echo Park Lake
Surrounded by the urban environment of Los Angeles, Echo Park Lake is the perfect natural escape after exploring the crowded museums and attractions of the region. Pack a picnic for lunch, and jump on a pedal boat to ride around the lake for a day's adventure you won't soon forget. Unlike the other lakes we love in California, Echo Park is easily accessible for a single day trip, so hop in the car and head out into nature before making your evening reservations.
Amusement Parks
Amusement parks are a staple of Southern California and a delightful way to stay entertained without electronics. Disneyland, Legoland, and Universal Studios all offer thrilling rides and shows, provide fun insights into the culture and history of the area, and present the work of brilliantly creative minds. Disneyland, in particular, is a classic destination undoubtedly worth visiting for its magical spirit and sense of wonder.
Everyone in the family can act like a child again and let loose in a way that only amusement parks allow.
Museums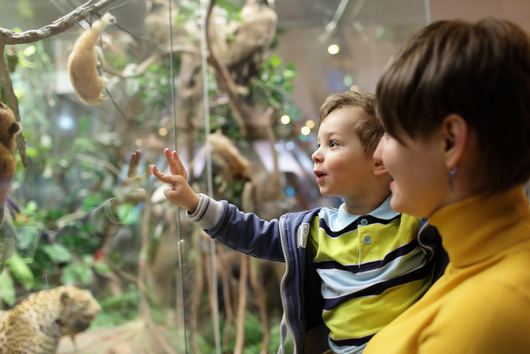 Renowned California museums such as The Getty, La Brea Tar Pits, and Exploratorium are wonderful places for a childcare field trip.
The Getty
If you live in the Los Angeles area, having your nanny take your children to The Getty will provide them with a valuable educational experience that can help shape their young minds. While looking at the awe-inducing creations, children learn about the world and about career paths they may not have otherwise considered; art galleries have long inspired new generations to follow their dreams, whether they aim to become a painter, sculptor, curator, or docent. When in childcare groups, little ones are able to discuss the paintings with others, too, allowing them to express themselves and bond with kids their age.
La Brea Tar Pits and Museum
Like the art institutions in L.A., the La Brea Tar Pits and Museum presents an incredible opportunity for learning. This natural history museum explores the region's past and exposes children to another view of the city that is often forgotten. Visiting as a family is a great way to learn together, but having your kids to go with their daycare group enables them to socialize, learn proper behavior in a large group setting, and share what they learned with you at the end of the day.
Exploratorium
This San Francisco museum is incredibly interactive and lets kids learn in a more physical way. Featuring exhibits on everything from basic psychology to electricity, the Exploratorium is made for children to explore together. Nannies can help guide the young ones through the museum and present the material in a different way than the parents, which can help them absorb all the material.
Attractions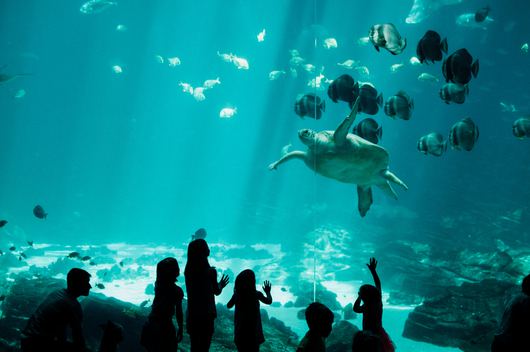 The Golden Gate Bridge and Fisherman's Wharf
Taking the kids on a summer bike ride across the Golden Gate Bridge is an iconically California experience and is sure to provide an educational opportunity. Children get to see San Francisco's urban environment in a new light, admire the color of the bridge up-close, and learn a thing or two about the architectural elements that go into creating an expansive bridge—all while getting some exercise. Make sure to take a picture by the bridge so you preserve the memory. After the ride, reward yourselves with a bowl of clam chowder at Fisherman's Wharf and a game or two at the Musée Mécanique.
San Diego Zoo
Located in the heart of San Diego near Balboa Park, the San Diego Zoo is an amazing outing that children will love to do time and time again. Whether visiting with the entire family, a childcare group, or a nanny, kids of all ages can learn about the animals, sounds, and habitats of various worldly regions. With entertaining shows and exhibits galore, the zoo doesn't feel like a learning experience but provides valuable information about protecting the environment and the species that occupy every area around the globe.
Monterey Bay Aquarium
Much like the San Diego Zoo, the Monterey Bay Aquarium provides excellent insights into animal life and the preservation of ecosystems. Learn about the various aquatic creatures and see how our actions impact their wellbeing, all while appreciating the brilliant colors and habitats of the ocean's inhabitants.
There are plenty of California attractions to keep you and your family busy throughout the years—including the Griffith Observatory, the Winchester Mystery House, the Santa Monica Pier, the Venice Beach skating paths, the pristine beaches of Del Mar, the Hollywood Walk of Fame, and The Last Bookstore—to name a few. While these destinations are best enjoyed as a family, they are still great options for outings with the nanny or daycare group. No matter where the seasons take you in California, making memories together is always a wonderful way to spend time with children.