It's getting hot in here—literally. After a seemingly long and chilly winter, the summer sun is now beating down and stifling residents across California with its sweltering heat (I mean, temperatures are reaching 90 degrees in Los Angeles and surpassing 100 degrees in parts of the Bay Area). Ice-cream shops have lines out the door, pools are packed, and AC units are on full blast.
Luckily, you can escape the uncomfortable temps with a trip to the coast and take your canine sidekick to one of California's best dog-friendly beaches. You can relax and work on that summer tan while Fido plays in the water and runs along the shore. Both you and your pup are bound to enjoy the mini excursion, so pack up the ice chest with beverages and snacks, grab the beach umbrella and towels, throw some dog treats and a water bowl in your bag, and hit the beach with your furry best friend.
Best Dog Beaches in the San Francisco Bay Area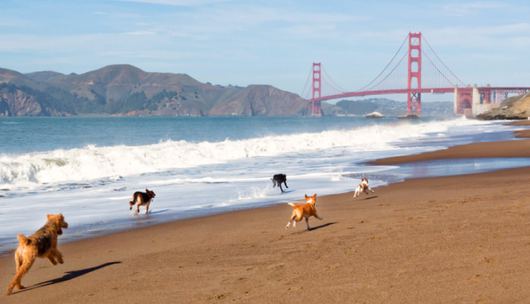 Baker Beach
Enjoy spectacular views of the famed Golden Gate Bridge while you and your pooch explore the coast at Baker Beach, a one-mile-long ribbon of sand tucked below the rugged cliffs along the Presidio's western shoreline. While the views here are hard to beat, it's also difficult to escape the crowds, so if you're craving solitude, this popular beach may not be the spot for you. But Baker Beach is certainly a top choice for San Francisco residents in need of some refreshing ocean air on a warm summer afternoon; just make sure to arrive early in the day to snag a parking spot. Pups are permitted off-leash if you're north of Lobos Creek, but they must be on a leash south of Lobos Creek.
Crissy Field
To take in more vistas of the Golden Gate, Alcatraz, and Marin, Crissy Field is a scenic perch with a dog-friendly beach that attracts droves on the weekends. Find a spot on the sand, then let your water-loving pup splash and frolic in the surf while you lay out on a beach blanket with a good book. After Fido's had his fun, rinse him off in the convenient doggy shower area located next to the restrooms before loading him in the car. The hardest part will be convincing him to get in there to go home!
Fort Funston
Widely considered San Francisco's mini Big Sur, this former military fortress boasts breathtaking ocean vistas, rolling sand dunes, and fragrant eucalyptus groves—serving as a scenic escape for city slickers, particularly those with four-legged roommates. Walk through ruins and along the shore with Fido, who is free to wander off-leash, as you watch the waves crash against the golden sands. Spend the afternoon by the water, then venture up to the bluffs to meander along the various coastal trails overlooking the beach. Linger until the sun starts to sink into the horizon—and watch the hang-gliders and parasailers soaring overhead—to end the day with your dog on a beautiful note.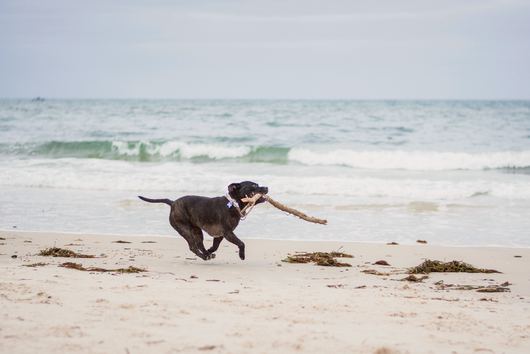 Esplanade Beach
For some off-leash fun, look no further than this stretch of sand along the Pacifica coastline. The picturesque hideaway is merely a 20-minute drive from San Francisco but boasts a relaxed, peaceful vibe that makes you feel worlds away from the big city. Esplanade is also the only dog-friendly beach that is "officially" leash-free, which means you don't have to worry about passersby giving you the stink eye when they see your pooch freely running and roaming around. Revel in the peace and quiet (and maybe even spot a whale or two) as you soak up the gorgeous views and watch Fido romp in the sand. Make sure to pack a jacket, though, especially if you plan on staying late to watch the sunset.
Buchanan Dog Beach
Located in Albany, this small beach is perfect for water dogs. Let Fido swim in the cool waters with you, explore the shores off-leash, and have fun with the other pups. If your four-legged best friend still has some energy left after your active beach day, follow the waterfront trail over to the Albany Bulb—an artsy, dog-friendly area that used to be a former landfill—and admire the vibrant graffiti art, creative installations, and unique sculptures dotting this hidden spot in the Bay Area with your canine companion.
Best Dog Beaches in the Los Angeles Area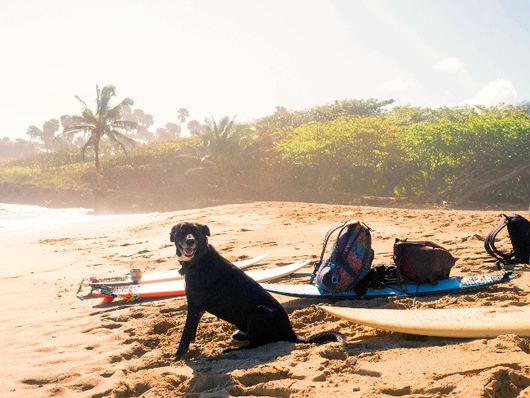 Rosie's Dog Beach
This four-acre stretch of sand is arguably the most popular off-leash dog beach in Los Angeles County, serving as a paradise for canines and owners alike. Fido can splash around in the waves and run along the shore while you throw a Frisbee, build sand castles, and sunbathe. Located off of Ocean Boulevard in Long Beach, Rosie's is typically full of dogs but never too packed that you'll feel cramped for space. Plus, the beach has all the essential amenities such as trash cans, poop scoops, bags, and restrooms. There's also a large parking lot for beachgoers, but it costs 25 cents every 15 minutes, so try coming after 5 p.m. when parking is free.
Huntington Dog Beach
A little further south, in Orange County, is another hot spot for canines: Huntington Dog Beach, where pups are free to roam and swim between Seapoint Street and 21st Street. Although there are signs indicating the city ordinance of a six-foot leash requirement, this rule is generally not enforced for dogs that are socialized and well-behaved. So if your dog plays well with others, you won't have anything to worry about—just make sure your pup stays within sight and under control at all times. If you packed a picnic, there is an expansive lawn dotted with tables where you can soak up the gorgeous coastline while savoring your snacks. And when you're ready to head home, you can wash off the sand from your feet (and Fido's paws) in the beachside showers.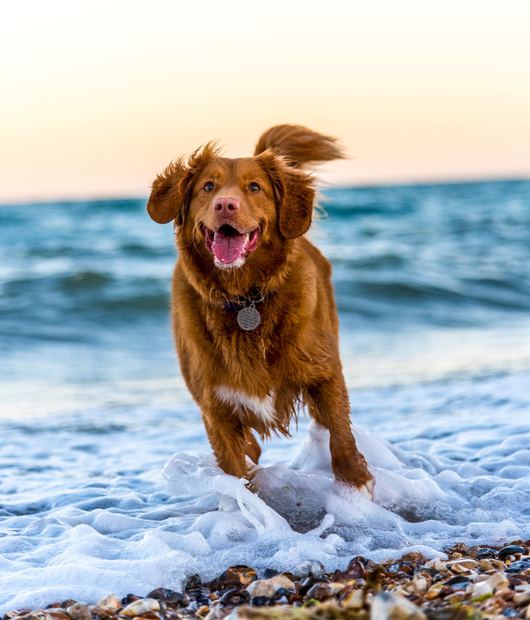 Leo Carrillo State Park
Nestled along the Malibu coast, this scenic park stretches into the Santa Monica Mountains National Recreation Area and features 1.5 miles of beach, making it a top destination for swimming, surfing, windsurfing, and beachcombing. Pooches are also welcome to join their owners in the parkland, though they must stay on-leash in the three separate beach areas. North Beach is tucked away in the picturesque parkland and offers an ideal place to take a leisurely stroll with Fido. Further down in the park lies South Beach, where you'll find a cavernous, rocky area with tide pools and caves to explore. But if seclusion is what you seek, head to Staircase Beach, a less well-known area of Leo Carillo that welcomes furry friends. No matter which spot you visit, you and your dog are bound to enjoy the iconic Malibu scenery and sun-soaked sands.
Stay tuned for the best dog beaches in San Diego!