By

California.com
August 15, 2020
Some of the best California cities to live in aren't where you think they are. Living and working in a community where you feel safe, comfortable, and relaxed is integral to your success, so come to NorCal's Shasta County to live your best life. The countless things to do in Shasta, the region's serene scenery, and the opportunities for career growth will have you thriving.
Since working remotely is becoming the "new norm," you may have the opportunity to work from anywhere if all you need is a good Internet connection. And if you think you'll feel the happiest living where you're embraced by nature—instead of the chaos of a big city—then Shasta County might be the place for you. Shasta County cities and towns enable a great work-life balance regardless of your employment status. Whether you're working remotely or are ready for new challenges, leave the hustle and bustle behind and begin your journey to inner peace and fulfillment in this tranquil region.
Shasta County's population is about 180,000 people, who are spread out over approximately 3,800 square miles. Given the region's incredibly low population density—one-fifth of the average California population density—a laid-back life here is not challenging to achieve. The median home price is also nearly half of the state's median house price, while the median rent is 33 percent lower than the state's median rent prices. Since the cost of living in Shasta is lower than the U.S. average, moving to Shasta may be a smart choice, especially if you're tired of trying to save money in an expensive city and are looking for a more affordable place to live in California.
the best places to live in shasta county
Depending on your expectations for this new life chapter, the best places to live in Shasta County vary. Whether your focus lies on art, nature, education, or entertainment, Shasta has an option for all. Visit the Shasta-Cascade to see what you're missing out on for yourself.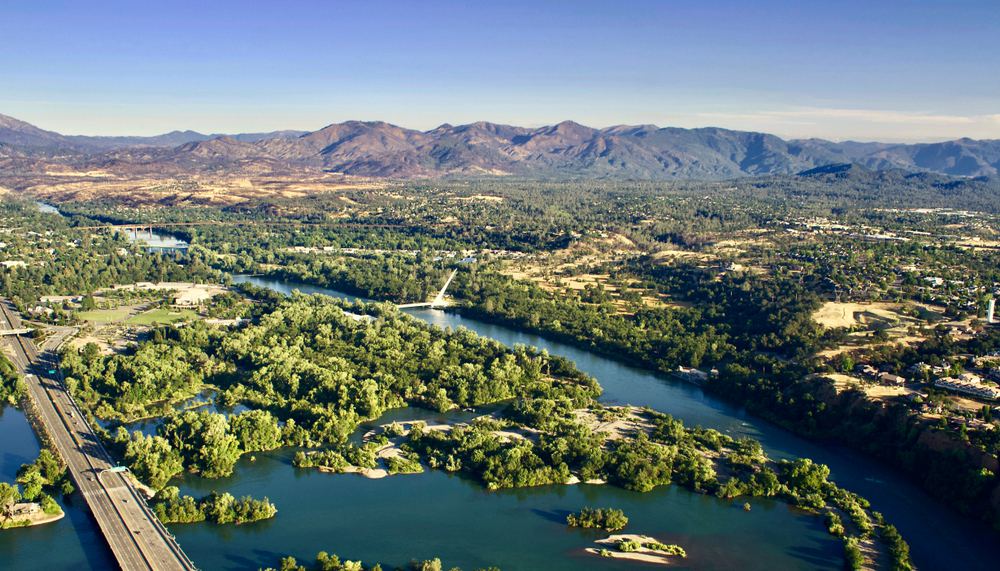 Population: 154,801
Median income: $51,097
Median home price: $244,200
Median gross rent: $1,015
Situated alongside the Sacramento River—just 20 minutes away from Lake Shasta—Redding acts as Shasta County's seat. The town is home to many healthcare, educational, and hospitality professionals. Numerous tech companies are emerging in the dynamic metropolitan area, creating innovative job opportunities. While the local economy sees continuous growth, the cost of living is still 60 percent lower than in San Francisco, so settle in Redding now to guarantee yourself a higher quality of life.
Art and culture are synonymous with Redding; it's become one of California's Cultural Districts. Restaurants, cafes, and coffee shops are found on every corner. "The Jewel of Northern California" is proudly home to Simpson University and Shasta College, too. Residents can also stroll the cantilever spar cable-stayed Sundial Bridge, hike through the Shasta-Trinity National Forest, and experience big-city vibes while residing in the middle of nature.
Shasta Lake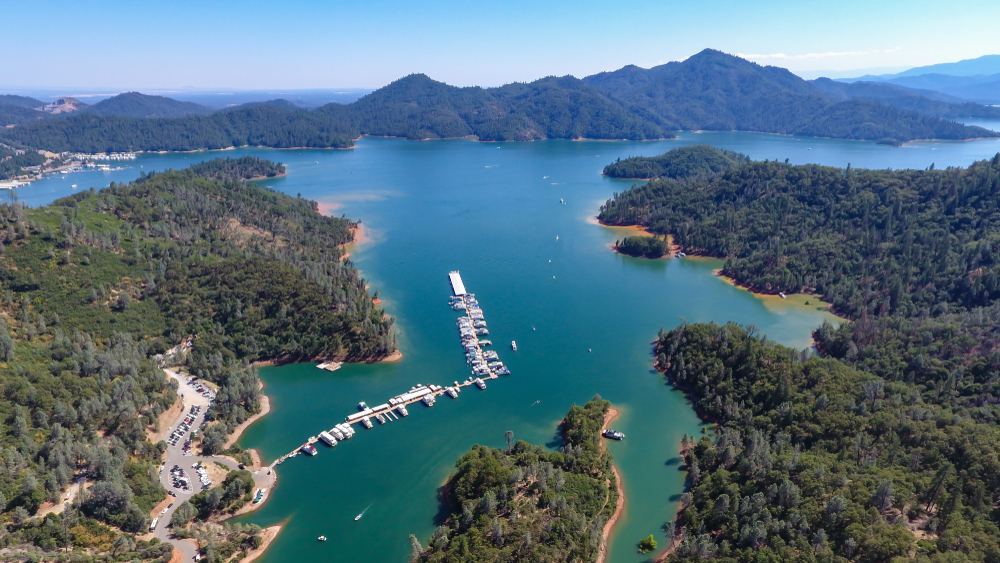 Population: 10,142
Median income: $51,836
Median home price: $175,600
Median gross rent: $1,122
Located on Lake Shasta's southern shore, Shasta Lake has the lowest cost of living in Shasta County. Become one with nature and leave your worries behind here—the perfect escape from a globalizing world. Winters in this mountain-surrounded city are mild, while summers are prime time to enjoy water sports at one of California's best lakes and camping destinations.
The city welcomes thousands of visitors year-round, making it a great place to host an Airbnb and work in the tourism sector. A 15-minute drive takes you to downtown Redding, where options are aplenty for your career or nightlife. A lifestyle in Shasta Lake is really all about busy workdays, quiet evenings by the shore, and transcendental weekend experiences in the forest.
Anderson

Population: 10,265
Median income: $38,915
Median home price: $181,400
Median gross rent: $889
Life in Anderson is about the simple things: family, community, and nature. The cost of living in Anderson is almost as low as it is in Shasta Lake. Venture to the Shasta-Trinity Forest on weekends, and spend time at Anderson River Park on school nights—softball, boating, fishing, tennis, basketball, bocce ball, or a romantic picnic awaits you.
Thanks to its tight-knit community, Anderson is one of the best Shasta County cities for families. Located along the western shore of the Sacramento River, south of Redding, the affordable and peaceful town is an ideal place to start a family and raise children. With about 25 percent of its residents being younger than 16, the community strives to create an exemplary school environment. Sign your youngsters up at the Cascade Union Elementary School District, Anderson Union High School District, and Anderson New Tech High School. Rest assured, your children will have a good education, and you'll have a healthy work-life balance.
Shasta County is home to many small towns and communities where life will treat you well. Other smaller communities worth checking out include the beautiful mountain town of Burney, Castella (near Castle Crags State Park), Bella Vista (near Shasta College), Fall River Mills (which has its own airport), Big Bend (where you can indulge in hot springs), and Old Station (located inside of the majestic Lassen Volcanic National Park).