By

California.com
January 25, 2021
As California mitigates health risks during the COVID-19 pandemic, some travel restrictions may remain in certain communities. Call the local and regional tourism offices to learn more about the restrictions in your intended destination. Thank you for reading, and stay safe.
Checked off every landmark and must-see attraction from your NorCal bucket list? It's time to hit the beach. The best Northern California beaches offer a wide variety of activities fit for every type of beachgoer.
Whether you're looking to find the best Bay Area surf spots, discover the most unique beaches in California, or take your furry friend to a top dog-friendly beach, Northern California beaches have you covered. So pack some snacks, slather on the sunscreen, and pick your spot—wherever you decide to go, adventure awaits.
The best beaches in Northern California for swimming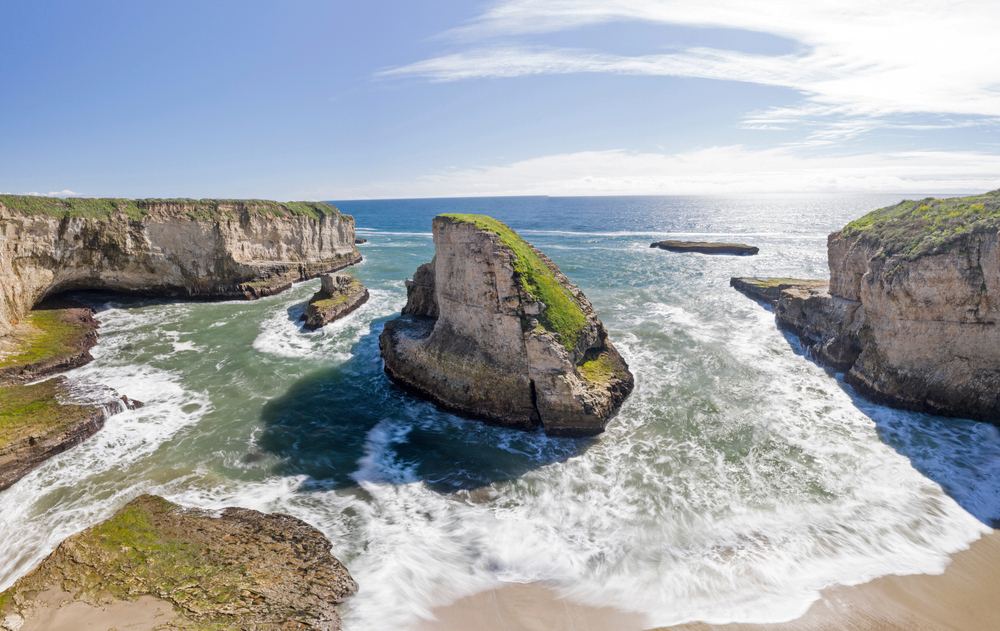 Shark Fin Cove
Though it may be small in size, Shark Fin Cove is among the best beaches in Northern California for swimming—and more. A massive rock shaped like a shark tooth stands guard over this sandy cove in Davenport (hence the name).
You'd think this unique geological feature, visible from Highway 1, would be the only one at this unique California beach, but there are many others. Visit during low tide, and you'll be able to go inside several arches and tunnels that are scattered across one of the most beautiful beaches in California.
Caspar Headlands State Beach
This sandy spot sandwiched between Doyle Creek and Caspar Creek is one of the most picturesque beaches in NorCal. The must-see California state beach, situated midway between the cities of Fort Bragg and Mendocino, is safe for swimming, has amazing views, and is rarely crowded.
Although it is advisable to go here in the summer, you'll be able to enjoy Caspar Headlands State Beach in the winter as well. Head to the north end of the beach to find hiking trails that lead to coastal overlooks, and head south for majestic vistas of Caspar Anchorage Cove.

The best beaches in Northern California for families

Capitola Beach
Located a mere 45-minute drive away from Silicon Valley, Capitola Beach serves as an incredible escape from busy city life. As one of the best beaches in Northern California for families, Capitola is bound to be a hit with kids. There are numerous restaurants within walking distance of this beach, and bathrooms and outdoor showers are amongst the many amenities here as well.
If you plan on visiting towards the end of summer, you might want to align your trip with the annual Capitola Art and Wine Festival held at this Northern California beach. What's better than discovering amazing art, spending time by the water, and savoring tasty food with the fam?
East Beach
Children play in the waters, dogs run off-leash, and plenty of families picnic at San Francisco's East Beach, one of the best family-friendly beaches in California. Located at the east end of Crissy Field, this top Bay Area beach offers unbeatable views of the Golden Gate Bridge, Angel Island, Marin Headlands, and Alcatraz Island.
Besides swimmers, joggers, sunbathers, and bicyclists, you'll also find a large number of people frequenting this mega-popular beach for kitesurfing. With so many activities, the fun never stops at East Beach.

The warmest beaches in Northern California for sunbathing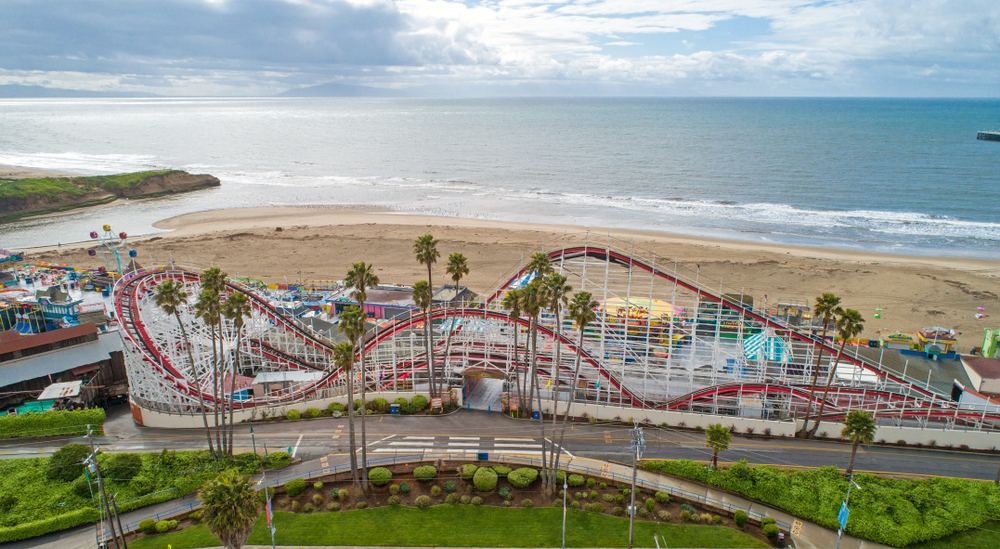 Santa Cruz Main Beach
While SoCal is better known for its warm weather and sandy coasts, Norcal boasts some of the best winter beaches in the Golden State. Santa Cruz is a must-visit destination for anyone who hasn't been yet, so add it to your Central Coast beach road trip itinerary. As one of the warmest beaches in Northern California, Main Beach is an ideal spot for sunbathers looking to get their tan on in NorCal.
If you get bored of lounging on the warm sands of this Northern California beach, take a stroll along the iconic Santa Cruz Beach Boardwalk for the ultimate surge of nostalgia. Shops, carnival games, eateries, and an amusement park line the old-school boardwalk, providing something for everyone to enjoy.
Scott Creek Beach
Clean sands, gorgeous sunsets, and interesting wildlife—Scott Creek Beach in Davenport is undoubtedly one of the nicest beaches off Highway 1. Nestled between two large bluffs, this Northern California beach allows you to spend a calm day sunbathing and exploring the area. The north end of the beach features a rocky point, great waves, and awesome tide pools.

Secluded beaches in Northern California for escaping the crowds

Black Sands Beach
Black Sands Beach is a south-facing beach in the Golden Gate National Recreation Area that not everyone knows about (yet). Only reachable after a short hike along some wooden steps, this secluded beach in Northern California is a striking sight to behold.
Whether you decide to impress your partner by planning a romantic picnic here or go alone for a peaceful, calming adventure away from any crowds, this secluded beach in California will take your breath away and have you coming back again in no time.
Marshall's Beach
Thought you couldn't get coastline views of the Golden Gate Bridge without running into big crowds (Baker Beach, we're looking at you)? Think again. Marshall's Beach, located at the end of the Batteries to Bluffs Trail, is one of our favorite secluded beaches in Northern California featuring views for days.
This hidden gem of sandy serenity in San Francisco is only a short drive from the city, but it feels like worlds away. It's also one of the best places to catch the sunset, so time your visit accordingly.

The best beaches in Northern California to find seashells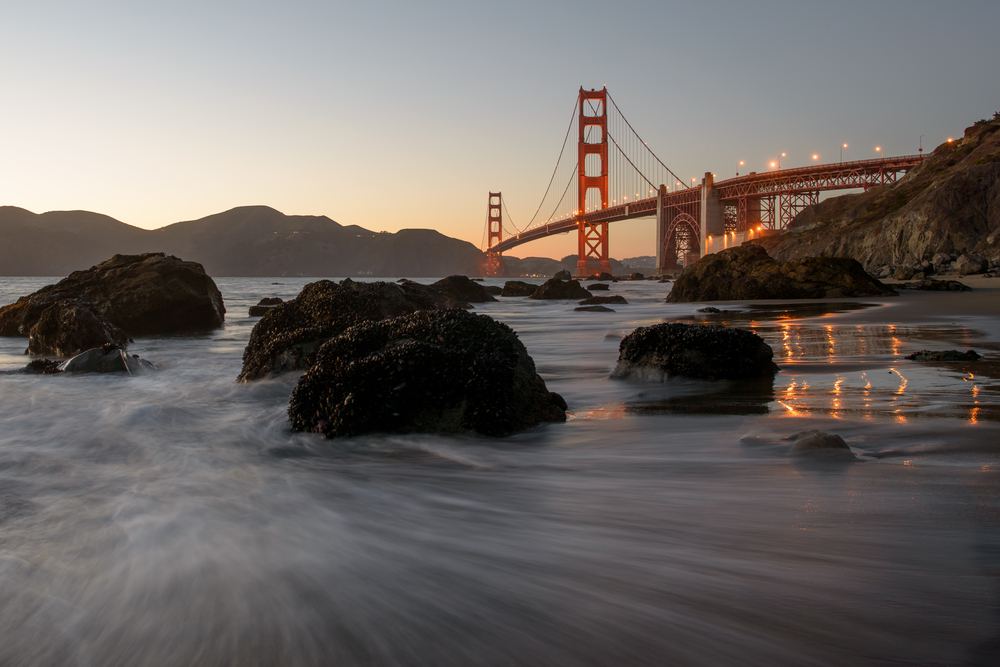 Ocean Beach
This wide, sandy beach spanning the entirety of San Francisco's Sunset District is among the best beaches in Northern California to find seashells. So take a stroll along the water, and comb for seashells—just don't forget to look up occasionally to take in the incredible vistas of the extensive coastline. After a successful day of collecting seashells, sit down on the sand and reward yourself by admiring the golden hues and deep reds of the sunset over this beautiful beach in NorCal.
Shell Beach
Shell Beach is a narrow, rocky beach along the Sonoma County coast, near the small town of Jenner. The rocks and tide pools at this Northern California beach are top-notch when the tide is low. This spot is great for fishing enthusiasts as well—there are a variety of fish swimming under the waters, and some of the rocks along the shore are completely covered in mussels. Care for a beautiful hike? The Kortum Trail bordering the bluffs is an excellent find, leading you north to Blind Beach.

Top Norcal surfing spots

Salmon Creek Beach
Surfing aficionados, get ready to hit up the most popular surf spot in Sonoma County—the meaty beach breaks at Salmon Creek resemble that of Ocean Beach in S.F. Heavy sandbar peaks are the norm at this NorCal surfing spot, so it gets crowded but usually offers room for all. Although the waves here are rarely flat and you can surf year-round, the swell is more consistent during the winter months.
Patrick's Point
Patrick's Point offers some of the biggest, gnarliest waves in Northern California. While Salmon Creek is more accommodating to beginner surfers, those looking for challenging waves should head to this NorCal surf heaven. The crushing left waves here are bumpy, powerful, and long, so they should be tried by experienced surfers only.