By

California.com
December 18, 2020
As California mitigates health risks during the COVID-19 pandemic, some travel restrictions may remain in certain communities. Call the local and regional tourism offices to learn more about the restrictions in your intended destination. Thank you for reading, and stay safe.
Whether you're seeking solitude or lively shores; shallow waters or impressive surf spots; decked-out boardwalks or wild coastlines—the Golden State has it all. If you ask anyone to describe California, the word "beach" is bound to be included. The Golden State's 800-plus miles of coastline are to thank for the presence of some of the world's most beautiful beaches.
The prettiest beaches in California
Itching to hit the beach? Get ready to grab the mineral sunscreen, fill the ice chest with healthy snacks and refreshing kombucha, and head to some of the most swoon-worthy beach towns in the state. No matter where you go, a day of adventure awaits you. From the north to the south, here are the most beautiful beaches in California.
The Most Beautiful Beaches in Northern California

Rodeo Beach
Location: Marin County
Tucked between Rodeo Cove and Rodeo Lagoon, on the west side of the Marin Headlands, this pet-friendly beach is one of the most picturesque locations in Northern California. The stunning beach is covered in red and green pebbles and is merely two miles away from the Golden Gate Bridge, providing exhilarating views. Rodeo Beach is a popular spot for picnicking, kite flying, and bird watching. Go with a pair of binoculars and stop at Bird Rock to spot the many types of birds that are roosting.


Montara State Beach
Location: San Mateo County
The next time you set out on Highway 1, head eight miles north of Half Moon Bay and you'll come across one of the most beautiful beaches in Northern California: Montara State Beach. This one-mile-long swath of sand is a photogenic spot due to the sultry sandstone cliffs towering above it and is considered one of the cleanest beaches in the state. NorCal locals frequent the shores of Montara State Beach to hike, surf, and swim.

Gualala Point Regional Park
Location: Sonoma County
Gualala Point Regional Park's beach isn't only one of the most beautiful beaches in California, but also one of the most unique beaches as well. The beach borders the Gualala River and Mendocino County—there's a spot at this park where the river meets the sea. Plan a trip here and stay overnight for a shoreside camping experience that'll allow you to enjoy the beach, river, and forest all in one. There's a small campground near the river that'll make your weekend of whale watching, hiking, and bird watching unforgettable.

Mcway Beach
Location: Monterey County
The Big Sur region is home to some of the most spectacular coastline in all of California (if not the world). With majestic mountains and forests on one side and the glimmering ocean waters on the other, what's not to love about this Central Coast gem? Located in Julia Pfeiffer Burns State Park, the 80-foot McWay Falls is an astounding sight you simply can't miss. Even though the falls can only be appreciated from afar, there are plenty of easily accessible trails that'll give you amazing viewpoints.

Davenport Beach
Location: Santa Cruz County
Davenport Beach is across the highway from the small town of Davenport and is breathtakingly beautiful. This beach is easily accessible and is a perfect addition to a weekend road trip agenda. For an exhilarating adventure, explore the tunnel at the north end of the beach, meander through the deep rock arches, and admire the high cliff walls. The sunsets at Davenport Beach are favorites of nature photographers, so you know it is one of the best places to watch the sunset in California.
The most beautiful beaches in southern California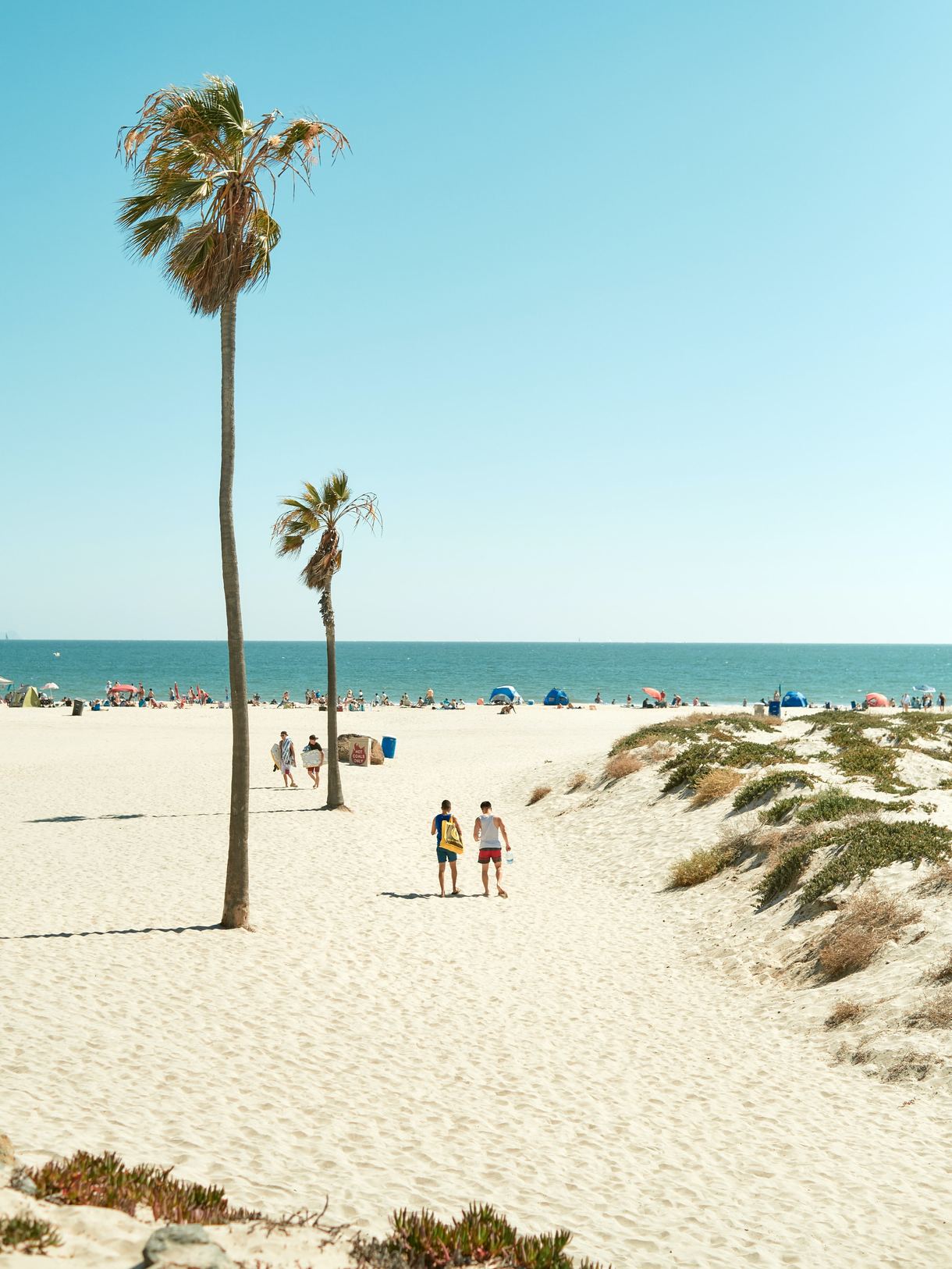 Coronado Beach
Location: San Diego County
Coronado's timeless charm, pristine sands, and convenient facilities make it one of the most popular beaches in SoCal. Swim along the almost two miles of coastline and play beach volleyball by the shore. Not sure whether to spend the day relaxing or being active in the water? Just do both—there's enough time for sunbathing, surfing, paddleboarding, and boogie boarding. If you want to bring your dog along, you're in luck. Coronado is one of San Diego's best dog-friendly beaches. There's even a designated area for people who bring their pooches along.

Treasure Island Beach
Location: Orange County
The artsy town of Laguna Beach is set against a backdrop of rugged hills and stunning waters, making it a coveted destination. It is also home to some of the most beautiful beaches in Orange County; Treasure Island Beach is hard to beat, though. This hidden gem in SoCal boasts secret coves, golden sands, and pristine waters that beckon to all who visit. (If you're a Taurus, this is the best beach for you based on your zodiac sign.) Need another reason to visit? Laguna Beach has the most beachfront lodging options in all of California—some of which will definitely have you craving a staycation.

Huntington Beach
Location: Orange County
This beautiful beach in Orange County is a surfer's paradise. Ten miles of shoreline and five picture-perfect beaches (including Huntington Dog Beach) make "Surf City USA" an ideal spot for swimming, surfing, paddleboarding, kite surfing, and more. Not a big fan of water sports? Watching the sunset, picnicking, and roasting s'mores around one of the many fire rings on the beach also amount to a special and relaxing experience.

Manhattan Beach
Location: Los Angeles County
Also known as "The Pearl of L.A.'s South Bay," Manhattan Beach is the furthest thing from the hustle and bustle of the city. Popular with swimmers, surfers, and sunbathers, this gorgeous beach is an ideal spot for leisurely pastimes and evenings spent watching the sun go down. You'll enjoy exploring one of the most beautiful beaches in Los Angeles on wheels—biking, rollerblading, or skateboarding on The Strand, which stretches all the way from the South Bay to Pacific Palisades.

Cayucos State Beach
Location: San Luis Obispo County
Cayucos State Beach perfectly blends surf, sand, and sun—a classic California vibe. The pier at this beautiful California beach offers excellent views of the town. You can even spot Morro Rock in the distance. For people who'd like to try out fishing for the first time before getting a license, "Cass' Wharf" on the pier is open for public fishing without a license, day or night. The beach is dog friendly, too (as long as you keep your dog on a leash). The best part? You'll find plenty of casual dining spots and accommodation options shoreside.

William Randolph Hearst Memorial Beach
Location: San Luis Obispo County
This beautiful beach in California is the ultimate addition to your Pacific Coast Highway road trip. The beach is a local's favorite—it's adjacent to the town of San Simeon, right across the highway from the majestic Hearst Castle. The long coastline offers picnic sites and grill stands, and the water is ideal for swimming and kayaking. You can let your dog roam freely to the right of San Simeon Pier, but if you're planning on crossing over to the left, make sure you have Fido on a leash.