By

California.com
December 05, 2020
Sweater weather is better weather because that means the holiday season is finally here and we get to add some cheer with holiday decorations. What better way to fill your home with love and magic than by getting the whole family to participate in making DIY holiday decor items? It doesn't matter that you're planning a virtual celebration this year—get crafty this Christmas and wow everyone with your creative skills.
Deck your door with a gorgeous wreath or a cranberry garland you made yourself. Thanks to your California-inspired holiday decorations, you'll immediately find the holiday spirit even if you're not feeling it. Time to spruce things up and make un-fir-gettable holiday decor.
Holiday Decorations You Can Make At Home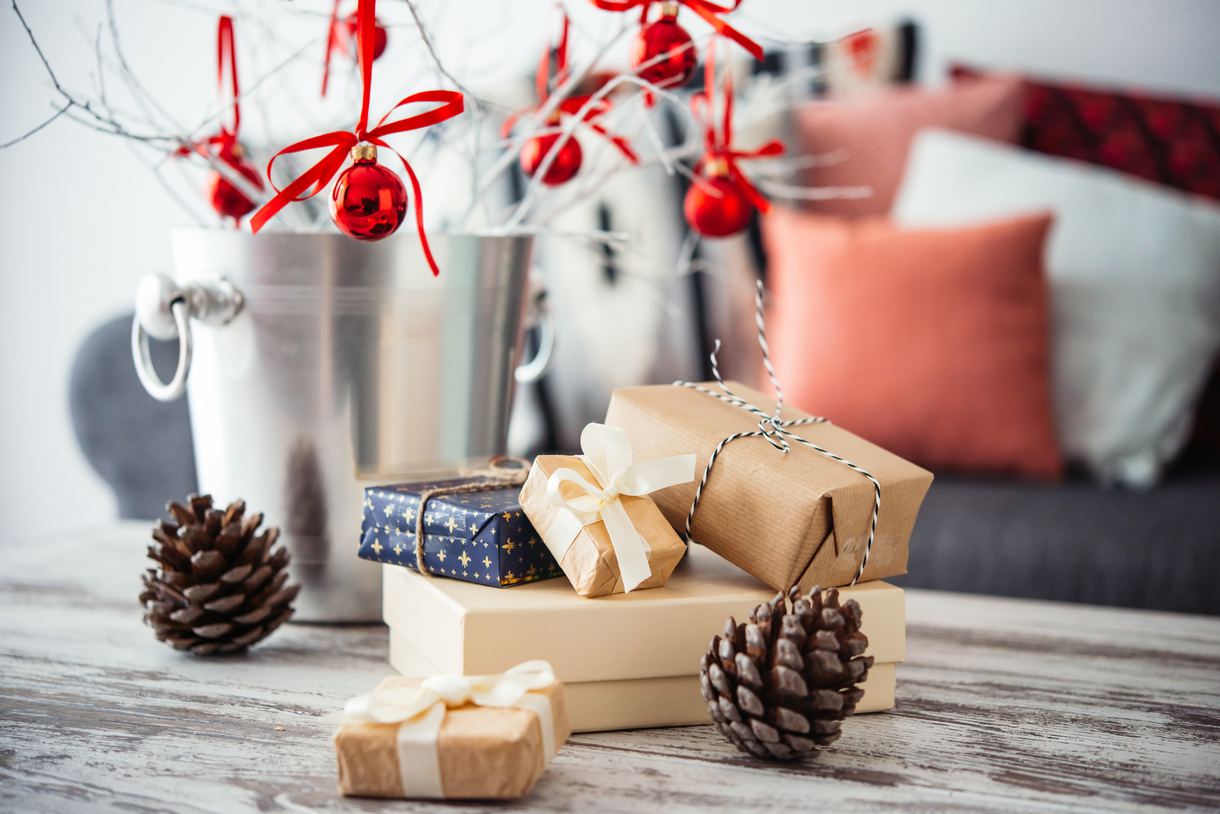 You can easily recreate stylish and seasonal decorations to add real pizzazz to your home this year. Transform your apartment into a winter wonderland with awesome DIY holiday decor that you won't believe you made yourself. Head over to holiday markets for a bit of inspiration; tap into the deepest parts of your imaginative side to craft the perfect home decor. There are so many things you can do yourself—scented candles, DIY holiday wreaths, popcorn garlands, string light lanterns, and customizable holiday ornaments.
Making your own Christmas decorations means you get to save time and money to finally focus on what's important during the holiday season—love, family, and good food. When you're not volunteering during the holidays or looking for California-made gifts for everyone on your list, here are DIY Christmas decoration ideas you can bring to life. We guarantee your loved ones will give you a round of Santa-plause.
DIY Holiday Wreaths From The Golden State

1. A Classic DIY Holiday Wreath
What You Need
3 different types of greenery
Floral shears
Metal wire frame
Wire cutter
22-gauge floral wire, cut into 5-inch strips
Floral wire, ribbon, or twine

Directions
1. Group your greenery, then make six bunches of each type by cutting five pieces of the greenery into 6-inch-long pieces using the floral shears.
2. Secure the bunches to the wire frame by winding the 5-inch strips of wire around each stem multiple times to make sure it's attached. Ensure the bunches overlap with each other so the stems are covered. Keep doing this until you come to a full circle.
3. Once you're done attaching the greenery, check if your DIY holiday wreath has any gaps and adjust accordingly.
4. Make a loop with the floral wire or ribbon, and attach it to the back of the frame so you can hang the wreath.
5. Sleigh all day with your awesome DIY holiday decor.

2. Hula Hoop DIY Holiday Wreath
What You Need
A hula hoop
Metallic spray paint of your choice
Floral wire
A selection of foliage (dusty miller, eucalyptus, twigs, magnolia leaves, grasses)
Velvet ribbon of your choice

Directions
1. Spray your hula hoop with metallic spray paint, and leave it to dry.
2. Make a simple knot with the floral wire, then attach it to the hoop. Take small pieces of your chosen foliage and assemble them to form a bunch. Lay the bunches flat on the hoop, and wrap the wire around the stems multiple times to make sure they're secure. Repeat this process in the same direction until one-third of the hula hoop is covered with sprigs of foliage.
3. Now, switch directions and repeat the process once more. It's better to have the first two or three bunches a bit bigger in size to cover the stems of the previous bunches.
4. Tie the velvet ribbon to the top of the frame for decoration and hanging.
5. Take pride in your contemporary holiday wreath idea.

A Holiday Garland That Brings The Festive Spirit To Your Home

1. Dried Orange Garland
What You Need
Cookie sheet
Parchment paper
Serrated knife
2 navel oranges
Paper towel or lint-free cloth
Scissors
Twine
Scotch tape (optional)

Directions
1. Preheat the oven to 250 degrees and line a baking sheet with parchment paper.
2. Using a sharp serrated knife, cut the oranges crosswise into ¼-inch-thick slices, and pat them dry with a paper towel.
3. Arrange slices in a single layer on the baking sheet. Bake for two and a half hours, flipping them halfway through. (If some slices start to brown before the others, remove them from the oven and place the remaining slices back in until they're dried and slightly browned.)
4. Once all orange slices are done, remove from the oven and set aside to cool.
5. Grab the scissors, and poke two holes in each orange slice, making sure each hole is half an inch apart from the other.
6. Thread twine through the orange slices. Optional: Wrap Scotch tape around the end of the twine to prevent your holiday garland from loosening.
7. Voila, your gorgeous DIY holiday decor is ready to impress.

Customizable Holiday Ornament The Whole Family Will Adore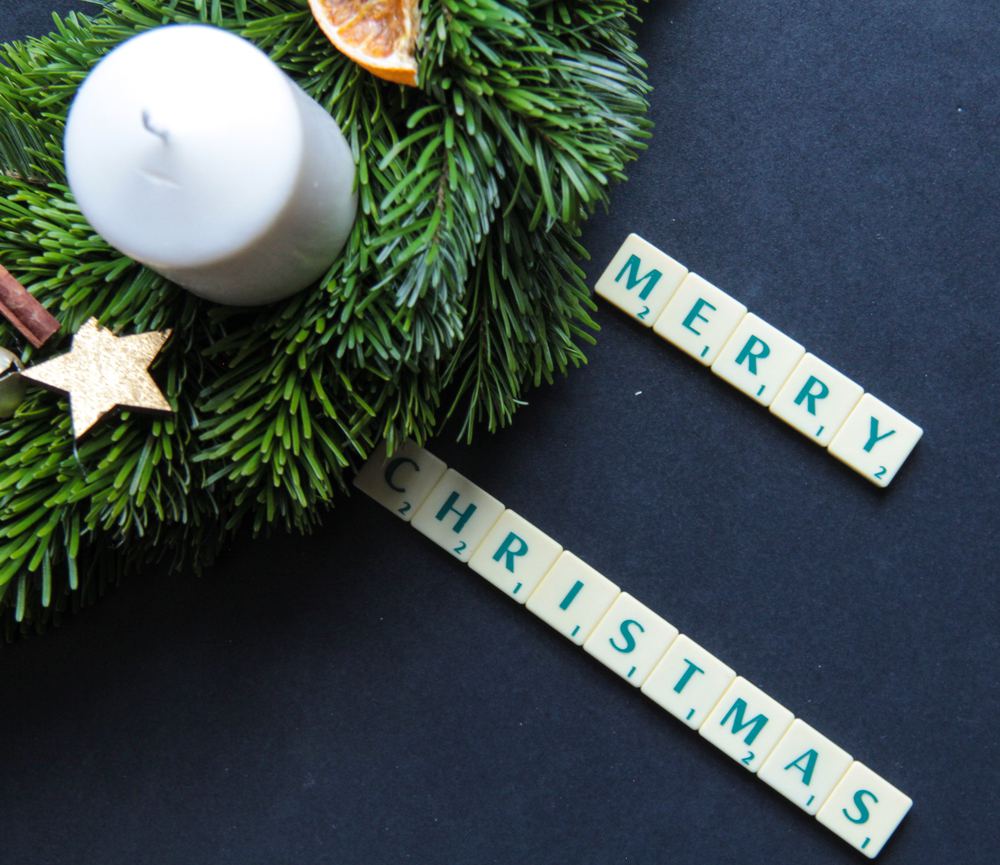 1. Scrabble Tile DIY Christmas Ornaments
What You Need
Scrabble tiles that spell "let it snow"
Pen
Paper plate
Felt
Scissors
White craft glue
Ribbon or twine
Snow texture paint (optional)

Directions
1. Place Scrabble tiles on top of a paper plate so they spell "Let it snow." Then, trace around the shape with a pen to make an outline of the letters' shape.
2. Put the paper plate on top of the felt, and cut out the outline you traced. Make sure to cut the outline a bit smaller than the actual shape. Cut through both the paper plate and the felt. The shape should be large enough for the Scrabble tiles but small enough so that the outline doesn't show from the front.
3. Spread glue on top of the paper plate template, and place the "Let it snow" Scrabble tiles on top, pressing them into place. Place something heavy on top and let it dry for a few hours.
4. Make a loop with a piece of ribbon, and glue it to the back of the ornament for hanging.
5. Glue the felt outline you cut to the back of the ornament so it covers the bottom of the glued ribbon.
6. If using snow texture paint, apply it to the top edges of the customized holiday ornament. Let it dry for at least one hour.
7. Once your DIY Christmas ornament is dry, hang it on the tree. You and craft projects are orna-meant to be!

Holiday Centerpieces You Won't Believe You Didn't Think To Make Sooner

1. Rustic Mini Christmas Tree Holiday Centerpiece
What You Need
Mini tabletop trees
Faux branches or garland
Green floral wire
Wire cutter
White spray paint
Snow spray
Small metal buckets
Black flat/matte spray paint
Styrofoam blocks
Ribbon
Glue gun
Wooden script ornaments
Glue sticks

Directions
1. Fill in the mini tree with more faux branches by attaching them with floral wire.
2. Spray the mini tree with white spray paint, and leave to dry for around three hours. Then, spray with faux snow and leave to dry overnight.
3. Paint buckets with black spray paint and leave to dry.
4. Place a styrofoam block inside each bucket.
5. Measure and cut ribbons to fit the buckets, and use the glue gun to stick them in place.
6. Take the wooden script ornaments and remove their hangers. For each bucket, glue one ornament on top of the ribbon.
7. Since the mini trees come with their own stands, remove the ends of each one and place the trees into the styrofoam inside the buckets.
8. Arrange these holiday centerpieces on the table, and spray with a bit more faux snow for a whimsical touch.

2. Five-Minute Easy Holiday Centerpiece
What You Need
Ribbon
Mason jars in 2 different sizes
Fresh cranberries
Sprigs of evergreens
Floating candles

Directions
1. Wrap ribbon around each jar.
2. Fill jars with cranberries and a few sprigs of evergreens.
3. Fill jars two-thirds of the way up with water.
4. Place floating candle in the middle of the jar.
5. Have a delightful Christmas with your cute holiday centerpiece.