With summer in full swing and schools not in session, parents can finally plan a much-needed getaway and spend quality time with their kids—and nothing screams summer like a family trip to an amusement park. With crazy coasters, rippin' water slides, entertaining games, and delicious treats, theme parks offer thrills and fun for the whole family. So get ready to plan your trip, because we've compiled a list of the best theme parks California has to offer.
Top Amusement Parks in the San Francisco
Bay Area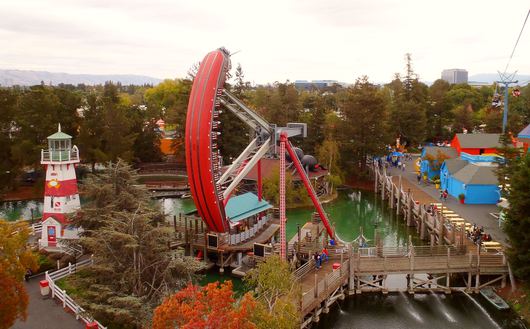 California's Great America
An epic day awaits you at California's Great America, where you have more than 100 acres of rollercoasters, water rides, and live entertainment to explore. Since its grand opening in 1976, Great America has grown to become a favorite destination among Californians and tourists alike, attracting over 3 million visitors each year. The Santa Clara park features over 40 famed attractions, including the Flight Deck, Patriot, and Gold Striker coasters. Great America ticket holders can also access the water attractions of Boomerang Bay, making it easy to hop between parks on a hot summer day. In addition to its amazing rides, Great America is known for its world-class live shows such as the Bonfire Band—featuring performances by local musicians that visitors of all ages will enjoy—and the Peanuts Block Party, which is perfect for little ones. So, round up the entire family and head over to Great America for a great time.
Can't-Miss Ride: The Drop Tower will have you trembling in your seat as you prepare to descend 22 stories in less than 4 seconds. At 225 feet high, it is one of the tallest and most intense free-fall rides in the world.
Must-Try Treat: Satisfy your sweet tooth by picking up a fresh-from-the-fryer funnel cake at Sally's Sweet Treats. Go with the classic Strawberry Supreme, loaded with whipped cream and chocolate sauce, then topped off with a handful of fresh strawberries.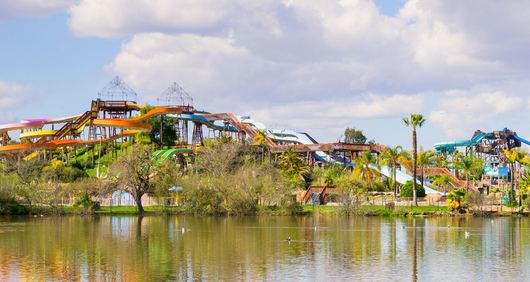 Raging Waters
Located in San Jose, Raging Waters is Northern California's largest water park. Fueled by over 1 million gallons of water, the park offers various attractions—including 20-plus waterslides, a lazy river, and a wave pool—so whether you want to keep it mild or go wild, you can find something here to keep you entertained. If you're looking for that quick adrenaline rush, thrilling waterslides like Shotgun Falls can help you get your fix; zip down the slide and prepare to free fall into a 10-foot-deep diving pool. On the flip side, if you just want to kick back with the family, the Activity Pool at Raging Waters might be the perfect attraction for you. It has mellow waterslides and fun, interactive obstacles. (See if you've got what it takes to get all the way across the "alligator pad" without falling into the pool.) Raging Waters also has numerous food and shopping destinations, selling everything you might need on a hot summer day, from sunscreen to beach towels.
Can't-Miss Ride: Check out Bombs Away, one of the first trapdoor water slides ever made. This ride will have you holding your breath as you plummet through an enclosed tube for over 200 feet.
Must-Try Treat: After a long day of fun in the sun, head over to Sharky's Big Bite BBQ to grab such indulgent dishes as nachos loaded with gooey cheese, chili-cheese dogs, and savory pulled-pork sandwiches. Follow up your meal with a mini powdered doughnut from State Fair Donuts.
Top Amusement Parks in the Central Coast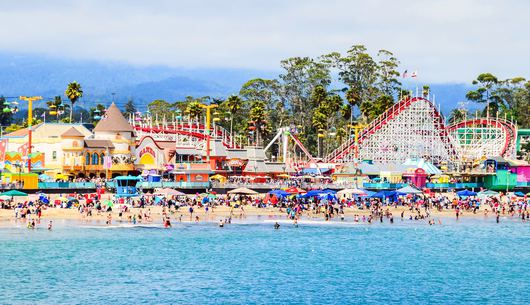 Santa Cruz Beach Boardwalk
The iconic Santa Cruz Beach Boardwalk is considered one of the best seaside amusement parks in the world. With over 40 rides, numerous kid-friendly attractions, a variety of games, several shops, and warm sands bordered by cool surf, this is the perfect place to spend a day with the family. Admission to the park and beach are free, but you'll need to pay to experience the rides. If you plan on hitting numerous attractions and roller coasters, consider getting single tickets or buying a package deal. Aside from exciting rides, the Santa Cruz boardwalk also features special events on a regular basis, including bowling nights, karaoke nights, soccer games on the beach, and much more.
Can't-Miss Ride: Make sure you experience the unparalleled thrill of the Great Dipper wooden roller coaster. Though it was built back in 1924, the coaster is still considered one of the best wooden coasters in the world and has welcomed more than 60 million riders since its debut.
Must-Try Treat: While the goodies offered at Deep Fried Twinkies may sound like a heart attack waiting to happen, they are absolutely delicious and worth trying. Grab yourself a deep-fried Twinkie, Oreo, or peanut butter and jelly sandwich, and enjoy it on the beach as you take in the ocean views.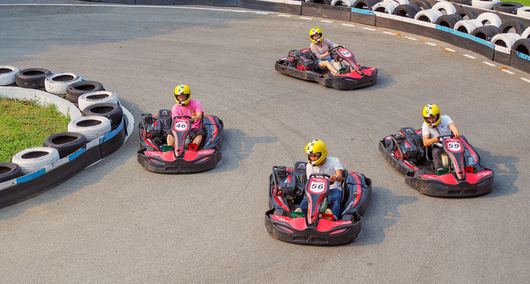 Adventure Park
Though it's roughly 200 miles from the Central California coastline, Adventure Park is a fun family destination in the Central Valley town of Visalia. Rated as the top spot to visit in the city, the park is known for maintaining high safety standards and reasonable prices while still creating a fun environment for families. Adventure Park is particularly ideal for children and pre-teens alike, boasting everything from batting cages and laser tag, to go-karts and bumper boats. It is also very close to Sequoia National Park, where you can enjoy a picnic dinner with the whole family after your day of fun at Adventure Park.
Can't-Miss Attraction: No matter your age, stop by the arcade floor (where you can trade in your winning tickets for cool prizes) and the miniature golf course (where you can challenge your friends on 18 different holes).
Must-Try Treat: There's nothing quite like San Francisco–style pizza, so head over to the Adventure Park Pizzaria to grab a slice along with an ice-cold drink.
Top Amusement Parks in the Los Angeles Area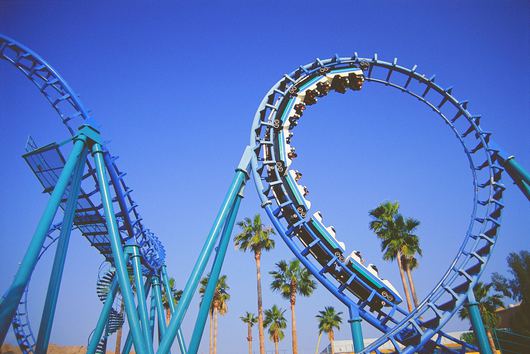 Knott's Berry Farm
There's never a dull moment at Knott's Berry Farm in Buena Park. The 57-acre amusement park has been putting smiles on visitors' faces since it opened in the 1960s and became California's first-ever theme park. With four different themed areas to explore—Fiesta Village, Ghost Town, Boardwalk, and Camp Snoopy—Knott's Berry Farm is packed with adventure. Each area has its own set of rides and attractions that match the theme. In Ghost Town, for instance, hop on the GhostRider to experience the longest, tallest, and fastest wooden roller coaster in all of California! Aside from its amazing rides, Knott's is also known for its world-class entertainment. The Wild West Showdown is a fan favorite featuring gunfights, cowboys, tricks, and much more. Numerous other live shows are hosted every week at various times of the day, so make sure to check the schedule of events when you arrive.
Can't-Miss Ride: If you dare, line up for the Xcelerator and prepare for some serious acceleration. This coaster is absolutely insane, reaching a maximum speed of 82 mph in as little as 3.2 seconds.
Must-Try Treat: Make your way over to the Ghost Town Bakery to satisfy that sweet tooth. This home-style bake shop serves up everything from Mrs. Knott's famous pies and cookies, to mouthwatering fruit tarts and cakes.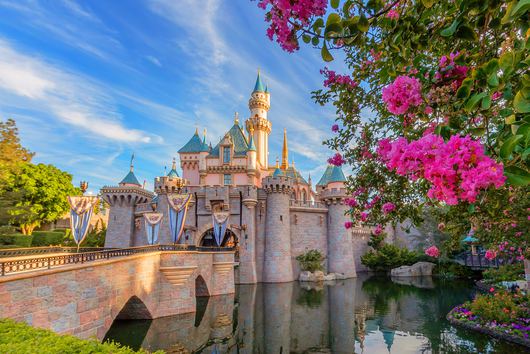 Disneyland Park
One of California's most-visited destinations, Disneyland Park is a place where you can leave all your cares and worries at the door and embrace a magical world full of pirates and talking animals. Aptly dubbed "The Happiest Place on Earth", the park is sure to make the whole family smile, especially those who are Star Wars fans. Disneyland recently opened the highly anticipated Star Wars: Galaxy's Edge, which spans 14 acres and is the park's largest single-themed land expansion ever. Experience rides like the Millenium Falcon: Smugglers Run—which incorporates lights, sound effects, costumes, set design, and storytelling to make the attraction as realistic as possible—build your own droid, learn how to make a lightsaber, enjoy food inspired by the franchise, and pick up souvenirs.
Afterward, check out the classic Disneyland rides and attractions such as Splash Mountain, It's a Small World, Pirates of the Caribbean, and Matterhorn Bobsleds. Or, sit back and watch one of the entertaining parades or inspiring shows, such as Fantasmic. In this beloved nighttime extravaganza, step into Mickey Mouse's dream world and watch his imagination go wild as he shows off his supernatural abilities to control water, color, and magic—all of which is brought to life by dancing water features, massive sets, and a spectacular fireworks show.
Can't-Miss Ride: The Indiana Jones Adventure, based on the popular movie series, takes you on an adventure through the world of Indiana Jones at full speed. Disney uses an "enhanced motion-vehicle" system to simulate how a real car would behave in these scenarios, making the ride much more realistic. Search for the hidden treasure, dodge the infamous rolling boulder, drift around turns, and much more on this incredible ride.
Must-Try Treat: Dole Whip has grown to become Disneyland's iconic treat on a hot summer day. Found at the Enchanted Tiki Room, Dole Whip is simply a soft-serve pineapple-flavored ice cream. If you're feeling a little more adventurous, opt for a Dole Whip float, featuring the same pineapple soft-serve in a cup of pineapple juice, topped off with a mini umbrella.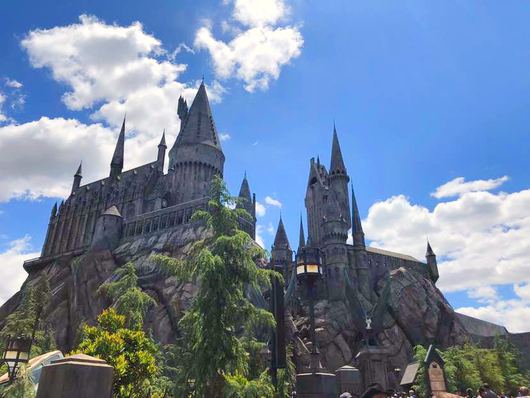 Universal Studios Hollywood
Universal Studios Hollywood, located in the San Fernando Valley area of Los Angeles, serves as both a film studio and an action-packed theme park. Many acclaimed movies—such as Back to the Future, King Kong, and Jurassic Park—were filmed here and have had exhilarating rides created in their honor. Popular movies and TV series produced by Universal, including Harry Potter and The Simpsons, have designated areas in the park dedicated to them where all the food, stores, and attractions are themed accordingly. But Universal Studios is not known only for its rides and themed lands, but also for its spectacular live shows such as the No.1-rated Waterworld, a 20-minute, action-packed show featuring jet skis, boats, machine guns, and huge explosions. Watch as the story unfolds, and witness a grand finale that will leave you in awe. All of this (and more) is waiting for you and your family at Universal.
Can't-Miss Ride: Based on The Mummy film franchise, the Revenge of the Mummy is a psychological-thrill ride complete with dark lighting, creepy props, and unexpected pop-out scares. At the same time, there are several sudden launches throughout the ride, sending riders from a standstill position to top speeds of 45 mph in a matter of seconds. The physical thrills in addition to the psychological scares create a surprisingly potent coaster experience that will have you screaming for your mummy!
Must-Try Treat: Stop by Gru's Lab Cafe to grab a hearty meal and hang out with the Minions. Try Dr. Nefario's Lab Salad——a unique mix of chicken, shrimp, udon noodles, and veggies tossed in a light Asian ponzu dressing. Afterward, satisfy that sweet tooth with a Minions-themed candy apple and freshly baked doughnut.


Top Amusement Parks in the San Diego Area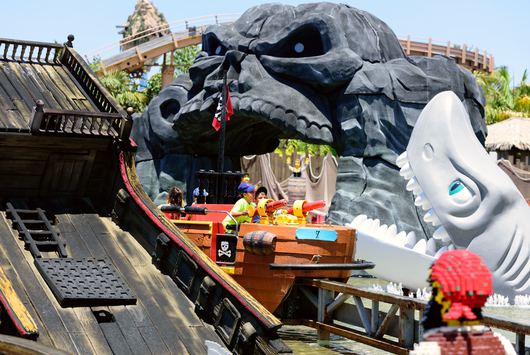 Legoland
Let your imagination run wild at Legoland, a 128-acre theme park in Carlsbad that's home to over 60 attractions. There are 10 different themed areas—including Ninjago World, Pirate Shores, and Castle Hill—all of which have their own unique rides and attractions. If you have little ones, check out Explorer Island to travel through a prehistoric Lego jungle on the Coastersaurus and to adventure through the Lego safari in a Jeep. After visiting the various themed areas of the park, head to the Legoland Water Park to cool off. Hit the Riptide Racers waterslide and challenge your friends to see who can fly down the slide fastest. Afterward, make your way over to the Imagination Station where you can build bridges, dams, and houses using Legos and then test their durability underwater. This is a great area for kids of all ages to visit and learn something new.
For a fully immersive experience, treat your family to the ultimate sleepover at the Legoland Castle Hotel, located a stone's throw away from the park. Choose your favorite Lego-themed room, featuring everything from medieval knights to magical princesses, and enjoy the interactive surprises waiting inside. The hotel also offers a free buffet and nightly family-friendly entertainment for guests.
Can't-Miss Ride: The Lego Technic Coaster is a Legoland favorite that every visitor should check out. Each Lego car comes to life—twisting, turning and dropping frequently throughout the course of the ride—to provide a thrilling experience. Since this ride is so popular, it's recommended that Legoland visitors use their Reserve 'N' Ride feature to guarantee their spot.
Must Try Treat: Granny's Apple Fries serves up delectable treats exclusive to Legoland. Not to be confused with french fries, these fries are comprised of deep-fried apple slices dusted with cinnamon and sugar and served with a vanilla cream dipping sauce.