Piles of leaves lie playfully on the ground, just waiting to be jumped in; warm flannel button-ups are layered on along with cozy sweaters and soft scarves; pumpkin-spice lattes can be found everywhere you turn; and the desire to stay in with warm cider and loved ones overwhelms your senses. It's the most magical time of the year, when the important things start to make themselves clear and nature comes alive with brilliant colors.
This means there's no better time than now to plan a picnic with that special someone. Whether you prefer beachside brunches or forested feasts, there are innumerable destinations for your next picnicking excursion. So pack your picnic basket with a blanket, your favorite foods, and some hot cocoa, and make your way outside for an experience you'll remember for years to come.
Beachside Brunch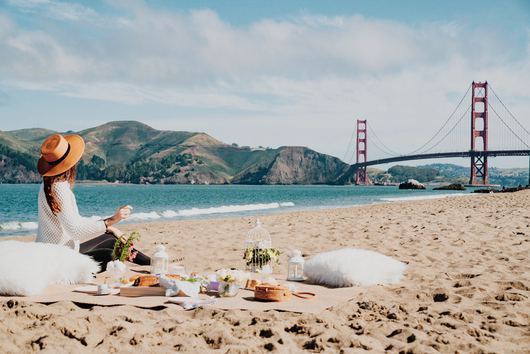 With hundreds of miles of coastline meandering along California's western border, there are unlimited possibilities for beachside brunches. While it may seem like the beaches would only be good places to have a picnic during the summer, the cooler (but not cold) autumnal weather means fewer crowds and a more pleasant ambience for a cozy picnic.
When it comes to brunch, it's hard to go wrong. Toast slices of bread before leaving the house and pack up the avocados, lemon wedges, salt, and pepper to make your own avocado toast; swing by your favorite brunch spot and grab eggs Benedict; or head to a beach with firepits to make the freshest potato hash you've ever eaten. However you do brunch, make sure you throw off your shoes and enjoy the sand between your toes as the cool ocean breeze flows through your hair. It's all but guaranteed to be a success.
The best picnic spots: Malibu, Half Moon Bay, Coronado
Forested Feast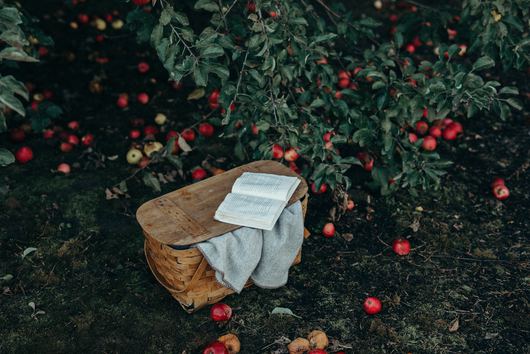 The Golden State is full of forests just waiting to be explored. Stepping underneath the shaded canopy instantly transports you to another world that rids you of everyday stress and fills you with a sense of wonder. Whether you plan to take a long hike before chowing down or to simply nestle in amongst the trees, forested feasts make for some of the best picnics.
A smorgasbord in the forest begs for nuts, berries, and honey—and nothing goes better with these goodies than cheese and charcuterie. So grab your Camelbak backpack and pack up a couple of cheeses, salumi and prosciutto, fresh fruits, and a board before taking off on your adventure.
Best places to have a picnic: Yosemite National Park, Shasta Cascade, Arcata Community Forest
Dinner in the Desert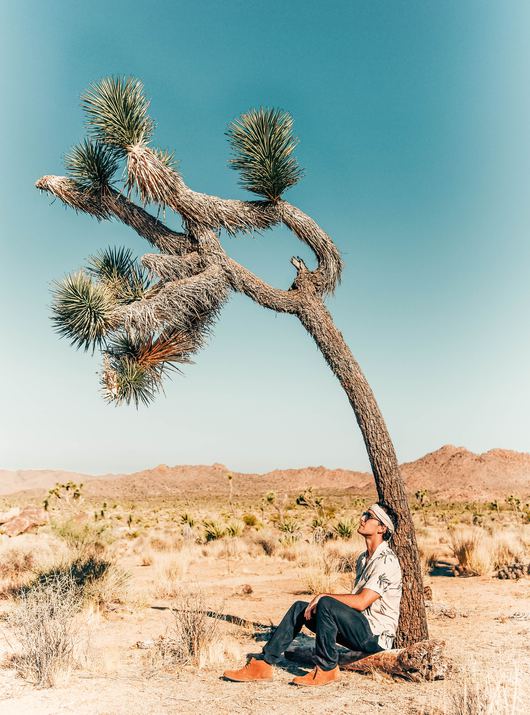 Southern California's landscape is surprisingly diverse, which makes having dinner in the desert a serious possibility. From multi-night camping trips to remote hotel vacations, there are so many ways to appreciate the desert's vibrance.
Tapas are ideal for a picnic because of their self-contained nature. Pack up some olives; a bowl of fresh beets with sliced almonds and burrata; homemade pickles; baguette slices; and meatballs with garlic mashed potatoes. The multiple courses of the picnic feel extra decadent, but with some toothpicks, everything is easy to eat.
Ideal picnic places: Joshua Tree National Park, Palm Springs, Pioneertown
Lunch at the Lake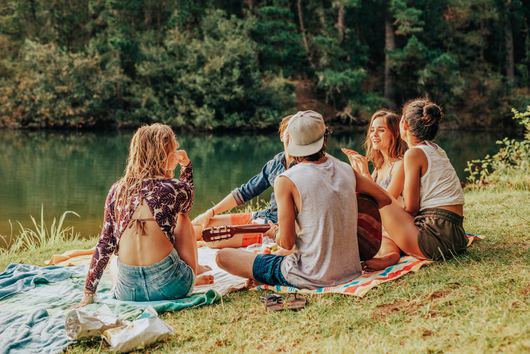 Sitting by a lake and enjoying the scenery is a perfect way to evoke vacation vibes every day. With typically calmer waves and clearer waters, lakes boast an air of childhood nostalgia, making them great picnicking spots.
There's also something magical about bringing all the fixings with you and assembling sandwiches by the water. Fill up several containers with cheeses, meats, condiments, produce, and a few slices of bread. Stack the layers higher than you would at home, make a mess (and then clean it up), and appreciate the fresh air between every bite of that delicious sandwich.
Good places to have a picnic: Lake Tahoe, Big Bear Lake, Shasta Lake
Snacks at the Summit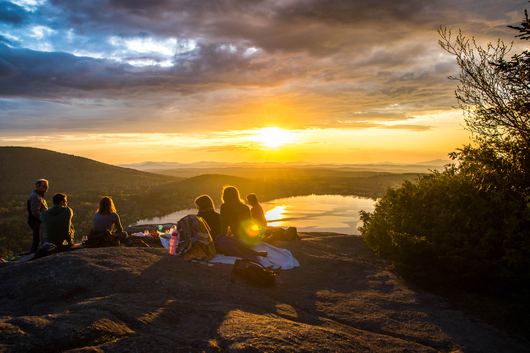 There is little more refreshing than rewarding yourself with a craveable snack after a rigorous workout. Filling your lungs with mountain air somehow feels so much more satisfying than huffing and puffing anywhere else, so go on, climb that mountain—but make sure you've got the perfect picnic waiting for you at the top.
Since you will still have to make your way back down the mountain at some point, it's important to take it easy on the heavy foods. Instead, nosh on cheese-stuffed dates, salty pickles or olives, and water-filled fruits (like peaches or plums) that will satiate your hunger without giving you stomach cramps on the way down.
Picnic grounds: Mount Whitney, Mount Diablo, Mount Lassen
Have you been eyeing any picnic places this fall? Let us know in the comments below. We're always on the lookout for the best spots in the state.