By

Mackenzie Hutson
May 21, 2019
Much like the fuel efficiency and safety standards, the color of a car can dramatically impact the repair, resale, and overall sales price of a vehicle. Color is often the first thing that draws buyers to a particular car, and it is a significant factor in the car-buying process; between 30 and 40 percent of potential buyers are willing to walk away from a purchase if their preferred color is not available in the model they like, and 39 percent are even willing to switch brands entirely. So, it is no wonder that manufacturers look to consumer demand when deciding which colors to create each year. While these decisions are made annually, it takes about seven years of color research and testing before the final hue and finish are deemed suitable to head to showrooms.
As our dependence on technology has increased over the years, the colors commonly seen in tech products have also made their way into our car color preferences, with silver, white, and gray topping the charts. While white leads in the truck, SUV, and minivan segment, silver reigns in all of the other categories, according to DuPont Automotive. Because of their popularity, neutral colors—such as white, black, silver, and gray—are the safest bets when purchasing a car, as today's popular colors are likely to sell more easily in five years. In fact, less common colors—like bright yellow, orange, and purple—have the power to depreciate the vehicle anywhere from hundreds to thousands of dollars on their own.
Popular Car Colors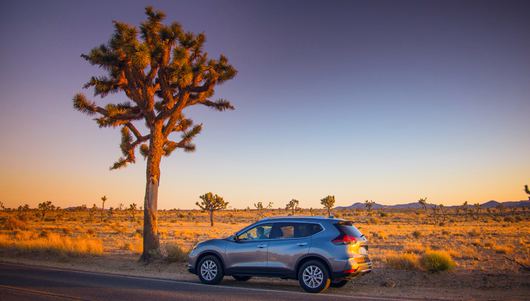 According to Kelley Blue Book, the top overall colors in the United States are:
Silver (23%)
White (15%)
Black (12%)
Interestingly, PPG North America discovered that the most common color choices in the resale market were:
White (23%)
Black (19%)
Gray (17%)
Silver (15%)
Red (10%)
Blue (8%)
SUVs, minivans, and trucks make up over half of the new vehicle market and have been most popular in white for an entire decade; this helps to explain the difference in the resale market, as more and more consumers are switching to utility vehicles. Sedans, convertibles, and luxury vehicles make up the other half of new car sales, with silver being the main choice of color—representing 28.1 percent, 24.6 percent, and 32.1 percent of all color choices among those vehicles, respectively.
Things That'll Cost You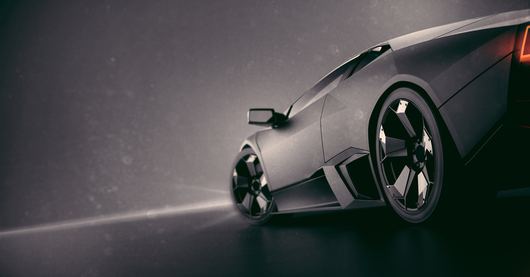 Color
White and black show dirt more easily than silver and gray, so white and black cars will need to be washed more often in order to maintain their appearance, which can add up over time. Additionally, cars in vibrant colors like red often cost more because more pigment is required to make brighter hues; however, certain shades of brown and purple may also come at a premium price because a good amount of red is often added to the mix to create the exact shade.
Finish
Also keep in mind that certain finishes can cost more up front. Metallic and pearlescent coatings, for instance, are fairly popular among many brands, but they require a third coating on top of the traditional two layers, making the price spike by at least a few hundred dollars. A color-changing effect is even more of a luxury, adding thousands of dollars to the price tag for its complicated sheen. Not only are these finishes more expensive from the get-go, but they are also more challenging to preserve.
A particularly difficult finish to maintain is (surprisingly) matte. Cars with matte finishes need to be hand-washed with mild soap specifically made for that coating; they can never be taken through a commercial car wash. Additionally, the car must be cleaned with microfiber cleaning cloths and washed in a linear fashion to avoid creating circular patterns on the exterior.
What to Look for in a Paint Job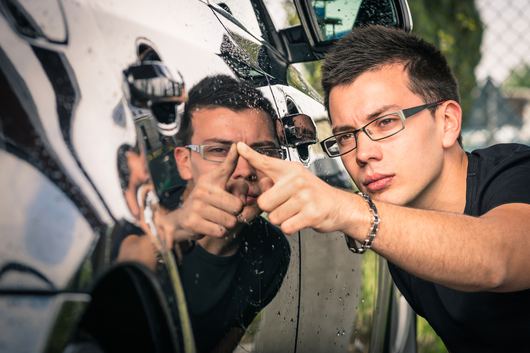 A Smooth Surface
The sign of a good paint job is that there is no sign of it. Whether you are purchasing a used car or are picking up your ride from the paint shop, it is always a good idea to take a close look at the surface of the car. If the car looks bumpy like the outside a lemon peel, then the painter allowed the paint droplets to dry and harden too early, creating the appearance of obvious pores.
Head to the Hood
Examine the hood, too. This is the smoothest and easiest part of the car to paint, so if it is not free of bumps, then it is likely that the car was either repaired or received a bad paint job. If you are in the market for a used car and find any of these red flags, make sure to look into the car's history and evaluate whether it is still a good investment; a bad paint job could be fixed fairly easily, but an intensive repair could cause the vehicle to have a slew of issues and cost a lot of money, making it a poor purchase.
Check the Plastics
The rearview mirrors and bumpers are typically made from plastic instead of metal like the rest of the vehicle, so it is possible that they will not take paint as well as the metal surfaces and make a paint job more obvious.
Open the Door
Since doors and door jams are vertical surfaces, it is easier for paint to drip and harden awkwardly along them. While it may not seem like a huge deal initially, a small imperfection can eventually drive a person crazy, even if it is hidden most of the time, so it's a good idea to have the paint smoothed out. And if you are considering buying a used car with this flaw, make sure you can live with it.