Throughout the last decade, we have become increasingly aware of climate change and our individual impacts on the planet. In efforts to change their ways, some have begun shopping at local farmers markets, taking public transportation, eating organic foods, or giving up animal products. Luckily, we are not alone in this fight to combat our carbon footprints. Businesses of all kinds are stepping up and creating new opportunities for us to make less harmful choices.
Bike sharing is one of these new industries, and it has already had an explosive impact; bikes of all colors are popping up in cities across the country, fitted with easy technology that allows riders to unlock the bikes with a click of a button.
This trend has been on an upward slope for a few years, as illustrated by the National Association of City Transportation Officials' 2017 report, which stated that U.S. locals and tourists took a total of 35 million bike-share trips over the year. Today, California alone is home to 17 separate bike-share companies, each servicing a specific region throughout the state.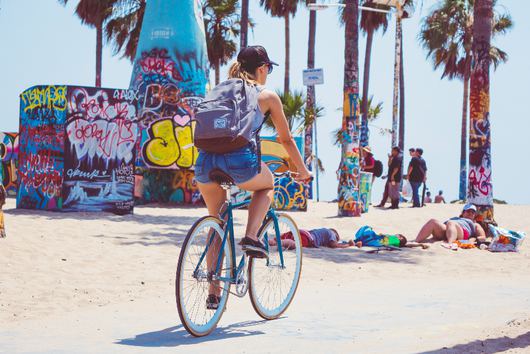 The basic concept of each company is quite similar: bikes are docked (whether in a rack or freely scattered), consumers unlock the bikes via an app on their phones or through centrally located kiosks that charge based on time (usually 30-minute increments), and then consumers lock the bike through the app or at a docking station when they are finished. This seemingly simple idea has expanded to include electric bike shares as well as scooters to make daily commutes even easier. With populations rising and residents flocking to urban cities, these options allow locals to largely skip out on traffic and reduce their carbon emissions.
Even ride-share companies like Uber and Lyft are acquiring bike-share start-ups, giving commuters additional choices for getting around without having to pay a large overhead cost or download yet another app.
With Lime, Jump, Ford GoBike, and Timbuk2 in the San Francisco Bay Area; Metro Bike and LADOT throughout Los Angeles; DECOBIKE in San Diego; and city-specific companies like Beverly Hills Bike Share, getting a workout and seeing the cities in a new way has become infinitely easier. Whether you are headed to the grocery store or going on a sightseeing tour, try these environmentally conscious options for yourself and see why they have become so wildly popular.