By

Melissa McGee
July 23, 2020
As California mitigates health risks during the COVID-19 pandemic, some travel restrictions may remain in certain communities. Call the local and regional tourism offices to learn more about the restrictions in your intended destination. Thank you for reading, and stay safe.
Blessed with warm weather and spectacular scenery, San Diego is the perfect place to enjoy a bike ride with family or friends. Whether you're in the mood for a laid-back beach cruise or an intense ride, this city has it all. With an abundance of bike shops (check out Sun & Ski Sports and UC Cyclery ) scattered across the city, you can easily rent a bicycle to ride on your desired path and savor the views.
For a good time this weekend, check out the best bike trails in San Diego (or add them to your bucket list). If it's been a while since your last ride, we suggest you read up on pro cyclist Alison Tetrick's top three tips on how to start cycling for a pleasant adventure. Regardless of your skill level, these San Diego biking trails are sure to please.
The Best San Diego Bike Trails
1. Pacific Beach Boardwalk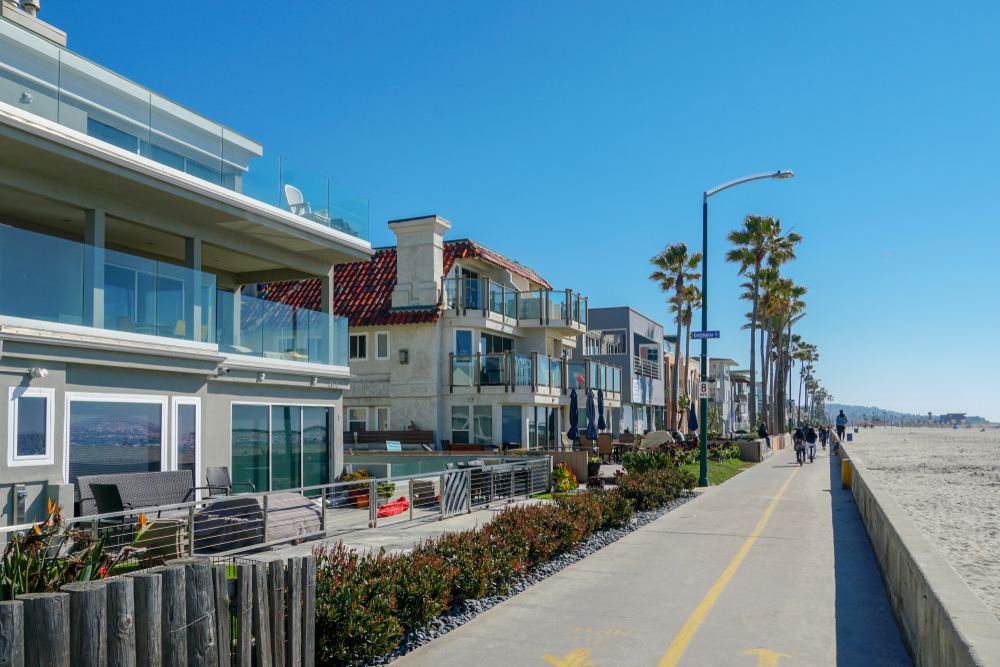 Location: Mission Boulevard and Garnet Avenue
Level of difficulty: Easy
Distance: 6 miles
Time: 30 minutes
Route: Out and back
The Pacific Beach Boardwalk attracts exercise fanatics from San Diego and beyond. Whether you're looking for a sunny stretch to jog on, a roller-skating sesh with your friends, or a leisurely bike ride, this hot spot awaits you. While the pathway may be a little crowded during prime hours, you'll still enjoy a wonderful ride—just communicate clearly with fellow cyclists. If you are in the mood for a quick pick-me-up or are hungry after your bike ride, head to Truckstop or Better Buzz Coffee to satisfy your craving.
2. Lake Poway Trail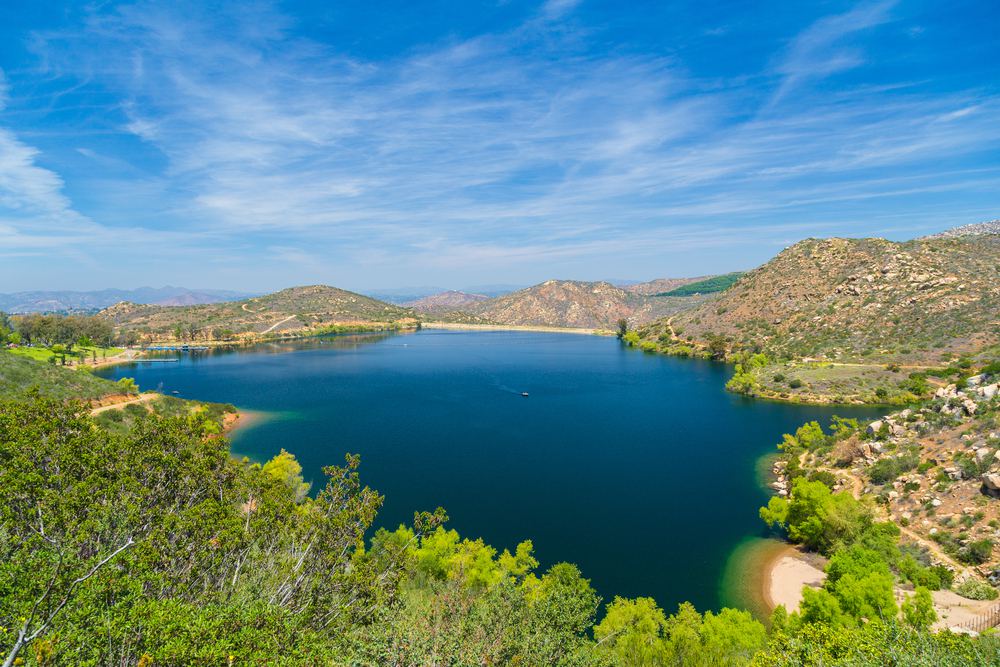 Location: 14644 Lake Poway Road
Level of difficulty: Moderate
Distance: 2.5 miles
Time: 15 minutes
Route: Loop
Located inland from San Diego, Lake Poway offers plenty of space for riders to bike through the suburbs. The single-track loop trail is perfect for both avid riders and new cyclists. Athletes often choose this particular path to help prepare for the annual Tour de Poway, whilst enjoying one of the smoother streets in San Diego. The route leads you around the lake and features stunning wildflowers and breathtaking vistas that make the effort of cycling worthwhile. You can even bring along your furry best friend for the ride.
3. Mission Trails Regional Park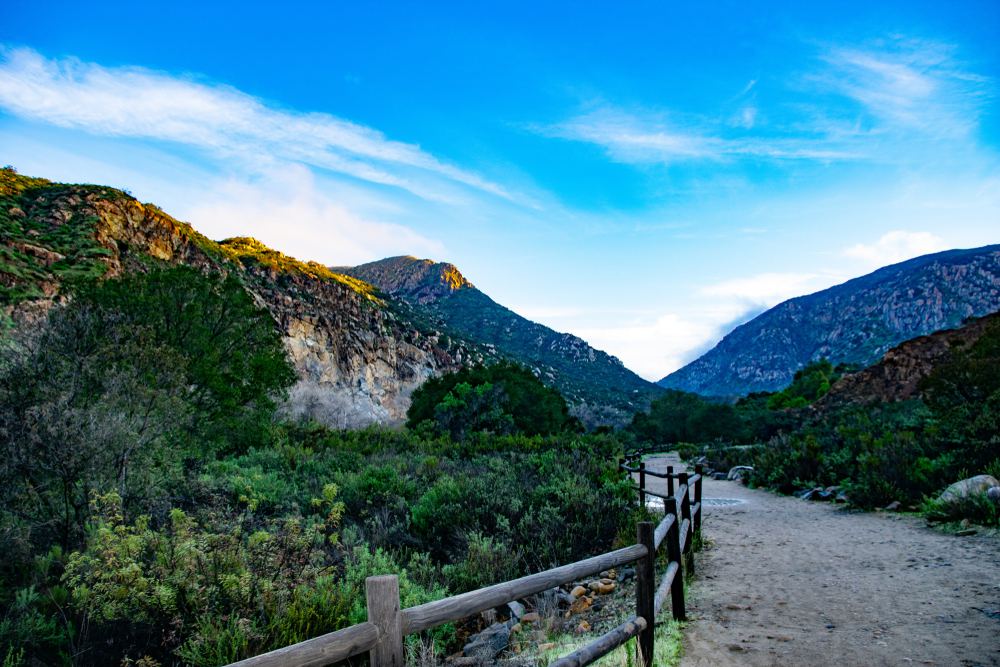 Location: 1 Father Junipero Serra Trail
Level of difficulty: Easy
Distance: 2.5 miles
Time: 30 minutes
Route: Out and back
On the hunt for an energizing biking experience? The scenic desert terrain of Mission Trails Regional Park is the place for you. With approximately 7,200 acres to explore, you can link the trails here together for a lengthy, workout-worthy bike ride. Several shorter routes are great for endurance training, but for a top-notch mountain biking path, head to the Cowles Mountain Trail (which is also one of the best San Diego hikes).
4. Fiesta Island Trail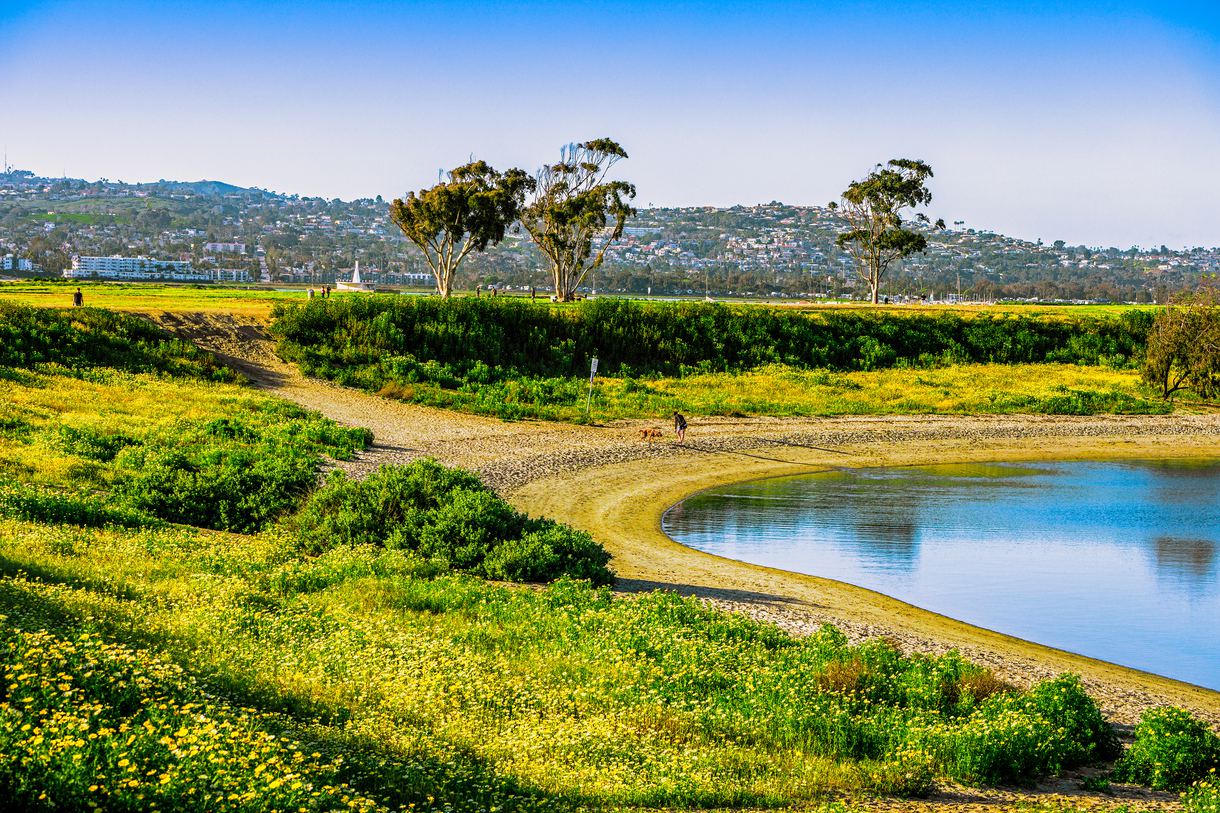 Location: 1590 East Mission Bay Drive
Level of difficulty: Moderate
Distance: 4.1 miles
Time: Approximately 30 minutes
Route: Loop
If you want to fiesta like there's no mañana, head to this large park in Mission Bay for a pleasant bike ride. The flat, four-mile loop has a few tricky twists and turns along the way, making for a great cardio workout. Keep an eye out for wildlife as you navigate the paved pathway. Fiesta Park Island is also home to racing events and over-the-line tournaments. If any events pique your interest, line up your trip in time for a fantastic experience.
5. Cabrillo National Monument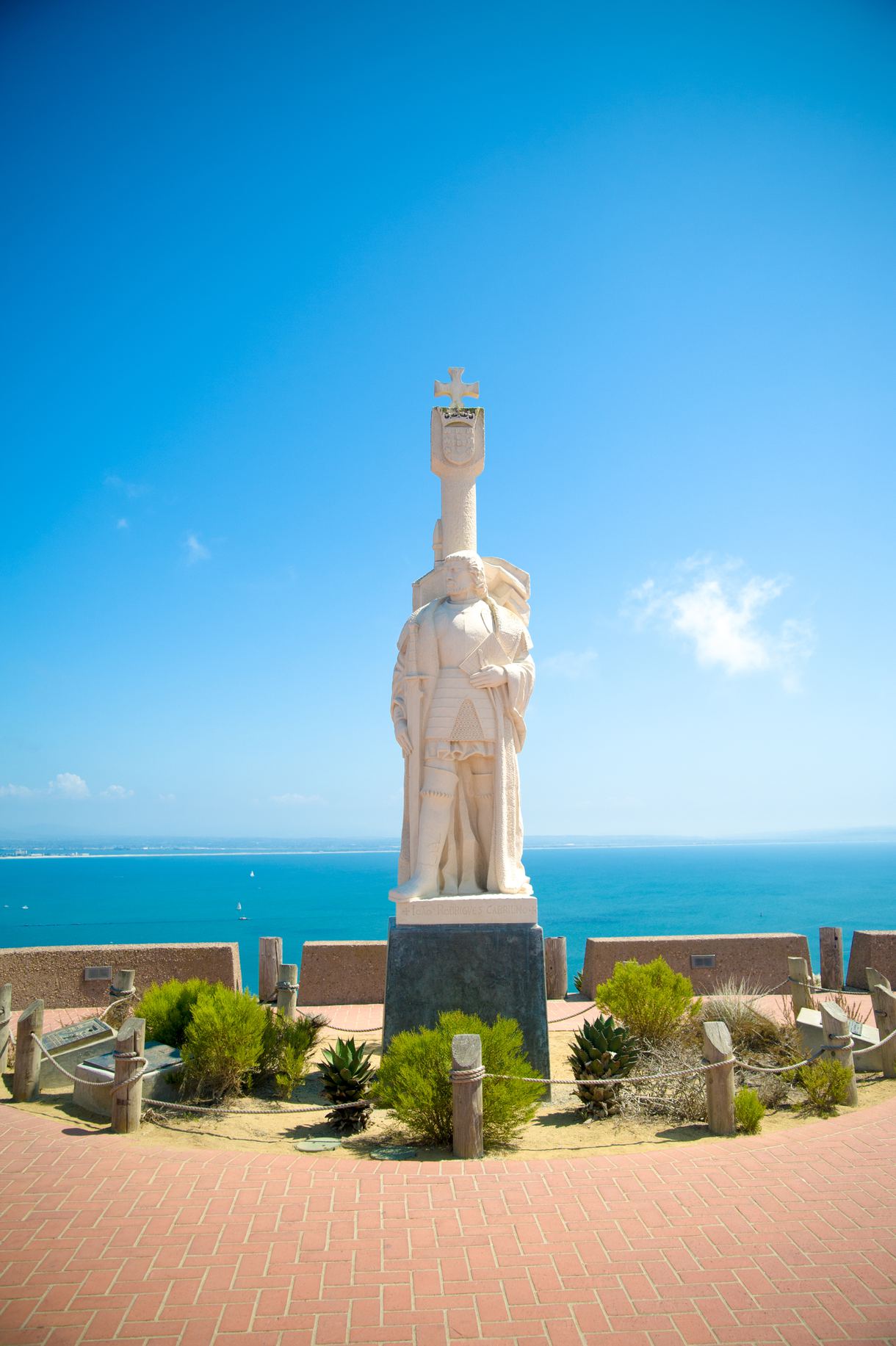 Location: Collier Neighborhood Park, 2351 Soto Street
Level of difficulty: Moderate
Distance: 16 miles
Time: 3 hours
Route: Out and back
Get in a great workout by pedaling your way from Collier Park to the must-see Cabrillo National Monument. With extraordinary views of downtown San Diego, Coronado's picturesque resort town, and the rugged Point Loma Peninsula, your adrenalizing bike ride will feel like a brisk stroll over the hills. For a longer excursion, complete this route several times. Regarded as one of San Diego's best biking trails, this path belongs on your to-do list.
6. The Bayshore Bikeway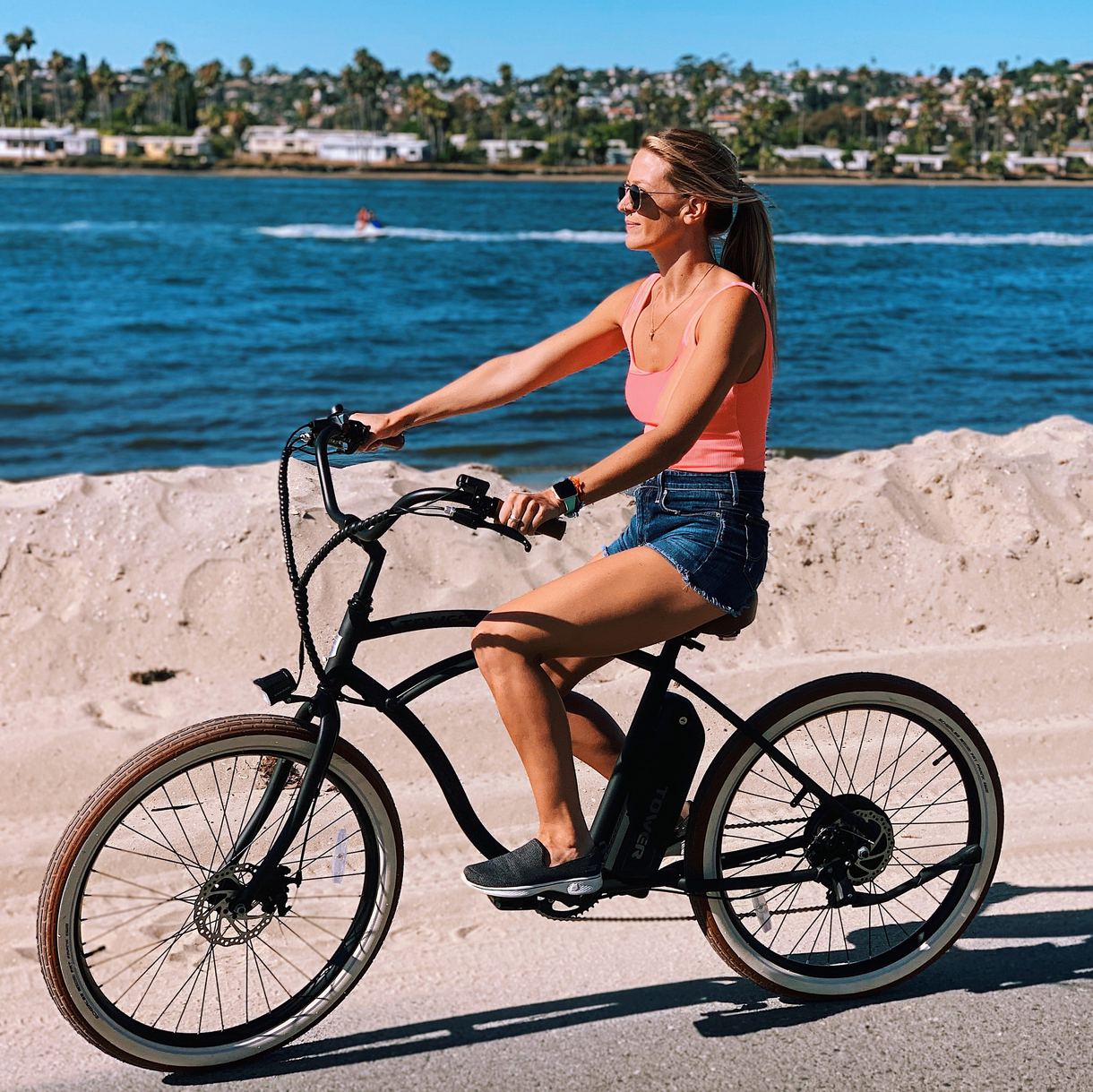 Location: Ferry Landing Marketplace
Level of difficulty: Easy
Distance: 18.7 miles
Time: Approximately 2 hours
Route: Out and back
Boasting scenic vistas of the beach and the San Diego Bay, this route makes for a spectacular bike ride. The Bayshore Bikeway begins on Silver Strand—also known as The Strand—a picturesque, seven-mile-long isthmus that connects Coronado Island with Imperial Beach. To get to the Strand, take a ride on the Coronado Ferry (or drive across the bay) so you can begin your biking excursion at the Ferry Landing Marketplace. Admire the scenery as you coast on the well-maintained route, and don't hesitate to hop off the bike for an action-filled break. From sailing, kayaking, and paddleboarding to surfing and kiteboarding, there are plenty of recreational activities to fill your day.
7. Mission Bay Trail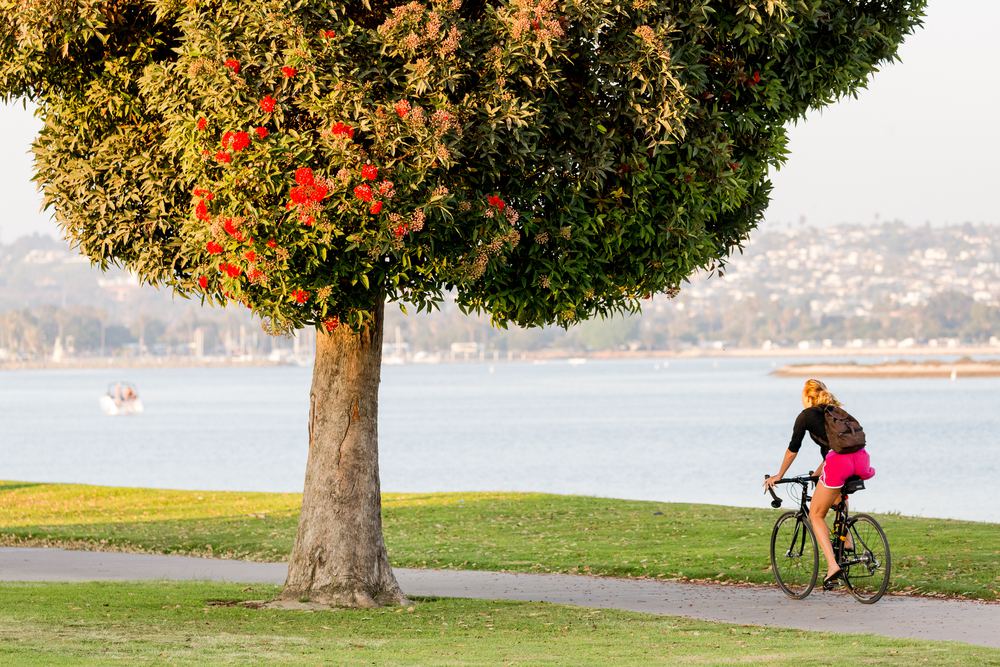 Location: 3220 Bayside Walk
Level of difficulty: Easy
Distance: 6.2 miles
Time: Approximately 40 minutes
Route: Out and back
Mission Bay covers approximately 4,200 acres of land and boasts about 27 miles of shoreline beauty. The Mission Bay Trail is a popular, easy-going pedestrian path that's suitable for bike riders as well. Parallel to the Pacific Beach Boardwalk, Mission Bay offers riders a spacious trail that's great for a romantic ride alongside your S.O. Take in the picture-perfect views of Mission Bay and the San Diego skyline as you pedal past playgrounds, fountains, and lush meadows bordering the trail. Make sure to pack some snacks so you can enjoy a delightful picnic after your journey.
8. San Diego River Trail

Location: Qualcomm Way at Camino De La Reina
Level of difficulty: Easy
Distance: 20 miles
Time: 2 hours
Route: Out and back
Located near the San Diego River Park, this versatile trail is traversed by both pedestrians and cyclists. The 20-mile San Diego River Trail is a great way to indulge in sightseeing and wildlife viewing, stretching from Mission Valley to Ocean Beach. After an enjoyable workout that ends by the Pacific Ocean, head to the Coffee Hub, a cycling-themed cafe that opened in 2017, to refuel with a cup of coffee and a delectable snack.
9. Torrey Pines Loop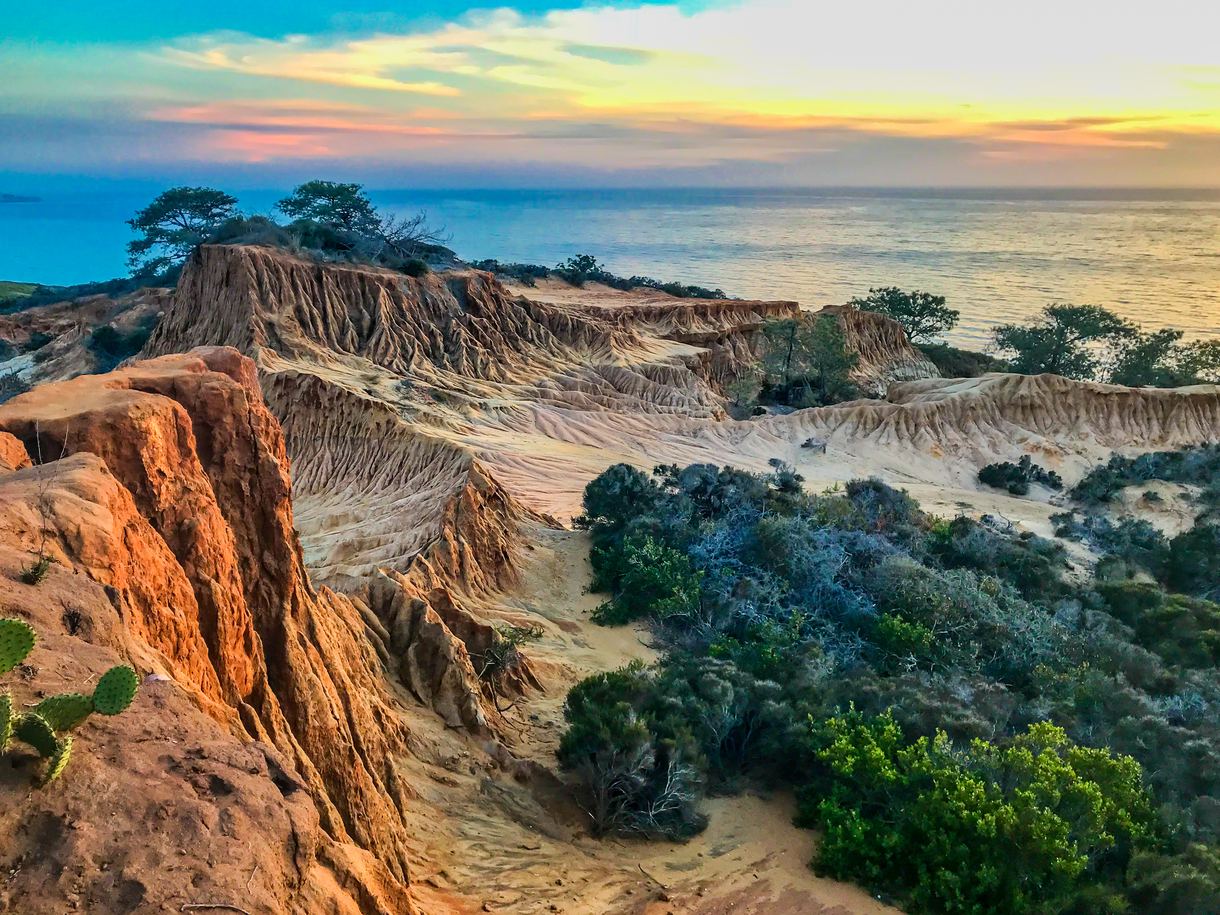 Location: 12600 North Torrey Pines Road
Level of difficulty: Moderate
Distance: 2.4 miles
Time: Approximately 20 minutes
Route: Loop
Spanning 2,000 acres, Torrey Pines State Natural Reserve is a favorite destination amongst endurance riders, adrenaline junkies, and challenge-seeking cyclists. With an elevation of over 1,000 feet, the Torrey Pines Loop Trail offers a fun biking experience and beautiful scenery. The trail also provides quick access to some of San Diego's most prominent beaches, including Solana and the Del Mar beaches. If you feel that the mileage or elevation is too much to handle, you can always bike one way and hop on the Pacific Surfliner for a comfortable journey back. But when in San Diego, this fantastic coastal ride is an absolute must.
Looking for more San Diego adventures? Grab a California burrito, explore the top local coffee shops, or grab a surfboard and head to San Diego's best surfing destinations.