As California mitigates health risks during the COVID-19 pandemic, some travel restrictions may remain in certain communities. Call the local and regional tourism offices to learn more about the restrictions in your intended destination. Thank you for reading, and stay safe.
The L.A. to Big Sur road trip is a quintessential California experience you can't miss. Scenic drives, unbeatable vistas, gorgeous trails, and iconic landmarks—the Big Sur road trip is truly one of the best weekend getaways from Los Angeles. Gather your friends and get ready to go on a spring break vacay you'll remember forever. If this is your first time, you're in for a Big Sur-prise.

L.A. to Big Sur Drive
The dramatic coasts along the L.A. to Big Sur drive have been virtually untouched for the past 50—even 100—years. You'll get a glimpse of classic California like you never have before. The views and landmarks alone are worth the Big Sur road trip from Los Angeles. While you won't be sinking your toes in Big Sur's beaches, your road trip won't have any shortage of adventures.
To put it simply, Big Sur is right in the middle of the Golden State, sitting along the Pacific Ocean. A true outdoor lover's paradise, the 90-mile stretch of coast is home to several state parks and forests.
The Distance From Los Angeles to Big Sur
The distance from Los Angeles to Big Sur is around 250 miles. If you drive along the iconic Pacific Coast Highway (also known as Highway 1), the journey will take around six hours nonstop. Considering the number of cool attractions along the way, spending a long weekend in Big Sur is your best option.
Big Sur Itinerary

Ganna Walska Lotusland
Ganna Walska, a well-known Polish opera singer and socialite, purchased an estate in 1941 and spent the next 43 years developing it into a garden. As a result, Ganna created Ganna Walska Lotusland, one of the most beautiful gardens in California. After her death in 1984, the estate was opened to the public in 1993. You'll find the breathtaking gardens in Montecito as you're driving from Los Angeles to Big Sur.
Make your reservation with a tour guide and explore the 20 gardens spanning 37 acres—each has its own theme and distinct vision. Lotusland is truly a Santa Barbara gem you won't want to miss.
Madonna Inn
The next stop on your L.A. to Big Sur road trip is the historic Madonna Inn. This iconic SLO landmark has been around since 1958 and features 110 rooms. The best part? Each room has its own unique theme. Staying at the hotel is an experience we recommend, but if you're planning on stopping for just a couple of hours, you should definitely consider dining here.
The hotel boasts a beautifully decorated cafe, steakhouse, and cocktail lounge. This San Luis Obispo getaway spot will add an unexpected twist to your Big Sur road trip from Los Angeles.

Morro Rock
A further 20-minute drive will get you to the eye-catching Morro Rock Beach. This Highway 101 attraction gives you one of the few chances to get closer to the beach while cruising on the road. The majestic Morro Rock, a 576-foot volcanic plug, rises dramatically from the harbor. If you want to add a beach for watching the sunset to your Big Sur itinerary, this is the place.
Piedras Blancas Elephant Seal Vista Point
Looking for a cool spot in San Simeon to check out on your road trip? The Piedras Blancas Elephant Seal Vista Point is your top choice. The observation deck is known for elephant seal sightings during breeding season. If your L.A. to Big Sur road trip is during the colder months, you'll spot large groups of these majestic creatures.


McWay Falls
Looking to stretch your legs on your Big Sur road trip from Los Angeles? Hike the easy out and back McWay Falls Trail at the majestic Julia Pfeiffer Burns State Park. For the least amount of effort, you'll discover the most stunning views in all of Big Sur. The overlook allows you to see and marvel at McWay Falls cascading down onto the sandy beach below.
Note: due to nearby erosion, the trail is currently partially open. The waterfall can still be seen from the portion of the trail that's open for exploration. Check for the latest updates before embarking on this hike.
Carmel-by-the-Sea
While Carmel is not part of Big Sur per se, it's the perfect destination to end your L.A. to Big Sur drive. Wrap up your perfect summer road trip by spending a day (or three) in Carmel-by-the-Sea. The charming small town has everything from boutique hotels and cute cafes to gorgeous galleries and a beautiful beach. What more could a Central Coast traveler ask for?
Scenic Drives Near Big Sur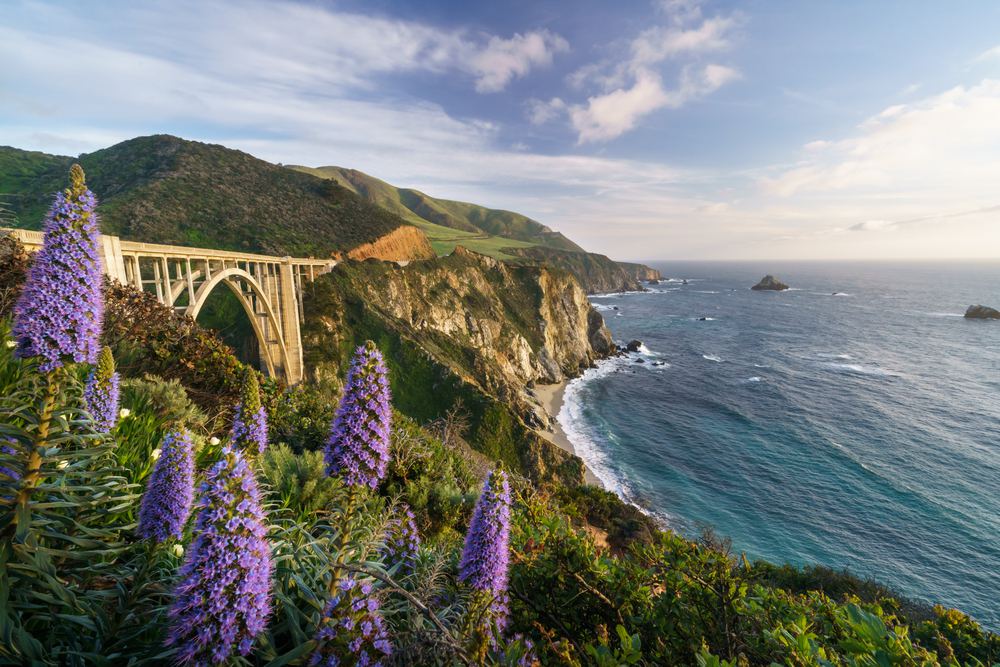 Bixby Creek Bridge
One of the most photographed spots in all of Big Sur is undeniably the Bixby Creek Bridge. Built in 1932, the bridge offers coastal views at numerous turnouts along its 714 feet length. You'll recognize this quintessential Big Sur scenic drive from numerous movies and TV shows, most recently Big Little Lies on HBO.
Both the bridge and views of the Pacific Ocean are terrific and worth taking a few photos of. Make sure to stop by at least one of its many vantage points— you won't regret it in the least.
17-Mile Drive
If you don't feel like wrapping up your road trip just yet, consider continuing from Carmel to Pebble Beach along the ultimate 17-Mile Drive. This scenic drive is like a continuation of your already impressive trip from Los Angeles to Big Sur.
You'll have 17 more stops to explore, including beautiful beaches to take pictures of and rich wildlife to view. Lone Cypress, Bird Rock, and the Del Monte Forest are a few of the many famous landmarks along the way. May we come with?