As California mitigates health risks during the COVID-19 pandemic, some travel restrictions may remain in certain communities. Call the local and regional tourism offices to learn more about the restrictions in your intended destination. Thank you for reading, and stay safe.
California is, hands down, one of the most geographically diverse places in the world. So why not take advantage of this and enjoy a scenic drive once in a while? From the deserts and sandy beaches of SoCal to the mountains and lush forests of NorCal, the possibilities for gorgeous views are endless while cruising on the highway in the Golden State. Quell your wanderlust on a short road trip—a good old-fashioned scenic California drive works wonders.
The best drives in California for enjoying the scenery

1. Avenue of the Giants
Hiking trails, beautiful campgrounds, and family-owned resorts—the Avenue of the Giants is a can't-miss NorCal road trip for every nature lover. Start the scenic California drive from either end of the route; from Phillipsville in the south or from Pepperwood in the north. Whichever direction you take, one thing's for sure: The towering redwood trees lining the highway will leave you speechless as you traverse the winding route running through Humboldt Redwoods State Park.
2. Lake Tahoe to Yosemite National Park
A relatively lengthy trip with iconic start and end points by anyone's standards, this scenic California drive is breathtaking in every way. The stunning, crystal-clear lake; snow-capped mountains; and verdant forests along the way will make you want to stop and stare a few times. Stretch your legs on a hike or two, admire the white-water action, and maybe even enjoy a dip in a natural hot spring during your journey to Yosemite National Park.

3. 17-mile Drive, Monterey
This scenic California drive is easily turned into a fun weekend getaway. With gorgeous natural scenery, 17 interesting stops, bucket list-worthy golf courses, and innumerable luxury resorts along the way, the 17-Mile Drive in Monterey is a must-do for anyone who hasn't been yet. Don't forget to roll down your windows so you can feel the wind blowing through your hair and listen to the relaxing sounds of the crashing waves.


San Diego scenic drives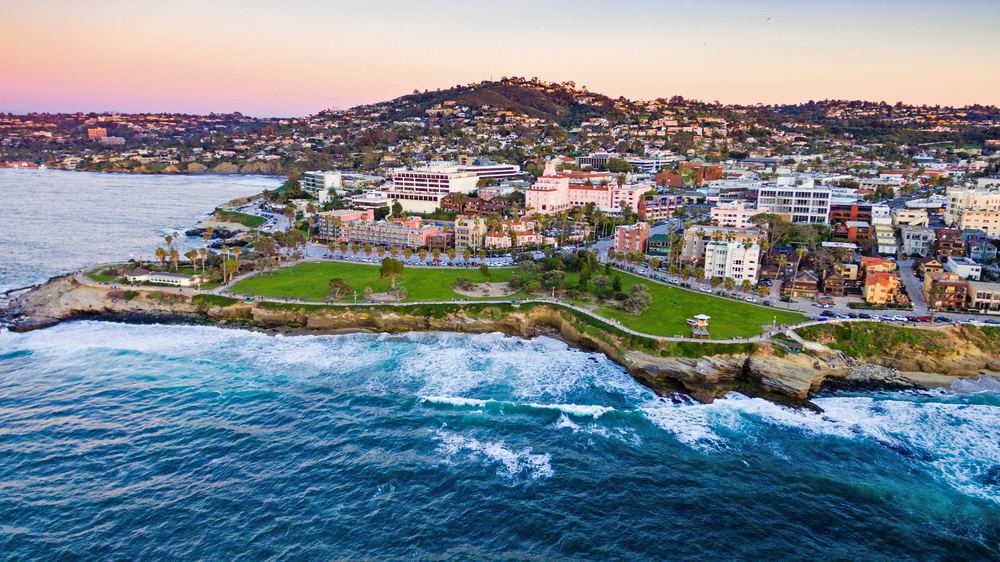 4. 59-Mile Scenic Drive
Perhaps one of the most famous San Diego scenic drives (and for good reason), the 59-Mile Drive exposes you to almost everything the county has to offer. From Point Loma, to Ocean Beach, to La Jolla, to Balboa Park—this scenic California drive takes you through San Diego's quaint neighborhoods, iconic landmarks, glimmering ocean, and more. Don't forget to park your car and soak in the panoramic views when traversing this route on a clear day; the vistas make for incredible photo ops.
5. Sunrise Scenic Byway
Known for its stunning meadows and wide panoramas, the Sunrise Scenic Byway is rich in natural beauty and wonder. Starting from the intersection of I-8 and County Road S-1, the route winds through the Laguna Mountain Recreation Area and ends at the junction with Highway 79. Spring, fall, and summer are all great seasons to try this San Diego scenic drive and enjoy the many recreational opportunities along the way—hiking, biking, and horseback riding, to name a few.

Scenic drives in Los Angeles

6. Angeles Crest Highway
If natural beauty is a must when taking a scenic drive in Southern California, then you should definitely keep the Angeles Crest Highway on your radar—cruising down this route is a great way to strengthen your connection with nature. Sheer rock walls, fragrant pine forests, and plenty of other natural wonders keep you company while you complete this scenic drive in Los Angeles.
7. Mulholland Drive
Are any lists of scenic drives in California complete if Mulholland Drive isn't included? The best way to traverse this iconic L.A. street is by beginning your journey at the Hollywood Bowl Overlook, passing through San Vicente Mountain Park, and wrapping it up at Laurel Canyon Boulevard. You'll have picturesque views of Los Angeles, the Hollywood Hills, and the countless canyons along the way. For even more thrills, you can tackle this scenic L.A. route on a motorcycle.

Malibu scenic drives

8. Malibu Canyon to El Matador State Beach
For the ultimate scenic California coastal drive, start your journey from Malibu Canyon and follow the road all the way down to El Matador State Beach. Hop on Las Virgenes Road, and you'll pass the Malibu Hindu Temple and Malibu Creek State Park. From there, you'll be driving down from the majestic Santa Monica Mountains, which take your breath away.
You'll eventually find yourself on the famous Pacific Coast Highway, where you'll be exposed to striking views of the ocean and its surrounding mountains. Make sure you do this scenic California drive during your next weekend getaway to Malibu.
9. Point Dume to Mugu Rock
Driving down the Pacific Coast Highway between Point Dume and Mugu Rock will treat you to awe-inspiring vistas of the ocean and Malibu's most iconic beaches. Just six miles into the drive, you'll pass by the beautiful El Matador State Beach before ending your Malibu scenic drive at Mugu Rock—a science fiction-esque vertical ridge of volcanic rock towering above the highway at Point Mugu.

Scenic drives near Sacramento

10. Highway 49
This scenic drive near Sacramento not only provides sweeping views of the Sierra Nevada foothills, but also leads you to several historic sites that teach you about the history of the area. So on your next getaway to Sacramento, drive along this scenic California highway for a thrilling adventure encompassed by spectacular scenery.
11. California State Route 160
The southern section of California State Route 160 is a long scenic highway that passes through the Sacramento River alluvial plain and connects with State Route 4 in Antioch via the Antioch Bridge. Those cruising along this scenic California drive can expect to pass by such interesting sites as the Sacramento Delta and other charming small towns near the river.

Big Sur scenic drive

12. Highway 1
The drive on Highway 1 along the Big Sur coastline is a quintessential Golden State experience, taking travelers past breathtaking views and iconic landmarks. (Make sure to have your camera ready to capture the experience.)
A popular subject for photographers from all over the world, the Bixby Bridge is a must-see road trip spot on your Big Sur scenic drive. Julia Pfeiffer Burns State Park, Pfeiffer Beach, Point Sur Light Station, and Partington Cove are other can't-miss attractions in Big Sur. No matter where you stop, be sure to take advantage of the multiple 360-degree viewpoints on this scenic California coastal drive.

Scenic drives in San Jose

13. Sir Francis Drake Boulevard
Starting from the historic Point Reyes Lighthouse, this scenic drive in San Jose takes you through gorgeous ranchlands; dense redwood forests; and out onto the wild, windswept coast of Marin County. This scenic California drive is named after the English explorer Francis Drake, whose ship, The Golden Hind, landed along the Pacific Coast in the 1500s. The theorized landing spot of this ship is known as Drake's Bay and can easily be a stop on your South Bay Area road trip.
14. Sierra Road
Sierra Road offers incredible views of the city and is a perfect scenic drive in San Jose at any time of the day. If you visit during the earlier hours, you might catch a glimpse of horses and cows as well as astonishing panoramic views. However, for a romantic California experience, consider visiting at sunset to take in the vistas and watch the city lights start to glimmer as the sky grows darker—this low-key date idea will definitely impress your partner.

The most scenic drive in Santa Cruz

15. Skyline Boulevard (State Route 35)
With a nickname like Skyline Boulevard, you know this scenic drive in Santa Cruz has to pack plenty of eye-catching views. Stretching from the Oakland Hills to Santa Cruz, this scenic Bay Area drive offers spectacular panoramas of the San Francisco Bay, Pacific Ocean, Silicon Valley, and many, many, beautiful parks along the way.