Following the winding road past endless rows of vineyards and towering mountains, you immediately drop into a state of tranquility in the world-renowned Napa Valley. Though nearly four million tourists flock to this wine mecca each year, one small city remains largely under the radar: Calistoga.
Nestled at the base of Mount St. Helena, about 75 miles north of San Francisco, the idyllic town has no hint of the haute tourist scene found elsewhere in the region, retaining its rich history and small-town charm. Kids ride bikes to an ice-cream shop that sells decades-old baseball cards, pedestrians stop to admire the second oldest train depot in the state and the historic buildings that provide glimpses into a bygone era, and locals head into the beloved Café Sarafornia to swap tales about the grape harvest.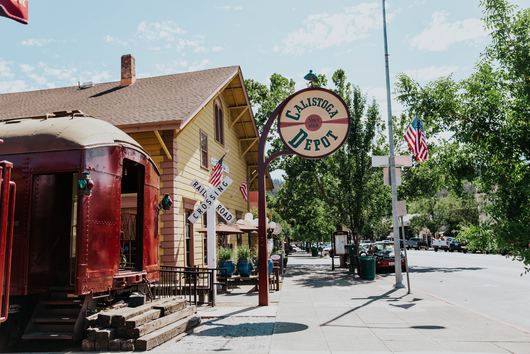 While some storefronts have come and gone over the years, much remains as it was after pioneer and entrepreneur Samuel Brannan capitalized on the area's natural wonders by building the first hot-springs resort as a spa for wealthy San Franciscans in the 1860s, bringing the first taste of tourism to the northern tip of this fertile valley. To this day, Calistoga continues to draw droves with its natural mineral baths and luxe spas—not to mention its standout restaurants, quirky shops, and posh resorts—that beckon with their promise of rejuvenation.
So if you're seeking a relaxing and intriguing getaway with all of the characteristics of the famed Napa Valley (without the crowds and pretentious atmosphere), Calistoga is calling your name. Here's what to do once you're there.
Getting to Calistoga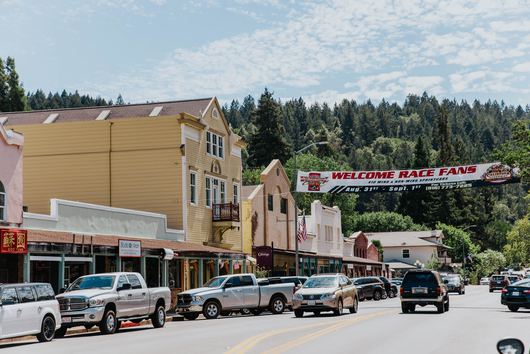 Merely a 90-minute drive from San Francisco and Sacramento, Calistoga is easy to reach by car, so crank up the radio and take in the scenery as you cruise down the highway. (We recommend leaving early so you can beat the traffic and make the most of your time in town.) Those traveling from farther distances can fly into the Charles M. Schulz Sonoma County Airport and then rent a car for the 30-minute ride out to Calistoga.
No matter which way you choose to travel, you're bound to feel at peace as soon as you arrive in the bucolic haven of Calistoga—and you won't want to leave when the weekend is over.
Day 1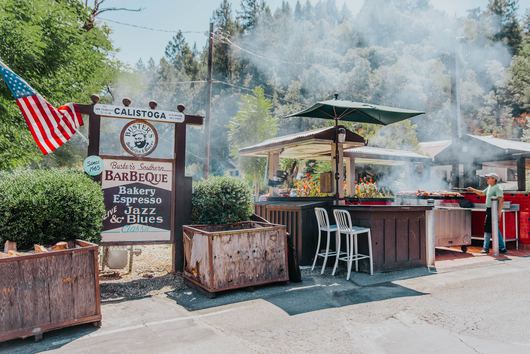 Afternoon
Driving along Highway 128 with the windows down, you'll know you've reached downtown Calistoga when you smell the sweet, smoky scent of authentic Louisiana barbecue. Situated at the top of the main drag, Buster's Original Southern BBQ is a carnivore's dream, dishing up juicy tri-tip, ribs, chicken, pork loin, pulled pork, and hot links—all slathered in house-made sauces crafted from family recipes that have been passed down from generation to generation. The 54-year-old BBQ joint also offers an array of side dishes such as creamy potato salad, savory chili beans, and crunchy coleslaw. Order what you please at the window, then snag a seat out on the scenic patio to soak up the surrounding scenery and relaxing vibes.
Follow up your hearty meal with a stroll down Lincoln Avenue. Lined with early 20th-century buildings and historical landmarks, the town's main thoroughfare remains largely untouched by time. Spend an hour to two browsing the boutiques—ranging from stylish gift and apparel shops to eclectic art galleries and home decor stores—and grab an afternoon pick-me-up from Yo el Rey Roasting. This hip and cozy micro-roastery pours organic, sustainably sourced coffee and craveworthy espresso drinks such as honey vanilla lattes and iced mochas.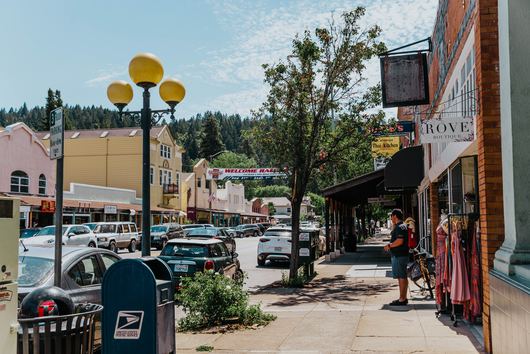 To learn more about the region's rich history, visit the Sharpsteen Museum, located right off of Lincoln. Founded by Ben Sharpsteen—an Academy Award–winning animator, director, and producer for Disney—the acclaimed institution features detailed dioramas chronicling Calistoga's early days up through the World War II era. Come view the impressive displays showcasing electric trains, restored stagecoaches, rare artifacts, original artwork, and more.
Once you're ready to rest your weary feet, head to your home away from home for the weekend: Indian Springs Calistoga. As the oldest continuously operating pool and spa facility in California, this luxurious 16-acre property has perfected the art of relaxation with its laid-back atmosphere and spectacular scenery. And not a smidgen of luster was lost after a recent expansion, which brought the addition of 72 bohemian-chic rooms housed in two-story buildings with private decks; three enchanting two-bed, two-bathroom bungalows complete with yards for easy entertaining; and a new, upscale eatery called Sam's Social Club.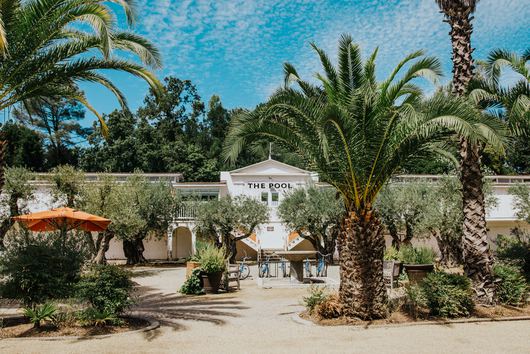 Settle into your chic accommodations, then take a dip in the Olympic-sized swimming pool—filled with heated, mineral-rich water from the property's four natural geysers—and enjoy poolside drinks while reveling in the upscale-retro feel. If the main pool becomes a bit too raucous, head to the smaller, quieter adults-only pool; play bocce ball, shuffleboard, or croquet; meander through the gorgeous garden dotted with bright blooms; or simply kick back by the outdoor fireplace and savor the views of the lush landscape and rolling hillsides surrounding you.
Evening
Once the sun sinks behind the mountains, freshen up and prepare for a delectable dinner at Evangeline. Walk less than 10 minutes from the resort to reach this charming bistro, and you'll be greeted by the mouthwatering aromas of classic French fare with a Creole twist.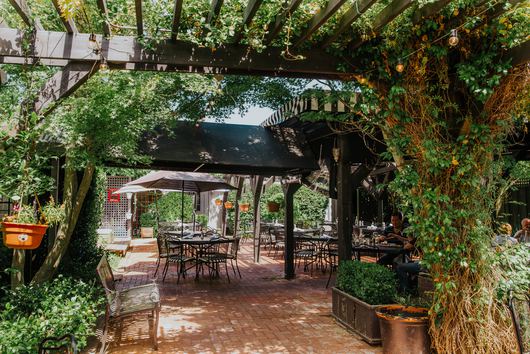 Sit out on the ivy-adorned garden patio and kick off the night with an artisanal drink and an order of the Bouchon Bakery baguette with Vermont Creamery butter. Follow it up with the bowl of Totten Inlet mussels—steeped in a fragrant concoction of white wine, garlic, shallot, and saffron—and perfectly crispy french fries. But if you're craving a taste of the South, go for the comforting gumbo ya-ya, starring succulent shrimp and Andouille sausage in a spicy, hearty broth flecked with rice. End the evening on a sweet note with a slice of spongy Meyer lemon cake topped with creamy mascarpone and house-made huckleberry compote.
After savoring your epicurean delights, enjoy a leisurely walk through the desolate, quiet streets—save for the strums of guitars and boisterous voices echoing out of the occasional bar—as you make your way back to the resort. Lounge by the fire pits and reminisce about your first day in Calistoga, grab a nightcap at Sam's, or relax in your room with a good read before turning out the lights.
Day 2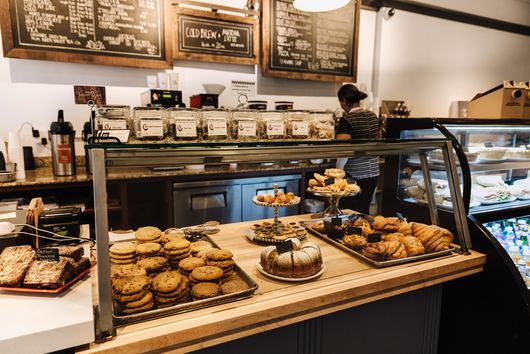 Morning
Rise and shine to beat the line at the locally owned Bella Bakery, a popular spot to grab a strong cup of coffee and a fresh-from-the oven raspberry muffin, orange poppy seed sweet roll, ginger scone, or flaky croissant stuffed with melted cheese and savory ham. Deciding what to order can be rough, but you can't go wrong here. Once the difficult decision has been made, grab a seat at one of the sidewalk tables, and watch the passersby as you devour your morning treats.
Then, drive 10 minutes to witness the natural splendor of The Petrified Forest, where you can walk among majestic petrified redwood giants dating back more than 3.4 million years. This ancient forest is one of the few of its kind in the world, featuring a collection of redwood trees that were turned to stone after a nearby volcano erupted and buried the area in layers of volcanic ash that gradually excavated the wood over time. Meander along the one-mile loop leading through the expanse, taking in the views of Mount Saint Helena in the distance and admiring the petrified tree exhibits, which reveal information about the petrification process and the discovery of the forest in the mid-1800s.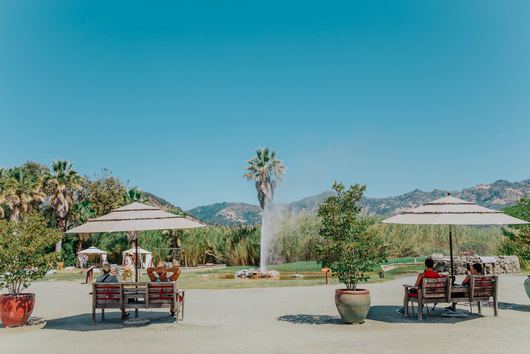 Continue your outdoor adventures at the nearby Old Faithful Geyser of California. This natural geyser shoots a graceful veil of steam and hot water about 20 to 80 feet into the air every 5 to 55 minutes, forming a breathtaking rainbow at certain times of day. While you wait, you can explore the small farm—home to sheep, llamas, and notorious fainting goats—peruse the geology museum, walk amongst the garden of native California plants, or play a round of bocce ball.
Afternoon
After a fun-filled morning, you've likely worked up an appetite, so head back to Indian Springs to enjoy lunch at Sam's Social Club. Named after the resort founder, Samuel Brannan, this convivial, rustic-chic eatery is the place to gather for seasonally inspired, farm-fresh cuisine. Ask for a table on the expansive patio for an alfresco dining experience under olive trees and a canopy of heritage oaks.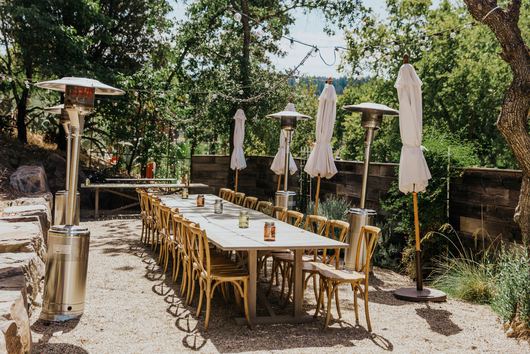 Grab the seeded avocado toast adorned with a soft-boiled egg; the po'boy loaded with lightly fried soft-shell crab, Calabrian chile aioli, and refreshing slaw; or the wood-fired pizza featuring house-made sausage, pepperoni, locally foraged mushrooms, and fresh mozzarella. But make sure to leave room for dessert. You can't miss out on the signature candy cap churros served alongside a dulche de leche dipping sauce.
Spend the rest of the afternoon soothing your muscles and recharging your soul at the spa at Indian Springs, where the attendants can slather you with heavy volcanic ash and then steam away your cares. A full menu of facials, body scrubs, and mas­sages—often using natural elements found on the property—​​will leave you nourished and relaxed. Post-treatment, pull up a chaise and say "om" at the tranquil Buddha Pond.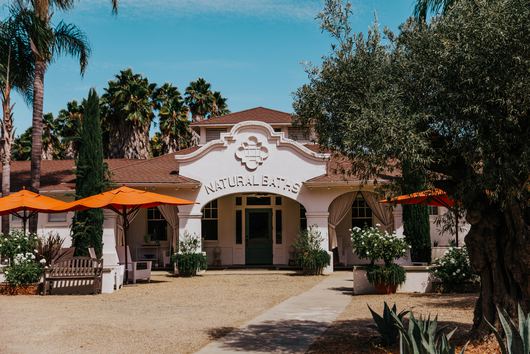 Evening
You'll feel like a new person by nightfall, and there's no better way to celebrate than with an elevated dinner at Solbar. Tucked away inside the five-star Solage resort, this local favorite is where you'll find area vintners sipping drinks after-hours, friends unwinding over leisurely meals, and couples letting time slip away under the glow of a 20-foot fire pit. Solbar offers light, delicate flavors to stimulate your palate and bold, savory dishes to comfort your spirits—all with fresh, seasonal ingredients that showcase the Napa Valley.
Unwind at a table out on the sun-dappled, palm tree-studded terrace, and enjoy panoramic views of the Palisades as you nosh on fresh oysters and a salad of juicy local peaches, prosciutto, and burrata drizzled in honey-lavender vinaigrette. Then, load up on the tender New York strip steak—accompanied by Kennebec potato rosti, pickled chanterelles, creamy spinach, black truffle fondue, and grilled porcini mushrooms—or the olive oil–poached Alaskan halibut draped in rich béarnaise sauce, local morel mushrooms, and California asparagus. Conclude the culinary adventure with an order of the salted butterscotch pudding and the playful passion fruit–infused chocolate bar enhanced by stone fruits and buffalo-milk gelato. Savor every last morsel, and linger as long as you can before bidding adieu to this magical locale.
Day 3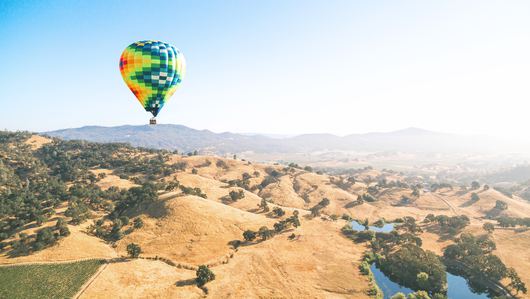 Morning
Arise at dawn to spend your final morning soaring above the clouds with Calistoga Balloons. Your early wake-up call will be worth it once you take in the bird's eye view, presenting dramatic panoramas of the vineyards, undulating mountains, and verdant forests as the California sun spreads across the land. Though you're up in the air, the ride is smooth, relaxing, and peaceful—and it's easy to feel worlds away.
After flying high in the sky, enjoy the simple pleasures of being on land by having brunch at Lovina, a farm-to-table restaurant that beckons to locals and tourists alike with its quaint front patio, retro look, and crave-worthy eats. Indeed, the outdoor sign saying "Great Food" isn't just good marketing; it's a promise to provide delicious fare to every guest, and you will not leave disappointed. Dig in to the signature breakfast sandwich—featuring sharp cheddar, savory ham, and scrambled eggs tucked between an English muffin from the famous Model Bakery—or the fluffy French toast starring cinnamon raisin bread.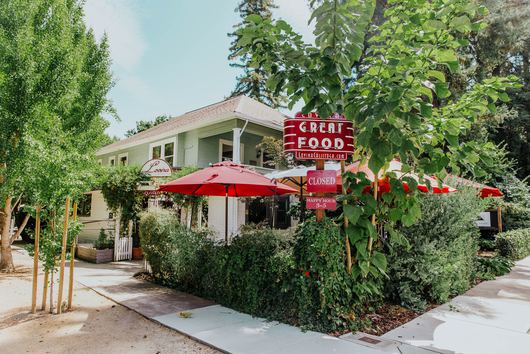 And if you really want to go out with a bang, conclude your meal with the "Hot Mess": a flourless chocolate brownie drizzled in salted caramel, white chocolate, and toasted coconut marshmallow sauces; topped with a cherry; and served alongside a scoop of pistachio gelato. It's the perfect way to end your weekend of pampering and indulgence in Calistoga.
Where will you head next?