By

Rico Rivera
Guest Writer
February 05, 2021
Rico Rivera is the owner of Silicon East Real Estate and is a member of the California.com Recommended Business Program, which highlights only the best businesses in the Golden State. To be featured, each business must be highly regarded, have a unique California story, and make a positive impact in their community.
The Greater Sacramento area is full of diversity, natural beauty, and opportunity, making it a highly coveted destination to visit and live in. California's state capital typically draws much of the attention thanks to its unique blend of Victorian architecture, Gold Rush history, and farm-to-fork restaurants, but the suburbs of Sacramento offer their own charm, too. From small towns with great hiking trails to larger locales with easy access to Sacramento's amenities, the suburbs of Sacramento, California, have something for everyone.
Located within driving distance of the city of San Francisco, the mountainous landscape of Lake Tahoe, and the beaches of the Pacific Coast, the Greater Sacramento region allows residents to experience the best of California. Unlike other metro areas of the state, however, the best suburbs of Sacramento don't sacrifice space in exchange for its prime location—you can enjoy a large backyard where your dogs can run free, an urban downtown, and close proximity to the incredible nearby destinations.
Whatever you want to do this weekend, you can do it from Sacramento. You can be at the beach in an hour and a half or, if you wake up and want to go to Tahoe, you can get there in the same amount of time—Sacramento is close to everything. So, whether you're moving from the Bay Area to the Sacramento region for work, searching for a town with great schools, or just looking for a spot where you can partake in your favorite outdoor adventures, these are the cities to check out now.
The
Best Suburbs of Sacramento

Folsom
Median home price: $608,000
Folsom is renowned for its high-quality school districts, making it one of the best suburbs of Sacramento for families. Complete with acres of open space, hiking and biking trails, and access to Folsom Lake, this suburb is unlike any other. The city is located 30 minutes northeast of Sacramento and, while a bit pricier than many of the surrounding areas, it is an excellent place to raise a family.
Spend a day visiting the Folsom City Zoo Sanctuary, reading books at the public library, learning about the region's history at local museums, kayaking on the lake, or splashing around at the aquatic center to make memories you won't forget.
Granite Bay
Median home price: $905,000
If you don't mind being farther inland or competing for more expensive real estate, it doesn't get much better than Granite Bay. With larger lot sizes, nice homes, and well-ranked school districts, Granite Bay offers a lavish lifestyle on the northwestern shores of Folsom Lake.
Settled between the city life of Sacramento to the west and the charming Gold Rush-era towns to the east, Granite Bay offers the best of both worlds. This suburb is an excellent place to live, boasting multi-acre plots of land, a state recreation area, and plenty to do within driving distance.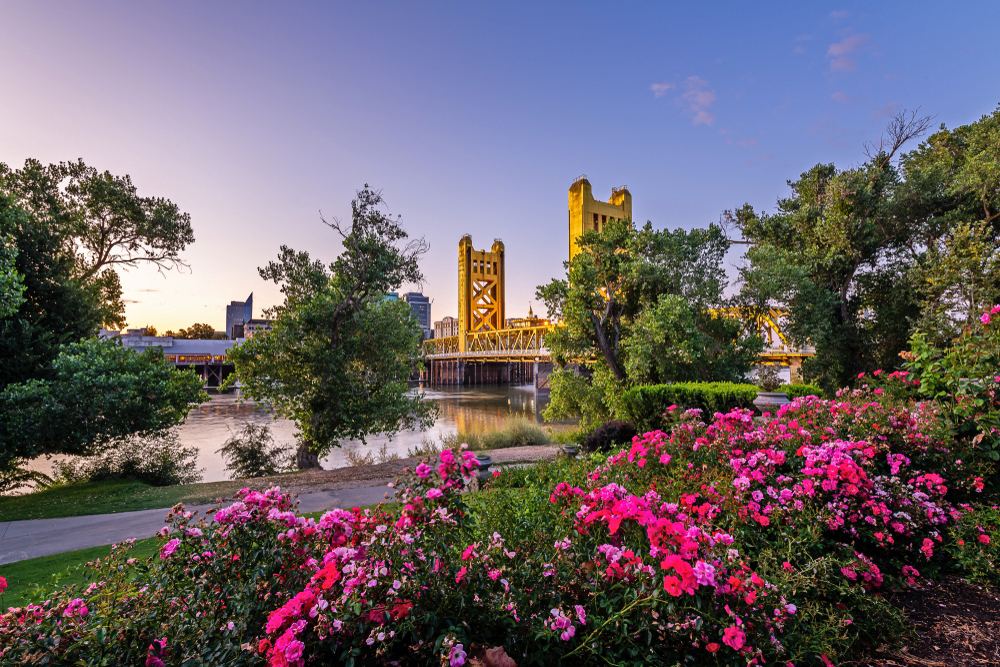 West Sacramento
Median home price: $432,000
Nestled along the river, across from downtown, West Sacramento is a popular place for commuters to settle down. Since this neighborhood is located west of downtown, driving to Davis or San Francisco doesn't involve cruising through the more traffic-laden areas of the city. As a fast-growing city with a multitude of up-and-coming neighborhoods, West Sacramento is full of newly constructed homes.
Since West Sacramento is separated from the downtown area and is known for its residential vibe, its walk and bike scores are lower than those of many other Sacramento neighborhoods. It also doesn't have as many public transportation options, making it a better fit for those who own cars and enjoy driving.
El Dorado Hills
Median home price: $750,000
El Dorado Hills is one of the most underrated Sacramento, California suburbs, but it shouldn't be overlooked. Located across the lake from Granite Bay and east of Folsom, El Dorado Hills is known for its outdoor spaces and good schools. Since the town is surrounded by a plethora of natural beauty and dotted with larger homes, it also comes at a higher price point than many other nearby locales.
Enjoy a luxe lifestyle, breathe in the fresh air, and take advantage of the nearby attractions. If you're ready to move out of the Bay Area and have more space to call your own, El Dorado Hills is an upscale, nature-lover's paradise.

Elk Grove
Median home price: $496,000
Elk Grove is one of the most diverse suburbs of Sacramento, so it's a unique place to live. The city is a true melting pot of cultures where residents speak 100-plus different languages and a wide variety of cuisines are represented at local eateries.
Along with offering a welcoming environment, Elk Grove is a popular destination for families thanks to its great schools and more affordable real estate. While the city boasts a more suburban vibe, downtown Sacramento and the airport are both within 30 minutes of this quaint suburb. Situated south of Sacramento's busier freeways, Elk Grove is also a top choice for professionals commuting to San Jose.
Take advantage of the city's outdoor oases by hiking the local nature trails, visiting the regional parks, and wandering around Old Town.
With verdant hills, luxurious mansions, charming towns, and urban amenities, the Greater Sacramento area has something for every personality type and every stage of life. You'll want for nothing out here, so it's time to make the move.