By

Mackenzie Hutson
May 19, 2020
As communities across the world and in California mitigate health risks during the COVID-19 pandemic, we are shifting our content focus and not encouraging any travel or social activities during this time. We will, however, continue to shine a light on and celebrate the many beautiful aspects of our State with the intention of being a source of inspiration and joy during this difficult period. Thank you for reading, and stay safe.
The Golden State is home to endless beaches, cobalt rivers, clear lakes, and bubbling hot springs—and enough sunny days to experience them all. Whether you're looking forward to backyard barbecues, pool parties, or simply tanning on a towel by the ocean when the days get longer, it's never too early to prepare for your summer adventures.
Before we know it, we'll all be swapping out our sweats for new swimwear and vitamin D in order to take advantage of the state's highly anticipated heat wave. So it's time to stock up on mineral sunscreen, master those beachy waves, seek out San Francisco's best surf spots, and find the perfect bathing suits from California's top swimwear brands.
With moderate weather nearly year-round in California, there's never a bad season to don a bathing suit, so get ready for a trip to the hot springs, a boating excursion on the lake, or a beach vacation with some of our favorite swimwear.
7 California Swim Brands To Check Out Now

In addition to offering the hottest styles, these California swim brands take the state's sustainable values to heart. By using eco-friendly designs, practicing humanitarianism throughout their supply chains, and incorporating recycled materials into their products, these companies craft swimwear you'll feel good about buying.

Outerknown
Based in: Culver City
Outerknown is a Southern California–based brand producing everything from women's jumpsuits and sweaters to men's tees and jeans. But with a professional surfer as the founder, Outerknown's men's swim trunks steal the spotlight. Engineered for mobility, anti-chafing, water absorption, and style, the Apex Trunks will become your new go-to.
Performance isn't all that goes into creating an incredible clothing line at Outerknown. The company has always embraced circularity and maintained high labor standards, pursuing accreditation with the Fair Labor Association—and getting approved faster than any brand in history—before opening its store to customers. Outerknown has also remained committed to protecting the ocean, using recycled or renewable fibers to make every pair of swim trunks.
Outerknown is so much a part of California's beach culture that you can find the company's items at many of the state's industry-leading surf shops.

BOLD Swim
Based in: Hollywood
As the name implies, BOLD Swim specializes in bright colors and patterns, celebrating the vibrance of California and the women who live here. Designed in Los Angeles, BOLD garments are environmentally friendly, free of harmful toxins, biodegradable, outfitted with UV protection, and sent to customers via carbon-neutral shipping. BOLD is committed to Fair Trade and ethical production, too, so you won't have to worry about anything while rocking these styles.
Plus, there's swimwear for every personality. Whether you're in the mood for multi-colored separates or a tangerine one-piece, you'll find a new take on traditional swimsuits at this trendsetting shop.

Jessica Rey
Based in: Los Angeles
Ethically made in Los Angeles using fully regenerated pre- and post-consumer waste, Jessica Rey's beachwear is something you can always feel good about purchasing.
After pursuing her passions and becoming the White Power Ranger on Disney's Power Rangers Wild Force, Rey found herself spending most of her free time by the pool, but she became tired of revealing bikinis and struggled to find flattering, age-appropriate swimwear. Instead, she was left with a host of one-piece swimsuits that she wouldn't want to be seen in. That's when she decided to design her own and start a new line of swimwear.
Complete with swim dresses, tankini tops, one-pieces, and athleisure items in a variety of prints and colors, Jessica Rey's swimwear collection features something for every style.

Galamaar
Based in: Los Angeles
Galamaar is redefining the swimwear space. Produced in Los Angeles using eco-friendly fabrics, Galamaar bathing suits combine versatile colors with classic lines and East Coast color palettes with West Coast style.
Match your favorite top and bottom, or mix it up for a look that's entirely your own—either way, you're helping to keep fishing nets out of the ocean with these sustainable nylon pieces. What's more, this brand's beachwear is designed to last, so you can look effortlessly cool year-round.

GREENLEE SWIM
Based in: Los Angeles
GREENLEE SWIM isn't your typical sustainable swimwear brand. With a host of minimal, high-end pieces and bold patterns, this company provides the fun bathing suits you've been looking for.
Designed and manufactured in Los Angeles using recycled and biodegradable fabrics, GREENLEE swimsuits are made with all women in mind, so you're sure to find a color, shape, and elegantly comfortable suit to fit your lifestyle.

Patagonia
Based in: Ventura
Patagonia is a well-known outdoor gear brand offering dozens of styles of sustainable swimwear. As a B Corporation, Patagonia is held to high standards, and as an adventure brand, it has everything you need to hit the waves, paddle on the lake, and make a splash.
Choose between one- and two-piece styles, reversible pieces, rashguards, boardshorts, and more to confidently face your fears and master your craft. No matter what pieces you choose, you'll be helping to protect the planet from unnecessary harm and paving the way for a better future.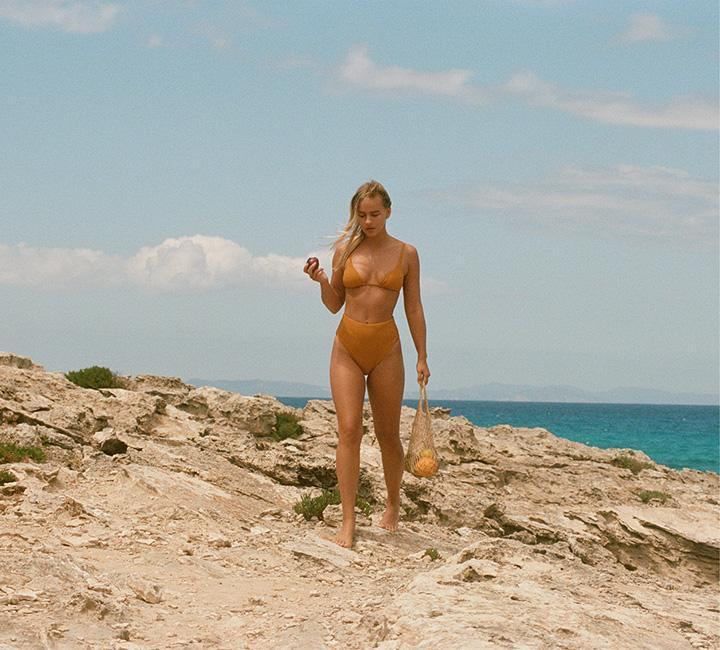 Vitamin A
Based in: Laguna Beach
Prior to opening Vitamin A, founder Amahlia Stevens worked with Patagonia founder Yvon Chouinard and was inspired to continue his work of making clothing fibers out of recycled materials. After being told that there was no market for the kind of swimwear she dreamt of making, Stevens decided to design her own. Today, Vitamin A is one of the few California swimwear brands to design and produce all of its items within the Golden State.
Whether you go with a modest bodysuit or opt for the unique silhouettes of the two-piece tops and bottoms, you'll never want to go back to less-sustainable alternatives. Plus, since these glamorous swimsuits are created in California, they perfectly embody the state's quintessential vibe. Add on some accessories or a coverup, and you'll be set to head from the beach to the farmers market.
Join the conversation and share your favorite California swimwear shops in the comments below.