As soon as its landscape becomes blanketed in snow, South Lake Tahoe draws droves of skiers and snowboarders eager to slide down the powdered slopes and take in the majestic wintertime scenery. But toward the end of the year, thousands descend upon the region for a different reason: MTV's SnowGlobe Music Festival.
Now entering its ninth year, SnowGlobe is the largest outdoor New Year's Eve music festival in the country and is one of the best New Year's Eve celebrations in California. Taking place in the heart of the breathtaking Sierra Nevada Mountains, the 2019 outdoor winter fest kicks off on Sunday, December 29, and culminates in an epic finale on Tuesday, December 31. The three-day celebration features an array of world-class artists performing on multiple stages—plus a dynamic fireworks display; live "Big Air" snowboarding and skiing demos next to the main stage; 20,000 square feet of heated, enclosed spaces; interactive art installations; and much more.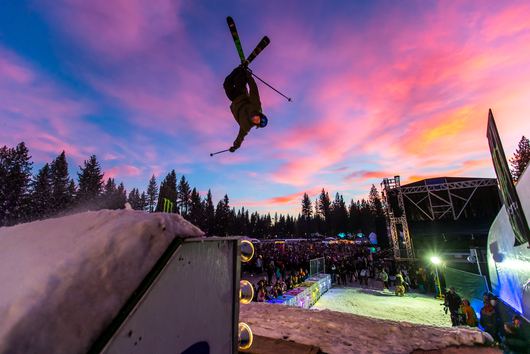 This year's stellar lineup features more than 50 musicians—including Skrillex, E-40, Fisher, Griz, Louis the Child, and Gigantic Nghtmre—who will perform against a stunning backdrop of nearly 9,000 acres of skiing and snowboarding space. This terrain is available to all SnowGlobe attendees, which means you can spend the day skiing or snowboarding along with the beats, and then dance the night away.
Also new in 2019, SnowGlobe is proud to go single-use plastic bottle free. In partnership with Waste Free Earth and companies such as Proud Source Water, the festival is enacting stricter sustainability guidelines on vendors and sponsors; enhanced engagement opportunities at the on-site, fan-facing sustainability booth; and planting sugar pine trees in Tahoe. Last year alone, SnowGlobe diverted 70 percent of waste away from landfills and into recycling, composting, and donation-based initiatives, and organizers expect to increase that number this year.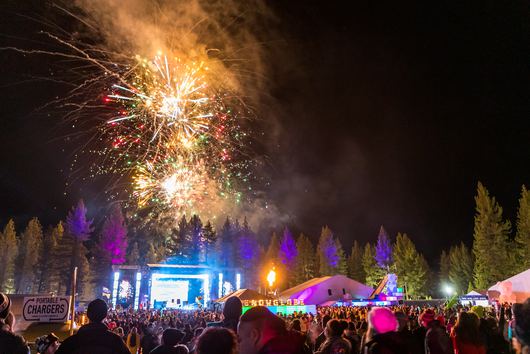 So, if you're still looking for an epic NYE party to usher in the new decade on a high note, head to this sizzling music extravaganza in a winter wonderland. Here's what you should know before you go.
When is SnowGlobe 2019?
December 29–31, 2019
Where does SnowGlobe take place?
Bijou Park at South Lake Tahoe Community College
1 College Way, South Lake Tahoe
What are the festival hours?
December 29–30: 2–10 p.m.
December 31: 3 p.m.–1 a.m.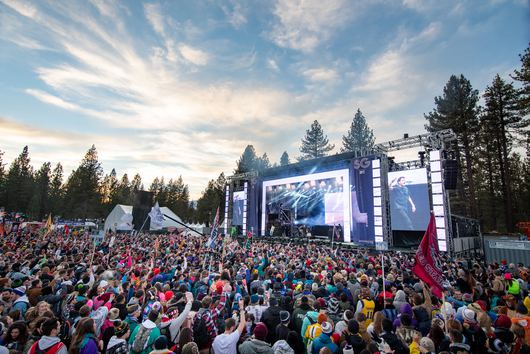 How much are SnowGlobe tickets?
Tickets range from $160 to $550
Can kids come to SnowGlobe?
Yes! SnowGlobe is an all ages event, and children ages 10 and under receive free admission when accompanied by a ticket-holding parent or guardian.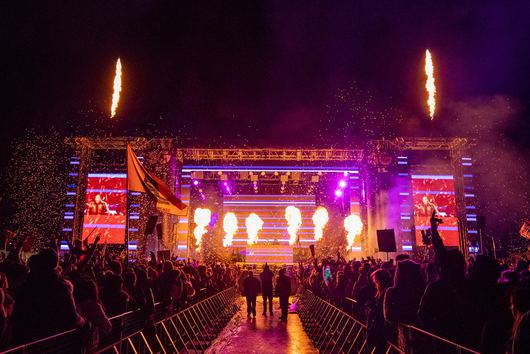 How can I get to SnowGlobe?
If you're coming from or staying outside of the South Lake Tahoe area, simply pay $99 to get a dedicated ride to SnowGlobe and back for all three days of the event. Round-trip rides are also running to the festival from Reno and Carson City every day. If you decide to drive to SnowGlobe, note that there is no parking available on-site, but you can leave your car at the South Tahoe Middle School, where shuttles will drop off and pick up passengers at the nearby intersection of Al Tahoe and Johnson Boulevard.
There is also a SnowGlobe shuttle service available from the South Lake Tahoe Transit Center (4114 Lake Tahoe Boulevard) and from the South Y Transit Center (100 Emerald Bay Road) to Al Tahoe Boulevard. The shuttle service will drop off and pick up festival attendees from Bijou Community Park.
Shuttle times:
December 29, 1:30 p.m. to 12:30 a.m.

December 30, 1:30 p.m. to 12:30 a.m.

December 31, 1:30 p.m. to 2:00 a.m.

To make the most out of your trip, read our guide to South Lake Tahoe, stop by one of the best coffee shops in Tahoe, and check out the top ski resorts in the region.