Buckle your helmet, and get ready to drop in as we cruise through some of the best skate parks the Golden State has to offer. Whether you want to practice your tricks indoors or by the beach, California has it all. This is rightfully so, considering the birth of skateboarding and much of its early legacy happened here. Skateboards first appeared as a fad in the 1960s and were initially manufactured by Southern California surfers who wanted something to do when the waves were flat. What started as a 2x4 wooden plank mounted on four wheels has evolved into so much more and created a popular sport. Today, skateboarding is practiced by millions of people around the globe and is fast becoming an Olympic sport. This is exciting news to all skateboarding enthusiasts, so we've compiled a list of the best skate parks in California.
Venice Skatepark, Santa Monica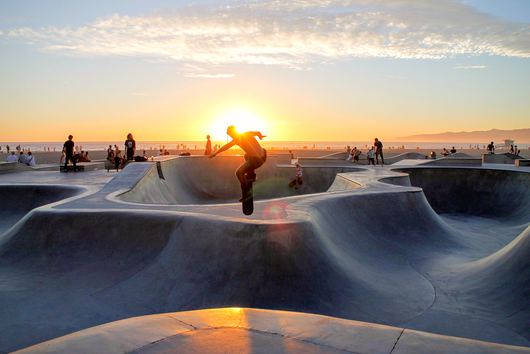 Of the 450 skate parks in the Golden State, the one on Venice Beach has earned its reputation for being among the greatest. This 16,000-square-foot skater's paradise is the world's only skate park built on a beach and is the most expensive skate park constructed in California to date. The park features a large snake run, two bowls, and a variety of boxes and rails, making it an ideal location for both street and vert riders. Venice Skatepark also serves as a hub for local riders who love to perform wild stunts, and many enthusiasts come to watch. If you want to see these athletes in action and skate at an iconic spot, this is definitely the place for you.
Park Rules
No BMX, scooters, or bikes are allowed.

Helmets, elbow pads and knee pads are required at all times.

Animals, amplified music, and glass bottles are prohibited.

The park is open from dawn to dusk.
Vans off the wall Skatepark, Huntington Beach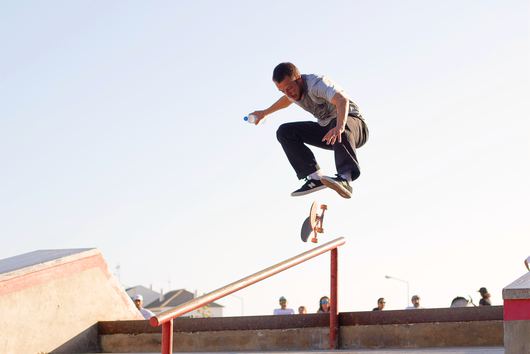 The Vans Off the Wall Skatepark in Huntington Beach is a relatively new skate park that opened in 2014. The majority of the park is located indoors, but there is an outdoor section as well. The park's design is quite remarkable, especially with the 6-foot-tall Vans logo that riders can jump over, the checkered floor designs, and the red and blue grind rails. The skate park even features an exact replica of the world-famous Combi bowl. (In the early 1980s, the Combi bowl of Upland Pipeline was one of the best-designed parks.) The reimagined bowl at Vans Skatepark was made to the same scale as the original and is absolutely massive, reaching a depth of 12 feet! The scale of this construction makes it a challenge for even the most experienced skateboarders and is definitely worth checking out.
Park Rules
Helmets, elbow pads and knee pads are required at all times.

All participants must sign a liability waiver.

A supervisor must be on-site to use the facility.

Participants under 18 must be accompanied by a guardian.

The park is open from 10 a.m. to 10 p.m.
SoMA West Skatepark, San Francisco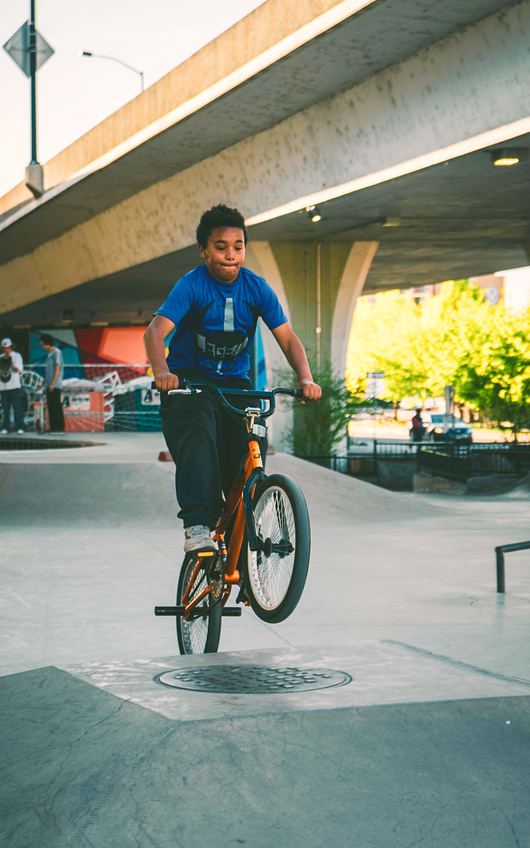 Situated in the South of Market District, SoMa West Skatepark is San Francisco's newest skate park. During peak rush hours, the park is surrounded with heavy traffic since it is right under a busy freeway. The hectic sounds of cars combined with echoing from the bridge keeps the city vibes alive at this skating destination. The skating obstacles such as the rails, bowls, and manual pads have also been carefully designed to recreate some of San Francisco's most iconic street-skating spots. The park's ledges and stairs, for instance, mirror those of the famed skate spot Embarcadero Plaza. For this reason, many people see SoMa as a work of art preserving the history of skateboarding in San Francisco. People from around the world travel to this park, creating a diverse and fun atmosphere that you would not want to miss out on.
Park Rules
Helmets are required at all times

No animals, smoking, littering or amplified music allowed

No BMX bikes or scooters allowed

The park is only open from 9 a.m. to 9 p.m.
Town Park, West Oakland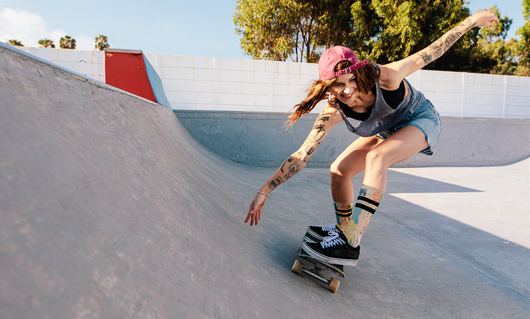 From day to night, people are always hanging out at West Oakland's Town Park. The park is relatively small compared to the other skate parks on this list, but it is well known in the skateboarding community for its smooth flow and unique obstacles. Town Park has also grown into a sanctuary for local skaters, thanks to local activists who cared about the community youth in West Oakland; these activists worked with the city of Oakland to build its first skate park, which is now enjoyed by Bay Area skateboarders.
The city has also collaborated with local artists to paint beautiful murals throughout the park, making it truly one of a kind. Town Park hosts numerous community events, too—including skate competitions, music events, and festivals—so if you're planning a trip to Town Park and don't want to miss out on a fun event, check the city website first to see what's in store.
Park Rules
Helmets, elbow pads and knee pads are required at all times.

Camping, smoking and dogs off-leash are prohibited.

The park is open from 10 a.m. to 10 p.m.
Fremont Skate Park, Fremont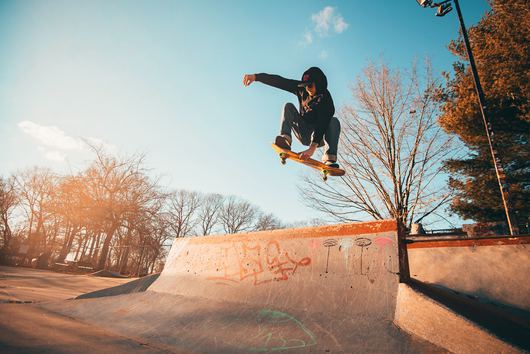 With over an acre of terrain made for cruising and a water park right next door, the Fremont Skate Park always makes for an exciting trip. This park features large palm trees and patches of grass that make you feel as though you are in a beautiful plaza. The park terrain varies, offering both street and bowl features, with areas suitable for beginners and advanced riders alike. This skate park is also a favorite location among the famous Braille skate team, which shoots many of its videos here, so come on down for a chance to see Aaron Kyro and his team skateboarding or filming their hilarious challenge videos.
Park Rules
No BMX, scooters, or bikes are allowed in the Skate Plaza.

Helmets, elbow pads and knee pads are required at all times.

All persons under the age of 14 must be accompanied by a guardian.

No animals, glass bottles, or amplified music are permitted.

The park is open from dawn to dusk (or until 8 p.m.).
Lake Cunningham Action Sports Park, San Jose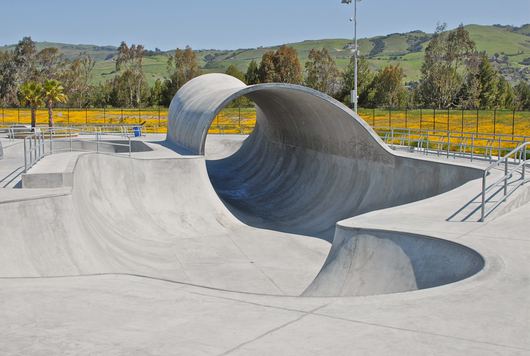 Spanning 68,000 square feet, Lake Cunningham Action Sports Park is California's largest skate park. The park is located along the shoreline of the scenic lake and is conveniently surrounded by a dirt-bike track. Built in 2008, Lake Cunningham holds multiple world records for its incredible structures and design: It is not only home to the world's largest fullpipe—which is 20 feet wide and 70 feet long—but also to the tallest wallride, which only the most skilled skaters would dare to try. At the same time, the park is very spacious and has several areas with mellow terrain, making it a good location for both beginner and expert skaters. When planning your trip to Lake Cunningham, don't forget to bring some extra cash to cover the $6 parking fee.
Park Rules
Helmets, elbow pads and knee pads are required at all times.

Animals off-leash, smoking of any kind, and the use of glass bottles are prohibited.

No graffiti, littering, or harming wildlife.

The park is open from 8 a.m. to 30 minutes after sunset.