Imagine opening your bedroom window and being greeted by the salty mist carried on the ocean breeze, diving into the waves to wake up in the morning, and hitting the water on a kayak or stand-up paddleboard to wind down after work.
The residents of Richardson Bay get to experience these magical moments near their floating homes every day in the beautiful city of Sausalito, where they can also walk to Heath Ceramics to shop for a dining set, head to OnBoardSUP for a floating yoga lesson, or ride their bike over to Fish for a meal of sustainable seafood. There are over 400 floating homes throughout Marin County, all tucked away in five residential marinas. But make no mistake: Though living atop the ocean may seem like a sacrifice at first, these dockside dwellings are equipped with all the comforts of homes on land—not to mention unbeatable views.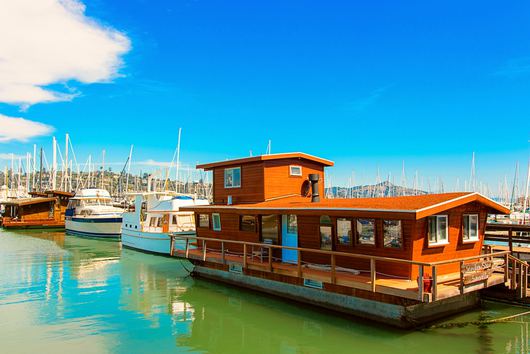 The 1906 San Francisco earthquake and fire spurred on the popularity of floating homes, which became a solution for families who had lost their landlocked homes. Eventually, the floating homes in Sausalito became a choice rather than a necessity, drawing in artists, free spirits, and creatives in the '60s. One of these inspired individuals was singer-songwriter Otis Redding, who was sitting on Waldo Point Harbor in Sausalito when he wrote the classic song "(Sittin' on) the Dock of the Bay".
Though living on the water is clearly not a new concept, the novelty of these tiny homes is nowhere near wearing off. So, what distinguishes Sausalito's houseboats from floating homes? While both houseboats and floating homes are generally charged docking fees, houseboats have motors and floating homes do not. Instead, floating homes have hulls made of concrete, wood, or fiberglass that are meant to move up and down with the tide. This means that they have the ability to sit on the mud at low tide and float on the water at high tide, but they do not move freely wherever they please. Houseboats are typically not permanent residences, either, whereas floating homes make for great vacation homes, second homes, or even primary homes—all without the skyrocketing price tags of living on land.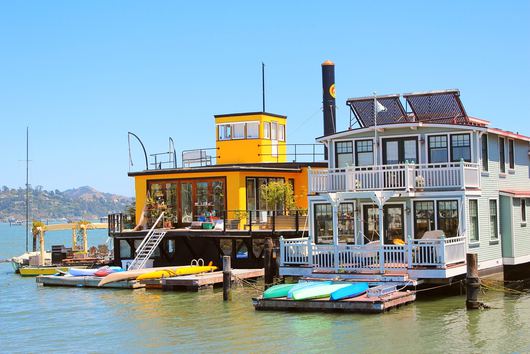 While the average price of homes in Sausalito is a cool $1.8 million, floating homes in the area are generally priced between $500,000 and $800,000, with some listed for as low as $300,000. Since these quaint homes offer significant savings, there is plenty of time to budget for the monthly fees associated with floating-home living, including the cost of docking, water, garbage, sewer, and parking. In total, residents typically spend around $1,100 on these expenses, with additional budgets for other amenities like cable and Internet. Given the smaller house payments, however, these fees become less burdensome.
It should be noted that floating homes are taxed at similar rates to traditional homes, with the only difference being that the fees are organized as personal property tax (or unsecured property tax) rather than property tax. This can sometimes make it more difficult to obtain a loan for a floating home—so the process is easier for cash buyers than for lenders—though it is still possible.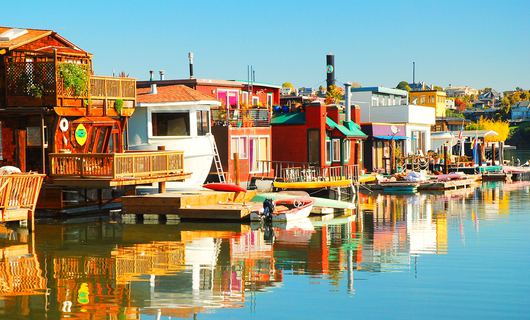 If the idea of a floating home is intriguing, consider renting one for the night or looking into Sausalito houseboat rentals so you can experience a day or two on the water. Several incredible opportunities are available on Airbnb between $100 and $200 per night, providing an easy way to see how you fare in the tiny homes atop the water. The Floating Homes Association also offers an annual open-house tour in September, allowing potential buyers and floating-home enthusiasts to see all of the possibilities available with a floating lifestyle.