The rainy season has officially arrived in the Bay Area, announcing itself with a couple of deluges last week and continuing well into this week. But the wet, gloomy weather shouldn't dampen your spirits. There are plenty of ways to stay entertained (other than sitting on the couch, ordering take-out, and binge-watching The Crown), especially in a vivacious city like San Francisco. So, whether you're experiencing cabin fever or looking for an excuse to break out the rain boots, here are nine fun—and unexpected—things to do in S.F. when it's pouring outside.
1. Get a Taste of S.F. History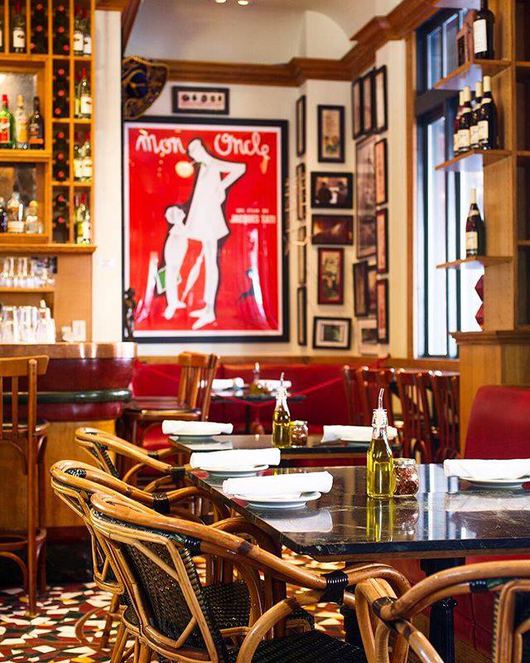 Immerse yourself in San Francisco history by discovering the treasures of Cafe Zoetrope. Housed inside the iconic Sentinel Building—owned by legendary filmmaker Francis Ford Coppola—the North Beach eatery serves up more than classic Italian cuisine. You can see everything from corrupt politicians' old haunts and notable architecture to literary gold and acclaimed artwork within these ancient walls. (The Coppola family also claims that several films such as The Godfather II and Apocalypse Now were written, edited, or sound-mixed in the majestic structure.) Once you're done with your meal, make sure to stop by the short-story vending machine; simply tap a few buttons, and you'll receive a one-, three-, or five-minute short story in your hands. To further satisfy your inner bookworm, walk one block over to the multi-level City Lights Bookstore, the nation's first all-paperback bookstore, and you'll drench yourself in enough literary history to make your high-school AP English teacher proud.
2. Learn a New Skill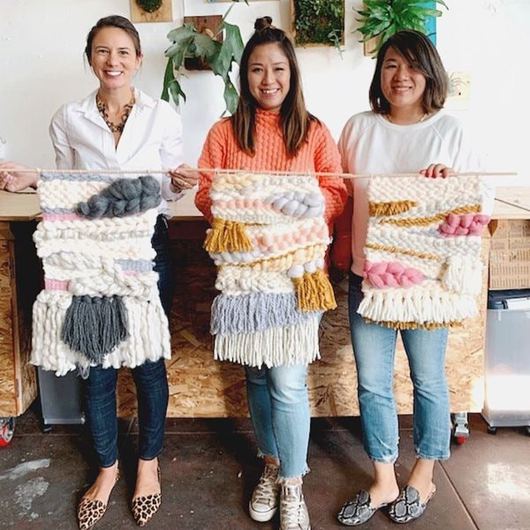 Everyone can benefit from putting down their phones and pulling themselves away from the TV to learn something new, and a rainy day is the ideal time to do it. Whether you've been wanting to brew your own kombucha, build a wooden shelf for your kitchen, learn calligraphy for your upcoming wedding, make your own jewelry, try your hand at sewing, or spruce up your home for the holidays with a DIY wreath, Workshop SF has a class for you. All classes range from short two-hour introductions to full-day boot camps and are taught by local teachers, makers, and artists. If you're looking for something a little less crafty, check out the classes at The Civic Kitchen, San Francisco Cooking School, and General Assembly.
3. Jump Around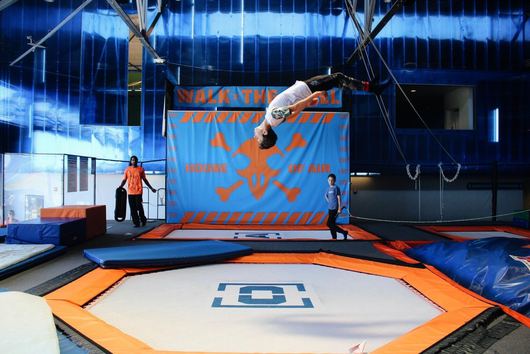 To burn off some pent-up energy and release your inner child, look no further than House of Air, a trampoline park tucked away in a former airplane hanger beside the Presidio's Chrissy Field. Bounce, jump, and fly across 42 connected trampolines, which are surrounded by trampoline walls; take a conditioning class; or hold a rainy-day dodgeball tournament. Your body may ache a bit the next day (at least if you're old like me), but it'll be well worth it.
4. Navigate Your Way Through a Mirror Maze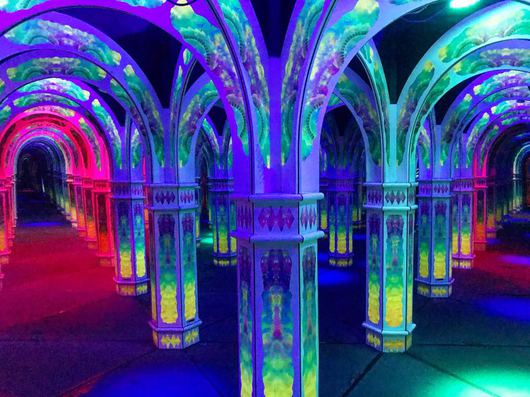 Get lost—literally—in the magic of Magowan's Infinite Mirror Maze. Tucked away on Pier 39 along the Embarcadero, this labyrinth of columns and mirrors is illuminated with enough black lights to make you forget what time of day it is, culminating in a psychedelic experience that's disorienting even for those who've done their fair share of corn mazes and haunted houses. There are countless twists and turns, seemingly endless hallways, and dead-ends that will keep you guessing. It's a great way to spend $5 and while away the afternoon. Once you make it out, reward your efforts by grabbing a S.F. sourdough bread bowl brimming with clam chowder, stepping inside the souvenir and candy shops, and taking a trip to the Aquarium of the Bay.
5. Savor Locally Sourced Fare at the Ferry Building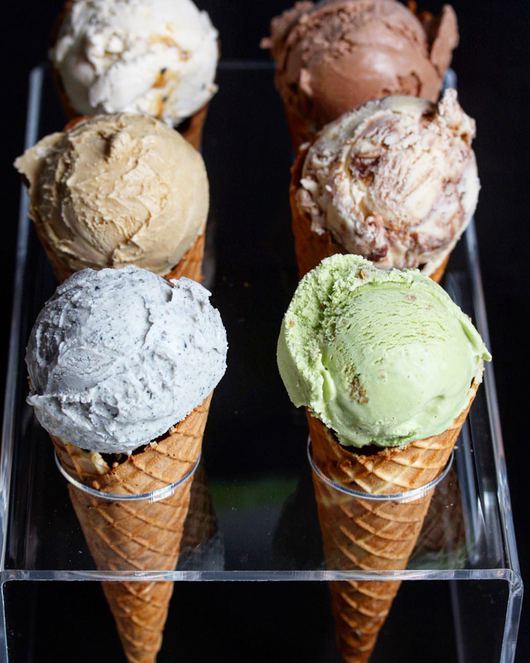 For a fun-filled, foodie-approved afternoon of pure gluttony, head to the famous San Francisco Ferry Building. If you're a Bay Area resident, chances are you haven't spent much time here unless an out-of-town friend or relative is visiting, but the indoor marketplace provides the perfect way to eat (and drink away) the day. Begin at Blue Bottle Coffee—one the best coffee roasters in S.F.—for a caffeine-fueled jumpstart and Donut Farm to spike your blood sugar with a vegan treat. Then, stock up on local honey and candles from Beekind, small-batch chocolate from Dandelion Chocolate, artisanal Northern California cheeses from Cowgirl Creamery, and Marin-harvested olive oil from McEvoy Ranch. (And if you're seeking a trendy superfood, you won't want to miss Far West Fungi, either.) From there, step inside Book Passage to peruse the shelves and pick up your next great read before slurping some fresh oysters at Hog Island, followed by lunch at esteemed restaurant The Slanted Door.
Even if you feel like you might burst, no trip to the Ferry Building is complete without an ice-cream cone from Humphry Slocombe, where you can find such innovative winter flavors as banana mochi, wine and cheese (yes, you read that correctly), Mexican hot chocolate, and brown butter. Before you head home, pick up any necessary dinner supplies while you ponder exactly where your entire paycheck just went.
6. Beat the Winter Blues at a Japanese Bathhouse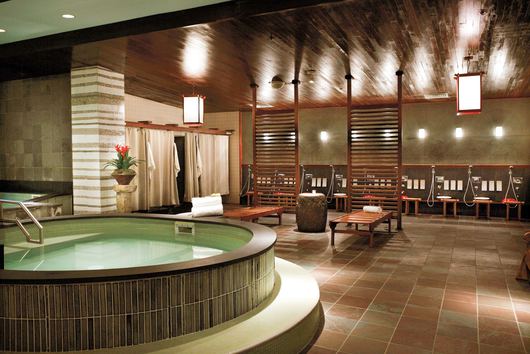 Kabuki Springs & Spa is a slice of serenity in San Francisco, serving as the perfect place to rejuvenate your mind and body. The Lower Pac Heights hideaway specializes in Asian-inspired treatments that combine holistic therapies with all-natural products. If you can't afford to treat yo-self to a shiatsu massage, botanical peel facial, or matcha body wrap, you can enjoy a pampering session at the Japanese-style communal baths (clothing optional) instead. For $30, you can enjoy all-day access to a hot pool, a cold pool, a sauna, a steam room, and showers. But take note: This isn't a place to go and gab with your girlfriends—if you're caught talking, the staff will ring a gong to silence you. Seriously. Reservations are recommended, and days are segregated by gender, so be sure to call or check the website before you go.
7. Put Your Pinky Up For High Tea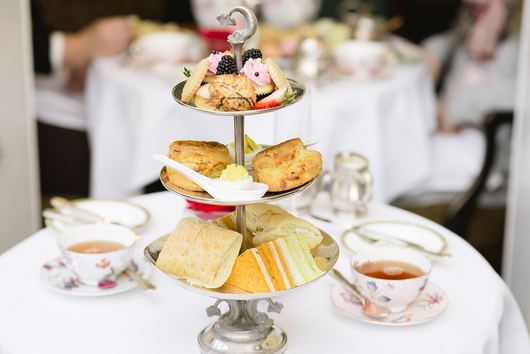 Prepare to shed the sweatpants and ditch the Vanderpump rules. We know—it might be the hardest thing you do all weekend, but why not be high-class for an afternoon? Round up your best gal pals and head to the elegant Fairmont San Francisco hotel for a pricey-but-totally-worth-it teatime experience complete with traditional tea sandwiches, savory scones, delectable pastries, and house-made sweets. Don't forget to keep your pinky up while you imagine what it would be like to be a member of the Royal Family.
8. Discover an Underrated Museum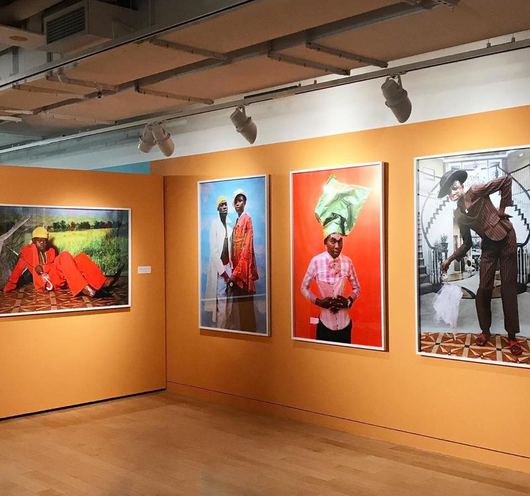 Sure, you can easily spend a day walking around one of the famous San Francisco art galleries or museums such as the SFMOMA, Exploratorium, or de Young. But if you want to explore something other than these staples and escape the hordes of tourists, head to one of the lesser-known cultural attractions in San Francisco. See more than 7,000 original comic strips, comic books, political cartoons, and graphic novels at the Cartoon Art Museum; admire the craft- and design-focused exhibitions displaying the work of artists and designers at the Museum of Craft and Design; or experience the history, art, and cultural richness of Africans at the Museum of the African Diaspora. You can even get a different perspective of the infamous 'Loin neighborhood at the Tenderloin Museum, which dives into the complex history of one of S.F.'s most misunderstood areas.
9. Gander at the Gardens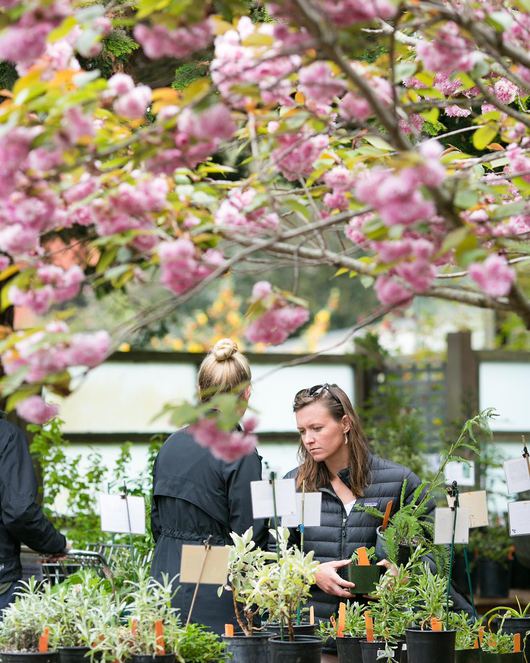 The weather can't always stop you from reveling in the great outdoors. Believe it or not, nestled in the cityscape of San Francisco lies an urban oasis that's home to almost 9,000 different types of plants from around the world: The San Francisco Botanical Garden, which is the most beautiful in the dead of winter, thanks to the rich variety of flowering plants. Walk through the 55-acre gem in Golden Gate Park to witness the towering redwoods, vibrant perennials, historic magnolias, and flora from the Andean and Mesoamerican cloud forests. If the weather gets too gloomy, you can always take refuge inside the bookstore, art exhibit, library, or nursery.