National Donut Day only comes around twice a year (yes, twice), and we need to be ready for it. This year, the second celebration occurs on Tuesday, November 5, which doesn't give us much time to plan. After all, eating just a single donut isn't enough to truly participate in National Donut Day. Any real donut connoisseur has come to understand that free donuts aren't always the way to go; a high-quality, gourmet experience is much more satisfying than a cheap giveaway. So put on your comfy pants, buckle your seatbelt, and get ready for an all-out road trip across California (or maybe just across town) to savor the best donuts in the state.
Astro Doughnuts & Fried Chicken
Los Angeles and Santa Monica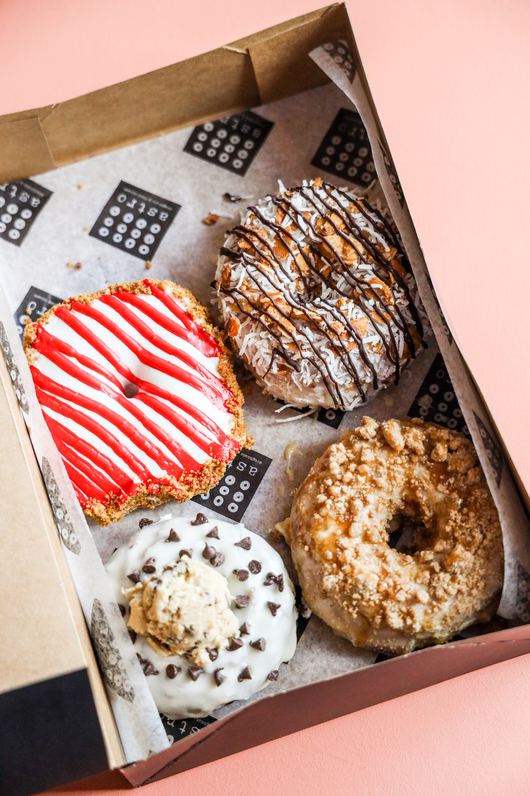 Los Angeles County reigns supreme when it comes to combining cuisines. This is particularly true with Astro Doughnuts & Fried Chicken, where you can get your donuts and chicken separately—or combine them to create a decadent sandwich. At both the Los Angeles and Santa Monica locations, Astro makes everything to order, so your fried chicken on a vanilla-glazed donut will be fresh and piping hot. Other offerings that are sure to rock your world include the Nutella, cinnamon sugar, maple bacon, and crѐme brûlée donuts.
Birdies
Los Angeles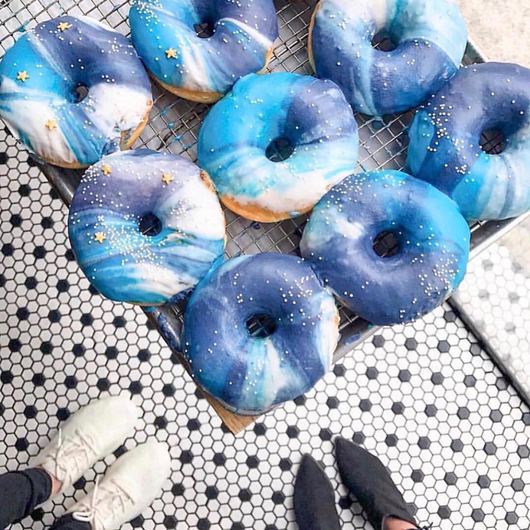 Birdies puts a new twist on American classics. Chef-owner Jason Harley set out to provide fast yet fresh foods—including artisanal donuts made every hour—in a casual dining environment. Opt for the unusual lemon thyme pistachio for a mixture of sweet and savory, go all in with the candied bacon maple, or stick to the triple dark chocolate to cure your sweet tooth. While you're there, you might as well pick up a spicy fried-chicken sandwich, complete with ghost-pepper mayo, Tillamook pepper jack cheese, cured pickles, and coleslaw. Make sure to get extra house-made ranch and a side of the potato salad, too.
Donut Friend
Los Angeles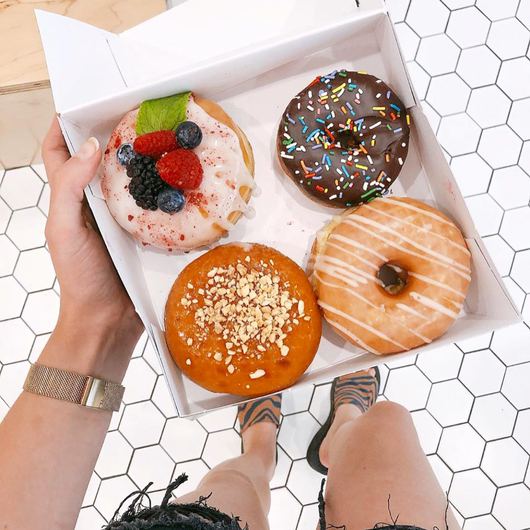 Every gourmet donut at the aptly named Donut Friend is made with entirely vegan ingredients, but given the vibrant flavors and rock 'n' roll theme, you'd never know it. Grab a dozen to try out the Jets to Basil—stuffed with vegan cream cheese, fresh basil, and strawberry jam and topped with sweet vanilla glaze and balsamic reduction—and the Compassion Fruit (half of the proceeds are donated to charity). Don't miss out on the Youth Brulée, either, featuring Bavarian cream and brȗléed sugar.
Donut Snob
Los Angeles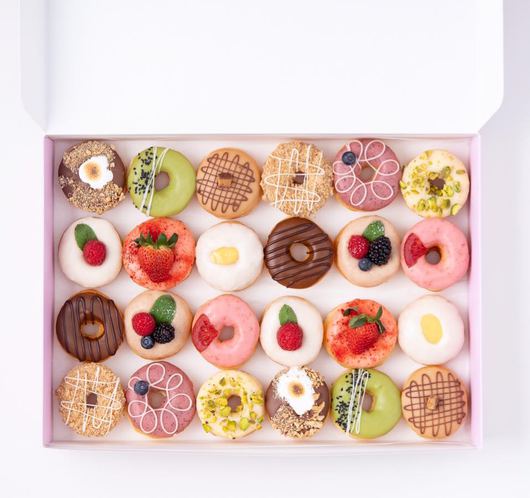 Although this L.A.-based business doesn't have a brick-and-mortar location, Donut Snob simply had to make our list. The $10 delivery fee may seem steep—and even steeper in the extended areas where it costs a whopping $15 for delivery—but the gourmet creations are otherwise well priced and stuffed with top-notch ingredients. Place an order for the whole office, and stock up on the Berry Best so you can enjoy every bite of the cinnamon-glazed donut bursting with a mixed-berry coulis and topped with a medley of fresh berries. The blueberry Earl Grey, peanut butter chocolate, and seasonal Oh, Hiii Chai are other can't-miss flavors. (Don't worry, we won't spill the beans if you decide to keep them all for yourself.)
Dynamo Donut & Coffee
San Francisco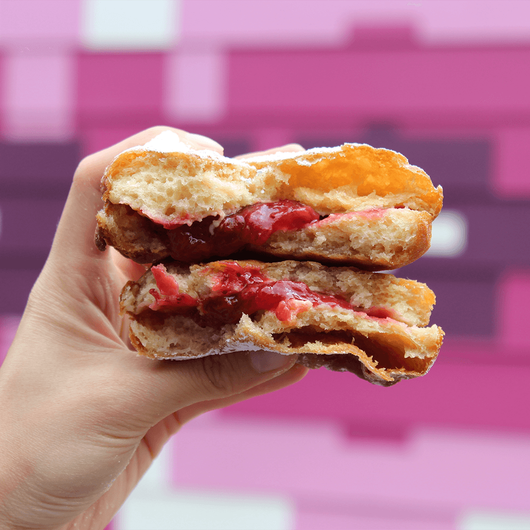 Creating donuts from scratch in the Mission District since 2008, Dynamo Donut & Coffee knows what makes taste buds happy. But don't take our word for it; allow the caramel de sel, chocolate star anise, maple bacon apple, caramel apple, and saffron chocolate donuts speak for themselves. If these high-class flavor profiles weren't enough, the donuts are crafted from local, organic, seasonal ingredients wherever possible—resulting in fresh, drool-worthy treats that give customers a taste of the San Francisco culture.
Mr. Holmes Bakehouse
Los Angeles and San Francisco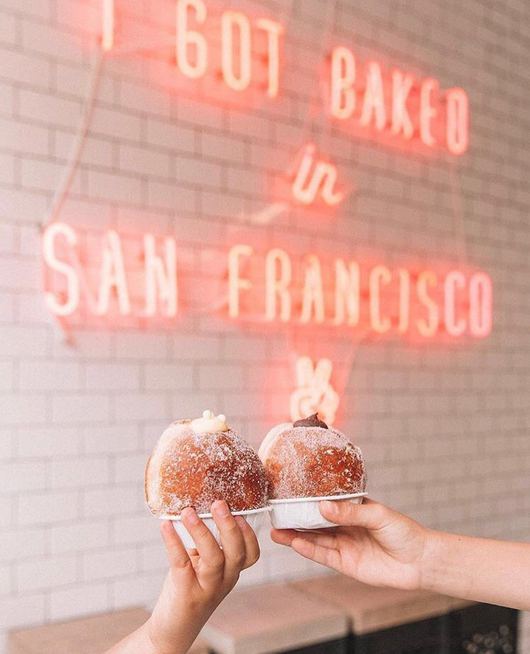 Mr. Holmes Bakehouse is a must-try when you find yourself in San Francisco's Tenderloin. With plenty of baked goods to go around (and an iconic "I got baked in San Francisco" sign), this spot has become popular over the years and even expanded into Los Angeles' Highland Park neighborhood—and it's easy to see why. The donut menu changes daily but may feature such tantalizing flavors as blackberry jam, hibiscus, and coconut lime.
Pepples Donut Farm
Oakland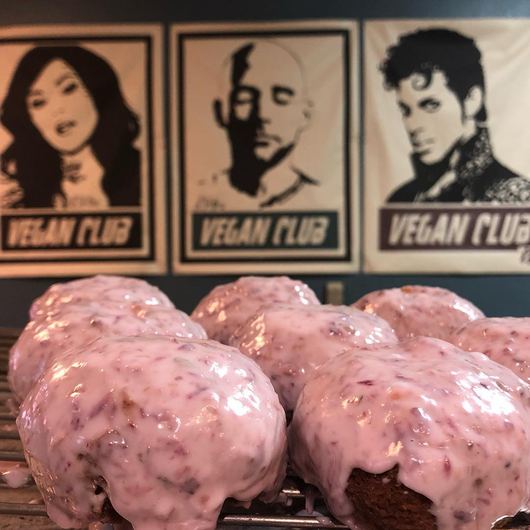 This Bay Area icon has been serving up vegan, organic donuts on San Pablo Avenue since 2010. Choose from classics such as lemon poppy, orange creamsicle, coconut whiteout, and chocolate cookie. Or, spring for something a bit more adventurous like the lavender Earl Grey, Meyer lemon, or Philz Coffee donut. While these treats may sound like guilty pleasures, you shouldn't feel guilty about eating 'em; sustainability lies at the core of Pepples Donut Farm, which features locally sourced ingredients and an entirely plant-based menu. Dip in during the week for the tofu tempeh bacon cheezeburger, or stop by for a weekend brunch to try the scrumptious vegan chik'n and waffles or the buffalo cauliflower accompanied by house-made ranch.
Primo's Donuts
Los Angeles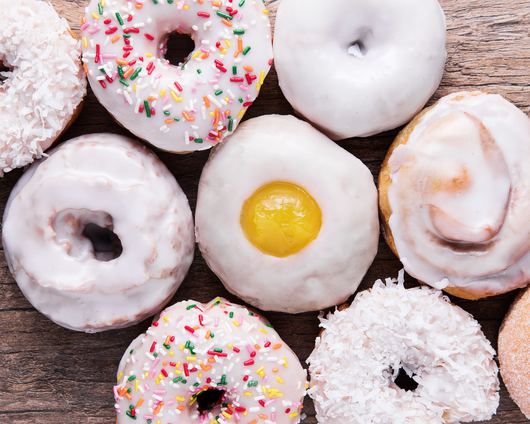 The family-owned Primo's Donuts has been a Los Angeles institution since 1956, withstanding the test of time thanks to its inventive flavors and willingness to adapt to the ever-changing preferences of its customers. Pick up a dozen vegan varieties—including cherry, vanilla, and blueberry—or try longtime staples such as the cinnamon apple donut and the orange cake donut with sprinkles. You can even support the Los Angeles Rams with their very own seasonal donut.
Sidecar Doughnuts
Santa Monica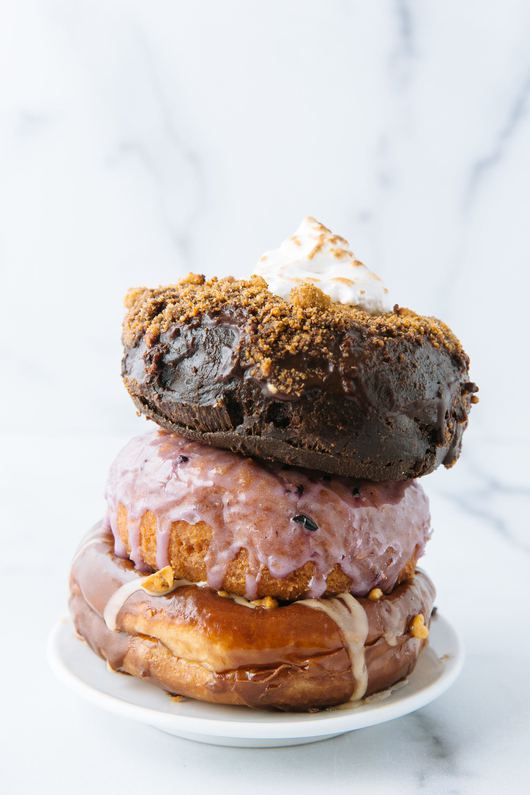 Just when you think you've seen it all, bam! Sidecar Doughnuts enters the scene with basil eggs Benedict—stuffed into a donut. What sorcery is needed in order to stuff a poached egg, ham, and house-made basil hollandaise into a Malasada-style donut? We may never know, but it is undoubtedly worth the experience (and a picture or two). For dessert, opt for one of the rotating monthly flavors such as the spiced apple cider or the equally impressive pumpkin pie and everything-spiced donut to enjoy the comforts of familiar flavors. If you are feeling more adventurous, try the Manila vanilla sweet potato donut topped with a brown butter-muscovado glaze and Maldon Sea Salt.
Surfside Donuts
Pismo Beach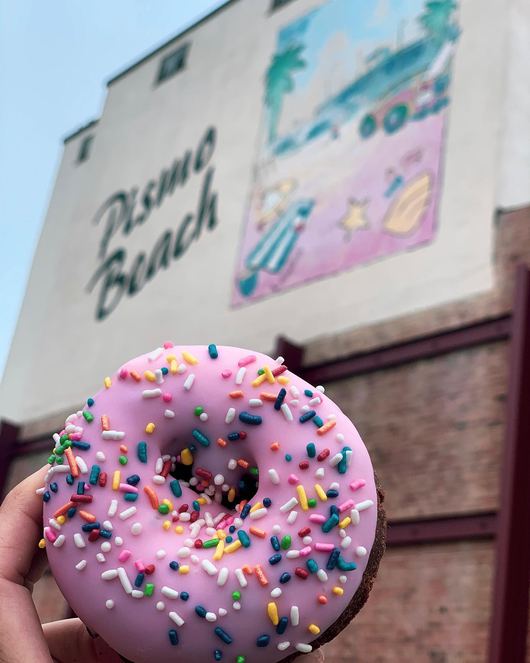 Combining the best of the beach-town, donut, and coffee worlds, Surfside Donuts brings a relaxed environment, creative flavors, and Stumptown coffee to Pismo Beach. Even the traditional favorites have a twist; the chocolate donut, for instance, has been upgraded to the chocolate malted milkshake. Other unique offerings include Mexican hot chocolate, Twix, and caramel latte donuts—but the apple cheesecake is a must-try this fall.
Sweet Retreat Donuts
Long Beach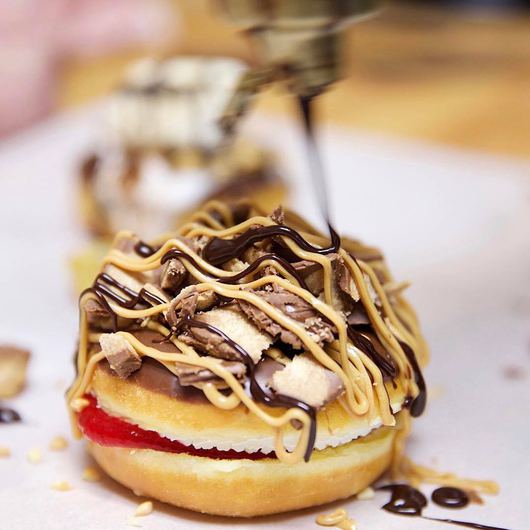 Established in 2015, Sweet Retreat Donuts crafts high-quality donuts by using the best ingredients around. The shop's gourmet offerings are spruced up at surprisingly reasonable prices, too. (I mean, you can get a giant peanut butter and jelly donut topped with chocolate sauce, peanut butter, and crushed Reese's Peanut Butter Cups for merely $3.75? Yes, please!) Grab an old standby—such as a chocolate donut with sprinkles—for just $1, or go a little crazier with the blueberry donut adorned with lemon icing, the vegan rosebud creation, or the made-to-order strawberries-and-whipped-cream masterpiece.
The Donut Man
Glendora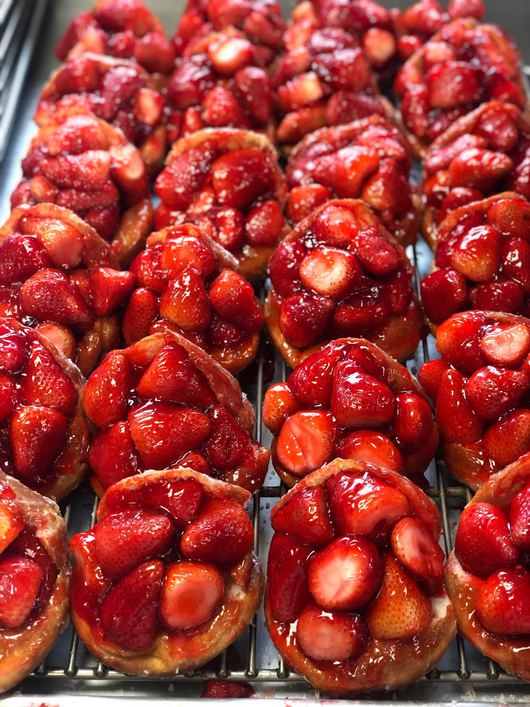 If stopping by The Donut Man for some famous strawberry-filled donuts every time you find yourself in Glendora isn't on your to-do list yet, it ought to be. These massive, newsworthy delights are made year-round, but watch out: The artisanal creations are likely to leave you daydreaming of donuts the rest of the year.
Trejo's Donuts
Hollywood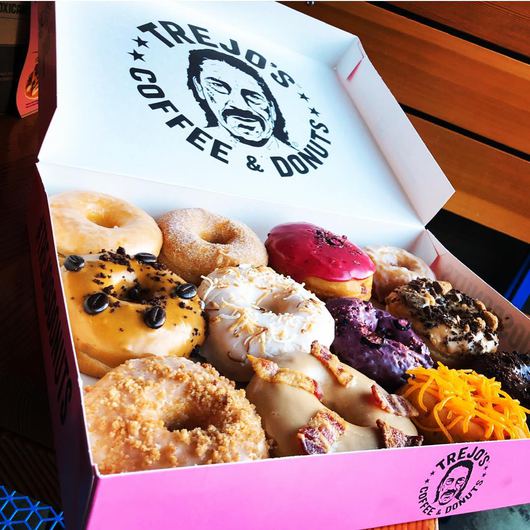 Owned by Hollywood actor Danny Trejo, Trejo's Donuts is exactly as unique as you'd expect. Housed in a bright pink building and serving up delicious concoctions like the Vegan Low Rider—a vegan cake donut with bananas, almond milk, cinnamon, and sugar—a chicharron donut, and raised donuts with candied bacon. Don't skip out on the seasonal selections like the ghostly horchata donut or classic faves like the berry jam-filled dark chocolate glazed Machete donut.