As communities across the world and in California mitigate health risks during the COVID-19 pandemic, we are shifting our content focus and not encouraging any travel or social activities during this time. We will, however, continue to shine a light on and celebrate the many beautiful aspects of our State with the intention of being a source of inspiration and joy during this difficult period. Thank you for reading, and stay safe.
The days of unappetizing gluten-free options are long gone. Over 3 million people across the country now follow a gluten-free diet, and as the number of Americans abstaining from gluten continues to rise, more restaurants are stepping up to accommodate these dietary restrictions. Additionally, many gluten-free bakeries have opened in recent years—especially in California—using modern techniques and new ingredients to craft delicious desserts, breads, and pastries that could fool any non-believer into thinking typical ingredients lie within.
So whether you're craving coffee and a donut, wanting a sandwich made with freshly baked sourdough bread, desiring a chocolate cupcake for an afternoon pick-me-up, or needing a crusty baguette to go, head to one of the following gluten-free bakeries in California to get your fix. At these 19 locales, you can have your cake and eat it, too.
San Francisco Bay Area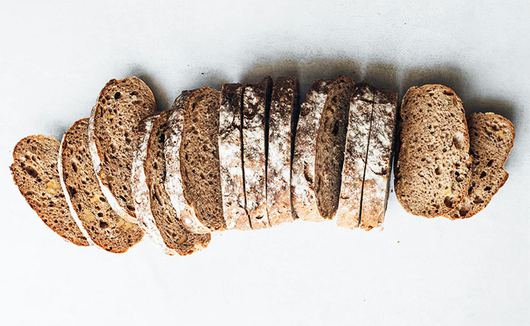 Flour Craft Bakery
What started as a gluten-free granola company blossomed into a successful bake shop for gluten-free foodies. After selling their granola for several years at farmers markets in Marin County, Flour Craft Bakery founders Rick Perko and Heather Hardcastle decided to open a full-on gluten-free bakery, and in 2013, they debuted their flagship location in San Anselmo to much acclaim. The duo continues to offer their famed granola along with a wide array of artisanal goods, including breads (French baguette, walnut sourdough, focaccia with olive oil and sea salt), pastries (blueberry–Earl Grey scones, lemon poppyseed muffins, cocoa nib and walnut coffee cake), cookies (salted butter, mudslide, oatmeal chocolate chip), cakes (blood orange ricotta, pistachio, orange polenta), and cupcakes (red velvet, chocolate, coconut almond). The original San Anselmo and newer Mill Valley bakery locations also offer breakfast and lunch items such as seasonal quiches, sandwiches, soups, and salads.
Mariposa Baking Company
This dedicated gluten-free bakery has been a local favorite since it opened in 2004, boasting an impressive assortment of delectable breads and sweets crafted from seasonal, local ingredients. Whether you crave a rich triple-chocolate brownie; a chocolate-raspberry whoopie pie; a warm, buttery croissant; a fluffy cinnamon roll; a savory "pastry pocket" stuffed with ham and cheese; or a toasted sesame bagel smeared with silky cream cheese—Mariposa Baking Company has it. (If you don't live near the locations in Oakland's Temescal neighborhood or San Francisco's Ferry Building, don't despair: The bake shop ships certain items within the continental United States.) You can even enjoy a quick meal at both locales, which serve pizzas, sandwiches, and pot pies.
Saltwater Bakery
Housed in a nondescript building near the shorelines of Pacifica, Saltwater Bakery is a haven for the gluten (and dairy) averse, featuring display cases brimming with beautiful pastries, crusty breads, and mouthwatering desserts—all of which are vegan and gluten-free. There's something to satisfy any craving, from the pretty lemon-pistachio doughnuts, to the rich and moist chocolate cake, to the nutty banana bread, to the chewy chocolate chip cookies sprinkled with sea salt. The treats at Saltwater Bakery are so delicious that droves of people come from across the region to get a taste; in fact, the bake shop often sells out of goodies well before closing time, so make sure to get there early in the day.
Third Culture Bakery
This beloved Berkeley bake shop combines Asian flavors with French baking techniques to create such unique treats as Japanese curry scones and matcha custard cakes. But the bakery's true claim to fame is its mochi muffin. Made with a base of mochiko sweet rice flour, the gluten-free confection is baked to golden perfection and then sprinkled with black and white sesame seeds. Though the muffins look unassuming in appearance, they are packed with savory toffee flavors (from the coconut sugar); grassy, floral notes (from the pandan herb), and hints of nuttiness (from the seeds). Another gluten-free option is the mochi waffle, which can be topped with house-made chantilly cream and sweet raspberry jam or with organic bananas, rich cocoa nibs, and a burnt caramel drizzle. Regardless of what you get, pair your treat with a matcha latte or the Golden Yogi (matcha with turmeric-infused rice milk and a bit of honey).
Tula Bakeshoppe
Situated in San Francisco's vibrant Mission District, this popular bakery specializes in two things: decadent brownies and blondies. They are made from scratch daily in small batches using organic dairy products and natural ingredients (there are several versions that are vegan-approved, too). It's hard to decide between the peanut butter, fudge, and chocolate chip brownies as well as the chocolate salted caramel, coconut oatmeal, and chocolate peanut butter blondies—but there really is no bad choice here. And you don't have to feel guilty about satisfying your sweet tooth, as Tula Bakeshoppe donates a portion of its proceeds to charity.
Central Coast Region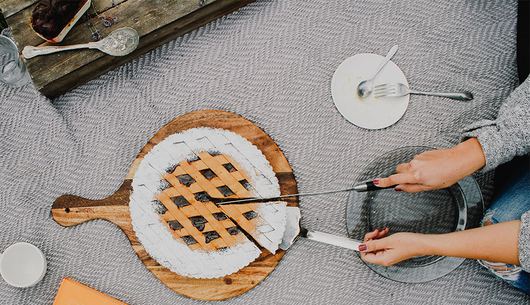 Kasey Cakes
All of the gorgeous cakes at this San Luis Obispo–based bakery are free of gluten, dairy, and refined sugar—but you would never know it. Every bite is pure bliss, whether you try the rich Mexican chocolate cake topped with cinnamon and cashew buttercream, the decadent red velvet cake dusted with dried raspberries, the tropical coconut-lime cake adorned with slices of fresh citrus, or the tangy lemon cream cake sprinkled with toasted almond and coconut flakes. (Bonus: In addition to cakes, the bakery offers vegan alfredo sauce and vegan queso.) Though Kacey Cakes doesn't have a storefront yet, you can find the goodies at various farmers markets and cafés in San Luis Obispo County. Trust us: These treats are worth seeking out.
Lilac Pâtisserie
Situated in the heart of downtown Santa Barbara, Lilac Pâtisserie crafts an array of confections that are as delicious as they are beautiful. And the best part? They are all gluten free and made with fresh, seasonal ingredients. The sleek, French bistro–inspired storefront boasts cases of Instagram-worthy baked goods such as colorful fruit tarts, mouthwatering cupcakes, chewy cookies, seasonal pies, and of course, cakes. Between the delectable bananas foster (sweet banana cake brushed with rum, filled with caramel and banana slices, and decorated with whipped cream and pansies), the jaw-dropping chocolate sea salt caramel (yellow cake layered with caramel and pastry cream, frosted in sea salt caramel buttercream, enrobed in chocolate ganache, and topped with gold leaf), and the ginger spice (cake infused with cardamom, covered in light whipped cream, and adorned with orange buttercream poppies)—it's hard to pick just one, but remember there's no wrong choice here. If all the desserts weren't enough to satiate you, Lilac also offers breakfast and lunch options in its café, including quiches, toasts, omelets, soups, salads, and sandwiches.
Melinda's Gluten Free Bakery
The only gluten-free bake shop in the Santa Cruz area, this hot spot draws crowds every day of the week—and for good reason. Though it's a dedicated gluten-free facility, the scrumptious treats here attract those with and without gluten sensitivities, serving up an impressive assortment of unique donuts (piña colada, German chocolate cake, Lucky Charms), pastries (mango danishes, giant cinnamon rolls, sweet monkey bread), and desserts (ginger-orange cookies, rich brownies kissed with chocolate ganache). Savory goodies abound, too, such as spicy salami and Manchego cheese twists; hearty muffins packed with sun-dried tomatoes, artichoke hearts, and olives; and buttery bacon-cheddar rolls. You can even special order various items, including pizza crust, scones, breads, pies, and croissants. While there are many mainstains at Melinda's Gluten Free Bakery, certain offerings rotate each week, but one thing is for certain: No matter when you go to this Capitola shop, you'll find something to love and leave with a smile on your face.
The Morning Dove Gluten Free Bakery and Cafe
Tucked away in a nondescript strip mall less than 10 minutes from the iconic Cannery Row, The Morning Dove Gluten Free Bakery and Cafe serves nothing but gluten-free goodness. It is the only bake shop in Monterey using 100-percent gluten-free ingredients to create its artisanal products such as almond poppyseed muffins, tangy lemon bars, giant glazed cinnamon rolls, gingersnap cookies, coconut macaroons, oatmeal raisin scones, and much more. The Morning Dove even makes its own gluten-free bread—from classic white, to multigrain super seed, to soft rolls—which is used in the bakery's assortment of sandwiches and toasts.
Los Angeles Area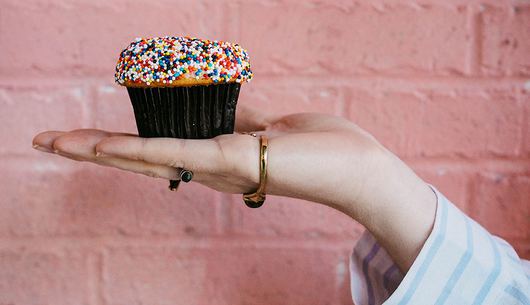 Erin McKenna's Bakery
A New York City import touting gluten-free, good-for-you treats (not to mention vegan and kosher options), Erin McKenna's Bakery has been satisfying sweet tooths since 2005. Now serving its famed confections in Los Angeles, Californians can finally see what all the fuss is about. The daily-changing menu is rife with tempting offerings—including brownie cupcakes topped with mint frosting, sweet blueberry crumb cake, indulgent cookie sandwiches, moist banana chocolate chip bread, frosted pumpkin loafs, and savory coffee-crunch donuts. But one dessert that should not be missed is the signature Big Fun Frost (BFF): vegan soft serve that can be decorated with such goodies as cookies, brownies, and chocolate or caramel sauce. And since everything is crafted with wholesome ingredients, you can indulge without feeling too guilty.
The Good Cookies and Beyond
This beloved bake shop in Torrance lives up to its name, crafting delicious gluten-free, organic cookies and much more. As you might have inferred, the cookie menu here is vast, featuring everything from double chocolate cherry, to oatmeal raisin, to peanut butter chocolate chip (and all can be used for ice-cream sandwiches). Other baked goods include cinnamon-sugar-dusted doughnut holes, decadent brownies, and coconut-crusted cheesecake—plus an assortment of muffins (apple fritter, banana chocolate chip), cupcakes (red velvet, classic vanilla), and breads (pepper-and-cheddar rolls, buckwheat sandwich loafs). Aside from offering gluten-free treats, the bakery also provides options for vegans and those with nut allergies.
Rising Hearts Bakery
A small shop tucked away in an unassuming Culver City strip mall, Rising Hearts Bakery will raise your spirits and make your heart happy as soon as you take a bite out of its scrumptious gluten-free confections. With display cases offering an assortment of mouthwatering treats—from muffins, to bagels, to scones, to cupcakes, to brownies—there's no shortage of items to choose from. Customer favorites include the rich and creamy mocha cheesecake, indulgent carrot cake whoopie pie, savory maple-pecan cupcake, chewy molasses cookies (try them in a "cookiewich" stuffed with frosting), and mini plum pies. The bakery even provides take-and-bake products such as pizza dough, bread loaves, burger and hotdog buns, and rolls—making it easy to enjoy more gluten-free goodness in the comfort of your home.
Sweet Laurel Bakery
Step inside this blush-hued bake shop in Pacific Palisades to discover indulgent yet healthful treats—many of which are made with five or fewer ingredients—that are crafted from wholesome, organic products and free of gluten, grains, and refined sugars (though you would never guess it). Every cake is almost too gorgeous to eat (almost), but it would be a waste to not enjoy the luscious slices. Whether you choose the decadent chocolate cake infused with raspberry jam, the creamy lemon-coconut cake, or the moist and colorful matcha cake, you can't go wrong. Delectable cookies, mini cupcakes, muffins, and brownies abound, too, and all pair well with the numerous coffee and tea drinks on the menu. If your experience leaves you feeling inspired, sign up for one of the bakery's workshops or classes, or buy the Sweet Laurel Cookbook and try recreating your favorite confection at home.
Twice Baked
Gluten-averse foodies flock to this dedicated gluten-free bakery in Long Beach to get their fix. Boasting an expansive menu of pastries and desserts, Twice Baked provides something for every desire—from the lavender-citrus bundt cake, to the savory cranberry-pistachio biscotti, to the heavenly chocolate chip cheesecake, to the Circus Animal cookies, to the maple-frosted donuts, to the flaky croissants, to the classic vanilla cupcakes adorned with rainbow sprinkles. And if all that wasn't enough, the bake shop also crafts a variety of breads (sourdough, brioche, cinnamon raisin) and pizza crusts (infused with basil and garlic) alongside vegan, dairy-free, soy-free, and nut-free options.
San Diego Area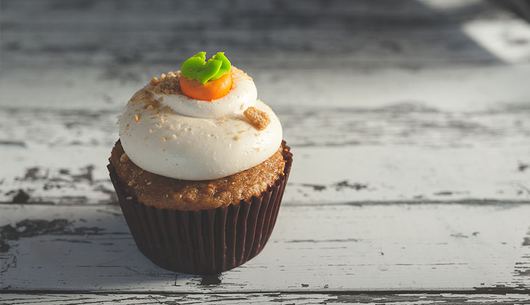 Coronado's Gluten Free Pantry
Despite not having a storefront, this wholesale bakery is booming, thanks to its sizable loyal following that snatches up the scrumptious gluten-free goods at local cafés, farmers markets, and grocery stores. In addition to offering French-inspired desserts—such as gorgeous fruit tarts, éclairs, custom cakes—Coronado's Gluten Free Pantry presents an array of fluffy muffins (banana, chocolate chip, lemon poppyseed), delectable donuts (lavender, matcha, traditional chocolate with sprinkles), soft cookies (strawberry mousse, M&M, ginger), and mouthwatering cupcakes (chocolate fudge, carrot cake). A variety of freshly baked breads and bagels abound, too, so there's something for every craving.
Deanna's Gluten Free
Don't be fooled by this strip-mall bakery's unassuming appearance: Though it lacks the treat-lined shelves and display cases typically found in bake shops, it offers delectable gluten-free goodies you can't get anywhere else in Escondido—including snickerdoodle and chocolate chip cookies, fudgy brownies, red velvet cupcakes, and banana bread. While certain desserts and pastries can be purchased at the storefront, customers must order other items online, such as breads (cinnamon raisin, whole grain, flatbread, rolls), pizza and pie crusts, hamburger and hotdog buns, flours, and baking mixes.
Pavona Dolci
Another wholesale, gluten-free bakery, Pavona Dolci has been serving the San Diego region since 2014, creating beautiful bundt cakes in such delicious flavors as dark chocolate–almond, pistachio, hazelnut, and almond—plus seasonal varieties like chocolate peppermint and ginger coconut. While the bundt cake is Pavona's claim to fame, the bakery also offers several other desserts (including chocolate cupcakes and chocolate chip cookies) as well as freshly baked breads. Order the goods online, or pick them up at a local coffeehouse.
Starry Lane Bakery
This cozy San Diego bake shop is marked by its white-and-blue striped awning on Fourth Avenue, serving scrumptious baked goods made without animal products, nuts, soy, or gluten. There's a mind-boggling assortment of confections in the display cases stretching across the bakery, holding everything from pastries, to pies, to bread, to cookies, to cakes. Popular items include the mini desserts (caramel cream bundt cake, cherry pie, pop tarts), luscious cupcakes (cookies and cream, devil's food cake, banana split), classic cookies (sugar, maple, chocolate chip), crispy biscotti (chocolate cherry, lemon ginger, cinnamon), and unique scones (orange cardamom, lemon rosemary, vanilla cranberry). Many also come here specifically for the fresh-baked breads such as herb flatbread, pretzel rolls, and sandwich loafs.
2Good2B Bakery and Cafe
This award-winning bake shop draws droves of customers with its various tasty treats, which just happen to be free of gluten, corn, and soy. If you just have a hankering for baked goods, head to the flagship Encinitas location, where you'll find a collection of cupcakes (coconut, lemon, mixed berry, mocha, chocolate), pastries (croissants, fruit-filled turnovers, banana bread, cinnamon rolls), and cookies (coconut, peanut butter, chocolate chunk). But if you're in need of something more hearty—and maybe a little something extra for dessert—the Rancho Bernardo café has you covered. In addition to its renowned baked goods, this location offers breakfast (omelets, biscuits and gravy, eggs benedicts, French toast), lunch (sandwiches, soups, salads), and dinner options (pot pies, flatbreads, pastas). And regardless of which 2Good2B locale you visit, you can take home some of the bakery's signature dishes and breads.