By

Negin Behrouzi
May 21, 2019
Living in California is a dream for many. People from across the globe choose to move or buy a second home here because of the abundant sunshine, diverse culture, and relaxed lifestyle. A beautiful beach house can serve as a place for personal enjoyment and also generate additional revenue when not in use. California is filled with beachside cities, but there are a few standout spots that are ideal for those seeking to live the fabled California lifestyle. Here are the five best California beach towns to buy a home.
La Jolla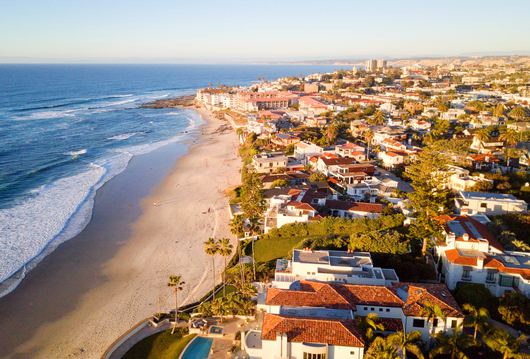 Median home price: $1,617,300
The idyllic California beach home probably most resembles one you might find in La Jolla, a beautiful coastal town in San Diego County surrounded by pristine waters, diverse marine life, and an abundance of recreational activities. Thousands of people flock to La Jolla in search of a perfect weekend escape where they can enjoy surfing, kayaking, shopping, and gourmet dining. Owning a San Diego beach home here would be a dream for many!
If you can't wait to hit the water, take a snorkeling or scuba diving tour at the La Jolla Underwater Park, explore the seven famous caves of La Jolla via kayak, or catch a wave at La Jolla Shores. But if you prefer to stay on land, you can go for a scenic and romantic sunset stroll in Ellen Browning Scripps Park, bike or hike to the top of Mount Soledad and admire its panoramic views, or catch a Tony Award–winning show at the La Jolla Playhouse. It's also fun to go window-shopping along Prospect Avenue, visit the popular art galleries around town, or simply walk around and explore. You may even stumble upon the famed hidden mermaid statue of La Jolla!
Del Mar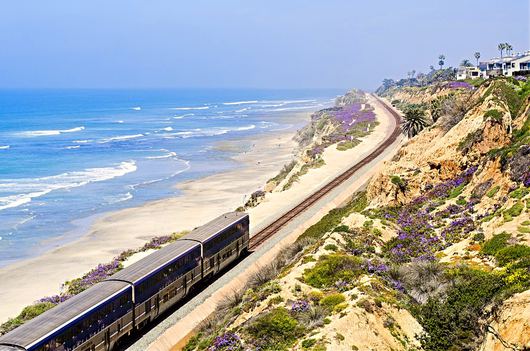 Median home price: $2,544,800
Del Mar, Spanish for "by the sea", is a laid-back, family-oriented beach town in San Diego County. Del Mar is particularly popular for its ultra-fine sand beaches, upscale living, and plethora of activities. The horse races at the world-renowned Del Mar Racetrack have been a major social event since 1937, attracting numerous locals and tourists alike during the summer months. If you love to cook (or watch cooking shows), then you're bound to enjoy the Kaaboo Del Mar, a three-day festival featuring gourmet cuisine and demonstrations by celebrity and local chefs—plus shows by acclaimed comedians like Wayne Brady, contemporary public art installations, and over 100 musical performances by such famous artists as Kings of Leon, Snoop Dogg, and Mumford & Sons.
Another fun thing to do in Del Mar is to visit the weekly farmers market, which offers international cuisine, organic produce, meats, and fresh seafood. So if you're looking to buy a beach house in a place that is known for good eats and family-friendly events, Del Mar should be a top contender for you.
Santa Monica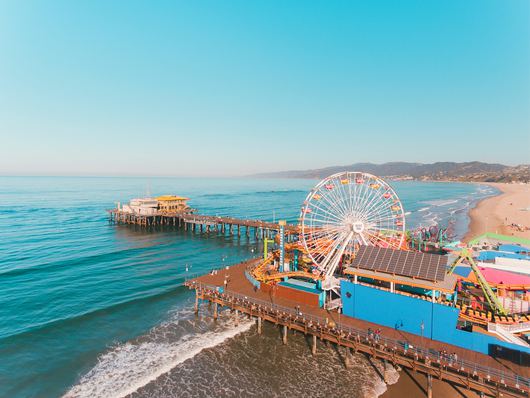 Median home price: $1,722,200
Santa Monica is perfect if you're looking for a place that boasts the best of both worlds: a classic beach town vibe with the energy and amenities of a big city. On the Santa Monica Pier, you'll find Pacific Park—an amusement park complete with roller coasters, games, and shops—and right underneath it, the famous Santa Monica Pier Aquarium.
But you may be interested in purchasing a Santa Monica beach home just to be close to its world-renowned, palm tree–lined Third Street Promenade. The Promenade is a year-round attraction rife with vibrant nightlife destinations and various upscale shopping options. If you're looking to buy a second home in a place where you can relax on the beach on a Tuesday afternoon and listen to a live jazz band on a Wednesday night, this Los Angeles County town might be the perfect place for you.
Carmel-by-the-Sea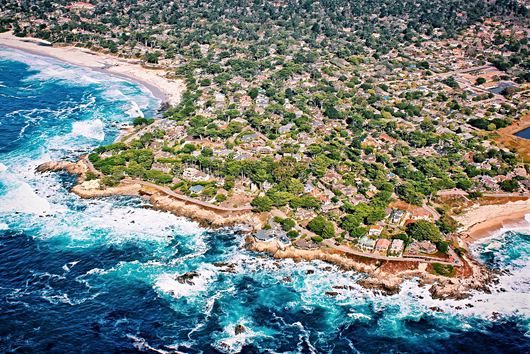 Median home price: $1,431,600
Carmel-by-the-Sea is one of the most charming beach towns in all of California. The one-square-mile village is entirely walkable and filled with boutiques, so it is not surprising that one of the primary attractions here is shopping. Even if you're only window-shopping, a downtown stroll is enjoyable any day of the week in Carmel, especially along the popular Ocean Avenue. Let yourself wander a bit, too, and you may even come across beautiful, hidden courtyards and picturesque views. If you continue walking west down Ocean Avenue, you'll arrive at the famed Carmel Beach, a pristine stretch of white sand surrounded by old, majestic Cypress trees. Take some time to meander along the Scenic Bluff Path bordering the beach, then sink your toes into the soft sand.
Artists and art enthusiasts will also find that Carmel-by-the-Sea is a top place to buy a beach home, as there are close to 100 art galleries packed into this little coastal enclave along the Monterey Peninsula. Additionally, outdoor aficionados will find plenty to explore in the town and be pleased to know that the gorgeous Point Lobos State Natural Reserve is just a 10-minute drive away.
Huntington Beach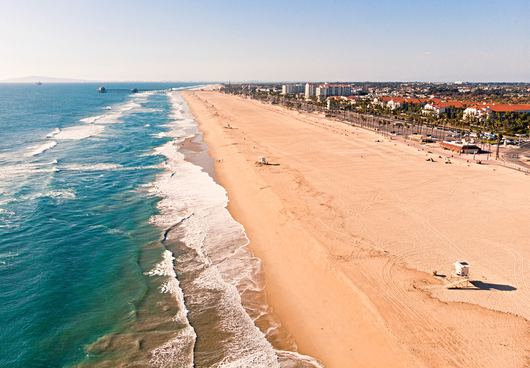 Median home price: $832,300
Huntington Beach—or as it's affectionately called, Surf City USA—is the ideal location for those who love to surf. Huntington City Beach is the most popular spot in town and is a great place to spend the day swimming, riding the waves, playing volleyball, fishing, and lounging under the shade of your beach umbrella. It's also home to the iconic Huntington Beach Pier (which is listed on the National Register of Historic Places), where you can take a relaxing stroll after your fun in the sun. The pier is approximately 1,850 feet long and ends at Ruby's Surf City Diner, a great spot to watch the sunset and see young fisherman learning how to cast a line.
But there's much more to this Los Angeles County city than just the beach! There are several hiking and biking trails, nearly 70 parks, various day spas, and world-class shopping destinations. Huntington Beach also hosts "Surf City Nights" on Tuesdays, when a section of the town's Main Street is closed to traffic and filled with artisans showcasing crafts and handmade goods, vendors selling everything from farm-fresh produce to flowers, and musicians performing a wide array of tunes.