By

California.com
June 18, 2020
As California mitigates health risks during the COVID-19 pandemic, some travel restrictions may remain in certain communities. Call the local and regional tourism offices to learn more about the restrictions in your intended destination. Thank you for reading, and stay safe.
Brunch is a time-honored tradition for San Franciscans, allowing them to catch up with friends and unwind over plates of delicious, comforting California fare. Though there's no shortage of spectacular S.F. brunch places, you're probably going to end up waiting in line for the best Sunday brunch in San Francisco—but trust us, it's worth it. Whether you're craving savory soul food, fluffy French toast, or Dungeness crab eggs Benedict, you can get your fix at these top S.F. brunch restaurants providing unforgettable dining experiences.

PLOW
Location: 1299 18th Street
Head to Plow in Potrero Hill for a minimalist, no-fuss brunch by owners Joel Bleskacek and Maxine Siu. Their farm-to-table restaurant serves some of the best breakfast food in S.F. (so don't be surprised if there's a bit of a wait). Plow offers several mouthwatering treats—such as lemon ricotta pancakes and custard French toast—along with California classics like fried egg sandwiches and cold-smoked salmon toast. For a lighter breakfast, try the famous chia seed pudding and granola to kick-start your morning.
NOPA
Location: 560 Divisadero Street
From a friendly atmosphere, to impeccable and unobtrusive service, to delectable food, Nopa has it all. Tucked away just north of the Panhandle, this gathering place specializes in Mexican-influenced, wood-fired cuisine. Chef Laurence Jossel showcases Bay Area flavors and supports small farms by using solely organic, locally sourced ingredients in his dishes.
Stop by Nopa for brunch to guarantee a perfect start to the day. Whether you decide on the custard French toast with cinnamon butter; the soft scrambled eggs with avocado, fried cauliflower, pickled onions, and pimentón; or the wood-grilled burger with bacon and Gruyère, you won't regret your choice.

FOREIGN CINEMA
Location: 2534 Mission Street
Another longtime local favorite is Foreign Cinema, a magical dining destination serving up Californian-Mediterranean fare in an elegant setting. Founded by Gayle Pirie and John Clark, the iconic restaurant is a particularly popular spot for brunch in S.F.'s Mission District, with top dishes including the organic fruit "Pop Tarts," Dungeness crab frittata, fresh California oysters, and grilled Pacific tuna melt with aged Shelburne cheddar. Every single dish on the brunch menu is impeccable, so there are no bad decisions to be made here.
Brenda's French Soul Food
Location: 652 Polk Street
For those of you who want to enjoy a New Orleans–esque atmosphere along with Southern flavors, look no further than Brenda's French Soul Food. This Big Easy–inspired eatery serves an array of brunch plates ranging from award-winning fried chicken and fluffy biscuits to fried bologna and French toast with butter-pecan sauce. (If you're lucky, you might also see the delicious eggs Benedict with Creole hollandaise as the special of the day.) No matter what you order, pair it with the chicory coffee.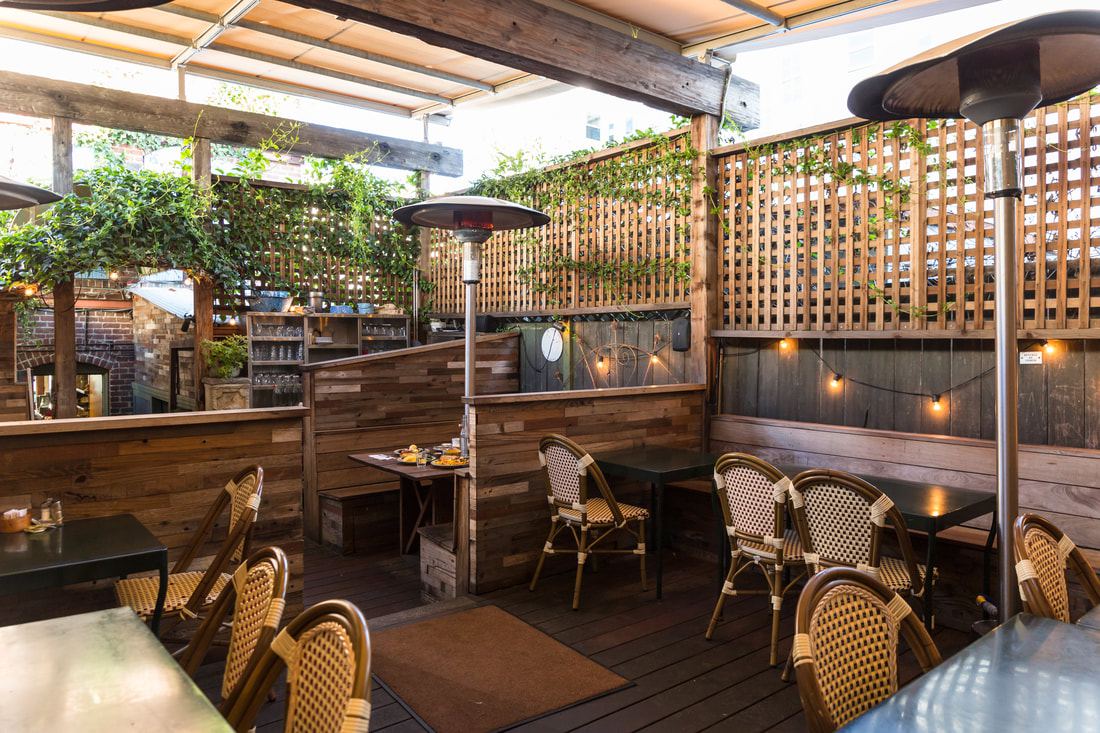 ZAZIE
Location: 941 Cole Street
Cole Valley bistro Zazie is an enchanting neighborhood hot spot that draws crowds with its weekend brunch menu and convivial ambience. The restaurant's warm, inviting vibes extend to the friendly staff members, who make everyone feel welcome. Try to nab a table out on the secret patio, and prepare to get a taste of old San Francisco.
Miguel Guzman, the lead cook at Zazie, keeps the menu exciting by continually updating it with new French-inspired dishes. But one of the must-try items includes the California Dungeness crab eggs Benedict with lemon hollandaise sauce and home fries. The Tahitian-style French toast is another standout, featuring brioche bread stuffed with caramelized bananas and walnuts. Between the appetizing food, stellar service, and charming city views, you'll soon understand why Zazie has a reputation for serving one of the best brunches in San Francisco.
EARLY TO RISE
Location: 1098 Jackson Street
Early to Rise makes all its finger-lickin'-good brunch fare from scratch—right down to the hot sauce. The Nob Hill restaurant is particularly known for its English muffins and bagels, which of course, are freshly made. Overseeing the enticing cuisine is chef Andrew McCormack, who features Northern California flavors and simple ingredients in every dish, adding his own delicate touch.
Come by to savor the Dungeness crab eggs Benedict or the apple butter French toast with maple syrup and whipped crème fraîche. Need another reason to visit? The restaurant typically offers two ticketed seatings (one at 11 a.m. and 1 p.m.), so you can reserve your spot in advance and avoid waiting in line.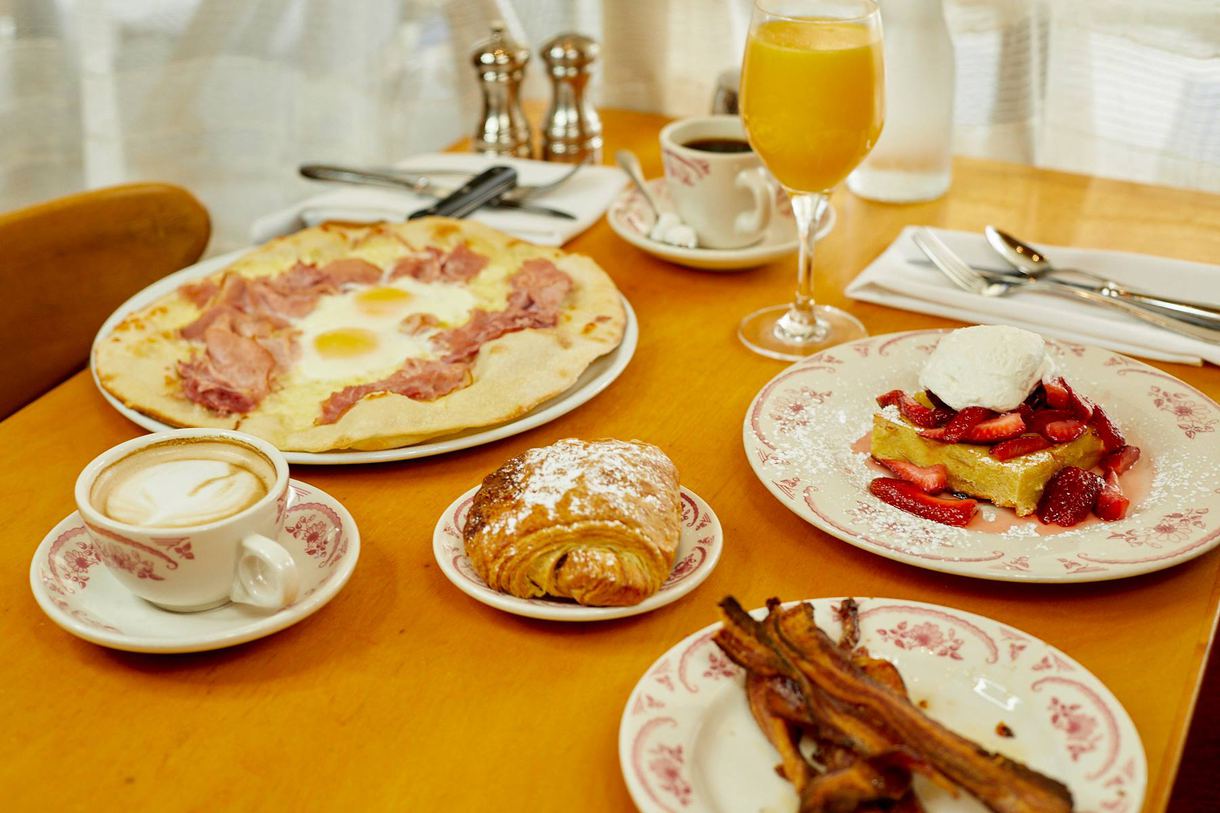 ROSE'S CAFE
Location: 2298 Union Street
For an amazing assortment of house-baked goods and handcrafted wonders, make a beeline for Rose's Cafe. Located in Cow Hollow, the European-style café is a neighborhood favorite known for its Italian cuisine. At Rose's, you can experience the best Italian-influenced brunch dishes made solely with organic ingredients.
Try the soft scrambled eggs with the fresh spinach purée and prosciutto on toasted house bread, Rose's French toast bread pudding with caramelized apples and whipped cream, or the breakfast pizza with smoked ham and fontina.
EIGHT AM
Location: 1323 Columbus Avenue
With an intimate and cozy atmosphere, Eight AM is a prime example of an old-school brunch spot—and it does the classics right. Indulge in the banana nut waffle and Nutella crêpe, or go healthy with the fruit and granola parfait and the matcha soy vanilla chia seed pudding. Other brunch specialties include the hearty avocado toasts, sausage links and eggs, and lox bagel featuring smoked Nova salmon. All it takes is one visit to Eight AM to understand why it's a beloved brunch restaurant in San Francisco's Russian Hill neighborhood.
What are your go-to brunch spots in San Francisco? Share them in the comments below, and check out our guide to the best Bay Area brunches for more ideas on where to eat in the region.