A dozen oysters on the half shell: Whether broiled with shallots, breadcrumbs and decadent butter; freshly shucked and accompanied by pickled tomato and horseradish; drizzled with lemon anchovy cocktail sauce; grilled with garlic, lime juice, and chili flakes; or served raw and paired with a delicate sparkling beverage, their elegance oozes from the gnarled grey exterior as they lay atop a bed of ice garnished with bright lemon wedges.
There is something so luxurious about the idea of eating oysters, as they conjure up images of fancy dinner parties, cocktail dresses, and special occasions—but that is not how they got their start as a California staple. According to historians, oysters cost less than beef during the early 1800s, so they were a popular source of protein for families of all economic statuses during the Gold Rush. The prices only increased after tiny Eastern oysters were brought in via railway to the San Francisco Bay, where they were able to finish growing before being sold at a premium.
The first commercial oyster beds in California came about in 1851 in San Francisco, as more Americans settled in the area in hopes of finding gold. But tastes changed during the early 1900s, when the fear of diseased seafood scared the population into avoiding oysters (though by this time, oysters from San Francisco Bay were the most valuable in the state).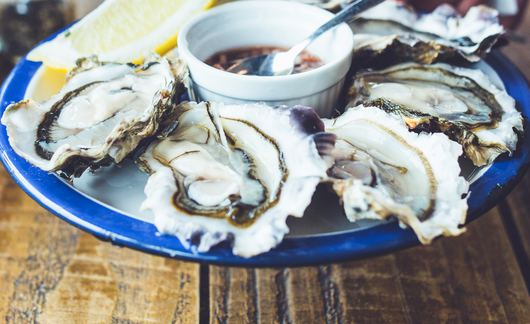 Today, oysters have retained their status as a delicacy, and their popularity has skyrocketed in recent years. Oysters are popping up on the menus of oceanview shacks and fine-dining establishments, while sophisticated oyster bars are springing up in coastal towns across California. Here are the top eight oyster bars for a refined experience.
1. Petit Marlowe
Petit Marlowe is located near San Francisco's SoMa district in the China Basin, about one block from Oracle Park, home of the San Francisco Giants baseball team. The Parisian-inspired eatery transports guests with its refined plating, quaint aesthetic, and vintage French decor. The oysterette's black-and-white checkered floors are covered by dozens of hungry individuals every night, so reservations are highly recommended, though walk-ins can be accommodated at the open bar stools at the counter.
2. Leo's Oyster Bar
The ambience at Leo's Oyster Bar in San Francisco is as deliciously charming as the cuisine; with pink and green wallpaper, rattan chairs, dim lighting, and printed floors, the oyster bar emits a 1950s Beverly Hills lounge vibe. The raw bar is complemented by sumptuous lobster rolls, rich oyster deviled eggs, and refreshing ceviche—and an extensive list of drinks with tropical flavors that are sure to delight your taste buds.
3. Saltwater Oyster Depot
Saltwater Oyster Depot resides in Inverness and focuses on thoughtfully gathered ingredients that are simplistically prepared. The restaurant has simple decor, wooden tables, and an inviting atmosphere that makes oysters feel approachable. Enjoy raw oysters on the half shell—or dig in to the wild mushroom or bacon-arugula broiled oysters for an out-of-this-world experience. Finish off the meal with the burrata toast, roasted carrots, or shellfish risotto.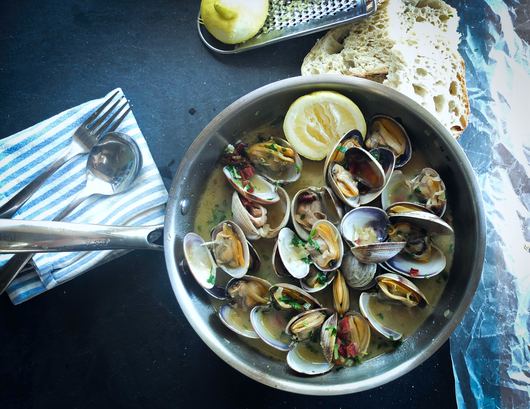 4. Hog Island Oyster Co.
Hog Island Oyster Co. is a true farm-to-table oyster bar, raising sustainable shellfish in San Francisco and Napa and serving them with the freshest ingredients. This not only means that the menu at each location changes often, but also that the quality and quantity of West Coast oysters are unparalleled. Slurp the day's specials; chow down on the grilled offerings tossed in bourbon, brown sugar, and chipotle; and pair the shellfish with mushroom and Moroccan olive tapenade. Tried-and-true classics like the clam chowder and steamers are also available. And for an extra kick of strangely satisfying flavor, add pickled vegetables to your oyster po'boy—once you try it, you may never go back to the original.
5. L & E Oyster Bar
L & E Oyster Bar is a Los Angeles must-see. The alfresco dining, green-and-white tiled floors, and upstairs lounge complete the culinary experience. Try the oysters Rockefeller or the fried oysters with remoulade—but make sure to save room for the roasted carrots accompanied by dill yogurt and caraway; the smoked trout salad adorned with egg, breadcrumbs, and a drizzle of Dijon; or the remoulade-topped crab cake.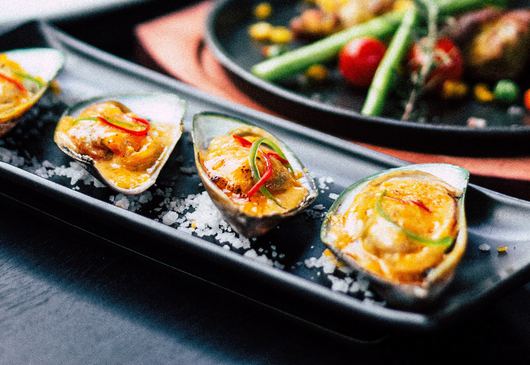 6. Ironside Fish and Oyster
San Diego's Ironside Fish and Oyster serves up single oysters and large platters, making it the perfect stop for any level of hunger. Order the grilled oysters with green garlic butter, the charred broccolini finished with lemon zest and chili oil, and the persimmon and burrata salad topped with hazelnut, radicchio, and arugula.
7. Fishing with Dynamite
Fishing with Dynamite is an intimate Manhattan Beach destination dishing out traditional chilled oysters paired with horseradish and lemon. The oyster bar combines the best of classic pairings—such as battered cod with dill pickles or blue crab cakes with mustard remoulade—as well as unique combinations like yellowfin tuna toast with brussels sprouts and apples or grilled octopus with hummus, kale, and pine nuts. The retro patterned floors mesh with the quaintly nautical decor for a cozy, modern oyster bar experience.
8. Swan Oyster Depot
While this San Francisco lunch counter may not look like much from the outside, it has established a name for itself as one of the top seafood restaurants in the world. With a legacy that has extended 100-plus years, the six Sancimino brothers are the heart and soul of the business and keep patrons lining up out the door. Order a bowl of the Boston clam chowder, a half dozen oysters on the half shell, and the cracked crab for an incredible meal and an unforgettable experience.