By

California.com
September 15, 2020
As California mitigates health risks during the COVID-19 pandemic, some travel restrictions may remain in certain communities. Call the local and regional tourism offices to learn more about the restrictions in your intended destination. Thank you for reading, and stay safe.
It's time to hit the road up north to blooming fields and rolling landscapes. Autumn is here, and with the new season comes the arrival of new fruits and veggies to enjoy. So, put on your favorite jeans and a cozy sweater for a fall road trip to a foodie's heaven on earth: Apple Hill.
Tucked away in the Sierra Nevada foothills, among the most underrated small towns near Lake Tahoe, this regional treasure is waiting to be explored—and now is the best time to go to Apple Hill. The apple-picking season is in full swing, and most of the 50-plus farms are open daily until December. While this agricultural area is dotted with orchards offering numerous varieties of apples, it hasn't always been this way.
Apple Hill's story of transformation into the beloved destination we know today includes great challenges, a strong-knit community, and sustainable success. Originally pear-focused, the region's farmers lost almost 80 percent of their crops in the 1960s and had to come up with a new plan. As more and more farmers swapped out other crops for apples, Apple Hill received its name. Now, in addition to several varieties of apples, the farms offer homemade pies, jams, baked goods, and sauces.
Directions to Apple Hill

To reach the rich agricultural region, voyage along winding roads and undulating hillsides; Route 50 East takes you from Sacramento straight to the heart of Apple Hill in under an hour.
When you arrive, you can discover all of the fare Apple Hill farms produce with great care. As soon as you see and taste the locally grown goods, you'll be craving more. So, be sure to pack up your favorite items for your next autumn picnic, and subscribe to a CSA box to get ultra-fresh fruits and veggies delivered right to your doorstep. And if you want to try your hand at picking your own produce, book your spot at one of the farms in Apple Hill.
Go apple picking at apple hill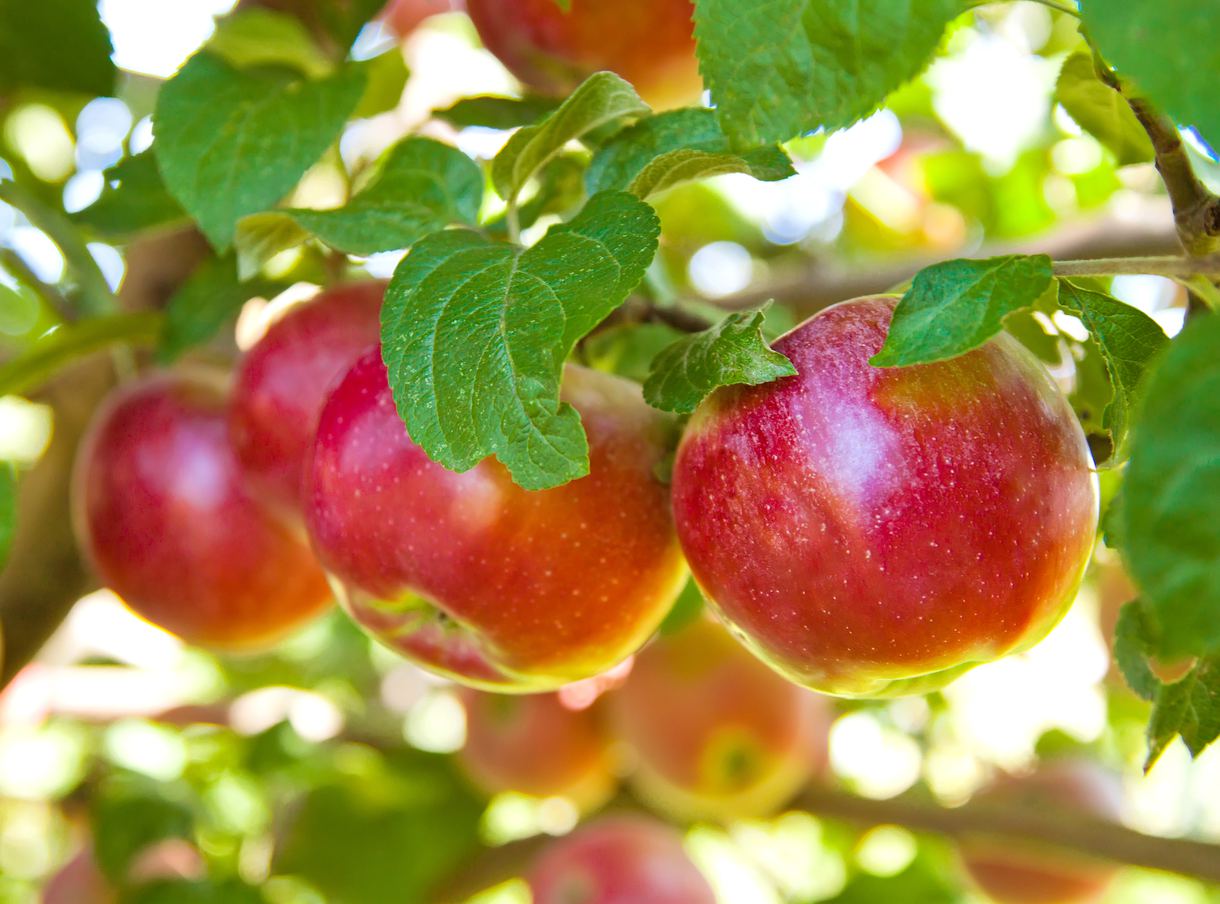 Apple Hill apple picking is one of the most popular autumn activities in NorCal. Choose from our list of best Apple Hill farms, and join the harvest between September and October.
Pick your own apples at Pine-O-Mine Ranch while the sweet smell of freshly baked apple pie lingers in the air, then roll out your picnic blanket and soak up the enchanting vistas of the Sierra Nevada. Or, eat as many apples and grapes as you like while filling your half-bushel boxes at Argyres Orchards. There is no scale, and you can only pay in cash or check (talk about old-style trade).
You can also handpick your own fruits, veggies, and flowers at 24 Carrot Farm or shop online for curbside pick-ups on Thursdays. Depending on the season, you may get apples, blackberries, garlic braids, melons, ginger, carrots, cumbers, and avocados—these are just a few examples of the produce offered by the organic farm.
Meanwhile, at the certified-organic Goodness Orchard, you may pick peaches, pears, and berries—but the antique apple varieties steal the show. With so many heirloom varieties available, this orchard is a coveted destination, so it's important to make your reservation well in advance.
The fresh, free-range eggs and sustainably farmed fruits and vegetables at the Harries Family Farm are a must-try, too. Seven generations have been farming these lands for over 150 years, so finding the perfect pumpkin or Christmas tree will be easy. Don't forget to buy a jar of homemade jam for the way home.
Can't-Miss
Apple Hill Orchard
s and Activities

Visit High Hill Ranch any day of the week from August to December for homemade apple desserts and handmade arts and crafts. Nibble away on your chocolate apple chunk donuts or caramel apple crunch pie with chopped pecans, and you'll be in seventh heaven. You can also shop for handmade jewelry, knitted clothes, or handcrafted sculptures at the largest craft fair in NorCal.
Whether you like your apples crisp and sour or golden and sweet, Larsen's Apple Barn will surely have something for your taste buds. Visit the Larsen Family Museum, stroll the picturesque park, and savor the aromatic scent of baked goods that are bound to make your stomach rumble.
For an authentic Apple Hill experience, grab lunch at the Bodhaine Ranch, which dates back to the late 19th century. The property's organically grown apples are the main ingredient in homemade apple cakes, cookies, and turnovers. If you can't get enough of this deliciousness, grab a caramel apple bar to go.
Alpacas are definitely not the first thing crossing your mind when thinking about Apple Hill. Nevertheless, they are constant residents at the Fudge Factory, and you can even pet them. Pick up a box of chewy fudge for the way home—with over 75 different types to choose from, you're guaranteed to find something for everyone's taste. Follow up your treat with another surprise for the little ones: a train ride at the family-owned El Dorado Orchards. Create lasting memories while circling around two ponds and observing families of ducks and geese.
Witness the Annual Highway 50 Wagon Train and shop for freshly baked goods at Boa Vista Orchards. Choose from the many jams and fruit spreads, and don't leave without buying the amazingly soft frozen apple cake.

Allow yourself some downtime at the Time Out Resort and Spa. Rejuvenate your mind and body with the Almond Full-Body Buff or the Sea Mud Masque in the midst of flourishing orchards. You can also make a weekend out of it by staying at the cozy Ponderosa Ridge A Bed and Breakfast, where you'll experience the serene lifestyle of Apple Hill from dusk to dawn. Take a stroll in the property's apple orchard, play a round of billiards, read a book on the porch, cuddle up next to the rock fireplace, or simply relax in the hot tub.