By

California.com
September 19, 2020
As California mitigates health risks during the COVID-19 pandemic, some travel restrictions may remain in certain communities. Call the local and regional tourism offices to learn more about the restrictions in your intended destination. Thank you for reading, and stay safe.
Scenic surroundings, mighty mountains, striking sunsets, sunny weekends—California has it all when it comes to romantic fall getaways. As summer comes to an end, a new season of potential vacations arrives, which means it's time to start planning a romantic trip with your S.O.
Walking on the beach as you hold hands, curling up in a cabin while sipping hot chocolate, or enjoying the outdoors while appreciating each other's company—what's not to love about an intimate weekend away from home? Let your love bloom among the Golden State's breathtaking landscapes as you savor an ideal romantic fall weekend getaway with your partner.
California's best fall vacations for couples
1. Escape the Cold in Magnetizing Malibu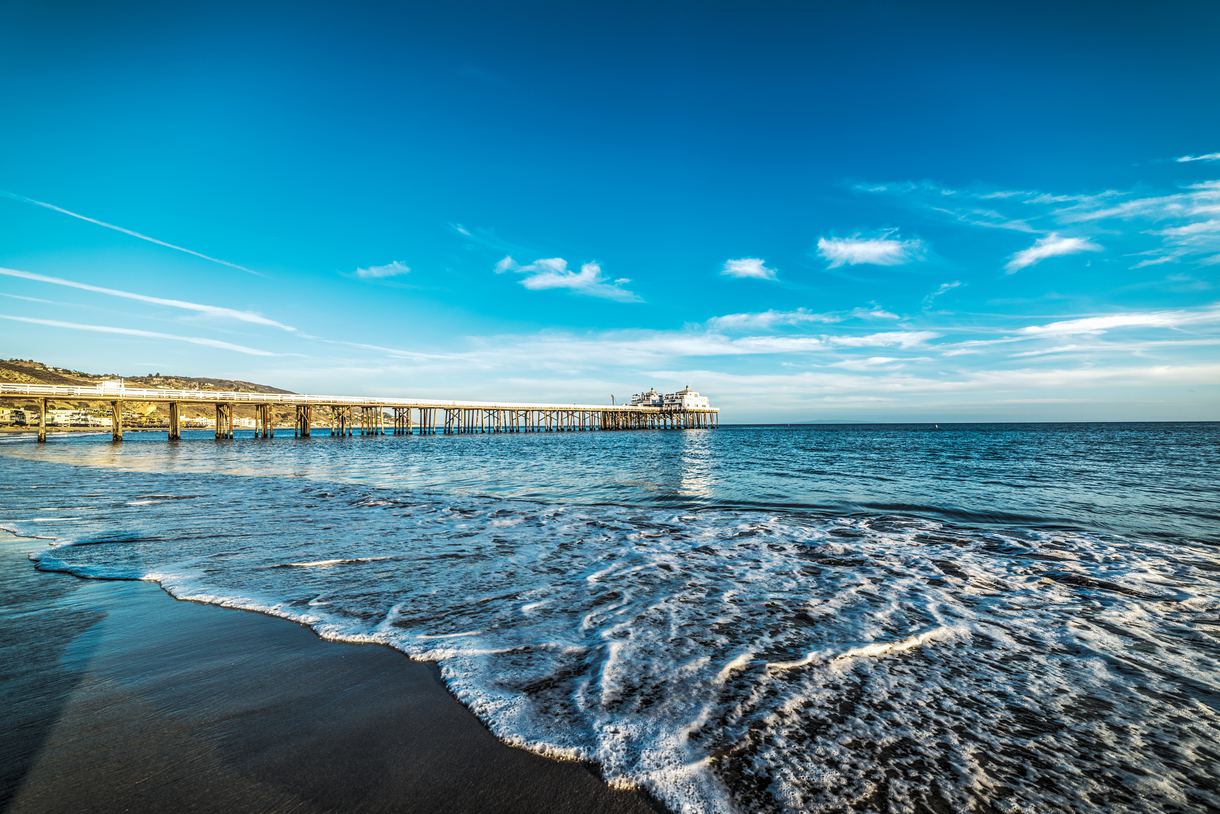 Known for its beaches, sunny weather, and large neighborhoods, Malibu is the perfect place to enjoy the remnants of summer as the leaves change colors. Spend your nights at Moonshadows or Malibu Beach Inn with magnificent ocean views and romantic sunsets. For an extraordinary evening, ditch the usual date night and take your partner horseback riding with Malibu Riders. The hour-long ride provides stunning views of the coast and incredible scenery—the ultimate way to wow your S.O.
Impress your partner again with lunch at Paradise Cove Beach Cafe, and rent chaise lounge chairs and umbrellas for the ultimate experience. After refueling, head to Malibu Pier for a relaxing, intimate walk as you admire the multi-million dollar beach homes at the edge of the sandy cliffs. If you're looking to spice things up, book a tour at Malibu Wine Safari and make new friends with zebras, water buffalo, llamas, and other animals. Escape the busy city and admire the gardens of the Getty Villa along with the buildings and museum, which features Greek, Roman, and Etruscan art and artifacts.
As evening approaches, stop for dinner at Ollo, a farm-to-table Californian bistro and a local favorite with a seasonal menu. End your day with a bang at Zuma Beach, one of the best beaches in L.A. Let the gentle waves touch your feet as you fall deeper and deeper in love with your partner.
2. Get Cozy and Passionate in Winters

Does anything sound more appealing than a rustic, serene escape with your favorite human? Nestled in the Sacramento Valley, Winters is the best fall getaway for couples who appreciate the tranquil and harmonious nature of California. If you plan on popping the question to your partner, Winters just might be the perfect place to do it.
Set the mood at Park Winters, where the view of the Blue Ridge Mountains Lush—plus the gorgeous gardens and pecan and olive trees surrounding the restored Victorian farmhouse—will take your breath away as you sweep your partner off their feet. Dial up the romance by enjoying the vistas of the city from above with Yolo Ballooning Adventures. Once you've experienced life in the clouds, a hike at Putah Creek Trail is what you need to strengthen your connection with nature and your partner. Count all the animals you spot during your time outdoors and dip your feet in the clear river.
As for dinner, Buckhorn Steakhouse is your go-to place. The former hotel-turned-steakhouse will complete your perfect romantic fall weekend getaway with its delicious menu and folksy ambience.
3. Explore Life Underwater in La Jolla

The best fall vacation for couples is in the seaside community of La Jolla in San Diego—moonlit nights on the beach, beautiful tide pools, and extraordinary underwater adventures await. The abundance of outdoor activities here makes it the right spot for outdoorsy lovebirds.
Don't be afraid of the extreme: Start your day with a two-hour snorkel tour to discover the marine life with your partner. Leopard sharks, sea turtles, and other underwater creatures will leave you mesmerized during the unforgettable subaquatic experience. Next up, embark on a sea caves tour with La Jolla Kayak and explore the incredible rock formations inside the caves. On your way back to the shore, look out for seabirds, seals, sea lions, dolphins, and orcas that'll capture your heart as quickly as your partner.
Make your romantic fall getaway even better by sharing your love of food with a waterfront dinner at George's at the Cove. Wrap up your exciting weekend with an intimate picnic at the sandy beach of La Jolla Shores during sunset. The special moments of your romantic weekend will be forever engraved thanks to La Jolla's charm.
4. Expand Your Love and Horizons in San Luis Obispo

Plan your romantic getaway this October in the heart of the Central Coast: San Luis Obispo. Instead of preparing for your annual Halloween celebration, make a date out of pumpkin picking at Brookshire Farms; while you're there, relive the honeymoon phase of your relationship with lively outdoor activities—hayrides, apple cannons, peddle cart races—and visit the biggest corn maze on the Central Coast.
For an art-appreciating afternoon, check out some of the area's famous landmarks and embark on an adventure full of aesthetic history. A tour at Hearst Castle might just be what you're looking for. Visiting the classic, opulent castle is an extraordinary and exciting experience to jazz up your vacation. For a simple yet intimate afternoon, a picnic at Sculpterra Winery and Sculpture Garden is an ideal date. Appreciate the beauty of wine and art and drift into another world of passion and elegance.
If a luxurious private retreat is what you desire, Sycamore Mineral Springs Resort and Spa is the place for you. Located on 100 acres of wooded land, the resort will rejuvenate you and your partner with private hot mineral spring tubs and an exclusive spa. San Luis Obispo is also known for its caffeine-loving community, so bring your book and nestle in a cozy corner at Linnaea's Cafe and indulge in delicate scones and fruit-filled muffins along with a cup of organic coffee. Before you go back to reality, leave your mark on Bubblegum Alley.
5. Experience the Palm Springs Lifestyle

It's no secret that the best fall vacation for couples is in the mecca of modernism: Palm Springs. Start big—book a trip with Balloon Above to soar over the breathtaking landscape covered with deserts, palm trees, and vineyards. (You can even arrange your proposal in the sky!) If a hot-air balloon ride is too intense for your liking, an appropriate equivalent is the Palm Springs Aerial Tramway. Get a fantastic view of Chino Canyon from the world's largest rotating aerial tram and engage in a range of outdoor activities at the peak.
While you drive through the streets of Palm Springs, embrace the mid-century modern architecture that covers most of the city. Luxury-loving couples can later visit The Spa at Desert Springs for a relaxing spa day. Pamper yourselves with a therapeutic massage, steam rooms, and both indoor and outdoor pools. As for dinner? Take it up a notch at Four Saints—Palm Springs' trendiest rooftop eatery—and have a meaningful Mediterranean dining experience with a view.
The cherry on top of your romantic fall weekend getaway is a trip to the Living Desert Zoo and Gardens, where you can escape to an idyllic wildlife setting. Whatever you end up planning, Palm Springs is always an excellent destination.
6. Get a Taste of Europe in Solvang

When it comes to unique fall vacations for couples, Solvang is at the top of the list. A little slice of Denmark in California, Solvang is a nice change of scenery from the usual sunny beaches and city buzz. One of the first things to do in the Danish-inspired town is visiting the Hans Christian Andersen Museum. The small and modest museum focuses on the author's life and works (as well as his love for the famed singer Jenny Lind).
Revisit your favorite fairy tales in this hidden gem, then head over to see Solvang's bronze replica of Copenhagen's Little Mermaid statue. The picturesque city looks like it's straight out of a storybook. Stop by Paula's Pancake House for French toast and eggs and transport yourself to Europe. Once you're done, plan an unusual date at the Solvang Vintage Motorcycle Museum, where 95 of the rarest vintage and classic motorcycles are on display. For an unparalleled dining experience, Mirabelle Inn's First and Oak is your first choice; this Michelin-rated restaurant will leave you craving more.
If you're spending the whole weekend here, the best place to stay is at Alisal Guest Ranch and Resort, where you can enjoy fly-fishing on the resort's 100-acre spring-fed lake and get a taste of the cowboy life. Or, stay closer to town at The M Solvang so you can appreciate the European-inspired charm while feeling the tranquility of a retreat. Don't be afraid to get out of your comfort zone and seek out new experiences with that special someone beside you.
7. Soak up the Beauty of Santa Barbara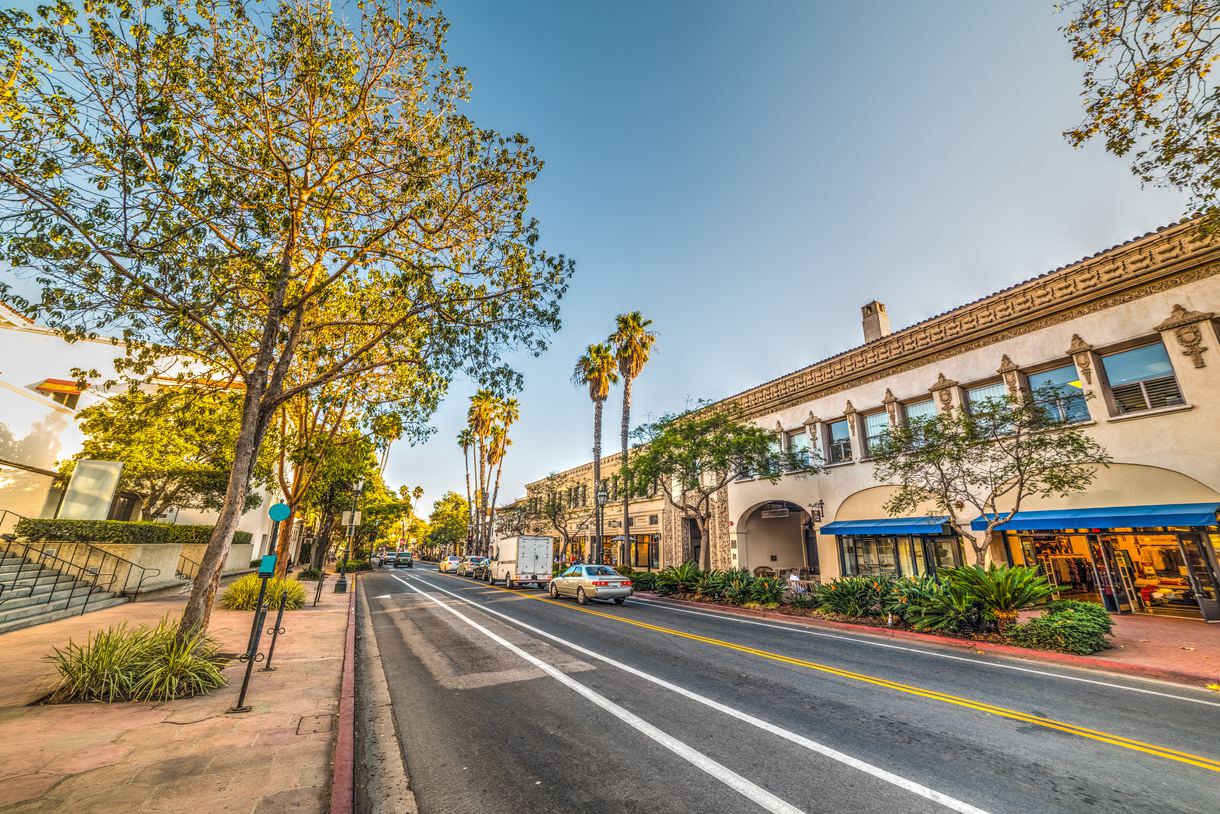 You can never go wrong with a romantic fall trip to Santa Barbara. The dreamy California city is always a top pick for couples who love the Mediterranean atmosphere. Find accommodation at AutoCamp Santa Barbara for a one-of-a-kind Airstream experience. The unique, quirky hotel is the perfect place for you and your partner to snuggle.
Start your morning with a hike in the Santa Ynez Mountains and discover a hidden gem: Knapp's Castle. Admire the beauty of the ruins as the golden sun rays illuminate what once used to be a grand mansion. Combine your love for horseback riding and vineyard views by spending the afternoon at Vino Vaqueros.
Next is a tour at Old Mission Santa Barbara, where you can wander through the rose garden and learn about the history of the "Queen of the Missions." Historic and beautiful, the place is full of endless charm. Fill the rest of your day with activities at the Santa Barbara Waterfront. Here, you'll find everything—boating excursions, stand-up paddleboarding, fishing charters, exemplary museums, and superb restaurants.
The key to a person's heart is through their stomach, so once you get hungry, take your partner to Savoy Cafe and Deli for pastries, sandwiches, and a salad bar featuring everything from wild salmon to organic tofu.
8. Revel in the Landscapes of Mendocino

Forever a lovers' paradise, romantic vacations in Mendocino are always a good idea. The phenomenal cuisine, intimate hotels, outstanding vineyards, and magnificent views of the Pacific Ocean enchant every visiting couple.
A favorite pastime here is whale watching with Anchor Charter Boats in Fort Bragg; enjoy the once-in-a-lifetime opportunity to see majestic underwater creatures in their natural habitat with your significant other. Continue immersing yourself in the wonder of Mendocino by driving along the Avenue of the Giants, a scenic highway running through Humboldt Redwoods State Park. If you prefer staying closer to the ocean, indulge in the beauty of Bowling Ball Beach, one of the most unique beaches in California. For more unusual shore, explore Glass Beach in Fort Bragg and experience unparalleled views of the ocean.
Your romantic evening awaits you at the Little River Inn; all the rooms boast an ocean view. The inn's beautiful grounds, world-class golf course, and award-winning restaurant complete your trip and enhance your passionate experience.
9. Feel the Magic of Guerneville's Redwood Trees

An idyllic destination for Californians, the rustic town of Guerneville is known for its towering redwoods, serene rivers, campgrounds, and hip cafes. When you arrive in the Sonoma County town, settle into your romantic refuge at Fern Grove Cottages, where each cabin has its own unique style and a delicious, seasonally inspired continental breakfast is served each morning.
A few miles away from the cottages, you'll stumble upon multiple outdoor activities—canoe trips on the Russian River, hiking in the majestic Armstrong Redwoods State Natural Reserve, and winery tours. If your ideal date is near the water, Johnson's Beach is your top pick. Lounge comfortably by the river with your significant other as you soak up the sunshine.
While it's certainly not the only way to bring couples closer together, dessert is the quickest way to capture one's heart. So, head to Chile Pies Baking Co. for mouthwatering bites. Share a milkshake with two straws, and split the signature green chile apple pie. As you fill your stomach with flavorful desserts, you'll fill your heart with love and passion, too.
10. Cuddle by the Enchanting Coastline of Carmel-by-the-Sea

Last but not least, undoubtedly one of the best fall vacations for couples is Carmel-by-the-Sea. Take your partner here and fall head over heels all over again. Love is always in bloom in this charming and romantic seaside destination. Treat yourselves to an unbelievable cliffside sanctuary at Hyatt Carmel Highlands. The luxurious hotel is only four miles away from downtown Carmel and features a heated outdoor swimming pool, three outdoor whirlpools, gorgeous ocean views, and unforgettable sunsets.
Once you're settled in, head over to China Cove at Point Lobos State Natural Reserve and discover the incredibly diverse wildlife. Watch the sea lions resting on the rocks and the playful sea otters eating mussels. For a change of scenery, take your partner on an adventure to explore the fairytale cottages of downtown Carmel. Here, you can spend hours photographing the architecture, exploring hidden passageways, and rejoicing in the serene gardens.
As soon as your stomach starts growling, have a bite to eat at Lafayette Bakery and Cafe, where you get a taste of Paris in Carmel. Don't forget to save room for a chocolate eclair.