By

California.com
September 23, 2020
As California mitigates health risks during the COVID-19 pandemic, some travel restrictions may remain in certain communities. Call the local and regional tourism offices to learn more about the restrictions in your intended destination. Thank you for reading, and stay safe.
Ready to book your flight, pack your bags, and hop on a plane for a trip to sunny Southern California? While the iconic Los Angeles International Airport (LAX) is the biggest and most popular airport in the region, it isn't the only gateway to SoCal. Depending on where you want to visit, you can land at Hollywood Burbank Airport, Long Beach Airport, or John Wayne Airport.
Sometimes, it's better to spend a bit more on a flight that arrives at an airport closer to your desired destination, rather than flying to a larger, more distant airport and then spending more on additional transportation. Whether you want to enjoy new Anaheim adventures with the family or unwind in Palm Springs with your S.O., these are the SoCal airports you should know about.
Commercial Airports in Southern California
Los Angeles International Airport (LAX)

Location: 1 World Way, Los Angeles
Parking fee: Starting from $3 per hour or $12 for the whole day
Status: International
Close to: Los Angeles, Glendale, Long Beach
Closest hotels: Hyatt Regency Los Angeles International Airport; Courtyard by Marriott Los Angeles LAX; H Hotel Los Angeles, Curio By Hilton
LAX is SoCal's most well-traveled airport. If you plan on spending most of your time in DTLA or visiting the most beautiful beaches in Los Angeles, then book your flight through LAX. Just make sure to give yourself a lengthy head start during travels—LAX is also the fifth busiest airport in the world and the second busiest in the U.S.
The majority of flights booked through major carriers—American Airlines, Delta Air Lines, United Airlines, Southwest Airlines, and Alaska Airlines—arrive in LAX. Plus, the Tom Bradley International Terminal hosts over 20 international airlines for over 85 worldwide destinations.
It's easy to reach the city from LAX. The FlyAway buses provide regular and conveniently scheduled shuttles from every LAX terminal to popular locations in L.A., including Hollywood, Long Beach, Union Station, and Van Nuys. Travelers can also choose to use taxis, buses, and shuttles to metro stations.
If your itinerary includes Disneyland, LAX may not be your best bet. Getting from the airport to Anaheim may cost an additional $100, excluding tips—it may cost more depending on traffic, too.
John Wayne Airport, Orange County (SNA)

Location: 18601 Airport Way, Santa Ana
Parking fee: $2–$30
Status: International
Close to: Santa Ana, Anaheim, Long Beach
Closest hotels: Hampton Inn & Suites Irvine-Orange County Airport, Hilton Irvine-Orange County Airport, Hyatt Regency John Wayne Airport Newport Beach
Look out, Seal Beach and Sunset Beach—here we come. Located in Santa Ana, John Wayne Airport is named after the movie star and is one of the best airports in California. Upon landing, take a quick photo with the statue of the star, found near baggage claim. SNA is the only airport located in Orange County and is serviced by seven airlines—Alaska, American, Delta, Frontier, Southwest, United, and WestJet. Southwest is the top carrier at SNA, with a total of 11 regularly scheduled flights.
John Wayne Airport is larger than the Burbank and Long Beach airports and is the top choice for those traveling to Disneyland. SNA offers many transportation options such as the Disneyland Resort Express bus service—to help you experience Disneyland on a budget— iShuttle, OCTA buses, and MetroLink light rail. Taxis are an option, too, but the one-way fare to Disneyland is approximately $45 (without tips).
Hollywood Burbank Airport (BUR)

Location: 2627 North Hollywood Way, Burbank
Parking fee: $3–$24
Status: Domestic
Close to: Burbank, Glendale, Pasadena, Hollywood, San Fernando
Closest hotels: Los Angeles Marriott Burbank Airport, Quality Inn Burbank Airport, Ramada by Wyndham Burbank Airport
Close to the entertainment capital of the world, Hollywood Burbank Airport was once a favorite amongst tourists, locals, and stars. Previously known as the Bob Hope Airport, it was rebranded to accentuate its proximity to the famous neighborhood.
Compared to LAX, the Hollywood Burbank Airport is a smaller airport, with only six airlines flying to it. Even though the airport offers fewer airlines, the Burbank Airport is the only airport in the L.A. area to provide Amtrak and MetroLink bus services. For other means of transportation, choose between shared or public transportation—such as shuttles and taxis—or rent a car. Given its significantly smaller size, the airport is easier to navigate.
If you plan on visiting Universal Studios or Six Flags Magic Mountain, Hollywood Burbank Airport is definitely your best option. The airport also offers direct, easy access to Hollywood and Downtown L.A., making it a great place to touch base in SoCal.
Long Beach Airport
(LGB)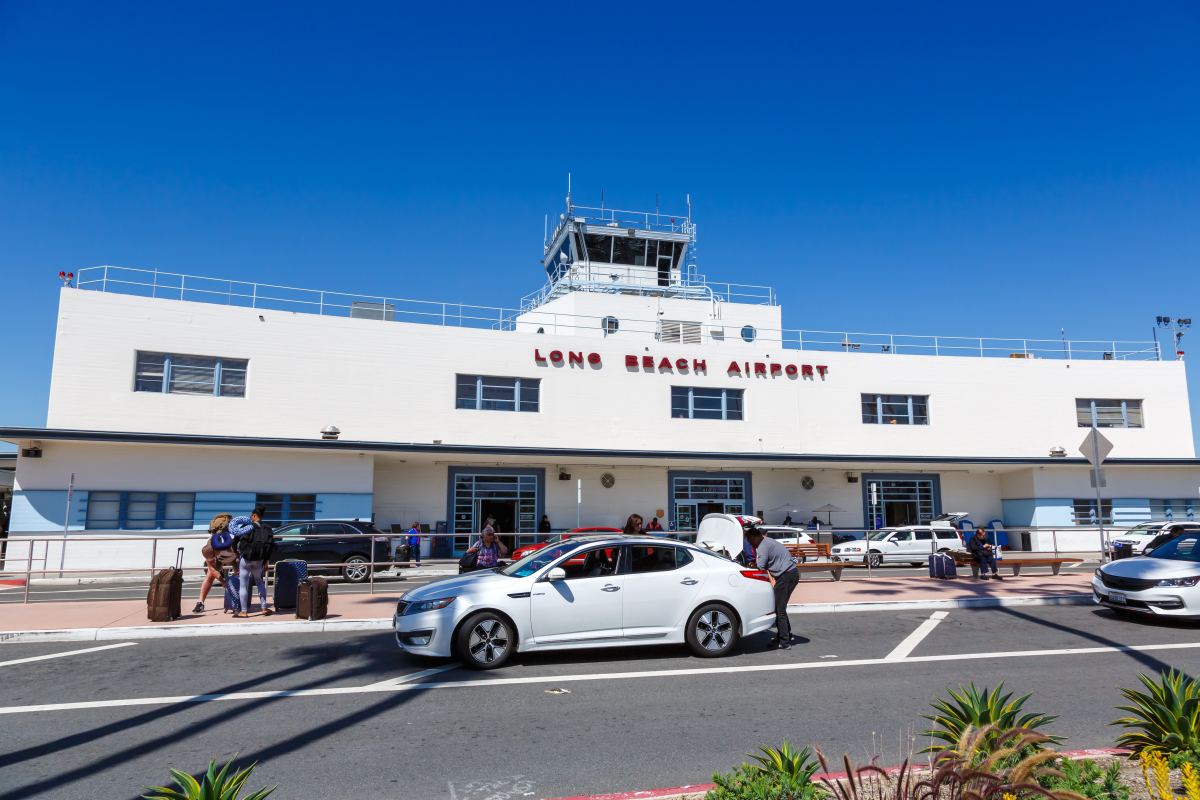 Location: 4100 Donald Douglas Drive, Long Beach
Parking fee: $2–$19
Status: Domestic
Close to: Long Beach, Los Angeles, Santa Ana
Closest hotels: Staybridge Suites Long Beach Airport, Extended Stay America Long Beach Airport, Holiday Inn Long Beach Airport
Long Beach Airport is located south of Los Angeles, so Long Beach, DTLA, and northern Orange County easily accessible. LGB only offers domestic flights, making it perfect for short, hassle-free travels. The airlines landing here include American Airlines, Delta, JetBlue, and Southwest. From LGB, travelers can access public transportation through Long Beach Transit along with taxis, limos, and shuttles. Taxi options are available from the airport, but ridesharing may be a cheaper substitute.
With its prime location close to Orange County, Long Beach Airport is also a great choice for theme park-bound travelers who want to get to their destinations in no time. Stop by California's first-ever theme park, Knott's Berry Farm, which is only an 18-minute drive away from the airport; after an exhilarating day spent riding roller coasters, spend the night at the Knott's Berry Farm Hotel.
Palm Springs International Airport (PSP)

Location: 3400 East Tahquitz Canyon Way, Palm Springs
Parking fees: $2–$20
Status: International
Close to: San Bernardino, Riverside, Santa Ana
Closest hotels: Cimarron Golf Resort, Staybridge Suites Cathedral City - Palm Springs, Ingleside Inn
Palm Springs screams vacay. The Palm Springs International Airport is the gateway to all things Palm Springs—from splendid golf courses and resorts to unique attractions—you won't be disappointed. Just a five-minute drive from the heart of downtown Palm Springs, PSP is the perfect landing spot when paradise beckons to you.
The Palm Springs Airport only flies domestic and to Canada. Airlines landing at PSP include WestJet, United, United Express, Virgin America, and Air Canada. Nearly every day, the airport also has direct flights to and from Chicago, Denver, Atlanta, Minneapolis, Portland, and Oregon.
As soon as you land, the sweeping sense of relaxation and tranquility of the "Golf Capital of the World" awaits you with its warm embrace of sunshine, sunny blue skies, and endless rounds of golf. The airport's user-friendly design and wide-open spaces are easy to navigate. Transportation services from the airport include rental car companies, taxis, limos, and even rideshare options—these services are all conveniently located across from the main building.
Ontario International Airport
(ONT)
Location: Ontario
Parking fee: $8–$27
Status: International
Close to: Riverside, San Bernardino, Anaheim
Closest hotels: Holiday Inn Ontario Airport, Folk Inn Ontario Airport, Comfort Suites Ontario Convention Center
Ontario International Airport serves as the main airport for Riverside and San Bernardino Counties. The airport is a hub for many local and international airlines—Alaska, America, Delta, Frontier, Southwest, United, China Airlines, and Volaris. Southwest is the leading carrier of domestic airlines, with direct routes between nine cities.
This airport is a convenient option if you're traveling to the Inland Empire; however, getting around the adjacent areas may be a bit challenging. Omnitrans is the prominent bus line in the area and offers daily transportation from the airport and connects to the MetroLink stations. Shuttles are also available. For NASCAR enthusiasts, landing at ONT is great because the Auto Club Speedway is very close.