Looking for a better board, a pair of kicks, or a cool T-shirt? Well look no further, because we got you covered. These Bay Area skate shops are among the best to visit when you're in need of new gear, inspiration, or help from industry experts. So roll on over to these top destinations, and start your skateboarding legacy today.
1. Street Science Skate Shop, Livermore
Street Science Skate Shop in downtown Livermore is the perfect spot to pick up your new skateboard or scooter setup. Despite its small size, Street Science houses a wide variety of skateboarding goods—and even a full-sized halfpipe—making it an awesome place to both shop and skate. The store offers top-of-the-line products for skaters and scooters alike as well as one-on-one lessons on its indoor mini-ramp. The skateboarding-inspired paintings around the shop and tasteful music playing add to the fun, interactive ambience. Street Science is also known for its knowledgeable staff of local skaters, who all go out of their way to make sure you get the right board for your skill level and skateboarding style.
2. 510 Skateboarding, Berkeley
If you're on the hunt for a new board and live in Berkeley, you have to check out 510 Skateboarding, which has served as a hub for the local skating community since it opened in 1996. The family-owned shop is cozy and simply decorated, but it features an impressive selection of products—such as collectable skateboards, rare T-shirts, and footwear—and a friendly staff who are eager to help customers with their skateboarding needs. After stopping in, make sure to check out the rest of the unique shops lining Telegraph Avenue.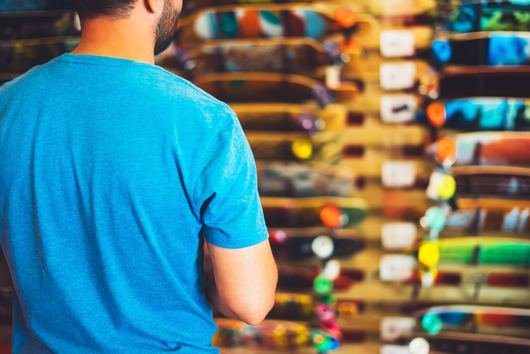 3. MacArthur Skate Shop, Oakland
Conveniently located right off the MacArthur Freeway, MacArthur Skate Shop is one of the top Oakland destinations for skaters. The store is fairly small but has a little bit of everything skateboarding-related, including an impressive selection of unique boards, hoodies, footwear, and T-shirts that you probably won't be able to find anywhere else. Whether you're coming in to buy a whole new setup or to simply browse, you'll be greeted with open arms by the MacArthur Skate Shop staff, who would be happy to find you a new board (or to just give you a free sticker).
4. FTC, San Francisco
FTC—or "For the City"—has been serving the San Francisco community since the early days of skateboarding. FTC first opened in the late 1960s, when San Francisco was considered the mecca of skateboarding, and went on to gain much success. Now, the company has franchises in several major cities around the world, including Barcelona, Tokyo, and Sendai, Japan.
The original FTC, located on Haight Street in the famed Haight-Ashbury neighborhood, is a hip, welcoming shop outfitted with beautiful hardwood floors and several benches made out of skateboards. FTC offers a large selection of skateboard goods and footwear, along with its own line of apparel such as T-shirts, jackets, hats, and more. The shop also has TV monitors and a video game system set up for people to play, though there is often a line, so get here early in the day to avoid the crowds.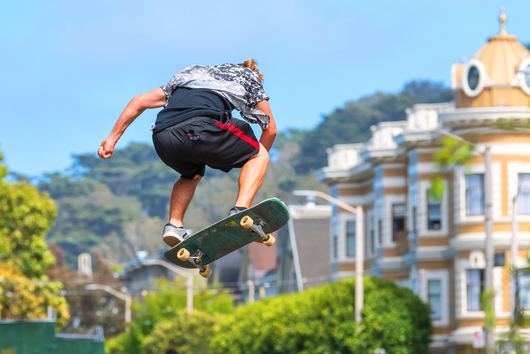 5. Orbit Skates & Boutique, San Leandro
San Leandro's Orbit Skates & Boutique is a cozy shop owned by local skateboarders. While Orbit sells its own line of graphic skateboards, it also carries board parts, shoes, and apparel from the hottest brands. In addition to its eclectic offerings, Orbit is well-known for its staff of pro-riders, who film compilation videos of their best tricks for the company website. The shop has even implemented a GPA reward system to help keep young skaters on track, giving prizes to youths based on their school performance. (For instance, students with a 4.0 GPA could bring in their report cards and walk out with a brand-new skateboard deck.) There are different rewards based on different GPAs up to 3.0, so if you did really well this semester, bring in your report card between June and July to claim your free prize at the shop.
6. Red Curbs Skate Shop, Fremont
Situated just down the street from Fremont Skate Park, Red Curbs Skate Shop carries products from more than 175 skater-owned brands—not to mention its own line of merchandise, which includes skateboard decks, T-shirts, and hoodies. The one-of-a-kind store is also visually exciting given its electric-yellow walls and is staffed with laid-back, knowledgeable, and welcoming experts who are eager to help customers with any need.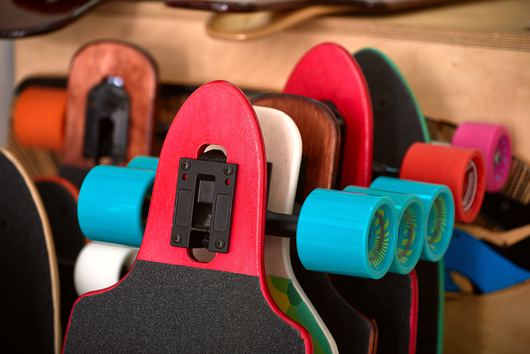 7. Circle-A Skateboards and Coffee, San Jose
For a city with such an explosive skateboarding history, it's hard to believe San Jose is home to only a handful of skate shops. Circle-A Skateboards and Coffee is one of the few legit spots in the area to get your board setup for a reasonable price. The shop also carries all the gear you need, from skateboard decks to vintage graphic tees made by reputable brands.
Circle-A was originally located in downtown San Jose but recently moved into much more modern digs on Paseo De San Antonio. The new spot is enclosed by floor-to-ceiling glass panels, which give passersby a glimpse of the skating products—and coffee shop—housed inside. With the addition of a café, Circle-A has successfully attracted business from not just skaters, but also from many local college students and coffee enthusiasts, leading to a diverse clientele. Stop by Circle-A Skateboards to pick up your new skateboard deck along with a killer cup of joe.
8. Mainland Skate and Surf, San Ramon
Housed inside Pleasanton's Stoneridge Mall, Mainland Skate and Surf offers its own line of cool skateboards along with products from some of the biggest brands in the game. The shop also has an area where skaters can resell their lightly used gear, so you can score a few resale items from such popular companies as Supreme and Bape. If you don't live in San Ramon, don't worry: There are 12 Mainland franchises scattered throughout the Bay Area, so make sure to use the store locator on its website to find the shop closest to you.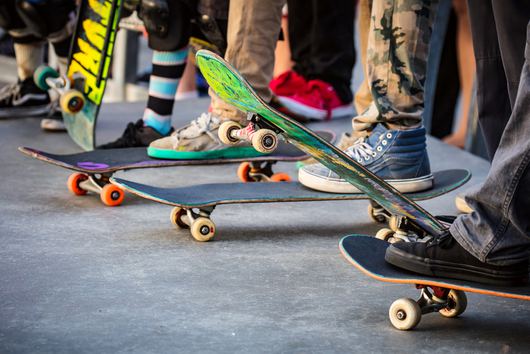 9. BoardGarden, Napa
BoardGarden has been serving Napa for over 20 years and is the only store focused on skateboarding within a 30-mile radius of the town. The shop itself is quite small but is filled with stacks of skateboard decks as well as a wide range of skateboard brands and styles—plus snowboard, wakeboard, and longboard gear. Being one of the only skate shops in the area, BoardGarden emphasizes the importance of supporting local businesses and gives back to the community. The store frequently hosts skateboarding competitions and offers skateboarding lessons at the nearby Napa Skatepark, one of the most prestigious and well-made skate parks in the region.
10. Skate Works, Los Altos
Skate Works is a family-owned skate shop in Los Altos offering skateboarding equipment and apparel from some of the most prominent brands, including Palace and Real. Skate Works also houses various skateboarding obstacles, which the shop's instructors use to give lessons to skaters looking to hone their skills. The staff is very knowledgeable and ready to help anybody trying to get into skateboarding, so if you are in the Silicon Valley area and need a new deck, make sure to check out this shop.