By

Mackenzie Hutson
April 21, 2020
As communities across the world and in California mitigate health risks during the COVID-19 pandemic, we are shifting our content focus and will not encourage any travel or social activities during this time. We will, however, continue to shine a light on and celebrate the many beautiful aspects of our State with the intention of being a source of inspiration and joy during this difficult period. We will also be providing tips and resources specifically related to the COVID-19 pandemic safety measures in the coming weeks. Thank you for reading, and stay safe!
Since skateboarding was invented in California, it comes as no surprise that the state is packed with rad skate stores. But the Bay Area is something else. The region is chock-full of the coolest local skate shops around, so you can easily spend an entire weekend hopping from store to store and securing the best gear imaginable. Whether you're searching for a new board, a pair of kicks, or a bit of inspiration, roll over to these top destinations and take your skills to the next level at your local skate park.
1. FTC

Location: 1632 Haight Street, San Francisco
Hours: Monday–Sunday, 11 a.m. to 7 p.m.
Phone: (415) 626-0663
FTC, officially known as "Free Trade Center" but referred to by locals as "For the City," has been serving the San Francisco community since skateboarding was first popularized. Now, FTC has franchises all over the world and has sponsored several local skateboarding legends, including Chico Brenes, Jovontae Turner, Jim Thiebaud, and Mike Carroll.
Complete with hardwood floors and benches crafted from skateboards, the original FTC—located in the famed Haight-Ashbury neighborhood—has a hip, relaxed atmosphere. Along with laid-back vibes, FTC offers a large selection of skateboard gear and footwear from popular brands as well as its own line of clothing. If the shopping isn't enough to entice you, the TV monitors and a video game console take the store to another level—but get here early to avoid the crowds of gaming enthusiasts.
Afterward, grab a cup of joe from one of San Francisco's best coffee roasters, and you'll feel inspired to join the city's coolest skateboarding crews.
2. Street Science Skate Shop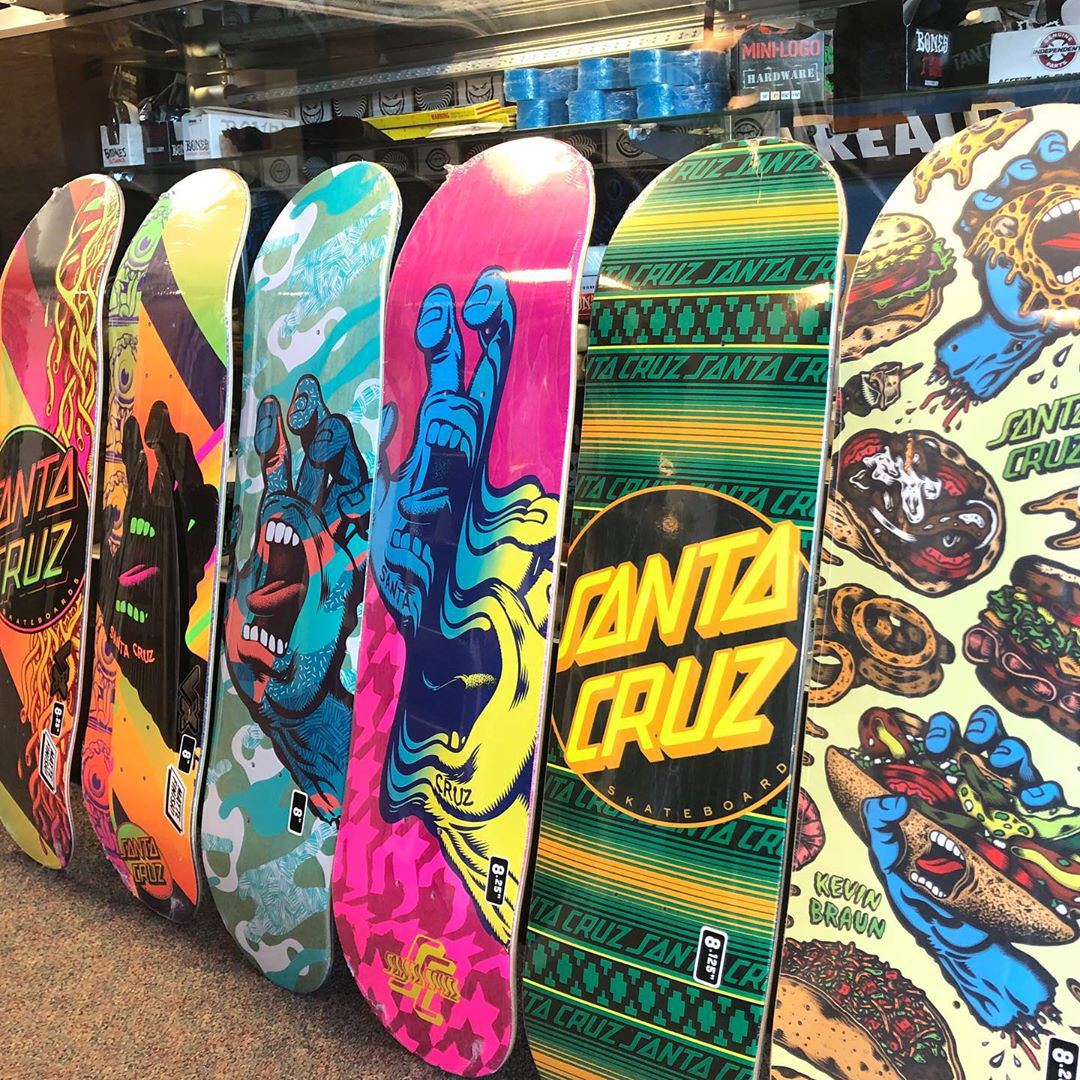 Location: 2155 Las Positas Court, Livermore
Hours: Monday–Sunday, 11 a.m. to 7 p.m.
Phone: (925) 455-0621
Street Science Skate Shop in downtown Livermore is the perfect spot to buy a skateboard or scooter setup. Despite its small size, Street Science houses a wide variety of skateboarding goods—and even sports a full-sized halfpipe. The store offers top-of-the-line products for skaters and scooters alike, plus one-on-one lessons on its indoor mini-ramp.
Skateboarding-inspired paintings are hung around the shop, adding to the ambience and making Street Science a must-see destination for those seeking to shop and skate. This spot is also known for its friendly and knowledgeable staff (most of whom are local skaters), who go out of their way to ensure you're set up with the perfect board for your skill level and skating style.
3. 510 Skateboarding

Location: 2506 Telegraph Avenue, Berkeley
Hours: Monday–Sunday, 11 a.m. to 7 p.m.
Phone: (510) 843-1863
If you're on the hunt for a new skateboard and live in Berkeley, you have to check out 510 Skateboarding. This small, family-owned shop has served as a hub for the local skateboarding community since opening in 1996. With rustic concrete floors and tall white walls, the shop is minimalistic in appearance but features an impressive selection of goods, including collectable skateboards, rare T-shirts, and footwear.
4. Circle-A Skateboards and Coffee

Location: 108 Paseo De San Antonio, San Jose
Hours: Monday–Sunday, 8 a.m. to 7 p.m.
Phone: (408) 995-0677
Given San Jose's explosive skateboarding history, it's hard to believe the South Bay city has only a few skate shops. Circle-A Skateboards and Coffee is one of the few legit spots in the area to get your board set up for a reasonable price. Housed inside a modern building with floor-to-ceiling glass panels—which give passersby a glimpse of the skating goods and coffee shop inside—Circle-A carries a host of reputable brands stocking all the gear you need, from skateboard decks and trucks to vintage graphic tees and skate apparel. While you're there, grab a locally roasted cup of Wrecking Ball espresso to fuel your flips.
5. Skates on Haight

Location: 1818 Haight Street, San Francisco
Hours: Monday–Sunday, 10 a.m. to 6 p.m.
Phone: (415) 377-3131
Skates on Haight is the original San Francisco skate shop, featuring everything from skateboards and longboards to derby-quality quad skates. Opened in 1976, the shop is known for employing locals that skate and teach, so you know the advice they offer is legit. Pick up a new pair of skates, a deck, or a T–shirt—but don't leave if you're not totally satisfied; the team will order or craft your dream equipment in-house, so you'll never have to settle for anything less than perfect again.
6. Create Skateboards

Location: 40 6th Street, San Francisco
Hours: Monday–Saturday, 11 a.m. to 7 p.m. | Sunday 12 p.m. to 6 p.m.
Phone: (415) 737-5283
While Create Skateboards might not be your nearest skate shop, this skater-owned destination is well worth a trip to San Francisco's SoMa district. Specializing in American-made skateboards and apparel, Create started as an online shop in 2012 but became a brick-and-mortar store in 2018. Father-son duo Chris and Jordin Martinez remain committed to their mission, even donating a portion of proceeds to endangered species conservation—so you can do good while looking fresh, too.
7. Macarthur Skate Shop

Address: 2726 MacArthur Boulevard, Oakland
Hours: Monday–Sunday, 10 a.m. to 6 p.m
Phone: (510) 866-2698
Conveniently located off of I-580, Macarthur Skate Shop is one of the best in the Oakland area, offering an impressive selection of local brands and a knowledgeable staff. Whether you are in need of new hardware, apparel, or a unique board, you can find it here.
8. Red Curbs Skate Shop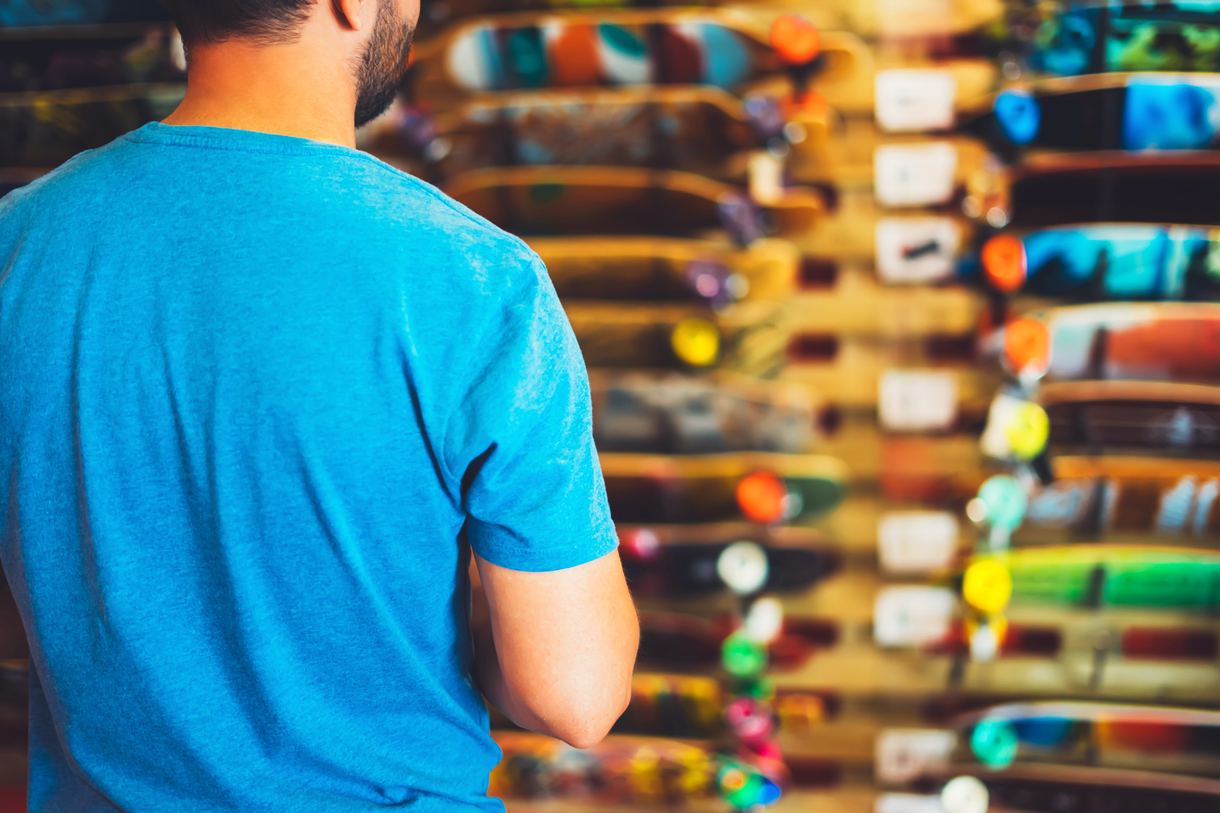 Location: 40923 Grimmer Boulevard, Fremont
Hours: Tuesday–Friday, 12 a.m. to 7 p.m. | Saturday, 10 a.m. to 7 p.m. | Sunday, 11 a.m. to 7 p.m.
Phone: (510) 972-8758
Located just down the street from Fremont Skate Park, the locally owned Red Curbs Skate Shop carries products from 175-plus skater-owned brands alongside its own branded merch. With electric-yellow walls, vibrant skateboard displays, and knowledgeable staff, this skate shop will excite your senses and leave you looking forward to your next visit.
9. Skateworks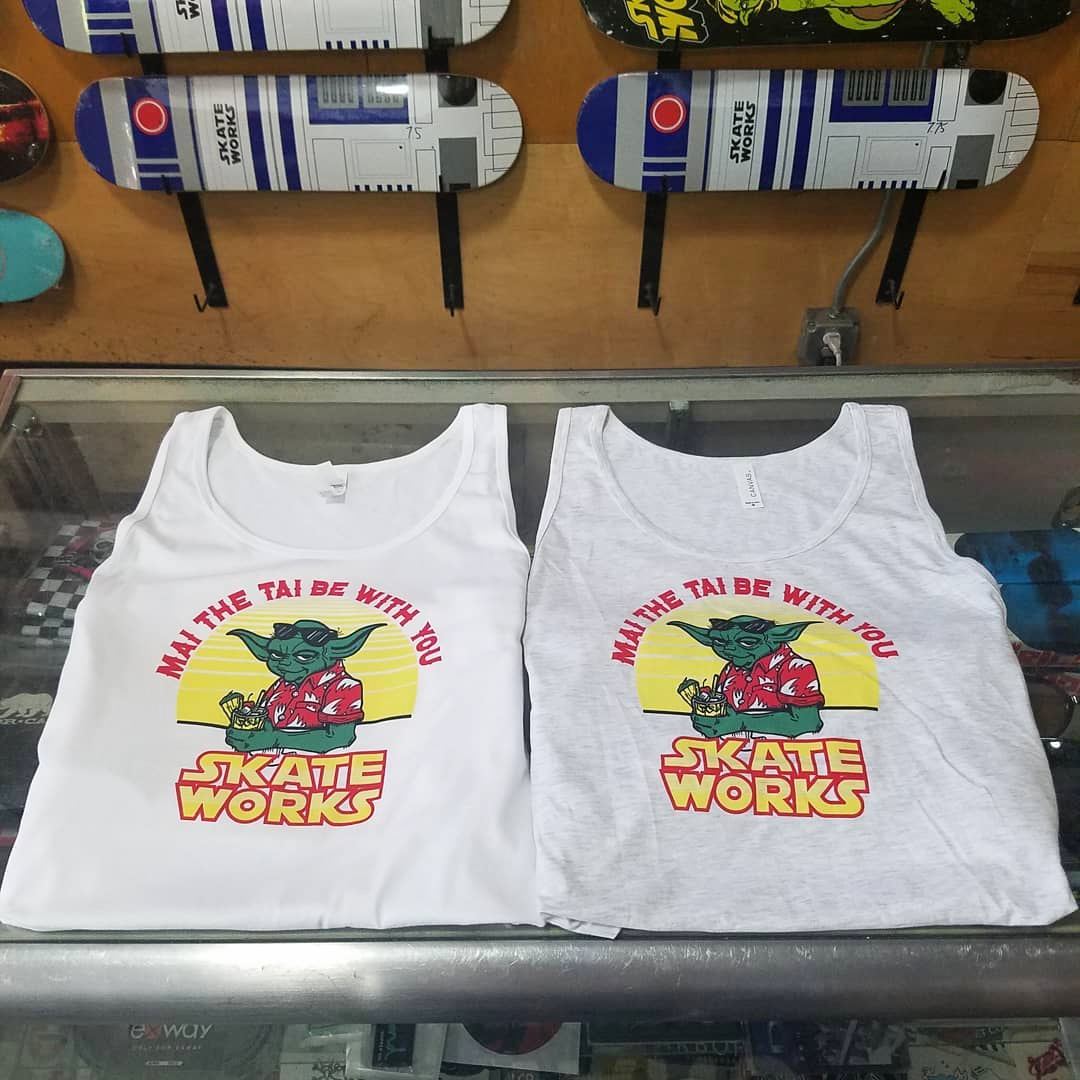 Location: 379 State Street, Los Altos
Hours: Monday–Friday, 11 a.m. to 6 p.m. | Saturday–Sunday, 10 a.m. to 6 p.m.
Phone: (650) 948-4818
Skateworks is a family-owned skate shop in Los Altos, carrying skateboarding equipment and apparel from some of the hottest brands, including Palace and Real. In addition to supporting all your skatewear needs, Skateworks offers lessons on-site and at local skate parks so you can feel confident taking Silicon Valley by storm.
10. Orbit Skates

Location: 15206 East 14th Street, San Leandro
Hours: Daily, 10 a.m. to 9 p.m., with extended weekend hours
Phone: (510) 317-9907
Owned by local skaters, Orbit Skates is a quaint skateboard shop featuring graphic skateboards, apparel, and gear. Aside from its eclectic product offerings, the San Leandro store is also well-known for its skate videos of pro riders showing off their best tricks. But perhaps even more unique is Orbit's GPA reward system: In an effort to help keep young skaters on track, the shop offers free merch and prizes to students with high-performing report cards.
11. Quad Republic Skate Company

Location: 9925 San Pablo Avenue, El Cerrito
Hours: Wednesday–Saturday, 12 p.m. to 6 p.m. | Sunday, 12 p.m. to 4 p.m.
Phone: (415) 960-7823
Unlike the other Bay Area skate shops that caught our attention, Quad Republic Skate Company focuses on quad-style roller skates, not skateboards. From pads and helmets to skates and trucks, there's everything you need to join a roller derby league or roll around the nearby Lake Merritt.
12. Mainland Skate and Surf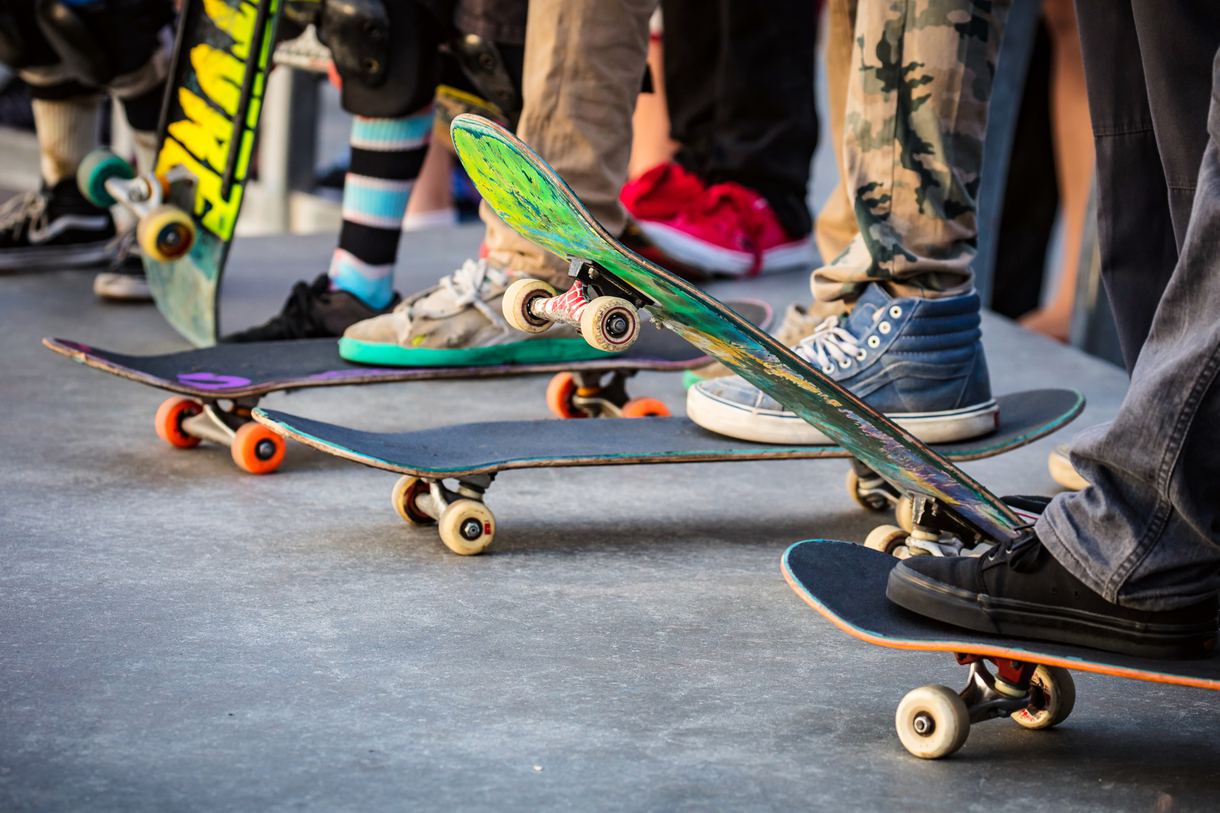 Location: 1 Sun Valley Mall, Concord
Hours: Monday–Saturday, 10 a.m. to 9 p.m.
Phone: (925) 680-1190
Concord's Mainland Skate and Surf offers its own line of cool skateboards as well as those from some of the biggest brands in the game. In addition to everything you'd expect to find at a skateboard store, there's also an area for customers to put their lightly used skateboards up for sale.
While you're in the East Bay, check out the bike rides and hiking trails in Contra Costa County to keep your adrenaline pumping.
13. Boardgarden

Location: 2740 Jefferson Street, Napa
Hours: Monday–Saturday, 10 a.m. to 7 p.m. | Sunday, 10 a.m. to 6 p.m.
Phone: (707) 253-7949
Boardgarden has served the renowned Napa region for 20-plus years, maintaining its stake as the only skate-centric shop for 30 miles. Though the store is small, it is filled with over 150 skateboard decks from California brands as well as skatewear from local entrepreneurs. Peruse the large selection of snowboards, wakeboards, and longboards while you're there, too, and don't forget to ask about the company's upcoming community events—which often include skateboarding competitions and lessons at local skate parks.
What are your favorite skate shops in the Bay Area?