From the coastal bluffs of SoCal to the forested lakes of NorCal, enviable boating destinations in the Golden State are profuse. Satisfy your wanderlust this summer by exploring the waters of California through immersive boating experiences. Lake or ocean, wildlife or views, surfing or diving, the best places for boating offer something for everyone.
The best places to rent a houseboat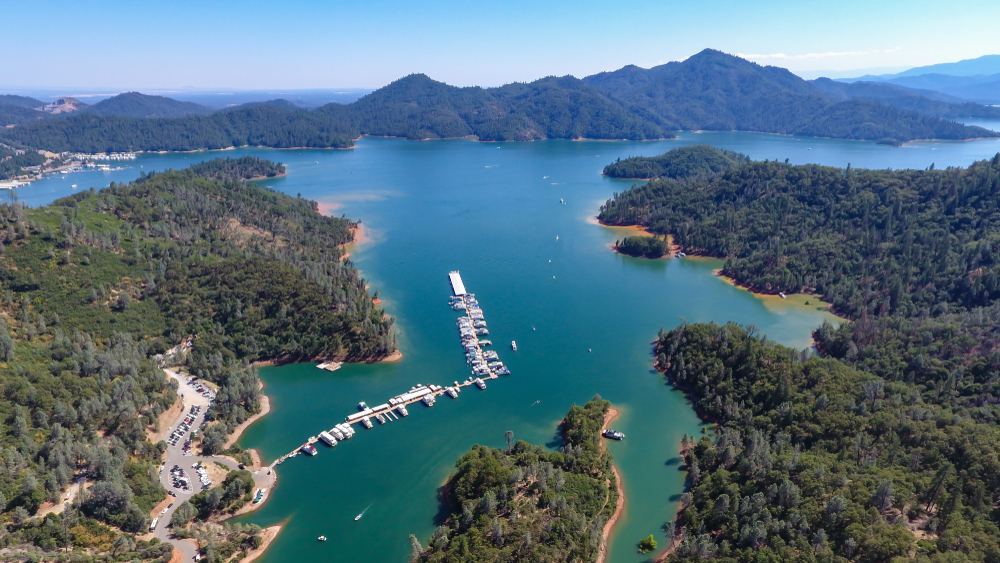 Lake Shasta
Nestled between lush green mountains, the magnificent Lake Shasta is one of the hottest houseboat destinations in California. Watersport enthusiasts have acknowledged Shasta's status as one of the best places to rent a houseboat for eternity (literally).
The lake's massive size, striking shoreline, great fishing, waterfalls, and hiking opportunities are attractive for houseboat aficionados. Today, you'll find hundreds of houseboats, speedboats, and personal watercrafts cruising along Shasta's waters on any given day.
Don Pedro Reservoir
Tranquil, serene, and exhilarating—your next vacation at Don Pedro Reservoir is all this and more. As one of the best places to rent a houseboat in the Golden State, this reservoir is a hidden gem full of exciting recreational activities. With more than 160 miles of shoreline, Don Pedro Reservoir is the ultimate hotspot for non-stop fun. Get to Lake Don Pedro by driving east from San Francisco and prepare to have the time of your life.
The best places for boating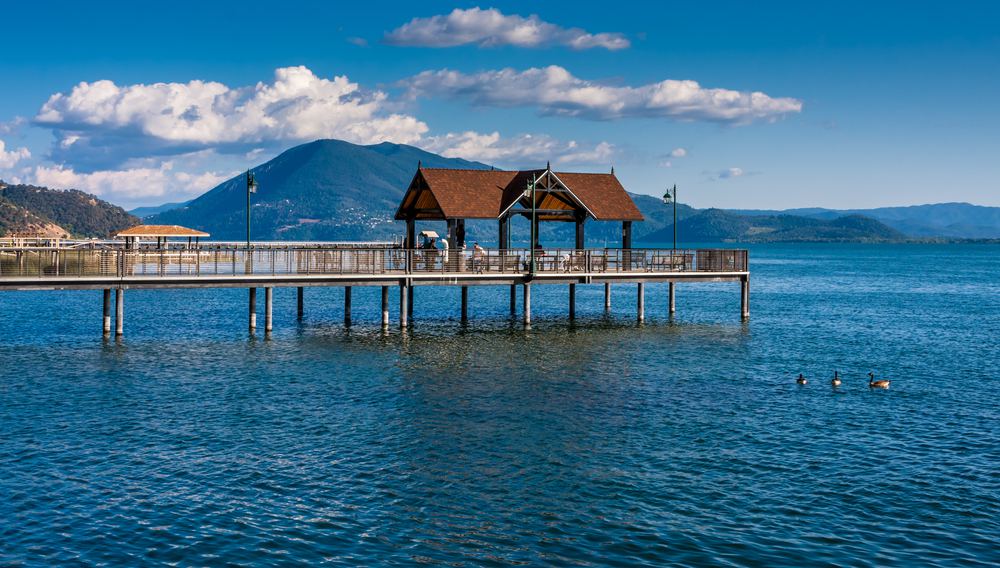 ClearLake
Clearlake is not only the largest clearwater lake in California, but it also happens to be one of the best boating destinations in the state. Over 43,000 square acres of water, 100 miles of coastline, and plenty of public access points put this place on the map when it comes to boating lakes.
Whatever mode of boating you prefer, Clearlake has your back. There are strong breezes for sailors, over 50 miles of water trails for kayakers, and enough space for paddleboarders and canoers. We don't know about you, but we're heading over to Clearlake immediately.

Silverwood Lake
Driving 90 minutes from Los Angeles exposes you to this breathtaking Southern California lake near the West Fork Mojave River in San Bernardino. Silverwood Lake borders the iconic Pacific Crest Trail. The glimmering boating destination attracts plenty of visitors annually, including hikers, boaters, and fishing enthusiasts.
Relaxing aboard a beautiful boat surrounded by the San Bernardino Mountains sounds like an adventure we'd enjoy—we know where we're going this summer.
California cruises to plan next

San Diego
Who would say no to splashing around San Diego? We know we won't. Cruises from San Diego are aplenty, and depending on your preferences, you'll find the best boat tour for every mood. If a sailing tour sounds like your cup of tea, check out Sail San Diego. You'll have a choice of either sailing in the harbor, or heading out to the ocean to watch the sun go down.
Feeling more like hopping aboard a yacht charter? Consider booking your California cruise with San Diego Boat Tours and make memories aboard a private yacht.

Marina del Rey
Cruises from Los Angeles are extra fun from Marina del Rey. The harbor features many popular water activities including jet skiing and surfing. Marina del Rey also boasts lesser-known (but very SoCal) activities like paddleboard yoga. Fancy an overwater dining experience? Hornblower Cruises and Events offers several options for an unforgettable California cruise. After all, the only thing that could make a gorgeous SoCal boat tour better is adding good food.

Lake Tahoe
There's no doubt that Lake Tahoe is one of the best lakes in California. Besides being a premier vacation destination, Tahoe boasts stunning scenery, world-class hotels, and plenty of recreational activities. If you're looking to add extra luxury to your South Lake Tahoe getaway, a cruise is the way to go.
Tahoe Luxury Charters takes you over the crystal clear waters of the lake aboard a lavish boat equipped with high-quality amenities. Lake Tahoe Boat Rides is another highly rated company that'll make your California cruise experience a very memorable one. Find your perfect fit and get sailing.
Incredible places to go sailing in California

Long Beach
Long Beach is often regarded as one of the best sailing destinations by its visitors. This L.A. hotspot is an ideal location to experience the vast Pacific Ocean on a sailboat. Soaking up the sun, taking a refreshing dip, watching wildlife, and listening to the sounds of the crashing waves—what could be more exciting than sailing in California?
Go on a cruise from Long Beach and enjoy floating on the vast ocean. After hopping off the boat, continue your Long Beach getaway offshore. You'll come across plenty of other adventures that'll only enhance your sailing trip.
Newport Beach
Sailing enthusiasts who like to get up close and personal with wildlife will love Newport Beach. Here, you'll have the chance to view humpback whales, sea lions, dolphins, and more. With clean beaches, coves, and islands to explore, this destination is perfect for the adventurous family sailing in California. Golden hour and sunset are the ideal times to check out this boating destination. Don't forget your handy camera—the views are spectacular.
Popular boating lakes

Lake Oroville
Lake Oroville is tucked away in NorCal's picturesque Sierra Nevada. Besides sailing, water skiing and swimming are frequently enjoyed at this beautiful boating destination. The lake in Butte County features five multi-lane boat launch ramps.
Boat supplies and rentals are found at the south end of the lake at Bidwell Marina or further up north at Lake Oroville Marina. Once you're done with your boating adventures, spend the rest of your time here camping, picnicking, and horseback riding.
Lake Havasu
Named after the Mojave word for the color blue, this stunning lake expectedly boasts the bluest waters in the Golden State. The boating lake straddles the border between California and Arizona, and is often busy with people on family adventures. You'll also find plenty of fishers, campers, and swimmers along the shore of this boating destination. If you wish to spend the night on land, you're in for a treat. The best RV camping spots are located right by the shores of Lake Havasu.