Fresh pico de gallo and slices of avocado sit atop blackened mahi-mahi as a zesty lemon-chipotle aioli and savory tortilla round out the plate. Nearby, a burrito bursts at the seams with craveable carne asada, over-easy eggs, soyrizo, and french fries. Across the room, a stack of blueberry cheesecake pancakes makes eyes at you; the plump blueberries lend a purple hue to the smooth cream cheese and snow-like powdered sugar, but it is the fluffy batter that offers a nostalgic touch.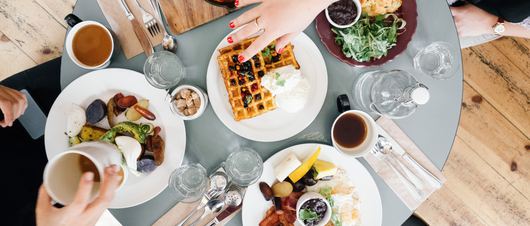 Brunch in San Diego is unlike anything else, offering a unique combination of seafood and Mexican flair that compels you to indulge every week. San Diego is full of life and bold flavors, but it is the region's innovative take on our favorite mid-morning meal that makes Southern California a legit foodie destination. While it's practically impossible to go wrong in this culinary hot spot, once you've experienced brunch at Hotel del Coronado, it can be difficult to figure out where to go the following weekend. Here are some of our favorite eateries for the perfect Sunday brunch in San Diego.
Best Brunch In Pacific Beach:
Crushed
Location: 967 Garnet Avenue, Pacific Beach
The locals know that Crushed is one of the best brunch places in San Diego. With a welcoming neighborhood vibe and a mixture of American, Mexican, and Italian influences, this restaurant shouldn't be overlooked. Order the El Benedicto for a classic favorite with flair; poached eggs are paired with grilled carne asada, pico de gallo, fluffy biscuits, and green tomatillo sauce to create a drool-worthy dish. If you're in the mood for lunch-y brunch, opt for the chicken parm sliders—featuring three panko-breaded fillets topped with mozzarella, Parmesan, basil, and secret-recipe marinara sauce—which are sure to be your new Insta fave.
Best Dog-Friendly Brunch: Fig Tree Cafe
Location: 5119 Cass Street, Pacific Beach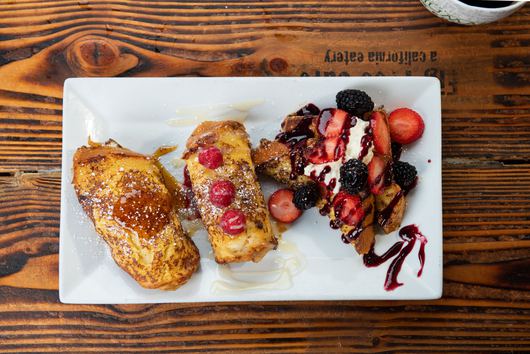 Though Fig Tree Cafe now has a location in Liberty Station, the flagship eatery in Pacific Beach will always be our number one. Tucked inside an old cottage, the restaurant's garden-like atmosphere, proximity to sandy shores, and pup-friendly patio make it an idyllic Sunday destination.
Order some scrambled eggs or turkey bacon for Fido while you enjoy lemon-infused vegan French toast with berry sauce and a glass of organic cold brew. If you're feeling adventurous, opt for the breakfast sushi—stuffed with brown-sugar bacon, rice, scrambled eggs, and scallions—served with a delectable plum sauce. The house-made lobster and blue crab cake Benedict, shrimp frittata, and house-made black bean burger with spicy balsamic aioli also make great choices. Perhaps the best part about this California restaurant, however, is that you can order these scrumptious specials any day of the week.
Best Brunch In San Diego with Multiple Locations: Snooze
Locations: 3435 Del Mar Heights Road, Del Mar; 3940 Fifth Avenue, Hillcrest; 8861 Villa La Jolla Drive, La Jolla
Snooze offers the ultimate combination of vintage and modern, evoking retro Disneyland vibes with tasty treats, vibrant colors and a splash of whimsy. This eatery serves up everything from classic omelets, to sweet potato pancakes, to Cuban sandwiches—so you know there's something for everyone you brunch with.
Start out with a soy turmeric latte or a cold-pressed juice with celery, cucumber, spinach, romaine, kale, lime, and parsley. Then, order the breakfast pot pie with house-made rosemary sausage gravy, a cage-free sunny-side-up egg, and crispy hash browns (you won't regret it). End the meal with a pancake flight to sample the pineapple upside-down, cherries jubilee, and blueberry Danish pancakes, and you'll spend the rest of the day on cloud nine.
Best South of the Border–Inspired Breakfast: The Mission San Diego
Location: 3795 Mission Boulevard, San Diego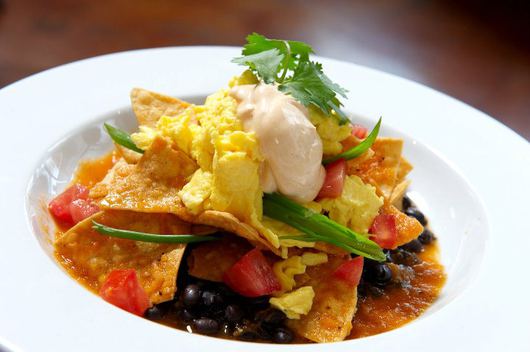 With so many fresh ingredients and delicious offerings at The Mission San Diego, it can be hard to choose just one dish. Grab a caramel macchiato or a mocha chip shake to sip on as you peruse the menu. Choose between the papas con chorizo (savory soy chorizo, grilled jalapeños, black beans, cheese, avocado, and chipotle cream served atop rosemary potatoes) and the Mission chilaquiles (black beans, scrambled eggs, cheese, roasted tomato ginger sauce, and chipotle cream with corn tortilla chips) for a filling and delectable start to the day.
Best Brunch In Downtown San Diego:
Breakfast Republic
Location: 707 G Street, San Diego
Breakfast Republic is a San Diego favorite with locations in Carmel Valley, East Village, Encinitas, Irvine, Liberty Station, Mission Valley, North Park, Ocean Beach, and Pacific Beach—making it easy to savor its tasty fare. Order the French Toast Sampler to try an incredible San Diego foodie flight; go with the s'mores, banana split, and Mr. Presley toasts for a surprising balance of flavors that include everything from graham crackers and toasted marshmallows, to bruléed bananas and vanilla ice cream, to peanut butter and bacon. For a more savory slate, get the crab and crawfish cake Benedict accompanied by blackberry-jalapeño jam, guajillo chiles, and hollandaise. Or, select the shrimp and grits for a Louisiana-inspired dish of hot sauce, sweet corn, and protein-packed eggs.
Best Scenic Brunch: Brockton Villa Restaurant
Location: 1235 Coast Boulevard, La Jolla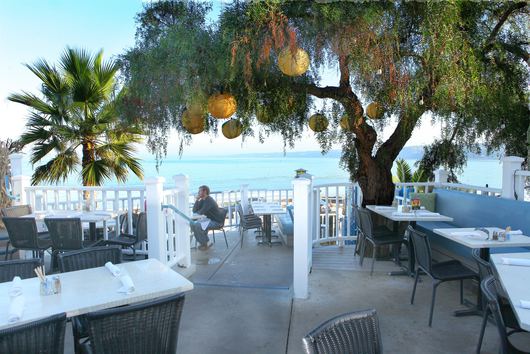 If bodacious brunches aren't enough to entice you to visit La Jolla's Brockton Villa Restaurant, the stunning vistas of the famous La Jolla Cove surely will. As one of the city's original beach cottages, this waterfront eatery serves up seasonal fare in picture-perfect environs.
Sip a honey-cinnamon latte or a house-spiced apple cider as you take in the scenery and wait for your Cali-toast to arrive. The dish's fresh crab, avocado, microgreens, and lemon juice go together perfectly and make for a grand introduction to Meg's Eggs with smoked salmon. Prepare your taste buds for an explosion of flavors as dill, chèvre, sautéed leeks, capers, tomatoes, and crème fraîche combine in a single bite to create the best brunch in La Jolla.
Best California-Inspired Brunch: The Cottage La Jolla
Location: 7702 Fay Avenue, La Jolla
The Cottage La Jolla offers an extensive menu of sweet and savory breakfast options that make brunch accessible every day. Order the freshly baked scone of the day along with the lemon ricotta pancakes to fully satiate your sweet tooth, but don't forget about the eatery's hearty options. Consider devouring the wild mushroom, goat cheese, spinach, and roasted shallot omelet or the classic avocado smash featuring mozzarella pearls, baby tomatoes, and bacon on rosemary–olive oil bread.
Where do you go for the best breakfast in San Diego? Let us know your go-to brunch spots in the comments below. And for even more brunch spots in California, check out our articles Do You Even Brunch, Bro? The Ultimate Guide To The Best Bay Area and Bunches of Brunches: Where to Find the Best Brunch in L.A.