By

California.com
October 09, 2020
As California mitigates health risks during the COVID-19 pandemic, some travel restrictions may remain in certain communities. Call the local and regional tourism offices to learn more about the restrictions in your intended destination. Thank you for reading, and stay safe.
Explore the magical landscape known as Gold Country. Covering the western slope of the Sierra Nevada mountain range, this beautiful and historic region in the Central Valley is where the California Dream was born thanks to the discovery of gold in 1848. For your next road trip, follow Route 49 in the pursuit of happiness as did so many before you, and discover charming Gold Rush towns that transport you back to a bygone era.
The Golden State's
best Gold Rush Towns
Boasting rushing rivers, undulating hills, groves of giant sequoias, and authentic towns, Gold Country is as much of a destination today as it was during the Gold Rush, when thousands of people flocked to the area in search of the precious metal. It's easy to connect with nature, history, and your companions as you explore these famous Gold Country towns.

Sutter Creek
Venture 45 miles southeast of Sacramento to Sutter Creek, known as the "Jewel of the Mother Lode," where John Sutter (co-owner of Sutter's Mill, where gold was first discovered) set up camp in 1848. While Sutter didn't strike it rich here, Alvinza Hayward—Gold Country's first millionaire—surely did in the early 1850s. The small settlement began to grow and officially became one of the first Gold Rush towns in 1854.
Today, Sutter Creek still retains its rich history and is the embodiment of Gold Country. Stroll along the town's Main Street lined with 19th-century buildings, and imagine how much time and effort early prospectors spent on the construction of these balconied façades along Old Route 49. Shop for collectibles, antiques, and art; or, tour the water-powered Knight Foundry (one of the best-preserved 19th-century industrial-age workplaces), which was established in 1873. Stop by Sina's Backroads Café and try the signature sourdough bread—the iconic San Francisco food that was popularized during the Gold Rush.
Murphys
Nestled in the central Sierra Nevada foothills, between Lake Tahoe and Yosemite National Park, Murphys is the "Queen of the Sierra." Visit the town to learn about John and Daniel Murphy, brothers who established a trading post here in 1848. Before the age of 25, the two men became millionaires; many followed in their footsteps in hot pursuit of financial success.
Now, you can see how the town's rich past has melded with the spirit of the 21st century. Browse downtown Murphys' Main Street and wander through art galleries; perhaps you'll find a unique keepsake to remind you of this Gold Country adventure, too. The picturesque, tree-lined thoroughfare transports you to the mid-1800s, while fine 21st-century dining entices you. Head to Rob's Place for a delicious rib-eye steak or to Grounds Restaurant for a pescetarian alternative—the grilled Alaskan coho salmon with sautéed heirloom carrots and carnival cauliflower, mushroom risotto, and lemon oil is a divine choice.

Columbia
Transport yourself back in time at an old Gold Rush town, which has since been transformed into Columbia State Historic Park. Once known as the "Gem of the Southern Mines," Columbia was founded in 1850 and is now a National Historic Landmark.
Nourish your mind with a history lesson amidst the rugged oak woodlands of the Sierra Nevada as you explore California's largest collection of existing Gold Rush-era structures, which provide a glimpse into the life of a 19th-century miner. Learn how to pan for gold, dress like a merchant of the 1850s, and ride in a stagecoach. Let the town's very own working blacksmith show you how iron is forged, and find out what gold-mining tools were used back in the day.
Commemorate your trip with a family photoshoot at Kamice's Photographic Establishment before booking your dinner reservation at Columbia House Restaurant.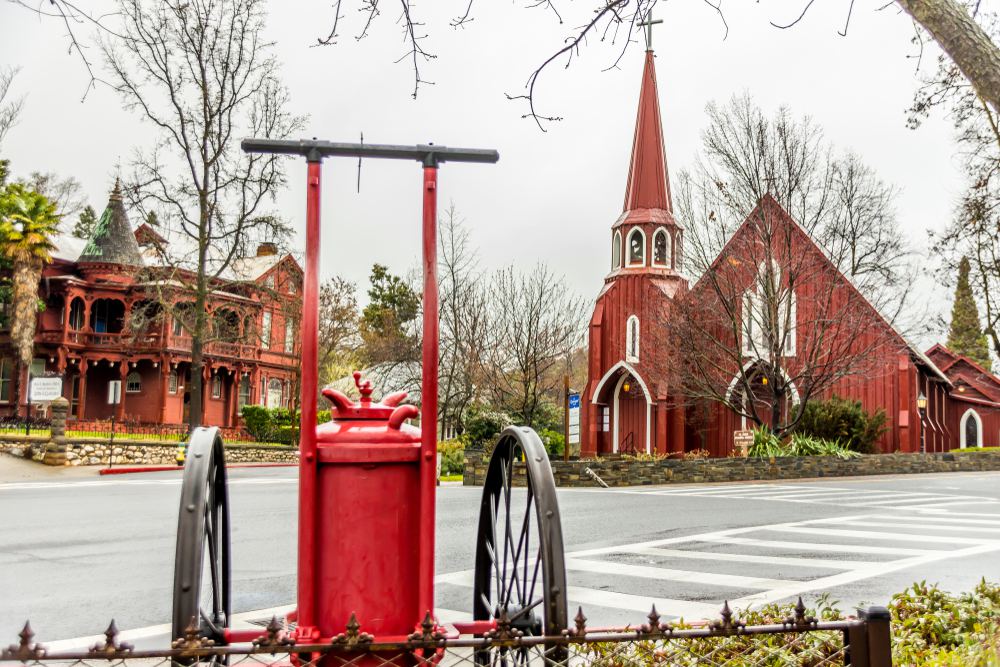 Sonora
As with all famous Gold Rush towns, Sonora influenced hundreds of thousands of destinies and earned a nickname of its own. Discover the "Queen of the Southern Mines" while on a walking tour of the historic downtown. Tour saloons, residential houses, and 19th-century constructions reminding residents and visitors of the town's rich history. Take a selfie at Sonora's Opera Hall, which was constructed in 1879 as a flour mill, and then enjoy a fall picnic at Courthouse Park.
To enjoy the splendor of the great outdoors, hike the 3.1-mile Dragoon Gulch Trail and let the oak woodlands soothe your soul. Make sure to visit Sonora's Certified Farmers' Market on Saturday morning, too, to purchase local produce and freshly baked goods.

Jamestown
Entering Tuolumne County from the west, Jamestown—the first place in the county where gold was discovered—is the first town you encounter. Admire buildings that date back to the 1870s and 1880s, and tour Railtown 1897 State Historic Park. Find out which Hollywood movies were filmed in Jamestown and other old gold-mining towns by following the "Walk of Fame" signs around town.
When nature beckons, hike the 3.8-mile out-and-back Table Mountain Trail for stunning vistas of the New Melones Lake area and superb wildflower viewing. After a full day, stay at The Jamestown Hotel, which was built in 1858.

Bodie
What's a Gold Rush adventure without a visit to one of California's ghost towns? Visit Bodie State Historic Park in Mono County, situated east of the Sierra Nevada. Keep your nerves at bay while you drive towards the abandoned town that once was home to 10,000 people. Though only a small part of the town survives, you'll still feel the real Gold Rush spirit in each and every one of the wooden structures decaying under the sun. General stores, saloons, and dance halls once serving thousands of miners remind visitors of yesteryear's wild essence. Bodie itself had grown so much, that its reputation had surpassed it—a town of fortune and a place of lawlessness that currently stands deserted.
Fun Facts about Gold Country

The first American Gold Rush occurred in North Carolina, not California.

Shining flecks of gold were first discovered in California by James W. Marshall in 1848 at Sutter's Mill.

In 1849, the California Gold Rush reached its peak, leading to the largest mass migration in Western history.

California State Route 49 is numbered after the "forty-niners"—the immigrants who came to California in 1849 in hopes of striking it rich.

Between 1848 and 1849, the population of California grew by over 100,000.

Most profits were made by merchants rather than by the miners themselves.

In October of 1849, a group of wagons began journeying from Salt Lake City to California's gold mining towns.

After months of surviving in the valley of the Mojave Desert, someone is said to have proclaimed, "Goodbye, Death Valley," upon passing over the mountains to safety.

In 1853, Levi Strauss patented the world-famous Levi's denim jeans in San Francisco as durable work pants for Gold Rush miners.

The Gold Rush popularized Bummer and Lazarus (two stray dogs from the streets of San Francisco) as a way of entertainment. Cartoons of their daily adventures were drawn and stories about their unique bond were told in the local newspaper.

The largest gold nugget discovered in California weighed 214 pounds.