By

Mackenzie Hutson
March 04, 2020
Spending time in L.A. always affords new opportunities for celebrity sightings. Whether you're spending a day at the local art galleries, shopping at upscale boutiques along Rodeo Drive, or checking in to one of the popular celebrity hotels, there's a chance you could run into your idol. But dining at the area's coveted eateries is likely your best bet for spotting celebs.
Many celebrities live and breathe Los Angeles, so it's not unusual to see someone famous casually walking down the street, but there's nothing quite like breaking your intermittent fasting to savor avocado toast beside your longtime celebrity crush. So, do yourself a favor and make reservations at these star-studded establishments, and start practicing your best attempts to play it cool.
1. Canter's Deli

Founded in 1931 and open all day long, Canter's Deli in Fairfax is a clear favorite for locals and celebs alike. Grab a bowl of the matzo ball soup before you leave—over 10 million matzo balls have been sold since the deli opened, so this dish is definitely a winner. Along with its savory stacked sandwiches, the establishment is also known for its appearances in shows like Curb Your Enthusiasm, Entourage, and Mad Men, so even if you don't see a movie star, you're in the middle of an iconic film location.
Rumored celebrity sightings include: Marilyn Monroe, Elvis Presley, Elizabeth Taylor, Mel Brooks, Larry King, Mick Jagger, Barack Obama, Sarah Silverman, Rachael Ray, John Travolta, Prince, Conan O'Brien, Julia Roberts, and Steven Tyler

If the sumptuous lobster avocado roll, blood orange ponzu ceviche, and crispy cauliflower with spicy vegan mayo aren't enough to entice you to this rooftop garden eatery, perhaps the celebrities at CATCH LA will. Known for its sustainable seafood and alternative vegan menu, this West Hollywood restaurant is the perfect place to catch L.A.'s celebrities in their natural habitat. 
Rumored celebrity sightings include: The Kardashians, Mariah Carey, Kate Upton, Cuba Gooding, Jr., David Beckham, Cindy Crawford, Paris Hilton, and Michael B. Jordan
3. Gracias Madre

Similar to the sister location in San Francisco, Gracias Madre serves the best vegan cuisine in West Hollywood, featuring an all-organic (and delicious) menu. Start with a round of Gracias Madre's guacamole as you peer around for the rich and famous. 
Rumored celebrity sightings include: Natalie Portman, Ellen DeGeneres, Mariah Carey, Selena Gomez, Jessica Alba, Amy Adams, Olivia Munn, Sophia Bush, and Lucy Hale
4. Nobu Malibu

Nobu Malibu is one of the most talked-about celebrity hangouts—and given the fresh sushi bar and gorgeous ocean views, it's easy to see why. Order the seaweed salad, edamame, and rock-shrimp tempura before grabbing the sweet bento box for dessert. This in-depth culinary journey may reward you with an amazing celeb story.
Rumored celebrity sightings include: Emma Stone, Andrew Garfield, Leonardo DiCaprio, Kris Jenner, Bradley Cooper, Mariah Carey, Justin Bieber, and Kate Hudson
5. Musso & Frank Grill

As the oldest restaurant in Hollywood, Musso & Frank Grill has garnered quite the reputation among locals, tourists, and creatives over the last century. Order a bowl of the onion soup au gratin, filet mignon, brussels sprouts with pancetta, and truffled mac and cheese for a meal you'll remember forever. Keep an eye out for the stars, too, at this highly frequented celebrity restaurant. 
Rumored celebrity sightings include: Charlie Chaplin, F. Scott Fitzgerald, William Faulkner, Humphrey Bogart, the Warner brothers, Quentin Tarantino, Brad Pitt, George Clooney, Johnny Depp, Al Pacino, Harrison Ford, Keith Richards, Mila Kunis, and Nicolas Cage
6. The Restaurant at Chateau Marmont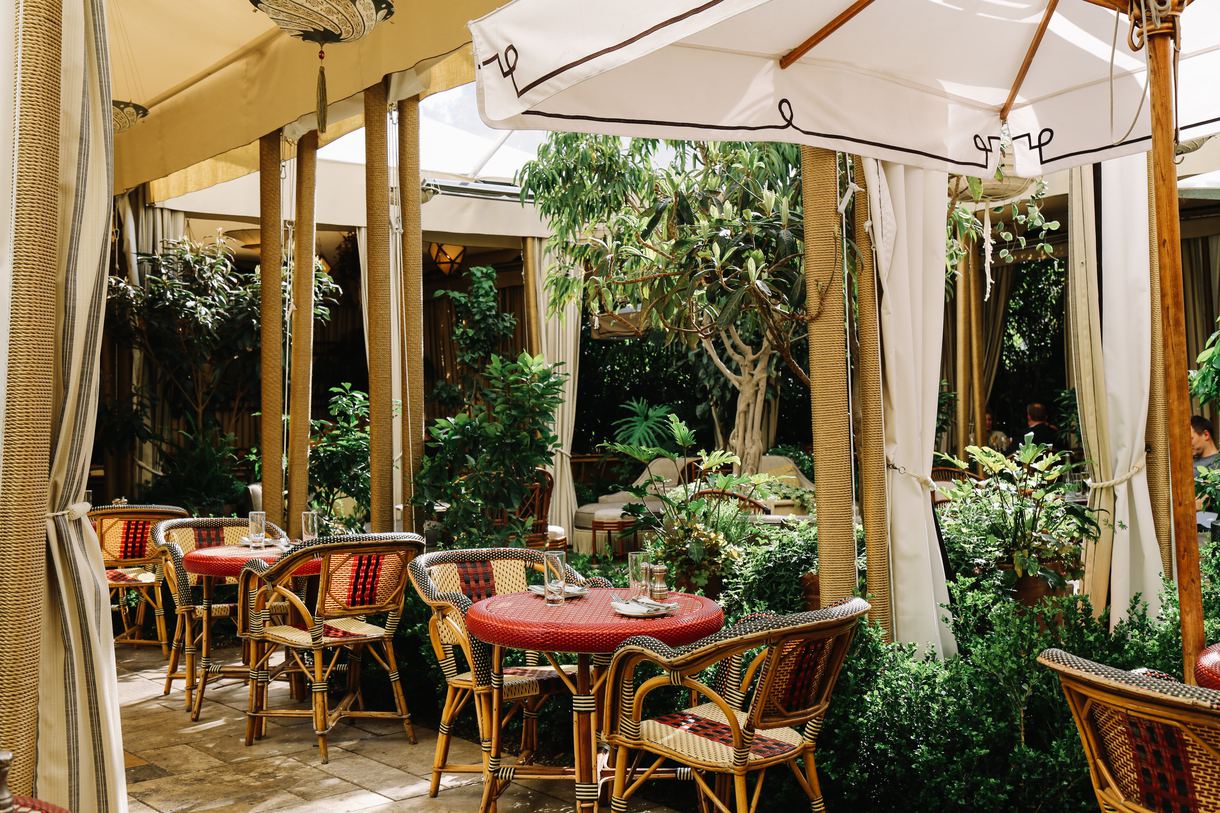 Much like the famed hotel, the restaurant at Chateau Marmont is known for celebrity sightings. Dine indoors or out on the garden terrace for a chance to spot someone from the silver screen. Past and present, this West Hollywood destination has always been the place to be.
Rumored celebrity sightings include: Clark Gable, F. Scott Fitzgerald, Marilyn Monroe, James Dean, Elizabeth Taylor, Natalie Wood, John Lennon, John Belushi, Jim Morrison, Heath Ledger, Scarlett Johansson, Sienna Miller, Courtney Love, Salma Hayek, Lindsay Lohan, Denzel Washington, Britney Spears, Lady Gaga, Taylor Swift, and Cara Delevingne
Urth Caffé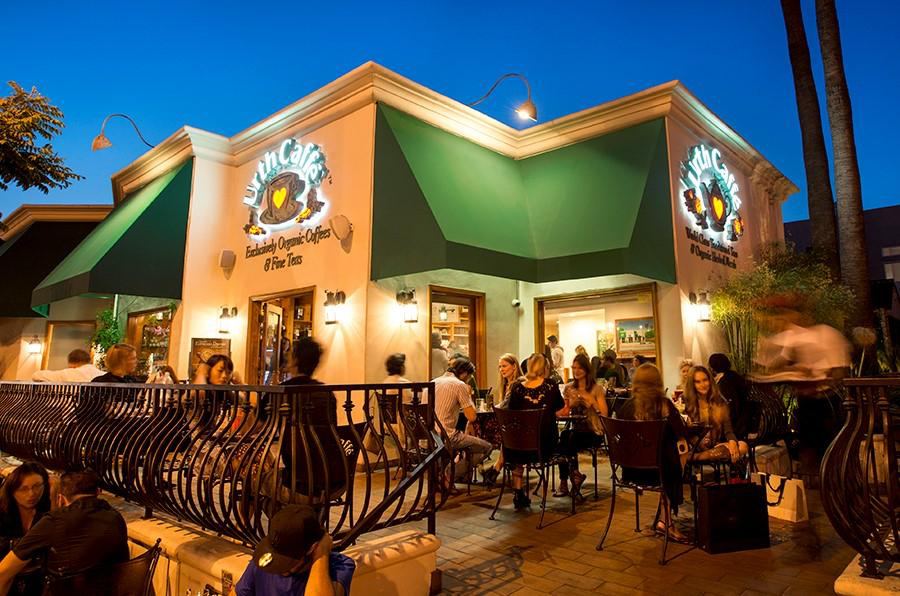 Urth Caffé is the ideal place to grab a cup of freshly roasted organic coffee in West Hollywood. Opened in 1989, it is considered to be the first exclusively organic coffee roasting company in the country, putting sustainable practices first. Urth Caffé also happens to be one of the most casual places to find celebrities during your Los Angeles coffee date—making it that much more special.
Rumored celebrity sightings include: Jake Gyllenhaal, Paris Hilton, Jessica Alba, Katy Perry, Demi Lovato, Caitlyn Jenner, Lana Del Rey, and Amanda Seyfried
Do you know any trendy, star-studded eateries? Let us know where to go next in the comments below.