By

Margaret Flores
May 21, 2019
Though you may have visions of your dream kitchen dancing around in your head, doing a full-on renovation might not fit into your budget or schedule right now. But that doesn't mean you can't do anything to give your favorite room a fabulous facelift. Making a few easy tweaks can help you come closer to that Pinterest-perfect kitchen you've been envisioning without emptying your wallet. Here are nine easy ways to give your kitchen a fresh new look in no time.
1. Pick a Pleasing Palette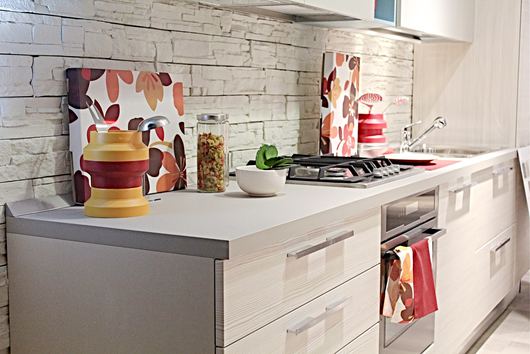 Choose an accent color, then start swapping and rearranging: Ensure your colorful dishes and ceramics are front and center in your glass cabinets. Replace the tea kettle—and any other appliances that sit out on the counter—with one in your new hue. Hang a few dish towels on hooks, and place a rug or runner in front of the sink. By making these simple updates, you'll get a brand-new color scheme in your kitchen without having to open a single can of paint.
2. Install Handsome Hardware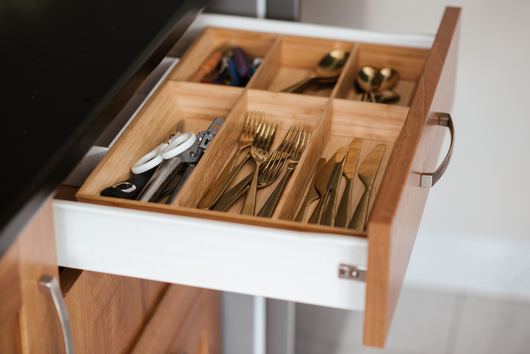 Another quick and easy way to transform your kitchen is to change out the cabinetry or drawer hardware. Select a brushed nickel finish for knobs if you seek a colorful option, choose a faceted gold bin-pull if you desire a sophisticated and luxurious look, or use upcycled metal parts as wide-set pulls if you want an artsy-industrial feel.
Regardless of what you seek, make sure to limit your search to hardware that is installed using the same screw position as the ones you currently have (single knobs versus wide-set pulls, for instance), unless you're prepared to use wood filler and paint to fill any holes. And if you're replacing the cabinets, don't forget about the hinges; if they're visible, match them to the new hardware for a pro finish.
3. Get Acquainted with Paint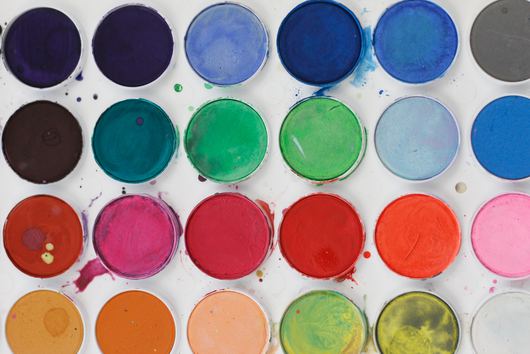 If you're not in love with the look of your cabinets and a complete hardware overhaul isn't in the cards, simply give them a fresh coat of paint. Citrus-like colors such as soft yellow and green can brighten up the room, especially if your countertops are black. But if you don't need a pop of color, consider light gray, which is a neutral hue and complements most decor.
Another option is to paint the inside of the cabinets. It's a nice surprise—especially if you go with bold or multiple colors—that doesn't overwhelm the space. Try it with glass-paneled cabinets, which can serve as a display case for your pretty plates and bowls.
(Not interested in spending hours painting cabinets? Quickly do a single wall instead, adding an accent color that's two shades deeper than the rest of your kitchen.)
4. Bare It All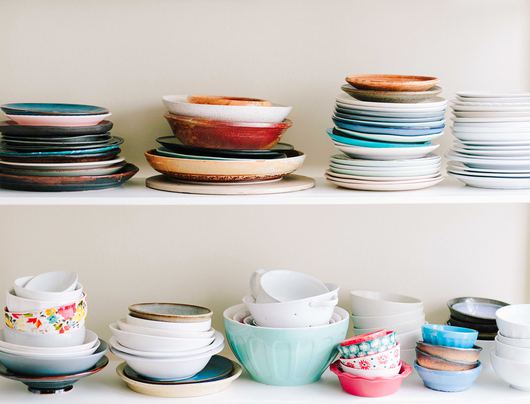 To instantly lighten up your kitchen's look, take off the front doors of your upper cabinets. (But save them just in case you want to put them back on later.) You can use wood filler to repair any holes left by the hardware and give the cabinet a new paint color, too. Ditching the doors allows you to create that trendy open-shelf look, and you can showcase your favorite dishes to add a bit of interest to the room.
5. Doll Up the Walls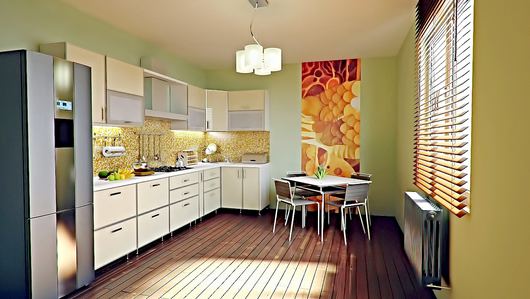 Incorporating artwork into the kitchen can provide intrigue and character, too. (Just make sure to hang it out of the danger zone so food and grease splatters don't get on it.) Adding art is also a brilliant way to bridge colors and styles between the living and cooking areas, especially in homes with open-floor plans. If your kitchen is low on wall space and you don't have room to hang a framed piece, try leaning a smaller one on an open shelf.
6. Parade Pots and Pans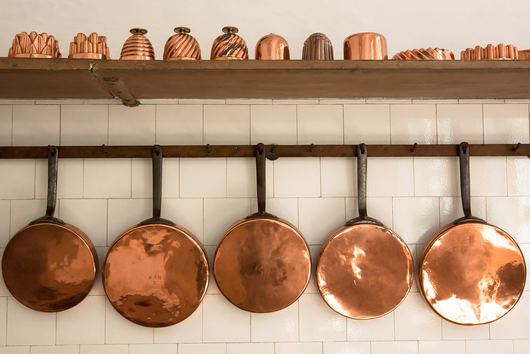 Believe it or not, merely hanging up cookware can have a big impact on the appearance of your kitchen, especially if you have a set of pots and pans in shiny copper or rose gold. The move is a win-win-win: It frees up cabinet space, makes it easier to grab what you need while cooking, and gives your kitchen a new focal point. Hang the cookware from a long, single branch for a boho feel, or install a rack from a specialty kitchen store for a classic look.
7. Festoon the Faucet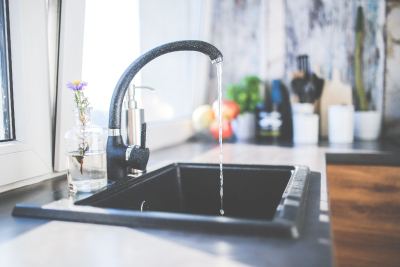 There are few things you touch more in the kitchen than the faucet, and it's high time you replace yours if it's outdated, corroding, or doesn't match your style. For a more modern look, consider a stainless steel or matte black faucet, which can add a dose of drama. Articulated arms are also functional and on trend, and for extra convenience, many faucets are now touchless so you don't cover them in whatever you're trying to wash off your hands.
8. Lighten Up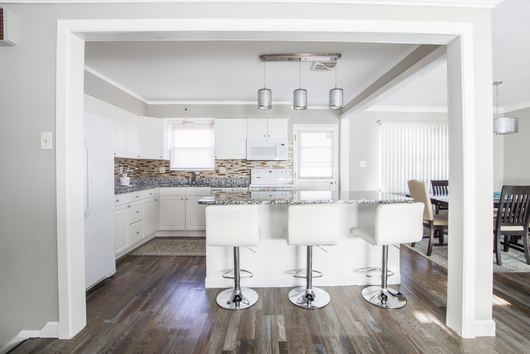 Are the old-fashioned light fixtures in your kitchen driving you bonkers? Banish the builder-grade fixtures and install lighting that's more in line with your style. Lighting is crucial in any room, so this one change alone can totally transform the space. If you have task lighting (such as puck or can lighting) over work surfaces, then almost anything goes for the pendant lighting. Without task lighting, the pendant will need to do most of the work, so select a large fixture—or multiples of a small one—with shades that shine light downward.
9. Throw Some Shade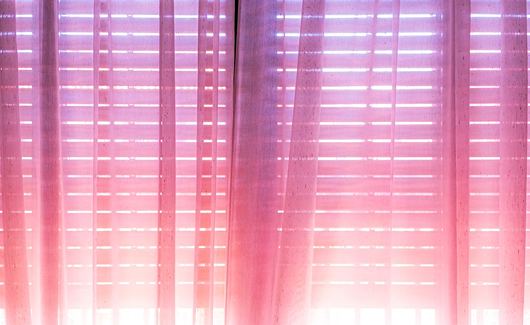 Nearly every surface area in the kitchen is hard, so soften the space with window treatments. A fitted curtain or a fixed Roman shade can really spruce up the room and won't get ruined by splashes from the sink if you adjust it while you're washing the dishes. Choose a single classic color like white, or go with a pattern that picks up on the accent colors.