The scent of fresh chlorine hits you as you roll down the windows to capture the magnificent redwood trees and quaint towns that appear along the winding pavement of Northern California's roadways. Bustling cities are replaced by rural communities with a slower way of life, skyscrapers are traded for cumulus clouds, and breathing becomes a bit easier as Ferndale draws closer. City life can make nature feel so far away, but here in Humboldt County—among the agricultural fields, redwood groves, and forgotten coastlines—nature is very much a way of life. With so much to explore, Northern California was made for weekend getaways. This is how we'd spend a few days in the tiny city of Ferndale.
Day 1
Arriving
If you could feel the change in the air driving from the Bay Area to Mendocino, the continued drive up to Ferndale transports you to a place that seems to exist worlds away. The ancient trees; beautiful chartreuse mosses; and empty, sweeping coastlines are more reminiscent of Jurassic Park than California, but alas, these natural wonders lie less than five hours north of San Francisco. The divided highway of the 101 fades away as soon as you turn onto Fernbridge Drive; the shoulders are covered with wildflowers and grass, while bushes and trees obstruct any distant views.
Before you know it, warehouses start to pop out from the brush. Turn left to cross the railroad tracks, pass between the Fernbridge Tractor and Equipment Co. and Humboldt Creamery buildings, and traverse the narrow bridge to enter the farmlands. Impossibly green fields are spotted with the occasional cow or barn as the purple mountains and fluffy clouds complete the bucolic scenery.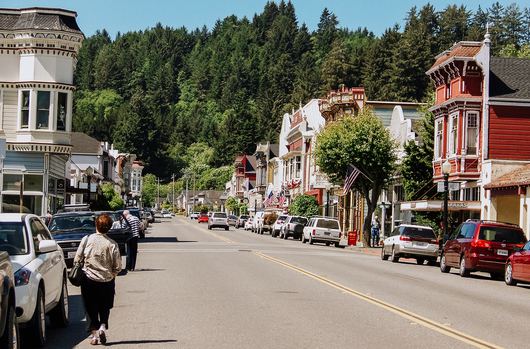 Coming from the suburbs of San Francisco where life is hectic and there's always something to do, imagining living in such a serene region is no easy feat—but Ferndale's innate sense of calm, you must admit, sounds pretty appealing. The 40-mile-per-hour speed limits enhance this feeling, giving you time to look around and enjoy the journey. The structures become more concentrated as you approach downtown, and before long, the plots of farmland turn into residential homes and boutiques featuring the Victorian-style architecture that Northern California's coast is known for.
Afternoon
Mom-and-pop shops line the charming streets and parking is free of charge, making you question why you would ever dwell anywhere different. While it's tempting to settle in to town and start relaxing right away, the idea of having a hearty lunch sounds too good to ignore. After cruising through downtown and making note of the shops to visit later, drive north on the 101 through Eureka, and turn onto the 255 to cross the bridge to Samoa.
The Samoa Cookhouse has been serving up "lumber camp–style" meals since 1893 and is the last remaining cookhouse on the West Coast. Thanks to the popularity and importance of the lumber industry from the 1850s through the early 1900s, every California logging mill had its own cookhouse to feed its workers. The Samoa Cookhouse has stood the test of time and continues to craft family-style, from-scratch meals for breakfast, lunch, and dinner. This all-you-can-eat joint definitely provides a unique dining experience that ought to top your list of things to do in Northern California. The menu changes weekly, but you can expect rotating classics—such as fried chicken, barbecue ribs, and meatloaf—in addition to salads, mashed potatoes, roasted vegetables, and minestrone soup to end up on your table during lunchtime.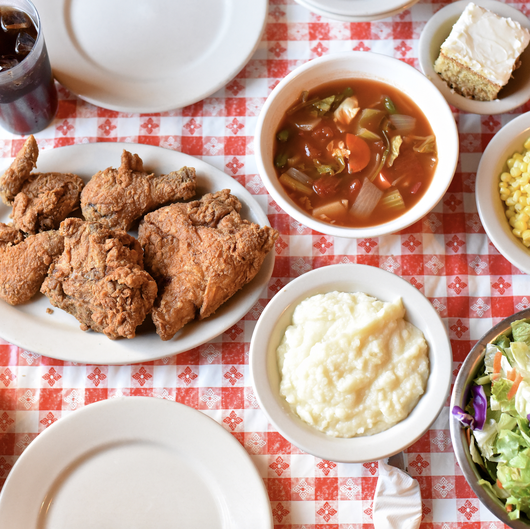 While the food at Samoa Cookhouse is undoubtedly the star of the show, don't leave without taking a look at the museum. The logging industry was pivotal to the inhabitants of Northern California and served an important role in California's history, making the exhibits here well worth the time.
After a satiating afternoon, it's time to check in to the Gingerbread Mansion. Though this sounds like a delicious treat enjoyed around the holidays, it is actually a charming bed and breakfast. The inn only has 11 suites but is the sole AAA Four-Diamond bed and breakfast in the county, and every stay includes a homemade breakfast along with afternoon tea.
Book the Empire Suite for an experience like no other. Located on the third floor, this room is as dreamy as it sounds and comes complete with a California King bed, a clawfoot tub, Corinthian columns, and two fireplaces—so there is no excuse for feeling stressed in here. The Heron Suite makes for a fantastic, less-expensive alternative; furnished with a fireplace, a queen-sized bed, a double-sized bed, and a sitting area, this suite is the ideal landing place for your tour of the neighboring Northern California towns.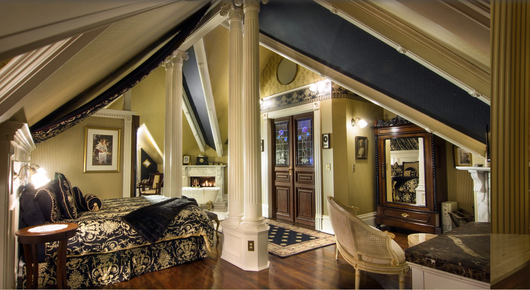 Settle in to your room and throw on your plush slippers as you get acquainted with the town's slower pace and incredible views. Before you know it, afternoon tea is being served in the parlors and throughout the mansion's English garden, offering an opportunity to meet fellow travelers. Elegant teacups sit atop their saucers, plates of charcuterie adorn the tables, and decadent sweets tempt you around every turn. After grabbing a cup or two of tea and enjoying a tasty snack, wander through the gardens to make the most of your stay.
Evening
After a relaxing afternoon, head back over to downtown Ferndale and explore the local shops before they shut their doors for the evening. If you only have time for a single stop, make sure you wander into Golden Gait Mercantile. This eclectic shop sells everything from old-fashioned candy and dried lavender to hats and antiques, so it's easy to spend an hour or more exploring all it has to offer. Don't forget to meander upstairs to check out the local artwork—after I picked out a painting, the staff helped me figure out which beach it depicted (it was right down the road, as it happened) and offered us the directions to get there. It doesn't get much more charming than that.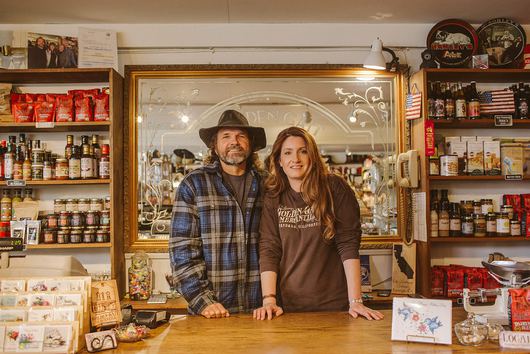 As the sun sets on your first day in Ferndale, make your way over to the historic Hotel Ivanhoe for a comforting dinner at The Hotel Ivanhoe Restaurant. Settle in to the cozy dining room and order a bowl of clam chowder as well as some garlic bread while you peruse the menu. The sautéed mushrooms cooked with olive oil, white wine, garlic, and herbs make an exquisite segue into the main entrées. While there are numerous tempting options, it's hard to overlook the made-to-order pastas. The seafood fettuccini's prawns, scallops, and bay shrimp mix with the dish's tomato cream sauce for an exciting meal where every bite includes something different.
After a leisurely dinner, take a short walk down Main Street to Sweetness and Light for some local handmade confections. Choose between the salted chocolate caramels, buttermilk cream bonbons, peanut butter fudge, honey espresso chocolate truffles, and dozens of other flavors to satisfy your sweet tooth before returning to the hotel.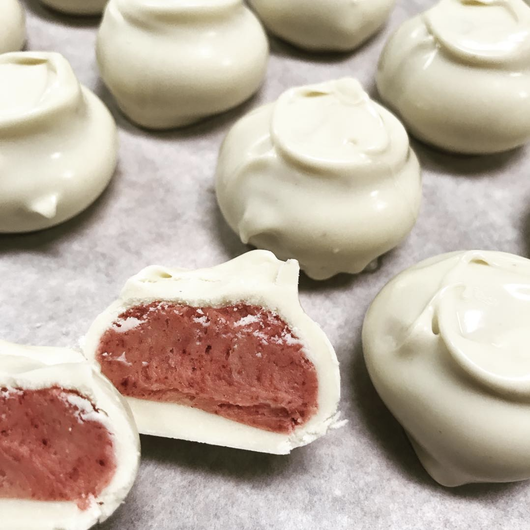 Day 2
Morning
Waking up feels so refreshing after a wonderful night's sleep, though finding the motivation to climb out from beneath the down comforter takes considerably more convincing. But the clawfoot tub beckons to be used, so light the fireplace, grab a good book, and step into your luxurious bath. Since the day is already off to a good start, keep the leisure going with a delicious gourmet breakfast downstairs. Sip freshly roasted coffee as you choose the perfect house-made pastries, local fruits, and a savory soufflé or omelette.
After filling up on these regional creations, it's time to really relax with a deep-tissue massage. An hour of pampering relieves the tension in every aching muscle, leaving you ready to take on the afternoon. With countless places to visit in Northern California and so much to do in Humboldt County alone, it's time to hop in the car and start your explorations.
Drive less than 10 miles to Fortuna to savor cider at Clendenen Cider Works. This roadside market has been operating since 1909 and still makes the best natural apple cider around. Since the building is located on an apple orchard, the family uses its 25-plus varieties of apples—along with those from Sonoma County orchards—to craft impeccably blended concoctions. While you're there, grab plenty of cider as well as some fresh produce and local honey.
Afternoon
Next up on this Northern California road trip is Arcata, one of Humboldt's best-known college towns. This small city is full of possibilities, with the Arcata Plaza being one of the main attractions. You will likely see locals hula-hooping and shopping at the farmers market if you show up on a Saturday; the plaza comes to life with vibrant colors and personalities when the community comes together. Stop by Jitter Bean Coffee Co. to warm up and get a bit more pep in your step before heading to the stunning Arcata Community Forest.
The Northern California redwoods tower high above you as you explore the 2,350 acres of second-growth forest tucked just outside the Humboldt State campus. Slackliners practice their skills on nearby trees as you weave your way through the ferns and trees that flank the trails. Wild mushrooms and mosses make homes for themselves along the trunks of the redwoods, bright patches of green spruce up every corner, and a sense of peace washes over you as you make your way deeper into the canopied pathway.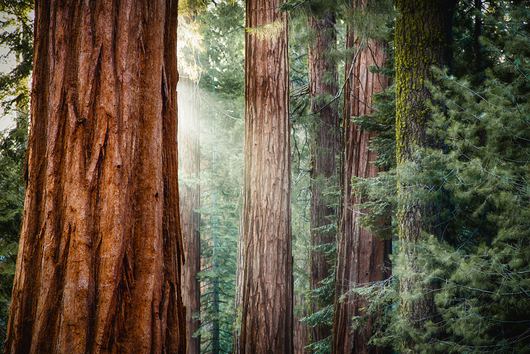 An hour-long trek passes by in the blink of an eye. Hunger begins to set in, so it's time to make your way over to Arcata Pizza and Deli (APD). APD has an eclectic menu that offers something for everyone. Grab the spicy chicken club—featuring sourdough bread, spicy aioli, and avocado—or go with the blackened chicken Caesar salad, whose house-made mango Caesar dressing is what dreams are made of.
Once you've finished every last bite, walk across the street to check out the mural on the side of AMPT Skate Shop. Head inside and consider grabbing your very own skateboard while you're there. Meander down the block for a minute and you're sure to see Tin Can Mailman, the best used bookstore in town. Books in hand, head over to Arcata Scoop, if you can find the room for dessert. Get a scoop of the organic honey vanilla lavender ice cream in a cone, and no other ice cream will ever compare.
Fully satiated, drive up Redwood Highway to visit one of the best beaches in Northern California: Moonstone Beach. With rocky outcroppings, nearby forests, foggy skies, and a sandy plateau separated from the beach by a moat (that you can wade through most days, if you're willing to get a bit wet), there is nowhere quite like this. Spend some time splashing around, taking photos, or lounging on the shores to appreciate all the elements that make Humboldt County one of a kind.
Evening
As the sun begins to set and the temperatures start to drop, head back towards Ferndale and make a final stop in Arcata to have dinner at Tomo Japanese Restaurant. This eatery housed inside Arcata's only downtown hotel has an extensive menu. Start off with the pork gyoza, and continue on with the California roll stuffed with bay shrimp and avocado and the Thai Maki roll filled with coconut prawns, avocado, cilantro, and red curry sauce. The Philly roll is also worth trying (if you have the room); its locally smoked salmon, sesame seeds, green onions, and cream cheese make for an exciting explosion of flavor. But whatever you do, don't leave without trying the Strawberry Dream. The rich flavors of the tempura yams meld with the almond butter, strawberries, soy wrap, sesame seeds, and sweet ginger sauce for an unexpected balance that will stick in your mind for years to come.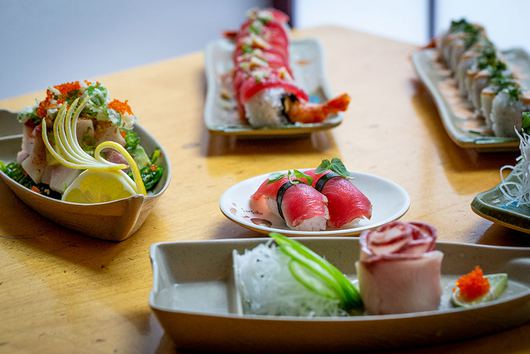 Return to the Gingerbread Mansion and reminisce about the day's events before lighting the fireplace and beginning your nightly routine.
Day 3
Morning
The weekend seems to have flown by as the easy-going spirit of these Northern California cities inspired plenty of adventures. While there is still so much to see in Ferndale and the surrounding towns, checkout time is nearly upon you. After one last dip in the clawfoot tub, grab your luggage and head downstairs for breakfast. A bountiful feast awaits, but the bitter taste of goodbye lingers in your mouth after each bite of sweet fruit.
Driving away from the mansion, it's immediately apparent that this will not be your last trip to the region. Hikes along the Lost Coast Trail, brunch at Cafe Brio, road trips to Fern Canyon, and many more walks through the forest await in these picturesque Northern California coastal towns. Where will your adventures take you next?