Built around a picturesque plaza blanketed in greenery and fringed by towering oak trees, the charming town of Healdsburg may be small in size, but it's bursting at the seams with acclaimed restaurants, chic boutiques, renowned art galleries, and luxe hotels. Though it may be hard to believe, Healdsburg was formerly the lesser-known locale in Wine Country, and as someone who grew up visiting family in the area, it's been fascinating to witness its transformation from a sleepy, bucolic town into one of the most coveted destinations in Sonoma County.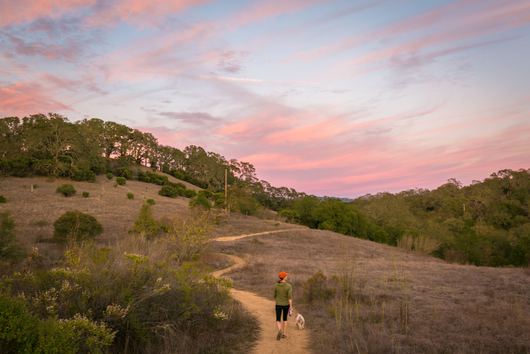 Indeed, Healdsburg has garnered much more attention in recent years given its hot streak with a string of impressive new restaurants that took the food scene by storm. Most notably, Single Thread—which earned three Michelin stars within two years of opening and nabbed a spot on the esteemed "World's 50 Best Restaurants" list—is the town's culinary jewel, featuring an authentic Japanese ryokan dining experience inspired by hyperlocal, California fare. But the creative culinary energy also shines bright at the numerous other eateries flanking Healdsburg Plaza, including Brass Rabbit, Bravas Bar de Tapas, and Valette. Throw in a handful of buzzy tasting rooms, unique shops, specialty purveyors, open-air markets, and hipster cafés, and it's no wonder this tiny haven has exploded in popularity.
There's certainly something for every discerning traveler in Healdsburg, and it's easy to spend several days exploring its eclectic offerings and gorgeous surroundings—when you arrive, you might just think you've been magically transported into a storybook—but here's how to make the most of your weekend in Healdsburg.
DAY 1
Arriving
The drive from San Francisco to Healdsburg takes less than 1.5 hours and provides a scenic trip that leads you across the famed Golden Gate Bridge, past the gorgeous waterfront town of Sausalito, and through the verdant hills of Petaluma. When you get off the freeway in Healdsburg, you'll immediately feel your blood pressure drop as you take in the town: The combination of natural beauty, alluring storefronts, innovative artworks, and mouthwatering scents emanating from the restaurants inspires the senses.
Continue the good vibes and celebrate your arrival with lunch at Campo Fina. This casual Italian eatery is a local favorite, serving up perfectly blistered pizzas and comforting dishes. Nab a seat out on the covered back patio for alfresco dining in lively environs, and get ready for an impeccable meal. Start off with a cicchetti (small plate) such as the fresh California oysters or the antipasto platter featuring tuna-stuffed peppers, imported salami, Pecorino, and spicy marinated chickpeas. Then, make the difficult decision between The Old School in a Skillet—hearty pork and beef meatballs bathed in a rich and fragrant tomato sauce, sprinkled with smoked mozzarella, and served alongside toasted ciabatta—or the wood-fired Margherita pizza topped with a dollop of fresh burrata. It's hard to go wrong, but no matter what you decide, make sure to end your meal with a game of bocce.
Afternoon
After your satiating meal, walk across the street and check in to Hotel Healdsburg. Overlooking the square, this upscale retreat provides a peaceful base from which to explore the town by foot—guests are within walking distance to 60 shops and galleries, 19 tasting rooms, and 26 restaurants. The hip hotel beckons with its ivy-adorned exterior, and you'll instantly feel pampered upon stepping foot inside: The sleek lobby is outfitted with mixed metals, reclaimed wood, posh furniture, and a roaring fireplace. Head up to your luxurious room and drop off your luggage, then go for a leisurely stroll through the provincial gardens and take a dip in the pool or hot tub.
Deepen your relaxation with a farm-to-spa treatment at The Spa Hotel Healdsburg. These unique treatments are inspired by the town's agrarian past and utilize products crafted by Sonoma County farms. Indulge in the wine and honey body wrap—featuring deeply moisturizing cream infused with local honey and organic sauvignon blanc grapes—or the heavenly Meyer lemon–sage massage, which incorporates fragrant essential oils in a whipped soufflé cream to relieve tension and rejuvenate the senses.
Evening
Once your leisurely afternoon at the spa comes to an end, freshen up for dinner at Dry Creek Kitchen. Tucked away on the bottom floor of Hotel Healdsburg, the elevated and elegant eatery is a quintessential dining destination specializing in farm-to-table California cuisine—all crafted by the award-winning chef-owner Charlie Palmer and executive chef Scott Romano. The recently revitalized restaurant perfectly embodies the laid-back luxury of the Wine Country lifestyle, with its immaculate dining room punctuated by sculptural floral arrangements, floor-to-ceiling windows, and oversized doors opening out onto the lush garden terrace.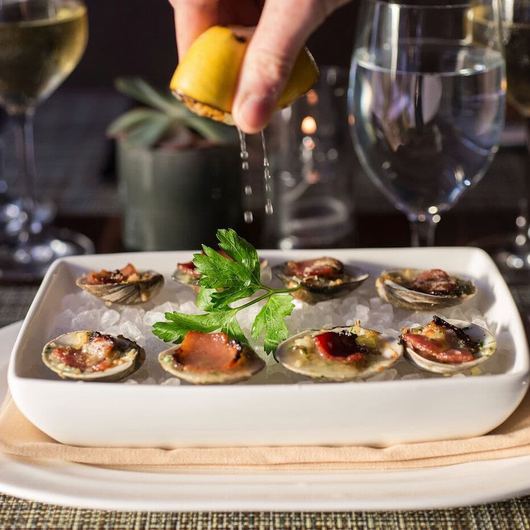 The top-notch service and seasonally driven menu will draw you in immediately, too. The ahi tartare is a signature appetizer, featuring pristine cubes of fish artfully perched atop creamy avocado and drizzled with a savory soy-lime vinaigrette. Continue on with the succulent Liberty Farms duck breast—enhanced only by the sweetness of the blistered black grapes and the delightful crunch of the hemp-hazelnut crumble—or the ultra-tender filet mignon accompanied by king oyster mushrooms, local figs, charred Brie, and balsamic onion purée. (Tip: If you're feeling adventurous, opt for the five-course tasting menu with pairings, and embark on a culinary journey you won't soon forget.)
Conclude your dinner on a sweet note with the chocolate peanut butter bar—yes, it tastes just as good as it sounds, if not better. This decadent treat features multiple layers of sumptuous dark chocolate marquis and velvety peanut butter mousse, which you must dip into the chocolate sorbet in order to get the full experience. You just might talk about it for the rest of the night.
DAY 2
Morning
Rise and shine to beat the lines that often form outside of Flying Goat Coffee. Housed in the historic Masonic Building just off the plaza, this beloved café has been serving gourmet coffee for more than 20 years, and it's still the best place in Healdsburg to get a cup of joe. The homey yet modern spot sources beans from Costa Rica, Ethiopia, and Kenya for its potent pour-overs and espresso drinks.
With coffee in hand, stroll over to Costeaux French Bakery. Opened since 1923, this local hot spot has long been known for crafting artisanal breads, pastries, and desserts—and for winning an official Guinness World Record for the largest pumpkin pie ever—so it's no wonder it continuously draws droves of hungry patrons.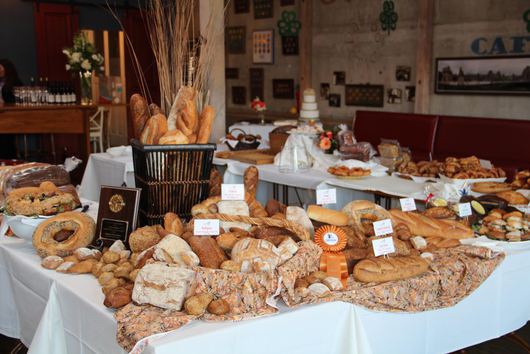 For a decadent dish, order the pain perdu (French toast) made with thick slices of cinnamon-walnut bread and doused in Vermont maple syrup. For something more savory, get the deep-dish Costeaux quiche—packed with Black Forest ham, applewood-smoked bacon, spinach, mushrooms, and Jarlsberg and cheddar cheeses—or the breakfast sandwich featuring scrambled eggs, crispy bacon, luscious avocado, and melted cheese tucked inside a buttery, flaky croissant. Regardless of what you order, the charming French bistro is bound to leave you feeling prepared to take on the day's adventures.
There's no better way to take in the serene beauty of Healdsburg and the surrounding area than by taking a tour with River's Edge Kayak and Canoe. You'll get a unique perspective of the landscape as you paddle along a five-mile stretch of the scenic Russian River and look out for ospreys, herons, river otters, and turtles. While most tours are self-guided, you can opt to go on "The Rio Trip", a two- to three-hour guided excursion that includes stops for swimming and lounging on the banks.
But if you'd prefer to stay on land, pick up a complimentary bike from the front desk at Hotel Healdsburg, and go for a spin on Foss Creek Pathway. This one-mile trail parallels the former Northwestern Pacific Railroad tracks and is lined with public art, making for an interesting cycling trip.
Afternoon
If you've worked up an appetite, grab a snack at Journeyman Meat Co. The Seghesio family, Sonoma County residents since 1886, recently transitioned from winemaking to butchering with this business and sources nearly all of the meat from small, family-run farms. Owner Pete Seghesio takes the art of butchering seriously, going so far as to study under Italian masters before bringing the craft home to his countertop—the perfect spot to refuel with an Instagram-worthy charcuterie board. The beautifully presented sampler boards feature immaculate slices of classic Italian cured meats (like soppressata, finocchiona, coppa, and Calabrian) along with distinct house-made varieties such as Parmesan and porcini. If you can't bear to stay inside, grab a few meats and cheeses to go, and chow down on a park bench in the nearby plaza.
For an afternoon pick-me-up, look no further than The Taste of Tea, a one-of-a-kind spot that combines art and science to concoct tea infusions and specialty drinks. Sip on the coconut macaroon latte, the Moonstone Marteani—crafted with Moonlight white tea, fresh mint, and Sonoma lavender syrup and served in a vanilla sugar–rimmed martini glass—or the ginger-infused Focus Matcha with cold-dripped green tea. And if you're interested in exploring the healing properties of tea, you can enhance your experience by booking a tea facial or a foot soak in the on-site tea spa.
Now fully refueled, you can spend the rest of the day perusing the numerous art galleries scattered throughout Healdsburg. Did you know the city has the most art galleries per capita of any city in Northern California? There truly is something for every interest here. The Paul Mahder Gallery displays awe-inspiring contemporary artworks by regional and international artists; the Healdsburg Center for the Arts—named the best art gallery in Sonoma County earlier this year—showcases artisanal jewelry, prints, and photographs; and the Hammerfriar Gallery features abstract paintings and sculptures.
Evening
Continue the artistic experience by heading over to The Gallery at Barndiva. Don't let the name fool you: This rustic-chic space is anything but pretentious, beckoning with its red barn facade, twinkling string lights, and canopy of trees. While you may be tempted to explore the sprawling property upon arrival, first step inside the award-winning Gallery, where you'll be surrounded by an eclectic collection of antiques, contemporary art, short films, music, camaraderie, and conversation. It's the perfect introduction to this multifaceted destination.
Though The Gallery offers an ever-changing menu of seasonal bites, it's best to mosey over to the neighboring Barndiva Restaurant for dinner. When it comes to haute dining in Wine Country, it's hard to beat this American eatery serving up impeccably plated dishes showcasing bold flavors and sustainably sourced, Sonoma-centric ingredients. Owned by orchard farmers who've lived in the region for more than three decades, Barndiva lives by the motto, "Wherever you are, eat the view"—meaning diners should be able to know and see where their food comes from.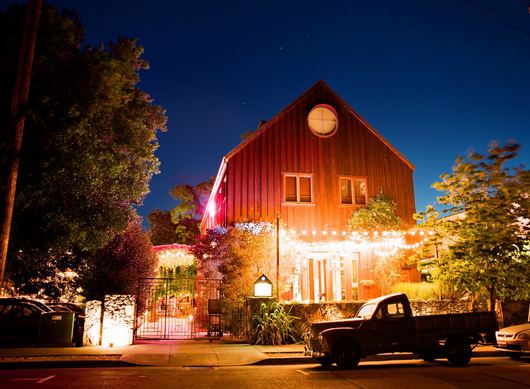 Settle in at your table, and you'll soon witness the hot spot roar to life as locals and in-the-know visitors descend on the big barn for farm-to-fork meals, creative drinks, and the hippest scene in town. Begin your meal with the butternut squash soup infused with apple syrup and finished off with crispy sage leaves, or share an order of the chèvre croquettes stuffed with Laura Chenel goat cheese and drizzled with lavender-laced honey (if available). For your entree, look no further than the perfectly cooked pan-seared salmon accented by orange purée, sweet strawberries, fresh brassicas, and pickled watermelon. (Even if the preparation is slightly different on your visit, trust us when we say you can't ever go wrong with the salmon here.) And since no meal is complete without dessert, do yourself and favor and indulge in the flourless chocolate cake with salted caramel sauce and malted meringues; when it comes to ending your final night in Healdsburg, it doesn't get much better than this.
DAY 3
Morning
Bid adieu to Hotel Healdsburg, and head to The Parish Cafe for a taste of the South. Run by Louisiana transplant and chef Rob Lippincott, this slice of New Orleans is tucked inside a tiny Victorian house right on the outskirts of downtown Healdsburg—and the Cajun- and Creole-inspired menu is just as homey as the space.
You're required (at least by me) to treat yourself to the famous beignets dusted in powdered sugar and served piping hot. But make sure to try them with the café au lait, a heavenly mix of half-and-half and chicory coffee often associated with that of the famous Cafe Du Monde in the Big Easy. Follow up with the breakfast po'boy—featuring Black Forest ham, eggs, provolone, spinach, and tomatoes—or the massive crawfish and andouille sausage omelet.
Walk off your filling meal and enjoy a bit of retail therapy by perusing the shops surrounding Healdsburg Plaza. Pick up cool-girl wardrobe staples at Punch Clothing and Looking Glass, grab sophisticated California home decor and furniture at Lime Stone, shop for the favorite man in your life at Ereloom, grab treats for your pup at the Fideaux pet boutique, and browse for books at Levin and Company.
Afternoon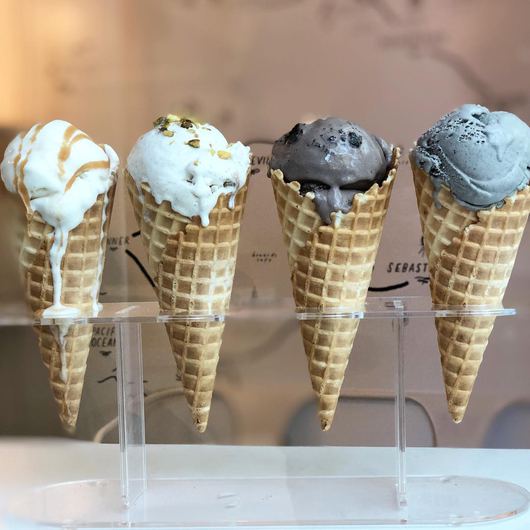 But before leaving town, you must stop by Noble Folk Ice Cream and Pie Bar, a tasty haven offering small-batch, locally crafted ice cream and to-die-for pies made from scratch. All of the inventive ice-cream flavors—such as cornflake maple, black sesame coconut, Japanese purple yam, and almond matcha—feature Sonoma County ingredients and rotate on a regular basis, ensuring a unique experience every time you visit. (And yes: Dairy-free and vegan ice-cream flavors are available, too!) Browse the whimsical handmade wares lining the shelves, and take home a tub of your favorite flavor so you can savor your weekend in Healdsburg long after your trip is over.