By

Mackenzie Hutson
March 16, 2020
As communities across the world and in California mitigate health risks during the COVID-19 pandemic, we are shifting our content strategy and will not encourage any travel or social activities during this time. We will, however, continue to shine a light on and celebrate the many beautiful aspects of our State with the intention of being a source of inspiration and joy during this difficult period. We will also be providing tips and resources specifically related to the COVID-19 pandemic safety measures in the coming weeks. Thank you for reading, and stay safe!

While San Francisco is often seen as the best destination for high-quality shopping, the cities across the Bay are also home to unique, California-based, and independently owned shops that embrace the state's values. Contra Costa County's businesses are on a mission to make a difference by encouraging ethical practices such as reusing formerly loved items, incorporating sustainable materials, and implementing environmentally friendly methods. From vintage stores, to California home decor boutiques, to thoughtful skincare outlets, there are endless East Bay shopping locations to explore.
Between Oakland's clothing stores, Concord's home goods, and Lafayette's shopping centers, here's where to shop when you're on the east side of the Bay Bridge.
The Best East Bay Shopping Destinations

Oakland


Oakland's shopping scene continues to up its game, offering multiple neighborhoods to browse, shops to peruse, and treasures to find. Start at Crimson Horticultural Rarities in the Temescal district to find a one-of-a-kind selection—ideal for updating your space with rare species and unusual plants. Then, check out the nearby Esqueleto for handcrafted and natural jewelry that takes ethics into account. Find the perfect outfit to compliment your new jewelry at Ali Golden, where everything is designed in Oakland, made with sustainability in mind, and crafted to last. End the Temescal shopping spree at Standard & Strange. While this spot specializes in menswear, there's something for everyone between the socks, bags, bandanas, and numerous other items. Next, stop in Piedmont to visit Mercy Vintage and Neighbor so you can freshen up your wardrobe and stock up on decor before heading farther east.
Orinda


Travel through the Caldecott Tunnel into Orinda Village to see one of the East Bay's best consignment boutiques: Rechic 101. Specializing in high-quality clothing, accessories, and shoes, this trendy shop is the ideal place to get lasting, eco-friendly items at a discount. Take a break from shopping to grab a bite to eat or savor a cup of coffee at one of the local cafés before continuing on to the next town.

Lafayette
Once you've arrived, make your way to one of our favorite Lafayette stores, Venture Quality Goods, to get acquainted with some of California's top-quality brands. Stocking sustainable, California-designed and -made brands—including Patagonia, Olukai, Marmot, and Carve Designs—outdoorsy apparel doesn't get much better.
Walnut Creek


After exploring the charming town of Lafayette, stop by the independently owned Flashlight Books to pick up a paperback for your little ones and catch storytime. Then, walk down Walnut Creek's lively Main Street to ThredUp. Here, you'll find a wide variety of gently used women's clothing and popular brands. This shop is an ideal way to transition to a capsule wardrobe and, as an added bonus, you can receive credit when you bring in clothes you don't wear any more.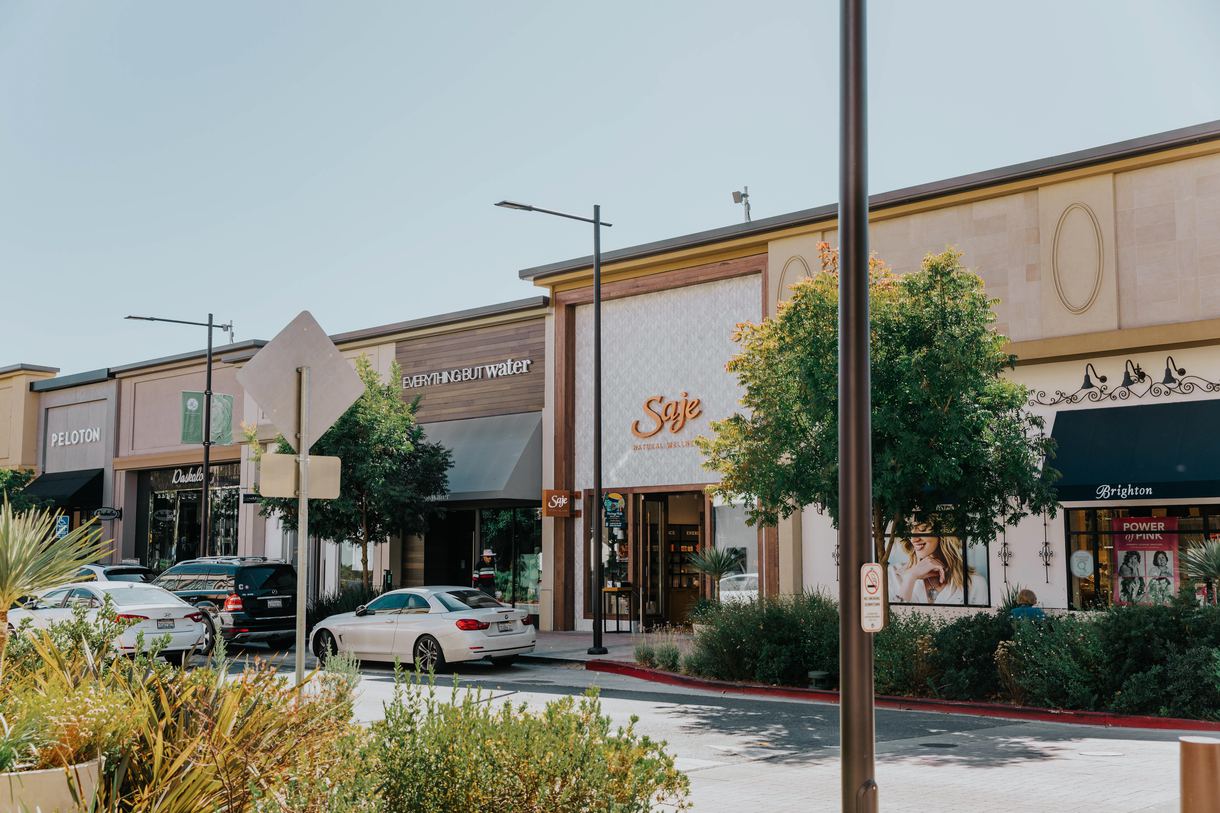 Concord


If time allows, venture out to Concord to visit Elsie Green and stock up on vintage home goods, textiles, and sustainably made housewares. In addition to uniquely completing any space, every purchase here supports philanthropy projects; the shop gives back by donating to 1% for the Planet, completing home makeovers, and supporting The Delancey Street Foundation and Redwood Credit Union's North Bay Fire Relief Fund. You can rest assured that you're helping to make a difference by shopping here.
Danville

Continue your shopping adventures at Sloat Garden Center in the cute town of Danville. The shop is locally owned and sells locally grown products, including certified-organic vegetables, seeds, and flowers. Aside from selectively sourcing its items, Sloat is also committed to using less toxic pest control, being bee-friendly, and standing by its lifetime guarantee—making it one of the best gardening stores in the Bay Area.

San Ramon


Finish your shopping marathon at LATHER in San Ramon to add a luxurious touch to your bathing rituals. First opened in 1999 in Pasadena, the high-end vegan brand is known for its aromatherapeutic products that are free of parabens, sulfates, synthetic fragrance and colors, mineral oil, and animal testing. Pro tip: Opt for the bamboo lemongrass scent and pretend you're on vacation at our favorite seaside hideout: Timber Cove Resort.
What are your favorite unique shopping destinations in the East Bay? Let us know in the comments below.