By

California.com
January 14, 2021
As California mitigates health risks during the COVID-19 pandemic, some travel restrictions may remain in certain communities. Call the local and regional tourism offices to learn more about the restrictions in your intended destination. Thank you for reading, and stay safe.
California's food-truck movement began in 2008 when chef Roy Choi rolled onto the streets of Los Angeles with his Korean taco truck, Kogi BBQ. He quickly gained prominence after opening up shop, and his vision caught the attention of aspiring entrepreneurs across the Golden State. While there are now numerous California food trucks, Choi is considered the "godfather of food trucks" thanks to the phenomenon he started.
The popularity of food trucks was spurred on by the economic downturn of the Great Recession, as a mobile restaurant became a lower-risk way to test out a concept before going through the slow and expensive process of building a brick-and-mortar business. Since the real estate industry slowed down during the recession, food trucks stepped in to reimagine underutilized spaces, bring people together, and create an experience along with a meal.
Over time, the food-truck model has adapted to better economic times, built communities and destinations with food halls, and become part of more ambitious business plans. While their novelty has largely worn off in the past decade, food trucks have established their staying power as feasible business entities in a tumultuous landscape. Food trucks are now, in large part, a single piece of a much bigger puzzle; many companies are making use of multiple trucks to service an expansive region, some are using food trucks to supplement their brick-and-mortar eateries, and others have adapted their once primary method of income into a supplemental catering vehicle.
Though it may be easy to assume that food trucks operate in the same fashion and have equivalent ethnic distributions to brick-and-mortar restaurants, this could not be further from the truth. According to Off the Grid, approximately 70 percent of food-truck owners are women, immigrants, part of the LGBTQ+ community, and currently or previously members of the military. This reflects a much more diverse and inclusive community than that of the restaurant industry, which has a long history of gender and race disparities.
Food-truck owners also agree there's more room for creativity, risk-taking, and innovation than in traditional restaurants—leading to more intricate dishes, unique flavor combinations, and interesting cuisines. While these differences have contributed to the staying power of food trucks, their longevity is also due to the high-quality products and convenience they're able to offer.
The Best Food Trucks In The Golden State
With so many food trucks, it can be hard to decide which ones to try. After scouring the state's food-truck landscape, we found some staples to try no matter where you end up.
Must-Try Los Angeles Food Trucks

Green Truck
This food truck is unique in every way possible. From its ability to run on leftover vegetable oil, to its solar-powered kitchen, to its recyclable and compostable packaging, to its certified-organic ingredients, Green Truck has sustainability in mind through every step. If you're planning a sustainable wedding in L.A., don't hesitate to make it extra green with this awesome food truck.

Crepes Bonaparte
Orange County classic Crepes Bonaparte crafts gourmet savory, breakfast, and dessert crepes with plenty of vegetarian options. Popular dishes include the hearty California Sunrise crepe (packed with avocado, crispy bacon, scrambled eggs, and roasted tomato) as well as the sweet Al Capone (featuring fresh blackberries, mascarpone, and a chocolate drizzle).

Top Food Trucks on the Central Coast

Cubanissimo
This Cuban cuisine is so good you need to taste it to believe it. Servicing San Luis Obispo and Santa Barbara Counties, the Cubanissimo food truck sells traditional dishes in convenient packages. Try the medianoche sandwich filled with marinated pork, ham, and cheese for a taste of Cuba—or sit down with a plate of beef picadillo with rice and perfectly crispy empanadas to be transported to another world of flavor. Check the menu of the day to snag your favorite items, or pop by to discover something new.
Ate3one
This mobile creative team is all about modern forms of traditional street food. Grab an order of the fries topped with succulent bacon, garlic confit, Parmesan, sour cream, and scallions—or go for the unbelievable garlic shrimp taco featuring pineapple-marinated prawns, house-made slaw, and a drizzle of aioli. Finish with the dulce de leche–stuffed churro to complete a very special culinary journey you can only find in Santa Cruz.

Bay Area Food Trucks to Visit Next

Off the Grid
What began in 2010 as a simple idea to bring community members together at Fort Mason Center with a large selection of street-food vendors has become a NorCal tradition. Now located in 27 cities across the San Francisco Bay Area, Off the Grid hosts 50-plus weekly public events offering all kinds of cuisines, from vegetarian delights to Persian kabobs and everything in between.
SoMa Street Food Park
Open for lunch every day as well as for dinner Tuesday through Saturday, SoMa Street Food Park brings together a variety of food vendors, families, and their dogs—and even provides games and free WiFi. Since the list of rotating vendors is so extensive, a new culinary delight is always waiting to be tried. Craving Greek food? Try Gyros on Wheels. Want Thai cuisine, sandwiches, or pizza? Khao San Thai, Mayo and Mustard, and Del Popolo (respectively) have you covered.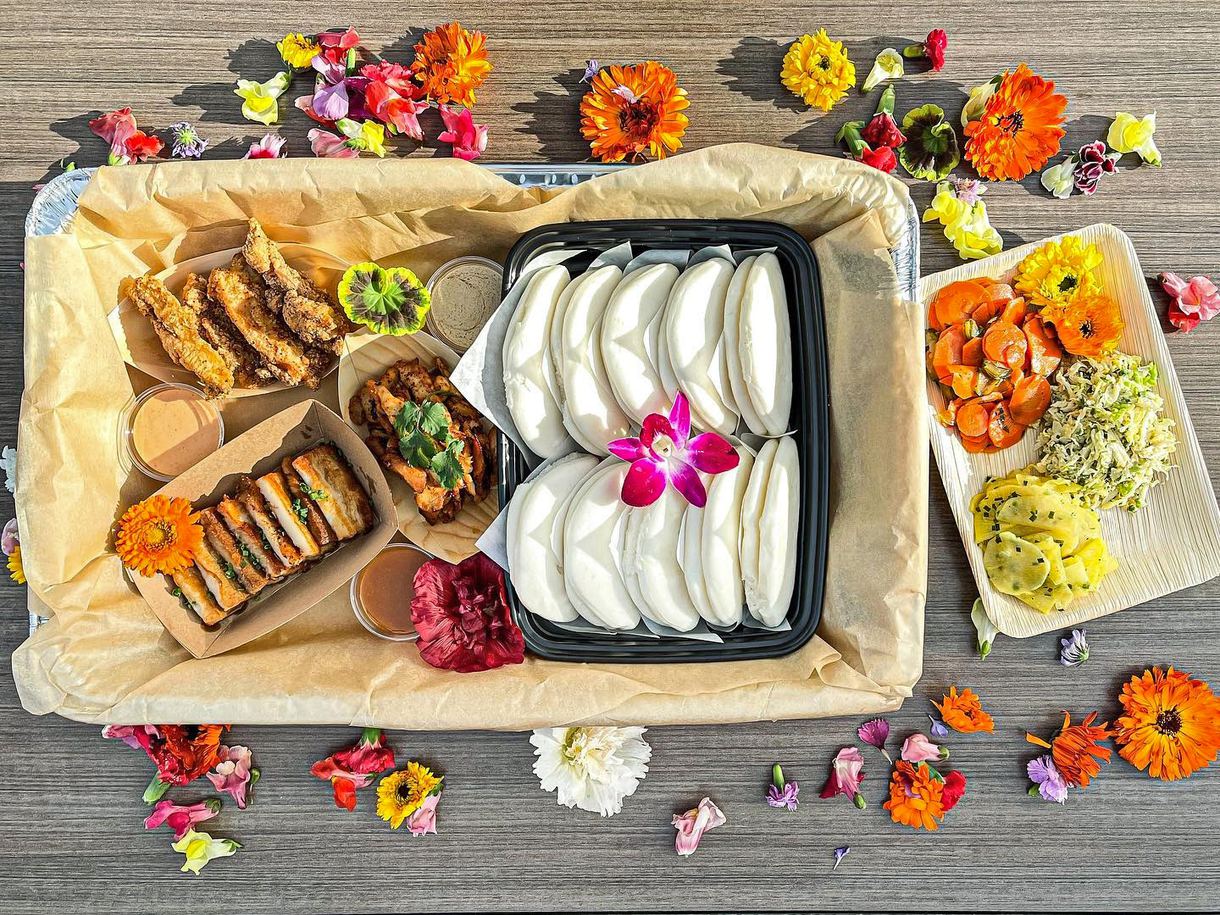 The Chairman Truck
Inspired by original Asian street food, The Chairman Truck makes food for those seeking bold, spicy, and unique flavors. Chef Hiroo Nagahara uses secret recipes from the Little Red Cookbook to prepare his delectable creations. The miso-cured tofu, crispy tempeh, karaage chicken, and Coca-Cola braised pork will take your taste buds on a flavorsome adventure.

Can't-Miss San Diego Food Trucks

Kiko's Place Seafood
Indulge in Baja California-style seafood at Kiko's Place Seafood. This local food truck is an underrated hidden gem in San Diego. The fish tacos are to die for, the Mexican birria ramen is divine, and the fish ceviche tostadas are mouthwatering. The customer service is wonderful, too—Kiko's Place Seafood gives you a free cup of spicy soup while you wait for your order. You know where to find us on Taco Tuesdays.
Zoe's Place Food Truck
Ever since its launch in 2015, Zoe's Place Food Truck has been serving gourmet Mexican fare to hungry San Diego residents. The Mexican food truck prepares delicious burritos, appetizing shrimp tacos, and possibly the best cheese quesadilla you'll ever have. Each meal is perfectly cooked and every bite is heavenly. Ordering a mahi-mahi burrito from this street food truck is one of the best things you'll do in San Diego.
Chubby's Food Truck
Chubby's Food Truck prepares Italian-American fusion food that challenges your taste buds. The California burrito—the one thing you need to eat in San Diego—the carne asada fries, and the famous Chubby's burger are must-try items. As for the Paradise veggie burger, it's prepared with Monterey Jack, lettuce, tomato, sliced cucumber, Thousand Island dressing, and tropical salsa. If you're looking to get a taste of heaven when exploring San Diego, Chubby's Food Truck is where you want to be.

The Top Taco Trucks

Mariscos Jalisco
Mariscos Jalisco is L.A.'s favorite taco truck—prominent food critic Jonathan Gold went as far as to call it "a national treasure." Angelenos flock to this Southern California food truck to try their award-winning tacos and cold seafood. But if we had to eat one food for the rest of our lives, we'd pick Mariscos Jalisco's deep-fried shrimp tacos in a heartbeat.
Leo's Tacos Truck
If you love al pastor tacos, you have to try Leo's Tacos Truck. While every item on the menu—including the tostadas, mulitas, alambres, tortas, and burritos—is delicious and reasonably priced, the al pastor tacos are hard to beat. The food here is so good that some people drive for over an hour just to try some of the most iconic foods in California.

The Best Ice-Cream Trucks

Frozen Fruit Co.
Think there's no such thing as delectable vegan ice cream? Pay a visit to Frozen Fruit Co. in Los Angeles ASAP. Everything here is plant-based and sweetened with natural fruit sugars such as dates, apples, pears, and peaches. Although Frozen Fruit Co. offers classic flavors, the vegan ice-cream truck also adds a twist to each of them.
You can't go wrong with the savory-sweet salted chocolate or the special cheesecake laced with lemon crème and vanilla. The flavors rotate periodically, and you'll want to make sure you try as many as you can.
Twirl and Dip Soft Serve
Twirl and Dip Soft Serve has found a fairly permanent home in San Francisco's Golden Gate Park, near the museums and gardens that attract scads of pedestrians. Don't let the ice-cream truck demeanor fool you, though—this is no ordinary dessert. The soft serve here is created with organic ingredients, the toppings are handmade with care, and the chocolate sauce is crafted from fair-trade dark chocolate.
Try the vanilla-bean ice cream in a hand-rolled sugar cone topped with a chocolate drizzle, a Luxardo cherry, olive oil, and sea salt for a flavor combo that'll rock your world.

The Most Delicious Mexican Food Trucks

Kogi BBQ
The one that started it all, Kogi BBQ is an L.A. staple featuring Mexican- and Korean-fusion cuisine. Now serving the El Segundo, Los Angeles, Long Beach, Venice, Hollywood, and Irvine areas with three trucks, this company offers world-famous short-rib tacos, burritos, blackjack quesadillas, Blue Moon mulitas, and even a few desserts to satisfy your sweet tooth.
Al Pastor Papi
One of the best food trucks in San Francisco is Al Pastor Papi. As the name implies, its signature dish is the Mexico City–style al pastor placed inside fresh La Palma tortillas, resulting in an exquisite and tempting taco that will blow your mind. It really doesn't matter what you order here—whether you get a burrito bowl, carne asada, or tacos, you can never go wrong.

Tasty Indian Food Trucks

Curry Up Now
Curry Up Now is an Indian food truck unlike any other. Tikka masala burritos; deconstructed samosas; aloo gobi tacos—you won't have any of these meals in another place. Serving traditional Indian flavors in a unique yet recognizable way, Curry Up Now adds a twist to meals we already love and enjoy. So, "curry" up and try this authentic and clean Indian street food; we know you'll keep coming back.
India Jones Chow Truck
The India Jones Chow Truck serves up Indian street food in Santa Monica and Los Angeles. With tons of options—from masala fries and butter chicken curry to garlic naan and spinach pakoras—deciding what to order from this innovative food truck might take a while. Luckily, India Jones offers combination plates, so trying everything on the menu is a bit easier.