It's already November, and you know what that means: The holiday season is in full swing at Disneyland! Between November 8 and January 6, the park is transformed into the "Merriest Place on Earth", and there's honestly nowhere else I'd rather be than with my favorite person at the decked-out Disneyland on Christmas. While it's not practical for us to spend two full months at the Disneyland parks, we can't miss out on any of the merriment during the best time of the year.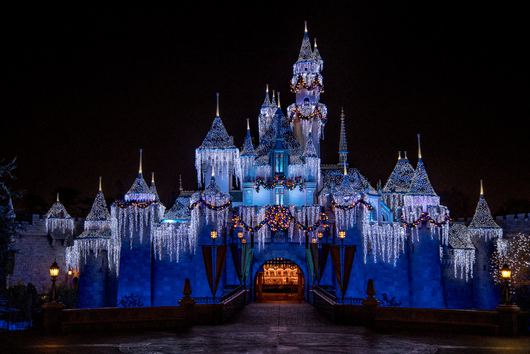 And boy, is there a lot of festive magic to appreciate right now. Both Disneyland and Disney California Adventure Park turn into wondrous lands full of holiday traditions, spirited decor, seasonal snacks, and more than enough joy to go around. While it's hard to imagine the amusement parks morphing from their spooky Halloween scenes into dazzling holiday destinations overnight, that's exactly why they call it Disney magic.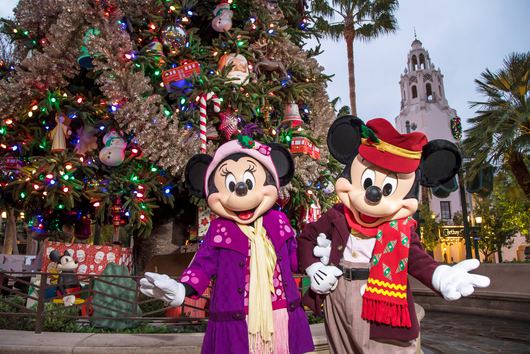 But for those of you who couldn't wait for the full reveal, you may have already snagged a sneak peek of the new decorations as they were going up. Though this sprinkling of pixie dust and shimmering ornaments provide a good idea of what's to come, Disneyland's full lineup of snacks, parades, and seasonal sounds are only available for a limited time and are absolutely worth experiencing over the next couple months.
Since the holiday season is one of the most popular times at Disneyland, expect to be joined by hundreds of adoring fans, and plan to get to the parks early in the day before they reach capacity. Luckily, Disneyland is typically open from 9 a.m. to 10 p.m. during the week and from 8 a.m. to 12 p.m. on the weekends, so there's plenty of time to soak it all in.
Festive Attractions at the Merriest Place on Earth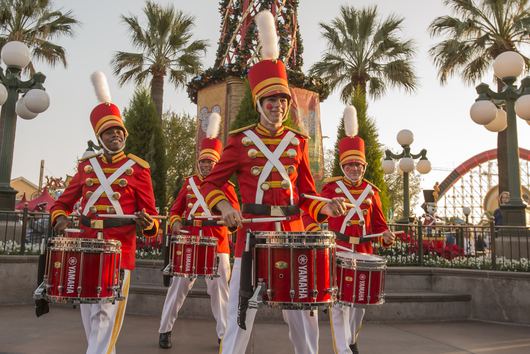 Experience the winter celebrations throughout the Disney parks. Head over to Disneyland California Adventure for Mater's Jingle Jamboree, Luigi's Joy to the Whirl, and the spectacular "World of Color - Season of Light". But don't forget to explore Disneyland, too, where you can see Sleeping Beauty's Castle blanketed in snow, a special winter fireworks spectacular, "A Christmas Fantasy Parade", and the Haunted Mansion Holiday where the macabre estate is sprinkled with holiday spirits.
Holiday Season Snacks
Along with all of your favorite Disneyland snacks, there are a few holiday-themed treats that just can't be missed. Even if you've had the chance to see the decorations before the official start of the holidays at the Disney parks, these exclusive bites are only available between November 8 and January 6, so grab them while you can!
1. Candy Cane Beignets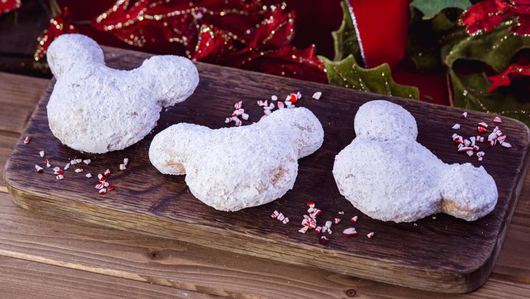 Nothing says the holidays quite like the taste of peppermint. These scrumptious delicacies are shaped like Mickey Mouse's head and are topped with candy cane powdered sugar. Pick up a 3- or 6-pack of these tasty treats before the festive season ends.
Available at Mint Julep Bar in New Orleans Square, Disneyland
2. Peppermint Mickey Shake
While ice cream and milkshakes might not be the first treats that come to mind during the holiday season, you'll want to make an exception for the peppermint Mickey shake in Disney California Adventure. The shake is blended from peppermint chocolate creme cookies and is topped with whipped cream, Christmas accents, and finished off with chocolate creme-filled cookie ears.
Available at Schmoozies! in Hollywood Land, Disney California Adventure
3. Tamale Plate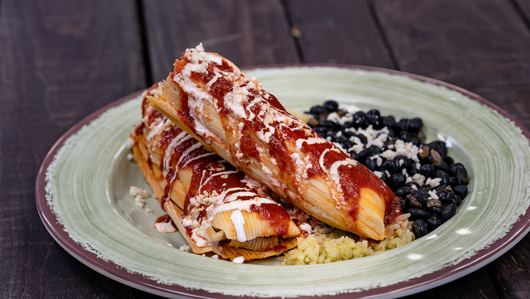 Celebrate multicultural traditions with a plate of pork tamales this holiday season. Paired with cilantro-lime rice, epazote black beans, and delicious queso fresco, this dish is an absolute winner. Add a glass of seasonal horchata agua fresca and you'll be transported to flavortown.
Available at Cocina Cucamonga Mexican Grill in Pacific Wharf, Disney California Adventure
4. Yellow Curry Rice Plate
Though it may not be traditional holiday food here in California, you'll definitely want to try the seasonal vegetable skewers in Adventureland. These outback veggies are complemented with herb-marinated tofu and served atop a bed of peas, green onions, and jasmine rice. The citrus miso-slaw rounds out the dish, providing a perfectly balanced meal.
Available at Bengal Barbecue in Adventureland, Disneyland
5. Gingerbread Funnel Cake Fries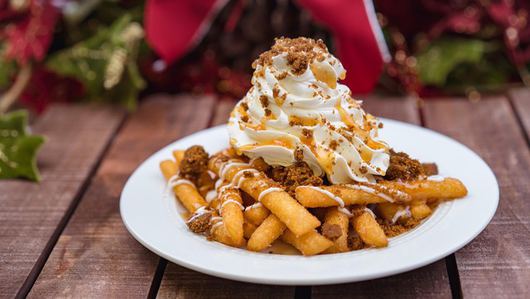 Indulge your sweet tooth with spruced-up fries. Crafted from churro funnel cake batter, these fries are topped with crushed gingerbread, caramel drizzle, icing, and whipped cream for a taste of the holidays all season long.
Available at Award Wieners in Hollywood Land, Disney California Adventure
6. Apple Pie Slush
Cool off with an apple pie slushie in Tomorrowland and you'll feel refreshed enough to tackle the rest of the park. Topped with whipped cream and pie sauce, this is one drink you're sure to remember.
Available at Galactic Grill in Tomorrowland, Disneyland
7. Santa Hat Macaron
Nothing feels quite as elegant as eating a macaron. But add in a sprinkle of holiday magic and life will never be the same. Each Santa hat macaron is filled with white mint and piped with a wall of chocolate ganache. Make sure to bring the whole family to indulge in the eggnog latte cheesecake, snowman shortbread cookies, and red and green vanilla bean holiday cupcake.
Available at Jolly Holiday Bakery Cafe on Main Street, Disneyland
8. Cranberry Julep
When it comes to holiday beverages, bright colors and seasonal flavors take the cake. So you can't miss out on the cranberry-infused mint julep in the heartily-decorated New Orleans Square.
Available at Mint Julep Bar in New Orleans Square, Disneyland
If you happen to be at Disneyland on Thanksgiving, head over to the River Belle Terrace or make your way over to Disney California Adventure's Wine Country Trattoria for a special turkey dinner. Whenever you visit during the holiday season, you won't want to miss out on the jingle bell ornament light-up sipper or the holiday travel mugs that are available throughout both parks—but make sure to make a special trip to the Mint Julep Bar to pick up the snowman ornament mug.
Let us know your favorite way to celebrate the holidays with Disney in the comments below.