I might be a little bit late hopping on this bandwagon—seeing as how the Oakland-based company Olipop launched its products a full year ago—but I am officially a fan. There is something about the fizzy bubbles of soda and flavored water that I can't get enough of (to the disappointment of my dentist), but I am not exactly what you'd call a joiner.
I was even reluctant to try the highly Instagrammed La Croix because of its hype—and was thoroughly disgusted when I finally gave it a shot. Seriously, people? The packaging isn't that cute, and the drink tastes like the faintest twinge of gross produce essence. I'll just stick to regular water, thanks. So needless to say, I was apprehensive to try the retro soda–inspired Olipop, but boy, am I glad I gave it a shot.
Thanks to an endless supply of Coke in the office, I have recently adopted a not-so-healthy soda obsession. The noise of cracking open a can sends a refreshing tingle down my spine, and the fizzy bubbles that slightly tickle my lips instantly put me in a better mood—so much so that I've started referring to soda as "happy juice". Embarrassing, I know, but the stress is real, y'all.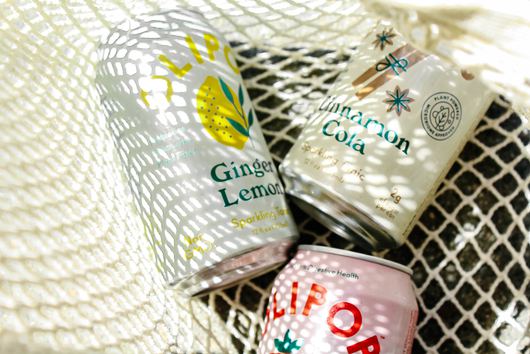 While I am trying to live a slightly healthier lifestyle, it really was the packaging that made me ignore my Amazon (and thus Whole Foods) aversion, drive to the store, and pick up some Olipop as soon as humanly possible. The fridge display was fully stocked with these incredibly photogenic cans, and I couldn't stop myself from grabbing one of every flavor before heading to the checkstand.
After rushing home and setting up an obligatory photoshoot, I busted open the Cinnamon Cola. It legit tastes like Christmas. The bright flavors of the apple and lime juices balance out the deeply comforting Cassia cinnamon and cola extract for a mouthful of soda that I didn't feel guilty about drinking.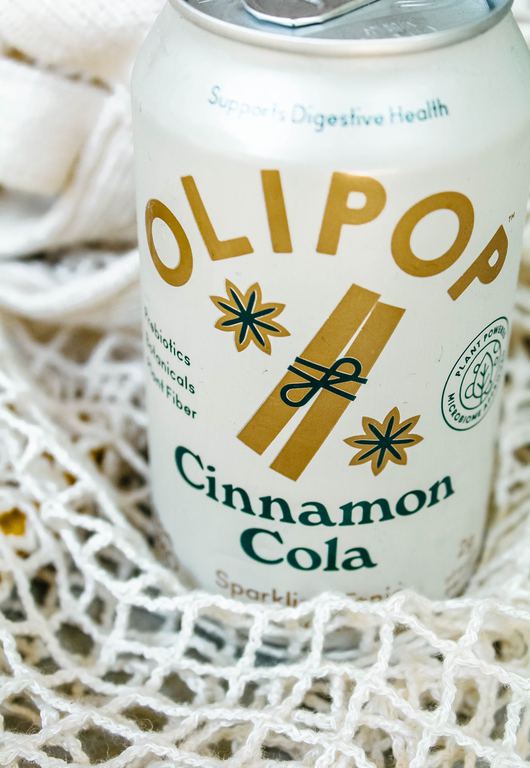 Probiotics, botanicals, plant fiber, and just 3 grams of naturally occurring sugar replace the astounding 39 grams of added sugar in traditional soda to create a sparkling tonic that could honestly replace my Coke habit. Unlike other bubbly beverages, Olipop doesn't leave me wanting more or feeling like I have withdrawals from the sugary soda I crave—and, as an additional benefit, the drink also promotes positive digestive and microbiome health.
So, all you really need to know about Olipop is: I ship it. And now the company does, too—to all of the contiguous states nationwide—so grab a can for yourself and one for each of your vegan, gluten-free, health-conscious, and Paleo friends.