The irresistible combination of tender pasta and decadent cheese sauce topped with toasted bread crumbs, fresh herbs, and grated artisanal cheese can only refer to one thing: mac and cheese. This delicious, comforting dish is so iconic and beloved that there is a day-long celebration in its honor: National Mac and Cheese Day.
Though this magical day only comes around once per year, it is never too early (or too late) to properly celebrate the glory that is macaroni and cheese. To commemorate this year's National Mac and Cheese Day on July 14, we have assembled a list of the Golden State's most luscious dishes—and where to get them—so all you have to worry about is finding your stretchy pants and allowing the mac and cheese to flow.
Celebrate National Mac and Cheese Day in the San Francisco Bay Area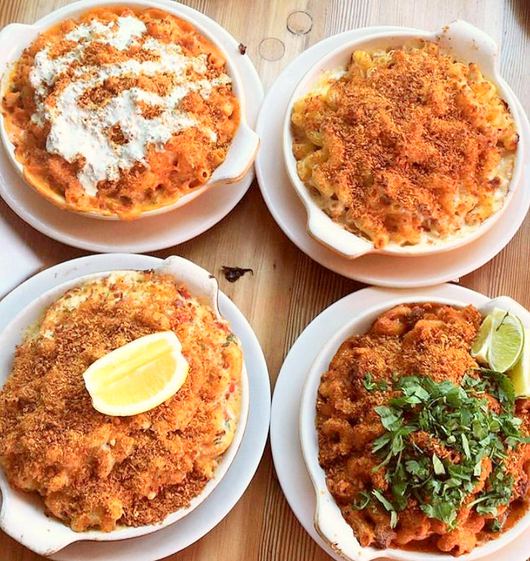 Homeroom
Fully committed to the art of mac and cheese, Homeroom steps up to the plate with nearly a dozen cheesy creations. With a desire to open a comfort-food eatery specializing in macaroni and cheese that tasted as good as the one she grew up eating, owner Erin Wade gave up her career as a lawyer to achieve her dream and now crafts delicious eats for the Oakland community—and beyond.
The passion behind every dish can be tasted in each bite, whether you order the Gilroy garlic, buffalo chicken, jalapeño popper, or smoky bacon mac. You can also customize the classic mac and cheese version with chorizo, caramelized onions, garlic butter, Hot Cheetos, and much more. Even vegans will find something to love, given the number of animal product–free offerings such as the vegan mac, which can be topped with vegan sausage.
Mac Daddy
Head to Mac Daddy in San Francisco's Potrero Hill neighborhood for some truly incredible mac and cheese. Go traditional with the Mac Daddy Classic to try the savory flavors of pecorino romano and aged, extra-sharp cheddar cheeses. Or, eat outside the box with the blue mac, featuring walnuts, Roquefort, blue cheese, jack cheese, and bread crumbs.
Craving something more Italian? Opt for the pizza mac—complete with tomato sauce, pepperoni, fresh basil, and mozzarella—or the carbonara mac loaded with bacon, quail egg, asiago cheese, peas, and shallots. And if you want a little something extra, add in whatever your heart desires from the dozens of proteins, vegetables, and cheeses available.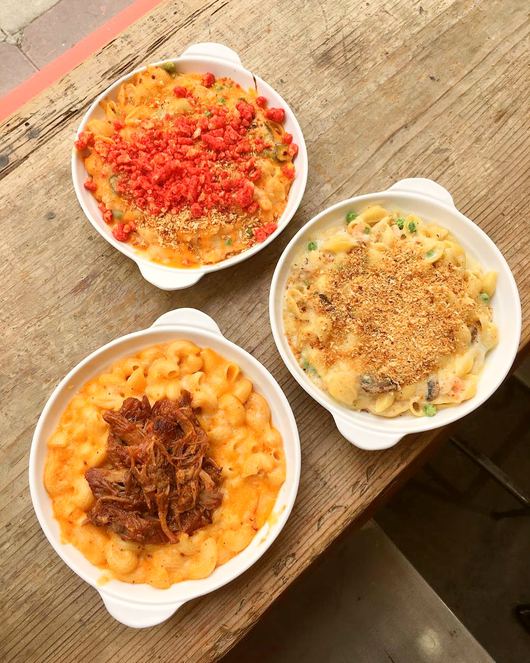 MAC'D
What's better than creamy macaroni and cheese? Getting to mix in whatever you want for a fully customized creation, of course. So if you want to craft the mac and cheese of your dreams, look no further than MAC'D in San Francisco's Russian Hill neighborhood.
Start by selecting one of the six cheese sauces, including vegan cheese, honey-jalapeño cheese, and garlic jack cheese. After this major decision has been made, move on to choosing the base. While shell and elbow pasta are traditional choices, cauliflower rounds out the options for a healthy flair. Mix in some bacon, chorizo, roasted mushrooms, or banana peppers to complement your cheese sauce, and top it all off with breadcrumbs or Hot Cheetos for a meal you aren't likely to forget.
Mission Cheese
Best known for its array of American artisanal cheeses, Mission Cheese in San Francisco serves up an impressive take on classic mac and cheese. Combining clothbound cheddar and washed-rind cow's milk cheeses with the crispy texture of breadcrumbs, the bistro highlights the bold flavors of California in one dish.
Mission Cheese is also dedicated to supporting small producers throughout the state and to protecting the environment, making it a guilt-free choice for National Mac and Cheese Day—or any other day of the year.
Best Mac and Cheese in the Los Angeles Area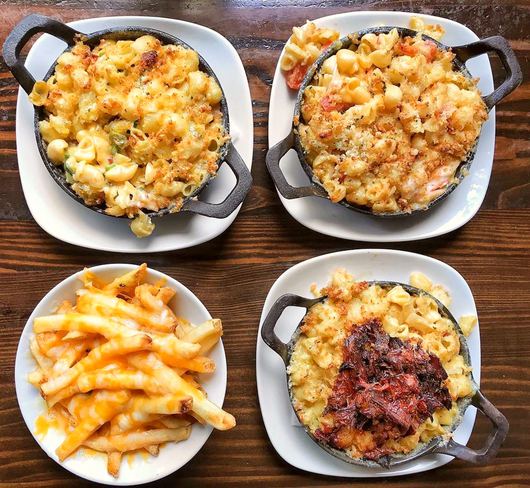 Stacked
For the opportunity to mix and match your favorite ingredients into the macaroni and cheese of your dreams, hop over to the Stacked eatery closest to you. With Stacked locations in Huntington Beach, Cerritos, Torrance, San Diego, and Thousand Oaks, there are plenty of opportunities to celebrate National Mac and Cheese Day properly.
Get one of the signature flavors—such as the chicken pesto or Cajun shrimp mac and cheese—or go your own way by choosing your pasta, proteins, veggies, and toppings.
Elbows Mac N' Cheese
With locations in Brea, Cerritos, and Torrance, Elbows Mac N' Cheese specializes in crave-worthy concoctions—such as the Ragin' Cajun mac and cheese laced with ghost pepper–habañero jack cheese, andouille sausage, peppers, onions, green onions, and spicy Sriracha. It is hard not to get a kick out of the creative names that go along with the unique dishes, either; names like "I Like You Elote", "So Shellfish", and "Mission Shrimpossible" are among the usual suspects at this eatery.
Mac and cheese can be enjoyed in various ways here, too. Add a layer of fried mac and cheese to your grilled cheese sandwich, or bite into a slice of mac and cheese pizza.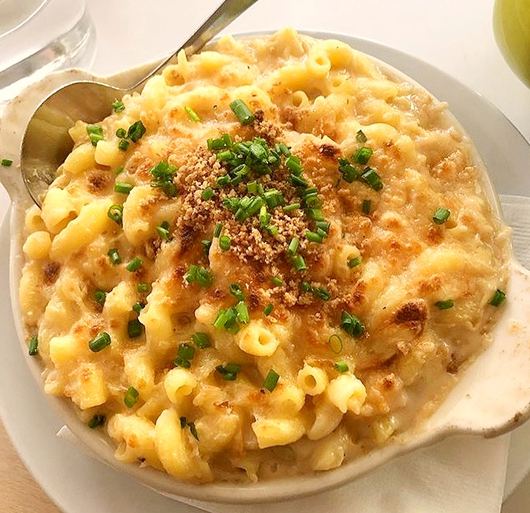 Little Pine
Visit Moby's Los Angeles joint to get a taste of California's culinary trends, which are encapsulated in the eatery's fully plant-based vegan creations, with gluten-free, soy-free, and nut-free options. The macaroni and cheese is particularly noteworthy, providing the satisfaction of a guilty-pleasure food without any of the guilt: Gluten-free pasta is tossed with house-made vegan cheese sauce and topped with gluten-free bread crumbs to balance out the rich, creamy textures.
Need more inspiration to check out Little Pine? The vegan eatery donates 100 percent of its profits to animal-rights organizations, which take direct action to protect farm animals and pass legislation for the humane treatment of animals. The restaurant also offers mac and cheese burgers and mac and cheese pizza, so the whole family can get cheesy in any way they'd like.
The Attic
Nestled in Long Beach and open for both brunch and dinner, The Attic makes macaroni and cheese on its own terms: with Hot Cheetos on top. Each flavor starts with a base of pasta mixed with mozzarella, jack, and cheddar cheeses, and is topped off with Hot Cheeto crumbles and a sprinkle of green onions. Get yours with fried chicken, slow-braised beef short ribs, fried eggs, or avocado, and you may never think of mac and cheese the same way again.
Build Your Own Macaroni and Cheese in
San Diego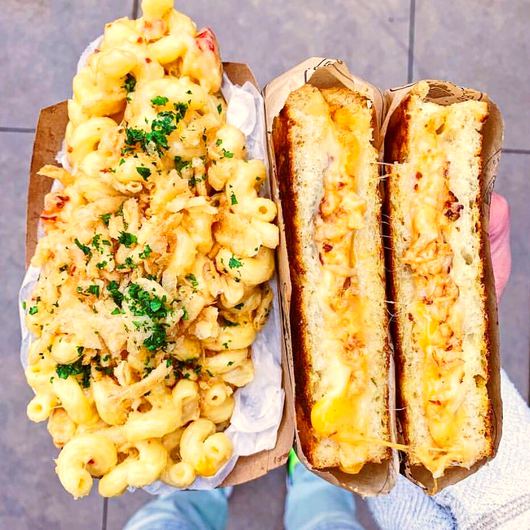 Grater Grilled Cheese
In addition to offering some of the best grilled cheeses in Southern California, Grater Grilled Cheese serves up mouthwatering macaroni and cheese. Though the eatery has locations in Irvine and Huntington Beach, the San Diego spots are diamonds in the rough when it comes to the local cheese scene. Go for the elegant Greater Mac, featuring creamy gorgonzola béchamel sauce, balsamic caramelized onions, savory walnuts, and an indulgent five-cheese blend. Or, make your own mac and cheese grilled cheese sandwich for an experience you will never forget.