By

California.com
January 21, 2021
As California mitigates health risks during the COVID-19 pandemic, some travel restrictions may remain in certain communities. Call the local and regional tourism offices to learn more about the restrictions in your intended destination. Thank you for reading, and stay safe.
Being in lockdown is no excuse to go on boring dates, or even worse, put your love life on hold—especially when you live in San Francisco. From exploring S.F. bike routes and enjoying romantic mornings at Bay Area beaches to watching NorCal sunsets and trekking scenic S.F. hiking trails, there are plenty of unique things to do in San Francisco that'll add much needed-excitement to your dates.
After all, the one positive side effect of dating during the pandemic has been that people have gotten way more creative with planning their dates. This list of cute dates in San Francisco guarantees you'll have an (almost) entirely COVID-safe experience and a great time.
Fun dates in San Francisco

Try a local Airbnb experience together
Thought you'd run out of interesting dates to go on in San Francisco? Trust the creative hosts on Airbnb to come up with outdoor date ideas you hadn't thought of yet. Discovering hidden stairways in S.F., hiking and meditating in the Presidio, taking a street art tour while riding in a rickshaw are all COVID-safe California Airbnb experiences you can partake in without breaking any lockdown rules. Check out Airbnb Experiences for more online and offline day dates in San Francisco (and beyond).
Kayak under the Golden Gate Bridge
What better way to test your compatibility with someone than by trying an activity that requires teamwork and cooperation? After giving you a thorough orientation, SeaTrek helps you and your date slide into a two-person kayak and see the Golden Gate Bridge from below.
Even though the trip itself takes three hours, you won't have to endure any awkward silences on this fun date in San Francisco. Between figuring out how to smoothly ride the kayak, admiring the wonderful views, and trying not to tip over—this S.F. date activity will bring you and your partner closer in the most adventurous way.
Date night in San Francisco

Watch classics from your car at a drive-in movie theater
The temporary closure of regular cinemas led to the nostalgic comeback of drive-in movie theaters—which also got us wondering why we stopped going to them in the first place. For a date night in San Francisco full of old-school charm and romance, head to Fort Mason Flix on Marina Boulevard. Whether you'd like to enjoy the movie or fog up the car windows is completely up to you.
Sign up for a walking tour of San Francisco's neon signs
There's something uniquely appealing about glimmering neon signs at night. As much as we like photographing and admiring them, we never really think about the history of these bright signs. The mission of San Francisco Neon is to educate and advocate for the artistic legacy of historic neon signs around San Francisco. Sign up for a walking tour around the neighborhood of your choice for a unique date-night activity in San Francisco that'll impress anyone.

Where to go on a first date in San Francisco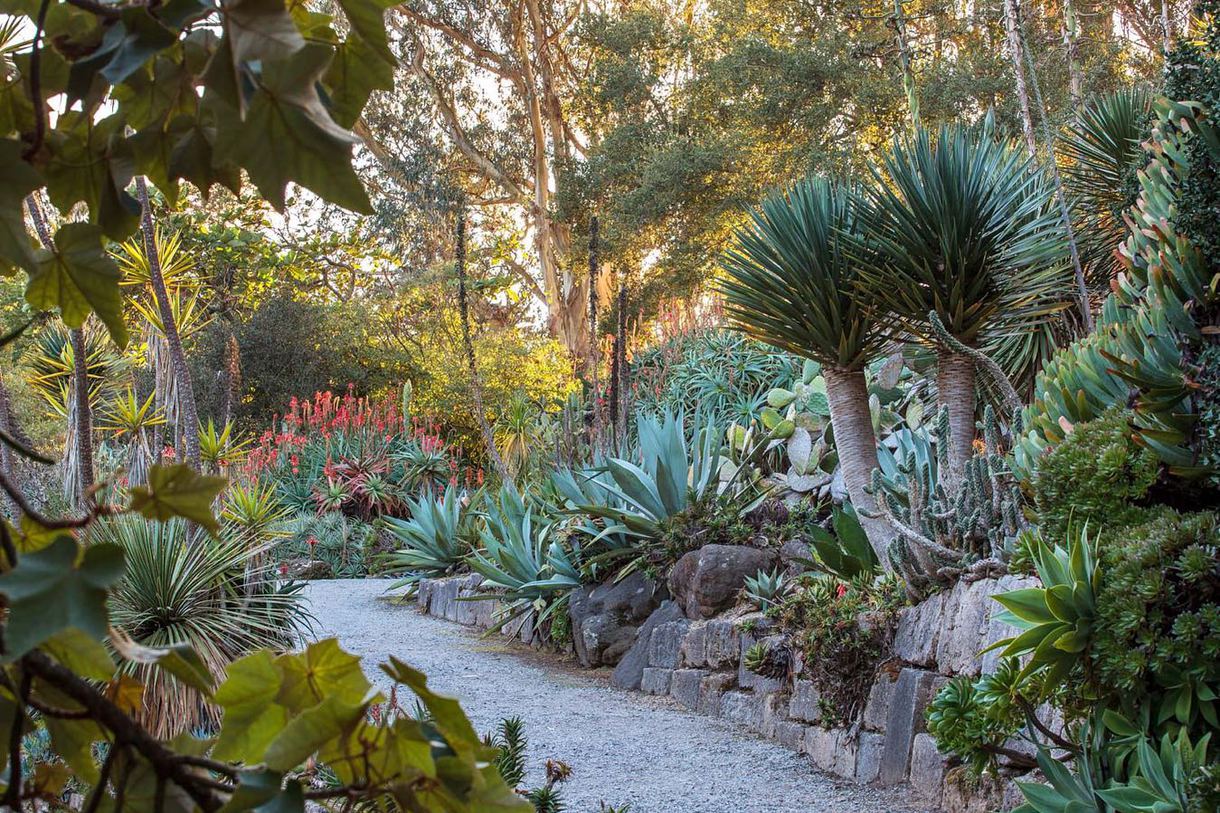 Explore the San Francisco Botanical Garden
A 55-acre garden, 9,000 types of plants from around the world, and plenty of hidden nooks where you'll get alone time with your date—need we say more? The San Francisco Botanical Garden is a perfect backdrop for any first date in San Francisco. Bring along a blanket and a basket of snacks so you can also enjoy a picnic on a designated stretch of green grass with your date.
Thought this couldn't get any better? If you and your date are S.F. residents, you can enjoy this fun date in San Francisco for free.
Go horseback riding along the beach
The formula to a foolproof first date is to make sure you do something that sparks enough conversation to avoid prolonged awkward silences in case you have little in common with the other person. Unless one of you is allergic to horses, we can't imagine this fun first date activity in San Francisco going wrong. Sea Horse Ranch offers scenic trails suitable for beginners that'll paint you like the knight (or dame) in shining armor that you are.
Outdoor dinner dates in San Francisco

Enjoy street eats in Mission Bay
Thought the pandemic brought an end to all dinner dates? Nope, just the boring ones. Although you can't really sit to enjoy your meal at Spark Social SF, the lively food-truck park is still open and serving tastier-than-ever meals and snacks. There are usually at least 10 rotating California food trucks at the park that you and your date can sample for a fun date in S.F.
Worried about coming in contact with too many people while waiting in line? You can download Spark Social's app and order in advance to skip the lines.
Try fresh, local dishes at the popular Fisherman's Wharf
As played out as it may be, going on a dinner date will never cease to be a timeless romantic thing to do in California. Although most restaurants are temporarily closed for safety measures, a classic dinner date is still a possibility in S.F. Suitable for a first (or second or third) date in San Francisco, Fisherman's Wharf is a fun (albeit touristy) spot for effortless adventure.
Whether you decide to get takeout from your favorite restaurant, sample organic dishes from the many stands scattered around the area, or get a hot coffee while exploring the varied shops along the pier, one thing's for sure: You won't get bored at Fisherman's Wharf.
Other things to do on a date in San Francisco

Take a stroll through Lovers' Lane in the Presidio
The Presidio is for lovers of all kinds. Whether you and your date are nature lovers, history buffs, adventurers, or even art aficionados, you'll enjoy visiting Lovers' Lane as a cute outdoor date in San Francisco.
The oldest footpath through the Presidio, Lovers' Lane was built in the 18th century as a shortcut and was used by Spanish soldiers and missionaries to get from the Main Post to Mission Dolores. Today, this picturesque path is frequented by runners, cyclists, families, and other couples on a date in S.F.
Go hiking on Angel Island
Hop on the ferry departing from Fisherman's Wharf, and you'll soon find yourself surrounded by nature at the beautiful Angel Island. Besides breathtakingly beautiful scenery, the island also boasts an interesting history you and your date will enjoy discovering.
Whether you decide to hike one of the many trails, sit down for a picnic, or admire the city of San Francisco from a different vantage point, you'll undoubtedly have one of the best dates in San Francisco while exploring this island. Better yet, if you go now, you'll likely encounter fewer crowds than usual (a plus whether there's a pandemic or not).