When the hustle and bustle of daily life becomes overwhelming and when all of our New Year's resolutions have long since come and gone, a burning desire to get away settles in. It is in this moment that many of us contemplate the complex decision of choosing between treating ourselves to a luxurious five-star hotel experience or allowing ourselves to return to nature on a camping trip. While these two alternatives seemingly lie in opposition, the wonderful world of glamping allows us to experience the best of both without sacrifice.
Whether in search of a remote, miniature cabin, a cozy yurt, or a furnished tent with many of the comforts of a hotel, the expansion of the glamping industry allows us to experience an entire range of lodging opportunities.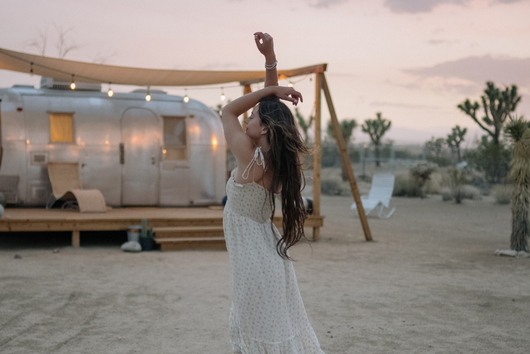 The desire to go camping has been steadily increasing over the past four years, according to Kamping of America, whose 2014 report showed that six million new households have at least one individual who camps. With this trend on the rise, many campgrounds have increased amenities in recent years, including electricity, Wi-Fi, bed options, wellness glamping retreats, and meals to the price of the stay. Though some may argue that having phone service and access to the Internet detract from the experience, others feel safer knowing that help is available—and a whopping 97 percent of campers bring some kind of technology with them. As a result, there is an increased likelihood that younger generations will use technology during their getaways; in fact, about one quarter claim that sharing the experience through technology adds to the adventure.
As a response to our continued obsession with technology, several campsites across California offer the ability to unplug as a selling point or additional amenity, akin to comfortable beds and hammocks. With or without technology, these camping trips allow for the unusual ability to step back and enjoy nature, to admire the Joshua trees that grow in only a handful of locations worldwide, to gaze upon the expanse of white sands that make up one of the country's longest coastlines, to appreciate all of the biodiversity held within a single day's travels, and to detox from the lives we have created apart from nature. This desire to reconnect with our surroundings is shaping the way we travel and leading almost half of new campers to choose non-traditional camping accommodations.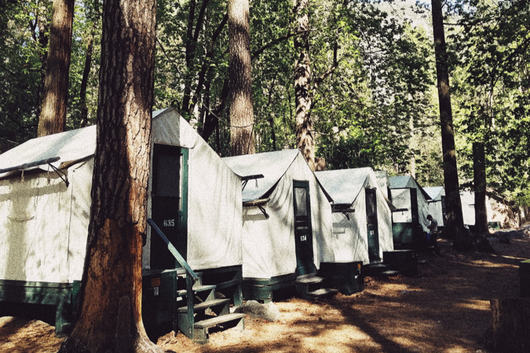 California's coastline offers a plethora of less-traditional camping options, from treehouses in Monterey, to cabins in Big Sur, to airstreams in Joshua Tree and tents in Mendocino. Not only do these creative tent alternatives provide new adventures for avid travelers , but they also make camping more accessible to a larger number of people—whether it be those who cannot live without Internet or who are unable to sleep on the ground.
California's coastline offers a plethora of less-traditional camping options, from treehouses in Monterey, to cabins in Big Sur, to airstreams in Joshua Tree and tents in Mendocino.
Since the way we camp is changing, so is the way we interact with outdoor recreation. Campsites of all kinds are now encouraging and enabling various activities—such as kayaking, white water rafting, mountain biking, and horseback riding—creating a new camping experience altogether. Additionally, the reverse is also becoming true: camping in its many forms is becoming part of an outdoor, recreational lifestyle. As these various interests continue to blend, we will likely see additional crossovers and retreats that incorporate a more holistic approach to create a space where everyone feels comfortable experiencing the outdoors. The temperate environment, as well as the sheer number of campground locations and lodging options along the California coastline, make camping available and enjoyable nearly year-round.