By

Mackenzie Hutson
November 18, 2019
While we love a good airstream and a cozy cottage, there is something about Thanksgiving that makes it the perfect occasion to run away to a cabin in the woods. Maybe it has something to do with all the chaos surrounding the holiday or the chilly weather that beckons for a serene destination, but either way, we're grateful to have so many options when it comes to places to explore. From desert escapes, to wooded wonderlands, to lakeside retreats, the state is full of opportunities for Thanksgiving getaways in California.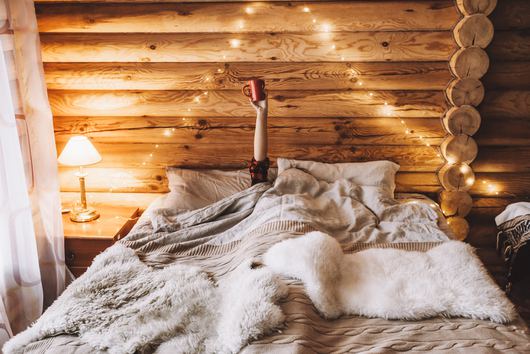 Nothing celebrates the coming of winter quite like sipping hot cocoa by the fire while being surrounded by California's giant redwoods, prickly joshua trees, or brisk coastal breezes, so it's time to throw a dart at a map or visit one of our favorite places. Given the number of incredible cabin rentals in California, choosing where to go this Thanksgiving is a difficult decision—but once you do, it's all about the mashed potatoes and gravy, turkey, and family time.
Big Bear Lake Cabins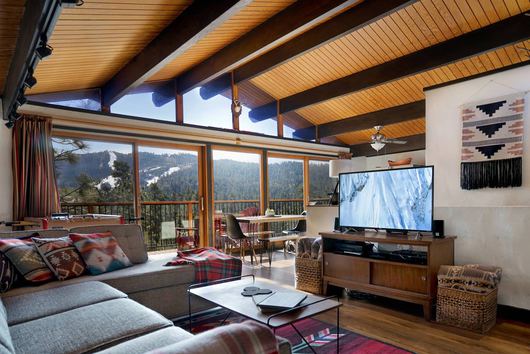 With its high-altitude location, stunning lake, and cozy ambience, Big Bear is one of the best places to celebrate Thanksgiving in California. Since it is a four-season vacation destination, there are plenty of cabins (and other lodging options) to choose from that the whole family will love. The cold winds invite you to bundle up for an afternoon walk, bake pies with grandma, and roast marshmallows over the fireplace before wandering around the Christmas lights that pop up soon after Thanksgiving.
Big Sur Cabins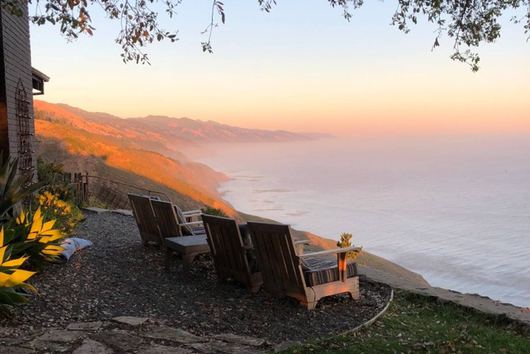 The iconic beauty of California's Central Coast makes the region an ideal destination any time of year. While the crashing waves and inviting wilderness might make it seem like a summertime spot, there is more to Big Sur than meets the eye. Should you encounter a fairly dry year, this rugged locale provides a stunning backdrop for any Thanksgiving feast, but in rainy years, it's best to save this road trip for sunnier days; the gorgeous cliffs and rolling hills make this area prone to landslides, which can make getting to a cabin more of a challenge than you might have expected.
Idyllwild Cabins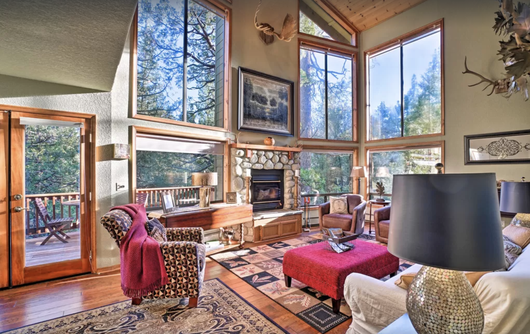 When it comes to unexpected mountain towns, Idyllwild takes the cake. Located near Palm Springs, about two hours inland from Anaheim, this small town is about as far as you can get from city life. The refreshing scent of pines and cedars fills the air as you wander around the quaint shops, art galleries, and local eateries. Make the most of your time in the San Jacinto Mountains by snowboarding or going for a nice hike before you leave.
Joshua Tree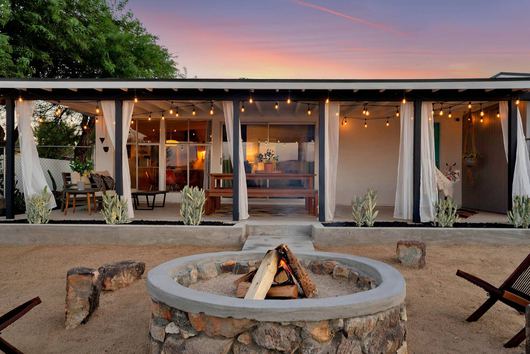 There is nothing quite like spending the cooler months in the Southern California desert. Joshua Tree National Park doesn't get as cold as its mountainous neighbors, so the region offers a fantastic hiatus from icy temps. Since September through May is the park's busy season, it's important to plan ahead—and expect to have plenty of company. Stay in a cabin in Pioneertown, Palm Springs, or just outside Joshua Tree, and your Thanksgiving vacations will never be the same.
Mendocino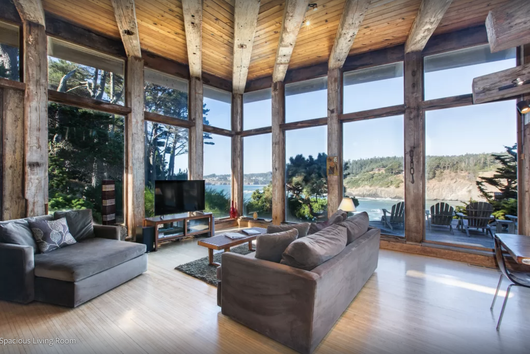 Featuring incredibly fresh air, swaying trees, rugged coastline, and stunning vistas, Mendocino was made for outdoorsy folks. Because of its remote location, this destination allows visitors to unwind away from the hustle and bustle of civilization. Mendocino also offers endless options for Thanksgiving cabin rentals, from glamping tents to traditional wooden cabins. Make sure you visit Glass Beach, Van Damme State Park, and Russian Gulch State Park while you're there.
Santa Cruz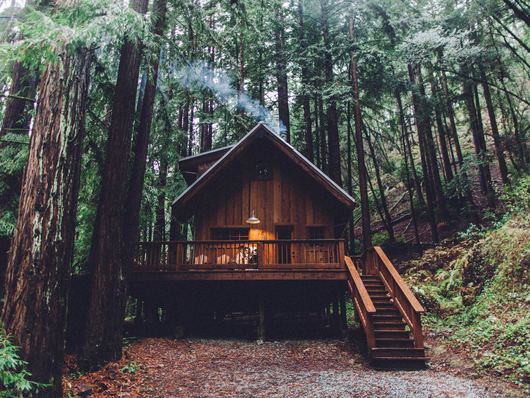 Thanks to the nearby mountain range and sweeping coastal views, Santa Cruz is home to some of the best cabins in California. The gorgeously wooded areas, cooler beach temperatures, and laid-back vibe of this Central Coast town make you feel like you've traveled to California's northern edges—but with a much shorter drive. Leave the crowds behind, and head up into the mountains or over into the unincorporated neighboring towns to be transported to your own world.
Sonoma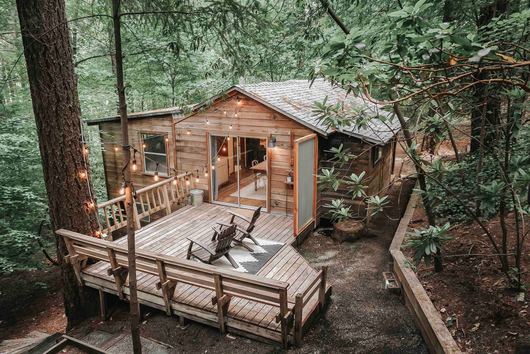 Despite Sonoma's close proximity to San Francisco and its location in Wine Country, it's easy to overlook Napa's neighbor—that is, until you've visited this quaint region. Complete with sprawling vineyards, unique boutiques, and top-notch eateries, Sonoma County is more than meets the eye. Settle in to a cozy cabin, get a relaxing massage at one of the nearby spas, and grab a couple of locally made goodies to complete your Thanksgiving feast.
Tahoe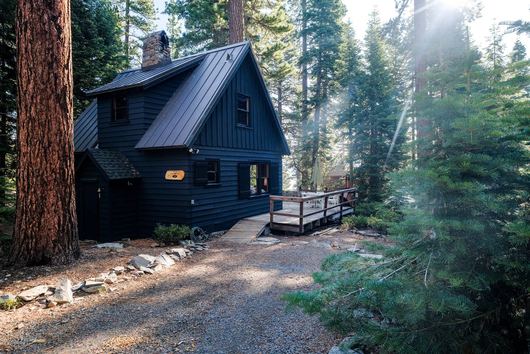 With its endless outdoor adventures and interesting landscape, Lake Tahoe will always be one of my favorite vacation spots. Thanks to its high altitude, Tahoe and the surrounding mountains typically experience several inches of snow around Thanksgiving—making it the ideal time to break out the snowboards, skiis, and sleds for some wholesome fun.
Yosemite Valley Cabins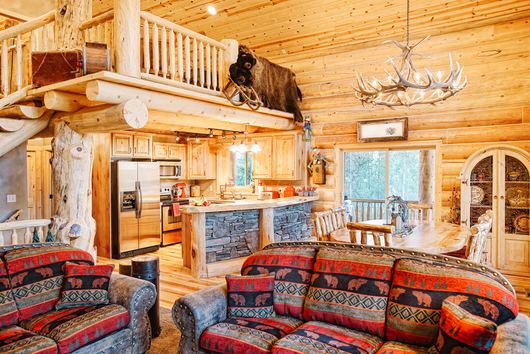 Meandering streams, cascading waterfalls, and invigorating scents of the forest overwhelm your senses as you enter Yosemite National Park. Between hiking, camping, and climbing, there are numerous ways to spend a long Thanksgiving break here. Take in the rugged wilderness and enjoy the intimate family time without any distractions at one of California's most idyllic cabin-rental destinations.