As communities across the world and in California mitigate health risks during the COVID-19 pandemic, we are shifting our content focus and will not encourage any travel or social activities during this time. We will, however, continue to shine a light on and celebrate the many beautiful aspects of our State with the intention of being a source of inspiration and joy during this difficult period. We will also be providing tips and resources specifically related to the COVID-19 pandemic safety measures in the coming weeks. Thank you for reading, and stay safe.
Holding on to the ridges of the rock's surface, using every muscle to travel up the vertical face of the cliffs, and being rewarded by panoramic vistas are all to be expected when rock climbing in California. The Golden State is home to some of the best bouldering in the West Coast and offers plenty of granite—climbers' favorite rock type. But with so much ground to cover in the state, it can be difficult to determine where to go first or which destinations best match your skill level, so we came through with the ultimate California rock climbing guide for indoor and outdoor adventures of all kinds.
Rock Climbing and Bouldering in the Los
Angeles Area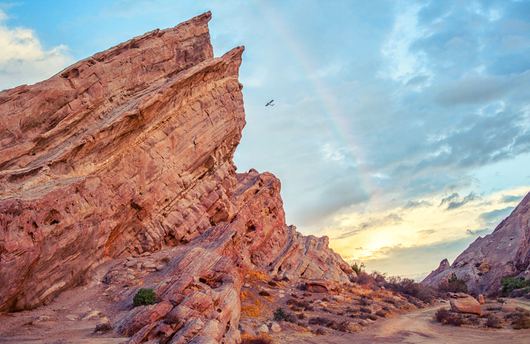 vasquez Rocks Natural Area Park
Best known for its appearances in films and television series like The Flintstones and Star Trek, Vasquez Rocks Natural Area Park is home to 30-plus climbs just an hour's drive north from Los Angeles.
The park covers hundreds of acres and is filled with dozens of jutting rock formations, making for a terrific, otherworldly excursion. While the sandstone routes welcome climbers of all skill levels, park regulations require top-roping for most climbs to help preserve the rock formations.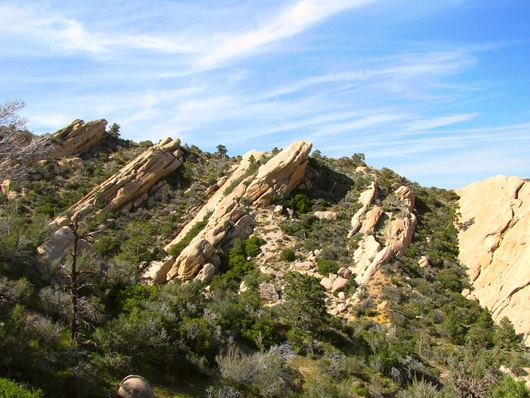 Devil's Punchbowl
Nestled along the northern slopes of the San Gabriel Mountains, about an hour and a half away from the urban sprawl of Los Angeles, Devil's Punchbowl is the desert oasis of your rock-climbing dreams. Surrounded by forested lands and the high desert, this remote location is home to a wide range of trad climbs, beginner and intermediate sport routes, and a few bouldering spots—making it well worth the trip.
The climbs here are unique since the rock slabs are slanted about 45 to 75 degrees, providing a different climbing experience than the more traditional vertical rock surfaces. Bring plenty of water, and plan ahead if you want to camp overnight. There are no camping spots inside the park, but there are sites located on nearby National Forest land that require an Adventure Pass and an additional camping fee.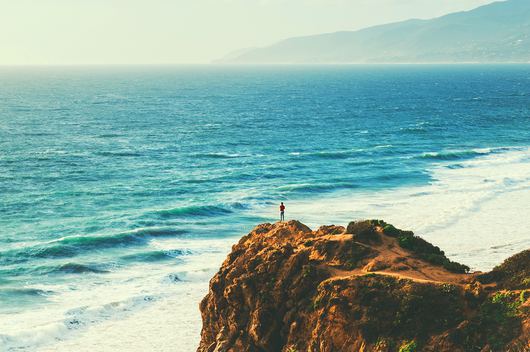 Point Dume
The stone surface of Point Dume towers above the sands near Malibu, allowing climbers to look out at the local surfers riding the Pacific Ocean waves. While sea lions make regular appearances, film crews are also known to show up on the scene fairly frequently. (You may recognize Point Dume as one of the filming locations for Planet of the Apes.)
The angled surfaces of the two rock faces make it easy for beginners to learn yet still provide enough excitement for intermediate climbers to get a thrill. Come prepared with your gear, mineral sunscreen, water, and surfboards to make the most of the trip. Enjoy the salt spray from the tops of the crags and the refreshing water from beneath the swells to fully understand why Point Dume is such a popular destination.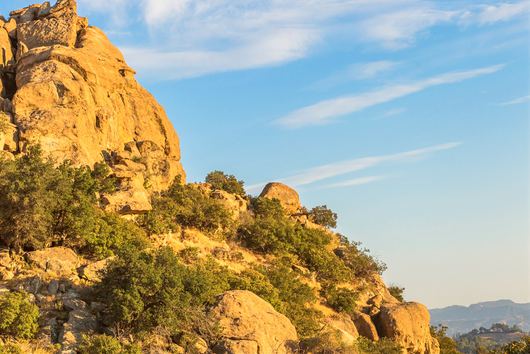 Stoney Point Park
The sandstone walls of Stoney Point Park are littered with stories of the greats like Royal Robbins, Yvon Chouinard, and Bob Kamps. While the soft stone walls don't allow for sport climbing, the plethora of boulder problems and opportunities for free climbing make it a serious destination for beginners and experienced climbers alike.
Located about 40 minutes northwest of Downtown Los Angeles, the grounds of Stoney Point Park are filled with approximately 130 boulders and another 60 routes, serving as an ideal spot for both novice and experienced climbers looking to try new techniques. With the soft stone, the boulder problems are continuously changing, so an exciting adventure is guaranteed each time you visit. Make sure to bring crash pads to protect your falls while bouldering, and delight in the fact that little other gear is required.
Rock Climbing in Palm Springs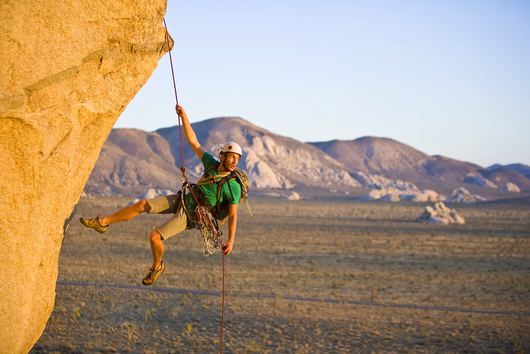 Joshua Tree National Park
As one of Southern California's most famous—and most popular—climbing destinations, Joshua Tree National Park boasts 8,000-plus climbs with an additional 2,000 boulder problems. (For those not attuned to the climbing vernacular, "boulder problems" are the specifically designed routes up a boulder that require a particular sequence of holds.) The wide array of climbing opportunities make this destination perfect for all skill levels.
Since the majority of the climbing routes are trads (traditional climbing that requires climbers to find their own route and place protections like chocks and camming devices, rather than hooking into preplaced bolts), they should be saved for very advanced rock climbers. For those who are experienced but not fully comfortable planning their entire route, there are sport routes available, too, though additional protections will be necessary to supplement the existing bolts. If your rock-climbing group is just getting into the swing of things, the boulders provide an ideal playground for you to hone your skills.
While the entry fees can seem quite steep, opt for the park-specific or National Park annual passes to save money in the long run—and as with all public lands, leave no trace you were there.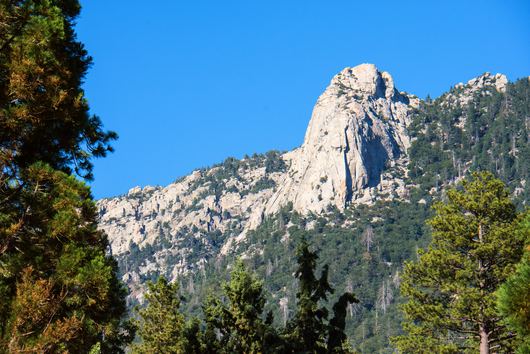 Idyllwild
Tucked amongst the San Jacinto Mountains in Riverside County, Idyllwild is one of the earliest sites of technical rock climbing in the country, serving as a source of inspiration for many free climbers. As SoCal's tallest rock formation, the 1,000-foot towering granite crag of Tahquitz Rock features trad and sport routes alike, plus a bit of everything in between. This location is best known for its incredible multi-pitch climbs—climbing routes with one or more stops at belay stations, which are situated about 50 to 60 meters apart—since the surface of the wall is taller than your length of rope.
Take a day trip to Idyllwild from Palm Springs to get away from the harsh desert temperatures and enjoy the shade that the pine forest provides from roughly 7,000 feet above sea level.
Spectacular Bouldering in the San Diego Area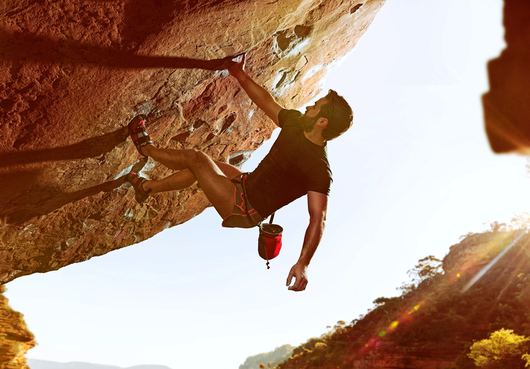 Santee Boulders
Located close to Highway 52, this incredibly accessible climbing spot is one of San Diego County's most popular bouldering venues. With approximately 100 boulder problems to try—ranging from beginner boulders (V0 and V1) to difficult ones (V10 and V11)—it is easy to see why locals and visitors flock to this locale. The boulders have a variety of mantels, crimpy face problems, and a couple of cracks, making it a great destination for those seeking new challenges.
With such a simple route in and little gear required, locals regularly head here after work and on the weekends. Bring a crash pad, shoes, a bag of chalk, and a friend for some safe bouldering under the San Diego sun.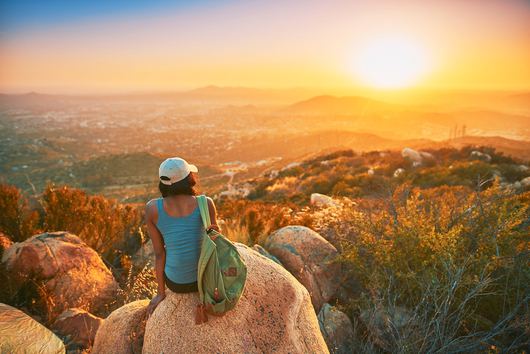 Black Mountain
Black Mountain is among the premier bouldering areas in Southern California, and many climbers even claim that it is home to some of the greatest bouldering projects in the West. Scattered among pine trees, this bouldering playground lies northeast of Encinitas, just off a six-mile dirt road that is best suited for 4x4 vehicles.
The remote climbing destination is growing in popularity, but it still feels exclusive since it is closed during winter and early spring. Since there are plenty of campsites in Boulder Basin, it's possible to spend the entire weekend conquering tough boulder problems, lounging in hammocks, hiking through the pines, and gazing at the majestic mountains.
Climbing Walls near Lake Tahoe and Yosemite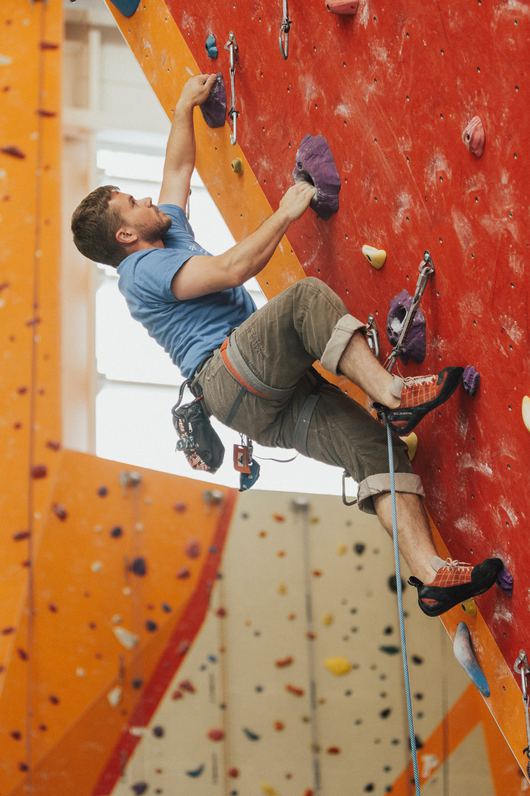 Blue Granite Climbing Gym
Noticing that there were ample outdoor places to go rock climbing but not a single indoor climbing gym in Lake Tahoe, Brad and Gianna Leavers opened up Blue Granite Climbing Gym. With several daily classes as well as unlimited-access passes—which allow guests to climb, attend yoga and fitness sessions, and use free weights and cardio equipment—there is something for climbers of all experience levels. Fuel up at Refuge Coffee, located inside the Blue Granite facility, and prepare to tackle Tahoe's rock walls after honing your skills at the gym.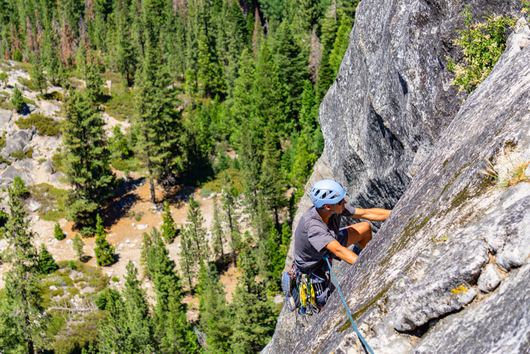 Big Chief
Perched atop a ridge near Truckee, Big Chief is the largest formation along the Truckee River Canyon and is known for having incredible sport climbing. This crag is considered by many to be the best rock-climbing spot in the North Shore, but since a one-mile hike is required to reach it, there are usually not too many climbers. With more than 85 routes to climb along the 250-foot-tall wall, there are plenty of opportunities for climbers of every skill level.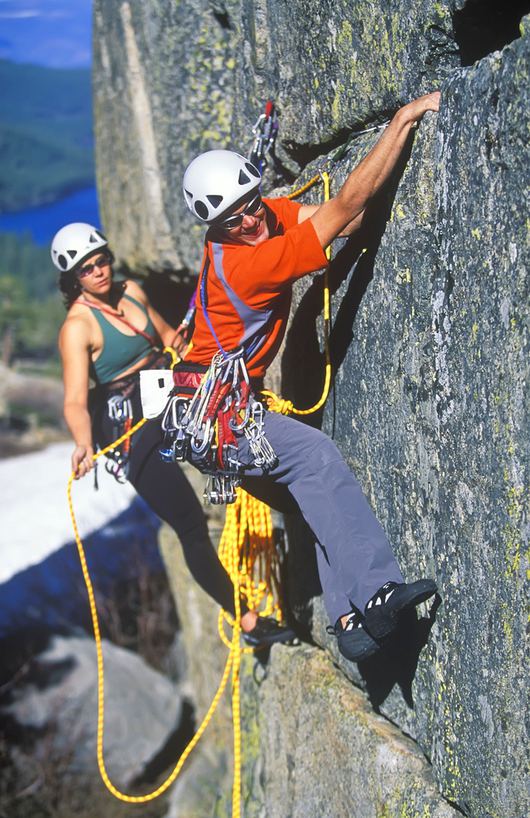 Donner Summit
Donner Summit is one of the Tahoe area's most renowned climbing spots—especially in the summertime, when the mountain temperatures remain cool. With a combination of roofs, slabs, cracks, and boulder problems, the granite rock face features 300-plus routes that are perfect for trad climbers looking to refine their skills along single, multiple, and pitch climbs.
Sport climbers and boulderers alike will have plenty to tackle, too; the 80 sport routes and 30 problems will keep everyone busy, but venturing away from the popular routes will allow you to discover new boulders and admire the incredible scenery of the gorgeous Tahoe wilderness below you.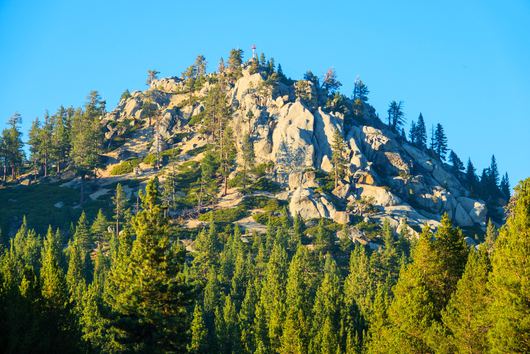 Pie Shop
Named after a bakery that once sat near this climbing location, Pie Shop is a granite formation famous for its trad climbing and bouldering. Along with the charming name, this South Shore hot spot is unique for its wide variety of difficult climbs, which are accessible after a short hike in. The trail passes by manzanita trees and boulders before coming upon the rigid granite faces of the dome structure.
Pie Shop's southern-facing routes can be climbed at any time of year, too, including the winter. When you visit, make sure you are respectful of the houses bordering this spot; since the boulders occupy a prime location by the Lake Tahoe Golf Course, some potential climbing routes are right next to homes.
With such creative and tasty names—such as Cruise Control, Crepes Corner, Space Invaders, Short Cake, and Fluted Crust—the boulder problems here may encourage you to find a bakery after your efforts.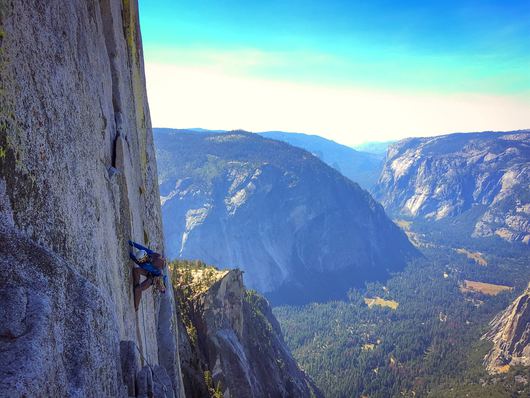 Yosemite National Park
As one of the best-known climbing spots in all of California, Yosemite National Park does not disappoint. The Yosemite Valley contains hundreds of boulders and trads, along with a few dozen sport routes, making it an ideal destination for all types of climbers. El Capitan and Half Dome are some of the most coveted climbing surfaces, though the numerous other walls and crags in the area are equally incredible, attracting climbers from around the globe.
The moderate weather, stunning photo opportunities, waterfalls, hikes, and open wilderness call to all levels of climbers—and inspire them to hone their skills on Yosemite's iconic granite surfaces.
San Francisco Bay Area Climbing Spots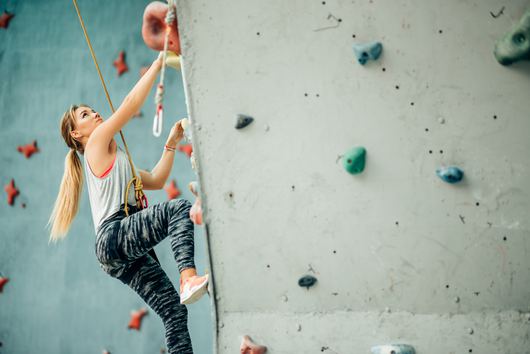 Great Western Power Company
Learn the basics and practice your routes at Uptown Oakland's Great Western Power Company. The expansive space features 11,000 square feet of world-class rock climbing; 1,500 square feet of bouldering; and 70-plus routes to improve your skills. Master the art of top-roping and work your way up to lead climbing, and then head out to the Bay Area's outdoor climbing destinations.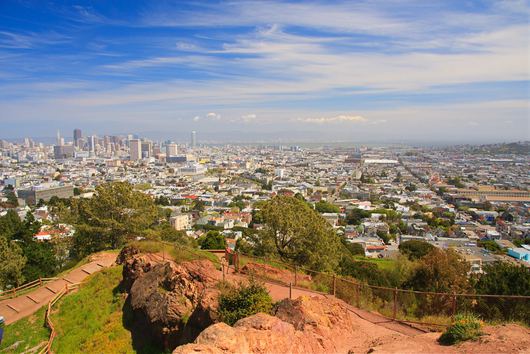 Beaver Street Wall
Tucked away in the hills of the Castro District, Beaver Street Wall is one of the select few climbing walls in San Francisco. The rock face is polished and slick, making it a difficult, 5.9-rated climb that is popular among experienced climbers.
The challenge is well worth it, however, Beaver Street Wall provides incredible city views for those brave enough to scale its 45 feet. The routes are set up to accommodate trad climbers as well as those wishing to top-rope, making it a great excursion for seasoned vets. Since the routes are slippery, be prepared to fall at least once on the way up, and try to go on the rare sunny days when the rain and fog aren't around to make the trek more difficult.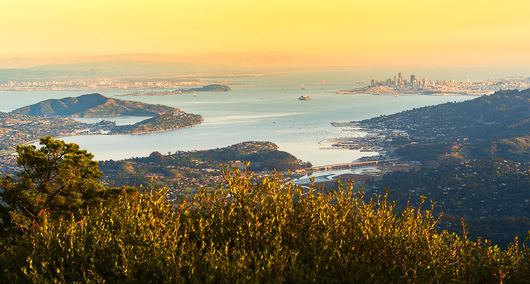 Mount Tamalpais State Park
While this Marin County gem is considered the birthplace of mountain biking, it is also the perfect spot for trad climbing. Whether you're learning to trad for the first time or top-roping as an experienced climber, the eastern face of Mount Tam offers ideal volcanic rock surfaces, not to mention rewarding San Francisco Bay views. The rugged rocks also provide dozens of bouldering opportunities for every experience level. Take advantage of these shorter climbs, and plan out the day so you can catch the stunning sunset.
Central Coast Climbing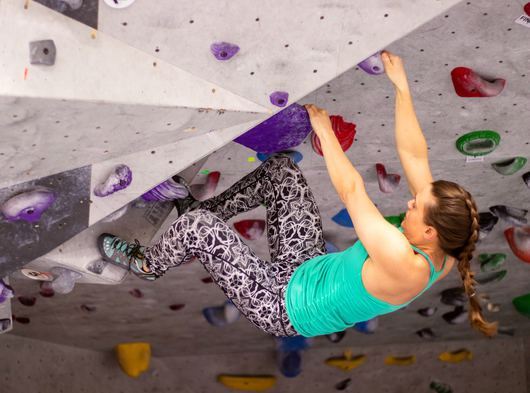 The Pad Climbing
Located in San Luis Obispo (SLO), The Pad Climbing began as a bouldering gym in a 400-square-foot, 10-foot-tall self-storage unit under the name SLO-Op Climbing, but it has since grown into a 14,000-square-foot top-rope and bouldering facility.
The unique climbing gym offers fitness classes and free shoe rentals with each pass as well as equipment rentals so you can test your skills outdoors. Get started, refine your routes, and see how climbing can change your life.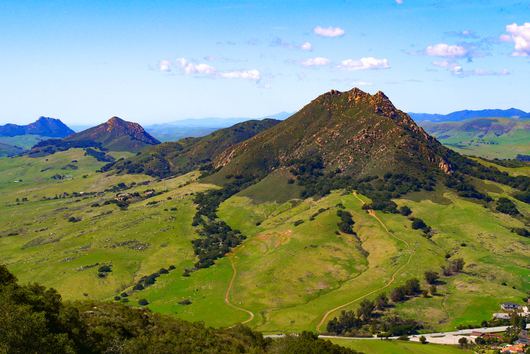 Bishop Peak
Just off the Pacific Coast Highway in SLO lies Bishop Peak—the most popular cragging spot in San Luis Obispo County. This volcanic plug is known for all types of climbing; from bouldering, to trad, to sport, Bishop Peak has it all.
Located merely five minutes from downtown and equipped with a hiking trail, Bishop Peak is a favorite among locals and travelers alike. With 100-plus routes to choose from, this spot is ideal for more experienced climbers, but is a nice challenge for beginners as well—particularly those interested in bouldering.