By

Mackenzie Hutson
May 27, 2020
As communities across the world and in California mitigate health risks during the COVID-19 pandemic, we are shifting our content focus and not encouraging any travel or social activities during this time. We will, however, continue to shine a light on and celebrate the many beautiful aspects of our State with the intention of being a source of inspiration and joy during this difficult period. Thank you for reading, and stay safe.
When you're looking for a change of pace or a break from your typical gym routine, nothing compares to an outdoor workout, especially if you're in the San Francisco Bay Area. Spanning nearly 7,000 square miles, the Bay Area is a diverse region filled with hills, beaches, and wooded groves that were made for outdoor recreation.
Vibrant cityscapes, cascading waterfalls, and mountainside vistas are just a taste of what the San Francisco region has to offer, making it an ideal outdoor gym. Since there's so much to admire, outdoor exercise can feel more like a fun sightseeing tour than a workout.
So, jump on your bike, throw on your running shoes, and pack a sweater from one of your favorite outdoor workout gear brands before heading outside for a new adventure. Here are the top destinations to get swole and get your sweat on near San Francisco.
The Best Outdoor Workouts in the Bay Area

Cataract Falls Trail
Location: Stinson Beach
Located north of the Golden Gate Bridge, Cataract Falls Trail has something for everyone. Take a leisurely stroll along the shaded trail, or pick up the pace for a surprisingly hefty outdoor cardio workout. Since the first mile and a half of the trail is set on an incline, it's easy to get your heart racing as you cross the creek and pass by beautiful waterfalls. You'll eventually walk past a picnic area and descend towards the falls before turning around for the trek back.
Meet up with the trailhead near Bolinas-Fairfax Road after seeing Alpine Lake, and continue on the 3.3-mile trail for the full route. Make sure to bring water and wear layers, as this mostly shaded trail warms up quickly as you gain 750 feet in elevation during the first mile alone.
While the falls are best seen in early spring after heavy rains, the scenery is pleasant to look at year-round. Bring your pup on a leash if you'd like, and enjoy the fresh air together.

Crystal Springs Regional Trail
Location: San Mateo
The Crystal Springs Regional Trail stretches 15.3 miles, passing by the Coast Range ridge, Crystal Springs Reservoir, and San Andreas Lake. This scenic pathway is so stunning that it's easy to get in an outdoor leg workout without even realizing it.
Tucked along the San Andreas Fault, this trail is surprisingly lush and filled with life. Chaparral trees and old-growth Douglas-fir forests come to life with a slight breeze, as the ducks and squirrels play in the places they call home. The oak trees provide shade to the hundreds of bird species that pass through, plus the deer, coyotes, bobcats, and mountain lions that make occasional appearances.
Along with the beauty of the region, this trail is a perfect place for outside exercises because it's broken into three sections, making it a rather accessible destination. It also welcomes a wide range of activities—including walking, distance running, biking, skating, and horseback riding—making it a viable option no matter which muscles you're hoping to tone. Perhaps the only downside to Crystal Springs Regional Trail is the pet restrictions, so make sure to leave Fido at home for this workout.

Dipsea Trail
Location: Mill Valley
Nestled north of San Francisco, the Dipsea Trail is a local favorite for outdoor exercise and exploration. The admiration comes, in part, from the length of this trail; if you trek the entire route, you're in for a 15-mile round-trip excursion. Of course, the panoramic views, coastal vistas, luscious forests, and open meadows also have something to do with the Dipsea Trail's popularity, helping the time fly by.
Begin at Old Mill Park for one of the Bay Area's best outdoor stair workouts—with nearly 700 stairs to climb, your glutes are sure to feel the burn before you clock a single mile. After gaining more than 2,000 feet in elevation, the trail follows the Panoramic Highway, diverges into Muir Woods National Monument, and leads to the ever-popular Stinson Beach.
Beginners should feel free to traverse as much or as little of the trail as they desire, but the more experienced fitness enthusiasts will enjoy all the sights along one of the Bay Area's best mountain hikes, making it a worthwhile feat.

Mount Diablo State Park
Location: Walnut Creek
From rock climbing and hiking to biking and horseback riding, Mount Diablo State Park is an idyllic wonderland full of outdoor activities. Along with being home to some of the best hiking trails in Contra Costa County, this underrated state park is a stunning expanse with plentiful wildlife and room to roam.
Outdoor workouts at Mount Diablo will never be boring—the park spreads across multiple East Bay cities, so there are endless opportunities for outdoor adventure. Go bouldering, take a leisurely walk, or enjoy a trail run at this exciting locale.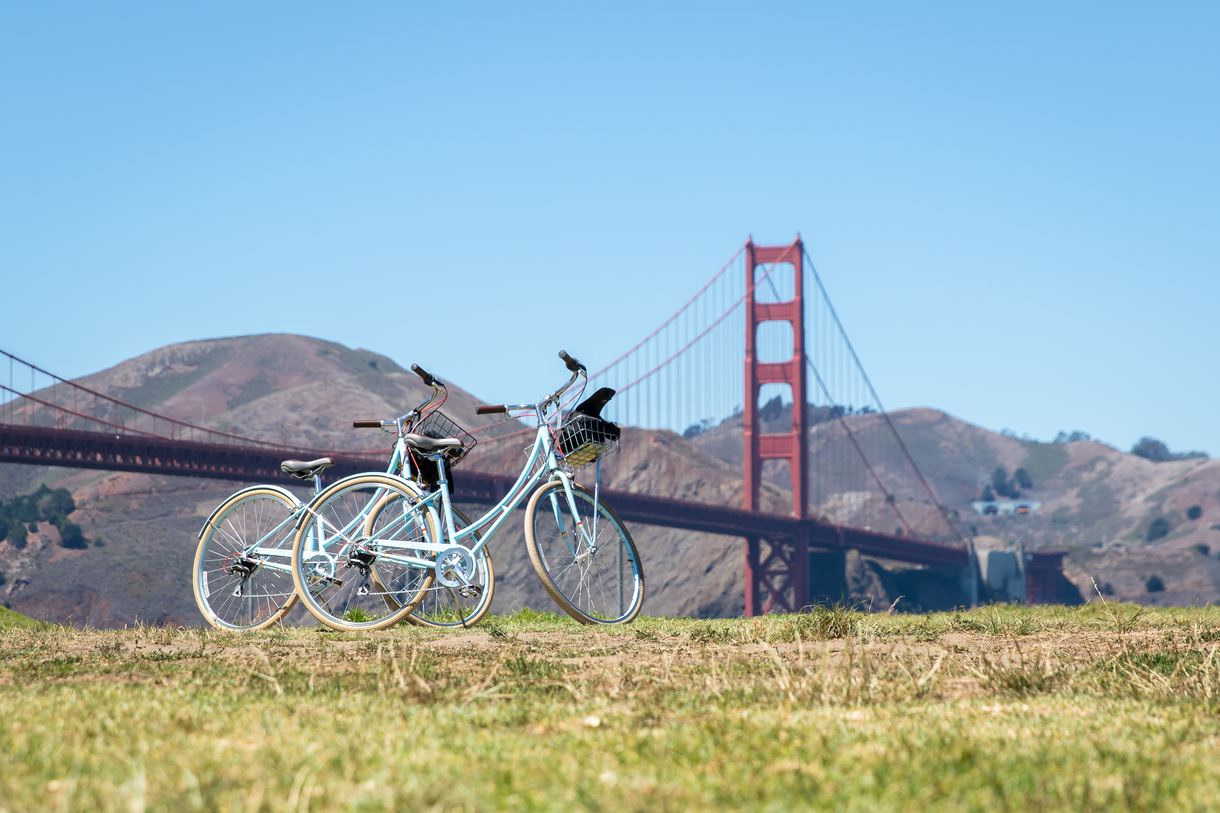 Paradise Loop
Location: Sausalito
Tucked along the shores of the San Francisco Bay, in the charming town of Sausalito, Paradise Loop is one of the best biking trails in the area. For the full experience, start in San Francisco and ride across the Golden Gate Bridge before making your way through downtown Sausalito, by Richardson Bay, past Mill Valley, and through Tiburon. If that sounds like it's a long ride, you'd be right; spanning 38 miles (or 26 miles if you choose to bypass the bridge and start in Sausalito), this ride isn't for the inexperienced—but it is an exceptional outdoor workout.
If you're looking for even more cardio workouts, head to the famous 16th Avenue Tiled Steps, the Lyon Street Steps, or the Filbert Steps near Coit Tower. Where do you go in the Bay Area to get your heart pumping?