By

California.com
July 26, 2020
As California mitigates health risks during the COVID-19 pandemic, some travel restrictions may remain in certain communities. Call the local and regional tourism offices to learn more about the restrictions in your intended destination. Thank you for reading, and stay safe.
Thrive instead of surviving on Monday mornings, thanks to a wonderful weekend spent in the great outdoors. Sweeping vistas, challenging hikes, and golden sands yield divine escapes in the Bay, so if adventure is calling your name, start your weekend off right by camping near San Francisco. We can't think of anything better than cracking jokes, eating s'mores, and playing guitar by the bonfire with your favorite people. Grab your camping gear and head to the best San Francisco campgrounds for a memorable weekend getaway.
The Best Camping Spots Near San Francisco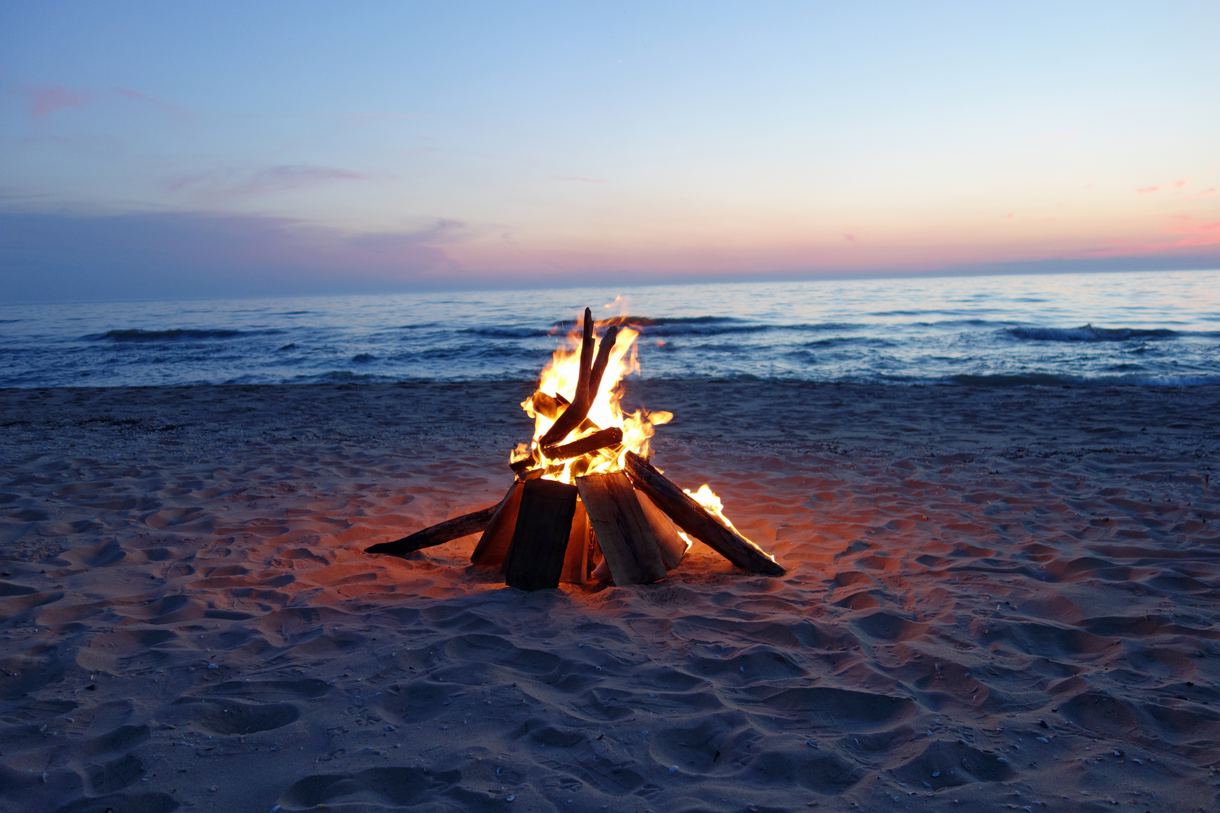 Francis Beach Campground
Location: Half Moon Bay
Amenities: RV camping, tent camping, flush toilets, and a coin-operated shower
Activities: Biking, hiking, whale watching, fishing, and surfing
Dogs allowed: Dogs are not allowed on the beaches, but they are allowed in the campground, at the day-use picnic areas, and on the Coastal Trail (must be on a leash).
This serene expanse stretches over five sandy beaches and is a hot spot for surfers. Recognized as one of the Golden State's best beach camping destinations, it's home to more than 50 campsites offering dazzling ocean views. Unwind while watching the sunrise after a relaxing day spent at the beach, and listen to the waves crashing against the shore. There are plenty of opportunities for hiking and mountain biking as well.

The campground offers 52 individual sites, so pitch your tent and take in the ocean views. Certain spots are also suitable for trail and RV camping. Make sure you reserved your camping spot in advance because the campground tends to be crowded during peak times.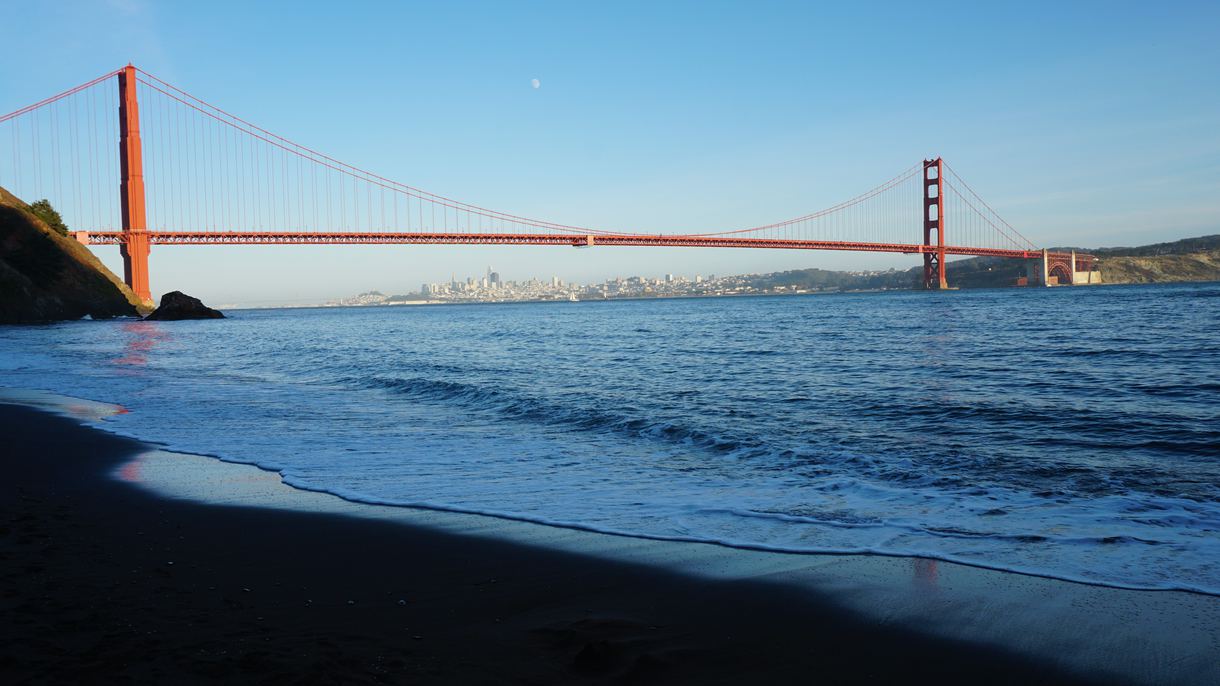 Kirby Cove Campground
Location: Sausalito
Amenities: Four overnight campsites and one day-use site, a rope swing at the beach, picnic tables, and toilet
Activities: Hiking, surfing, horseback riding, paddling, wind sports, fishing, boating, mountain biking, picnicking, berry picking, and bird watching
Dogs allowed: No dogs are allowed on the campground.
With exceptional views of the Golden Gate Bridge, the Kirby Cove Campground is considered one of the most popular camping sites near San Francisco. Operated by the Golden Gate National Recreation Area, this no-fee campground is tucked away in beautiful Sausalito, only a 20-minute drive from the city. Pitch your tent and unpack your gear in one of the overnight camping sites situated close to the pristine, sandy beach. Enjoy the sweeping views of the bridge and the 1,500-acre Presidio park, which was a former military post.

During your excursion, spice up your life and hike one of the Bay Area's scenic hikes; begin your journey with the trail located near Conzelman Road. Enjoy the wondrous sights and scents of the pine, cypress, and eucalyptus trees. Be on the lookout for colorful lupine plants and breathe in aromatic coastal sage as you descend the hillside.
For fishing and boating, head to Stow Lake for an awesome aquatic experience. Catch the brown smoothhound or white croaker for a delectable dinner plucked straight from the waters. Let your inner hunter-gatherer loose, too, and pick fresh berries in the forest (make your own flower crown to complete the enchanting forest-fairy vibe).

Point Reyes National Seashore Campgrounds
Location: Point Reyes National Seashore
Amenities: Four hike-in campgrounds and one boat-in loop at Tomales Bay, picnic tables, charcoal-only grills, food storage lockers, freshwater, and toilets
Activities: Biking, hiking, and boating
Dogs allowed: Dogs are allowed on South Limantour Beach, North and South Point Reyes Beaches, and Kehoe Beach (but they must be kept on-leash). No dogs are allowed on the hiking trails.
Five paradisiacal campsites await you within the majestic sanctuary of the Point Reyes National Seashore. Sandy beaches, lush forests, and hillsides are home to over 1,500 species of plants and animals. If you're digging the beach scene, head to the Coast Campground to set up camp near the beach and tide pools. Nestled within a small coastal grassy valley, this campsite is a quick 200-meter walk to the beach and is suitable for group camping. (You can also enjoy sweeping views of Point Reyes, Drakes Bay, and the Pacific Ocean when you pitch a tent at the Sky Campground.)
Forest lovers: Escape the summer sun and head to the serene Glen Campground, located within a wooded valley protected from the cool ocean breeze. You can access this campground either by bicycle or on foot. To marvel at the breathtaking Alamere Falls, embark on a challenging journey to complete the hike to the Wildcat Campground.

Boaters can rejoice, too, because boat-in camping is allowed at Tomales Bay. Tomales Bay campers may only arrive by boat, so if you prefer to get around by boat, we highly recommend spending a night or two here. Although these beaches are tidally influenced, they are gorgeous, small coves nestled against steep cliffs. This scene is stunning regardless of the time of day, but we promise waking up for the sunrise is totally worth it.
Whichever Point Reyes campsite floats your boat, adventure away at one of the best camping areas near San Francisco.
RV Camping in the San Francisco Bay Area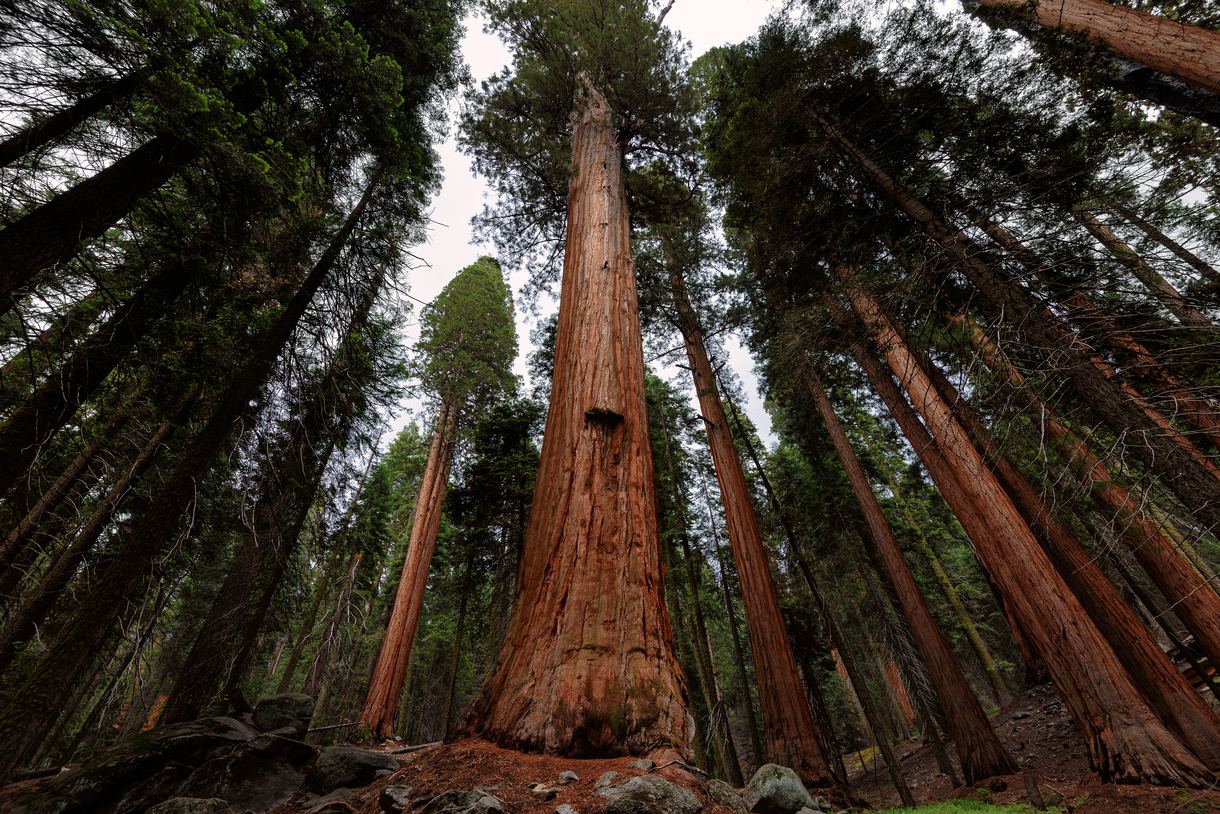 Big Basin Redwood State Park Campground
Location: Santa Cruz
Amenities: RV and tent camping, hike-in campsites, tent cabins, group sites, drinking water, toilets, coin-operated showers, BBQ grills, camp stores, campfire center, campsite tables, firewood, food storage lockers, and picnic tables
Activities: Hiking, bird watching, wildlife watching, and stargazing
Dogs allowed: Dogs are allowed on-leash in the campsites, picnic areas, and on paved roads. Dogs are not permitted on hiking trails or fire roads.
If camping in California's oldest state park—amongst the largest grove of ancient redwood trees—sounds like heaven on earth, head to Big Basin Redwood State Park. With over 146 campsites available, there's no shortage of spots for RV and tent camping. Hike-in campsites and tent cabins nestled in lush forests make this park a top-notch camping destination near San Francisco.

The closest walk-in campground to the park's main area is Wastahi. Tucked away deep in an enchanting forest, this campsite evokes a backcountry feel and is a premier destination for family camping. Stargaze away, wildlife watch, or explore over 80 miles of hiking trails in the park. Attain the sun-kissed California glow by unwinding on the beach or relaxing near the creek. With Pacific Ocean vistas, waterfalls, and stunning nature, the Big Basin Redwood State Park will have you coming back for more.
Tent Camping Near San Francisco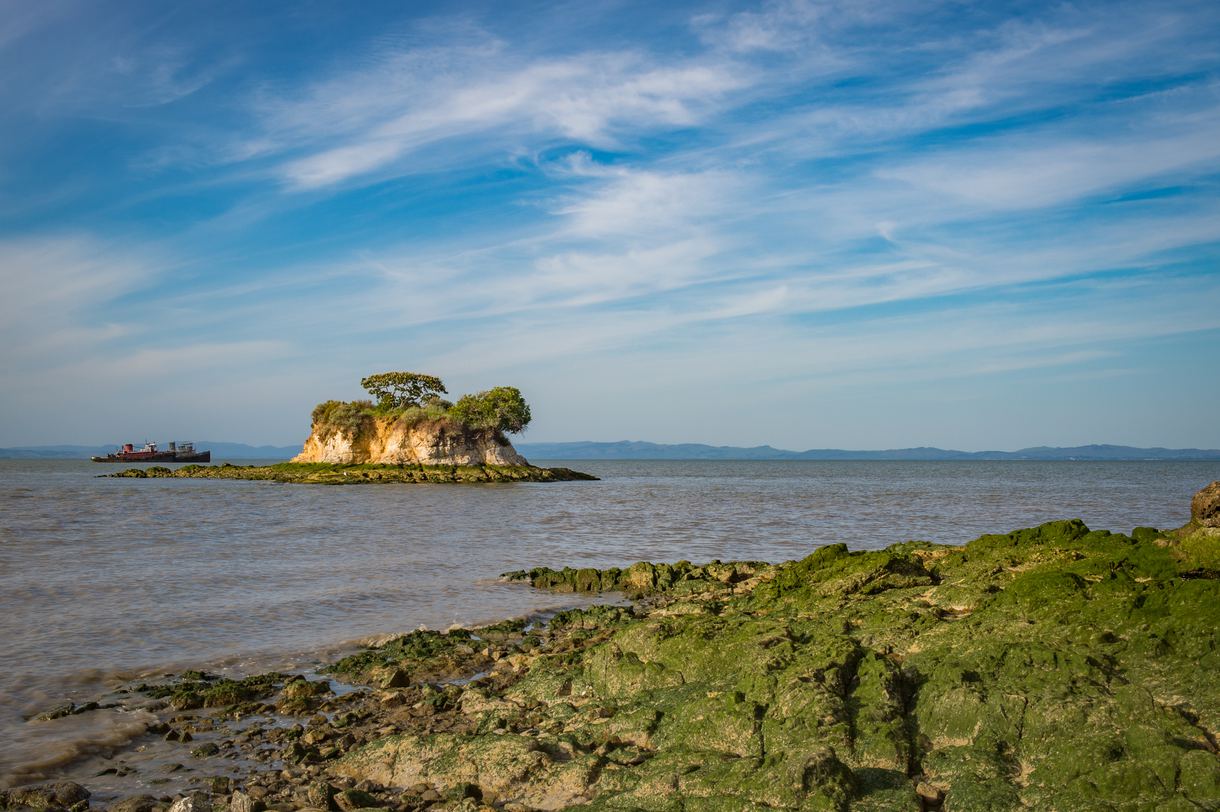 China Camp State Park Campground
Location: San Rafael
Amenities: 10 campsites, 31 walk-in tent campsites, BBQ, grill/fire ring, boat launch/ramp, campsite tables, picnic tables, fire pit, equestrian trail, toilets, showers, and visitor center
Activities: Hiking, biking, boating, kayaking, horseback riding, fishing, picnicking, wild viewing, and historical sightseeing
Dogs allowed: Dogs are allowed in the developed areas but not allowed on trails, dirt roads, in backcountry areas, historic buildings, and historic gardens.
China Camp State Park offers visitors charming campsites. All the campgrounds are hike-in, making them ideal for isolated tent-camping in nature. Back Ranch Meadows Campground is especially perfect for your next enviable escape into the woods. This well-shaded hike-in campground—special thanks to the oak and pine trees—is home to bobcats and black-tailed deer.
There is a stellar 23-mile trail along the hillside that begins at the campground. Featuring splendid views of the Santa Lucia mountain range, China Camp is great for mountain biking and hiking. China Camp has historical significance, too; it's the original home of the Coastal Miwok and later became home to several thriving Chinese fishing villages. To learn more about the area's fascinating past, check out the small museum.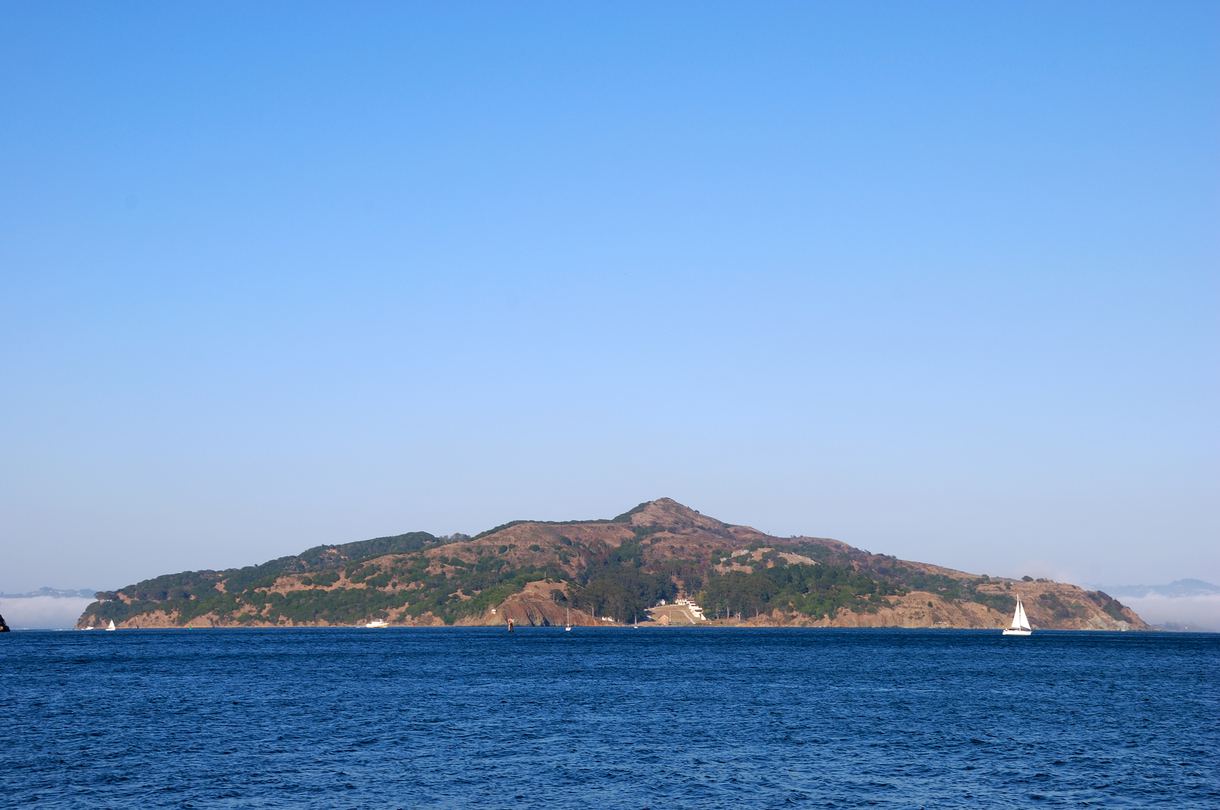 Angel Island State Park Campsites
Location: Tiburon
Amenities: Campsite tables, picnic tables, dock, group camping options, drinking water, and toilets
Activities: Camping, fishing, picnicking, biking, boating, paddling, hiking, swimming, and wildlife watching.
Dogs allowed: No dogs are allowed on the island.
For an exceptional camping experience, head to the largest natural island in the Bay—Angel Island State Park. It's accessible from the city and is a popular choice for locals, so we recommend booking your campsite in advance and coming early to secure a parking spot. There are four main camping areas to choose from: East Bay, Ridge, Sunrise, and Kayak Camps. Within these four camping areas, there are 16 campsites, three of which offer incredible views of the city skyline. As you trek along the trails, you'll be captivated by the wildlife and phenomenal scenic vistas. But if you get the urge to explore the Bay and its main attractions, catch a ferry ride from Tiburon.