By

California.com
July 01, 2020
As California mitigates health risks during the COVID-19 pandemic, some travel restrictions may remain in certain communities. Call the local and regional tourism offices to learn more about the restrictions in your intended destination. Thank you for reading, and stay safe.
Summer is officially here, and it's time to escape into nature and enjoy invigorating outdoor activities in the Golden State. Nothing will boost your mood this season like adventures along breathtaking hiking trails. Luckily for Bay Area residents, the region is bursting with tantalizing destinations—from verdant forests and rugged mountains to coastline bluffs and rolling hillsides—that are best explored by foot. Here are the best Bay Area trails to hit next.
The Top Hiking Trails in the Bay Area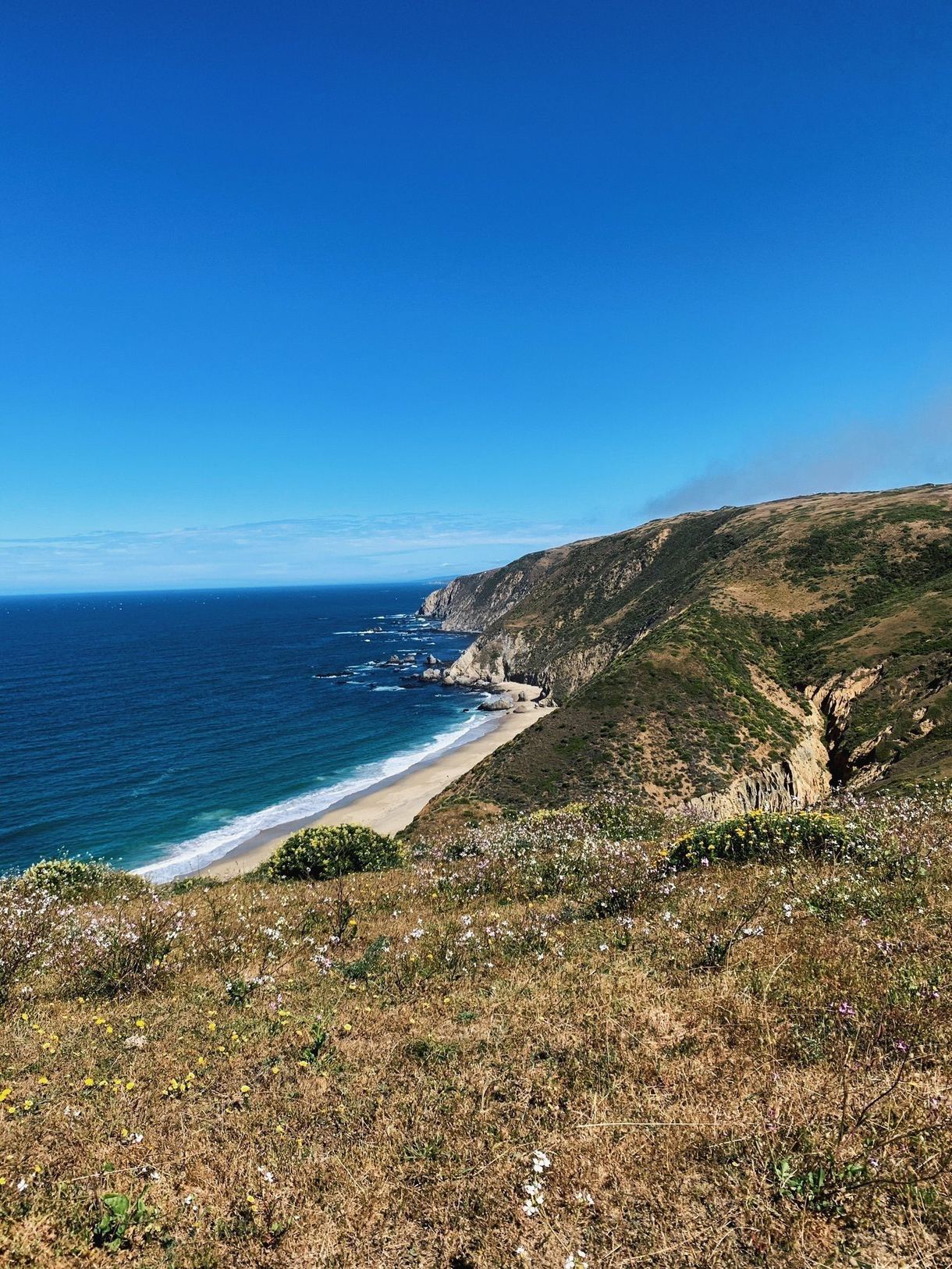 1. TOMALES POINT TRAIL
Location: Inverness
Parking: There is free parking at Pierce Point Ranch, at the end of Pierce Point Road.
Round-trip length: 9.7 miles
Type: Out and back

Level of difficulty: Moderate
Among the terrific Bay Area hikes is Tomales Point Trail, which offers a stunning view of the Point Reyes coastline and Tomales Bay. The trail is surrounded by spectacular scenery and is ideal for the entire family, thanks to its fairly easygoing nature. Watch for unique birds, and keep an eye out for native elk as you enjoy the unparalleled contrast of the cerulean waves and the verdant coastal bluffs on your hike through Tomales Bay State Park.
2. CARSON FALLS TRAIL
Location: Bolinas
Parking: Vehicles and parking at the watershed are forbidden, with the exception of people with disabilities. But you can park at the nearby Sky Oaks lot or arrive by bike.
Round-trip length: 3.7 miles
Type: Out and back

Level of difficulty: Moderate
To enjoy one of the most renowned waterfall hikes the Bay Area has to offer, head to Pine Mountain and view this series of small falls. The Carson Falls Trail is open year-round with a slew of activities, including running, bird watching, hiking, and mountain biking. The relatively easy path offers an awe-inspiring view of waterfalls and is perfect for photography buffs. At the peak, you can enjoy the magnificent skyline, which is most beautiful during sunset.

3. MOUNT DIABLO FOUR PEAKS LOOP
Location: Clayton

Parking: There's limited parking available on Regency Drive, right by Mount Diablo State Park.

Round-trip length: 13.8 miles

Type: Loop

Level of difficulty: Challenging
Located within the popular Mount Diablo State Park, Four Peaks Loop is one of the most renowned East Bay hikes. It summits four peaks—including Mount Diablo, Mount Olympia, North Peak, and Eagle Peak—and offers stunning scenery. While the demanding trail isn't for novice hikers, it's a great option for those who are looking for challenging hikes in the Bay Area. Seeing the impeccable skyline under fluffy clouds make all the effort worth it, though.
4. ROUND TOP, VOLCANIC, AND SKYLINE TRAIL LOOP
Location: Oakland

Parking: There is a parking lot for Sibley Volcanic Regional Preserve, but arrive early to nab a spot.
Round-trip length: 3.5 miles
Type: Loop

Level of difficulty: Suitable for all skill levels
Not all of the locals know that Sibley Volcanic Regional Preserve is home to a volcano, making this East Bay hike a hidden gem of Oakland. About 10 million years old, the volcano is the source of volcanic rocks scattered all over the beloved East Bay park, which is best seen along the Round Top, Volcanic, and Skyline Loop Trail. The pathway starts in a forest and takes you deep into the rolling grassy hills, coming to an end when you connect with the East Bay Skyline National Recreation Trail. The gorgeous views of the valleys, hills, and cityscape will take your breath away.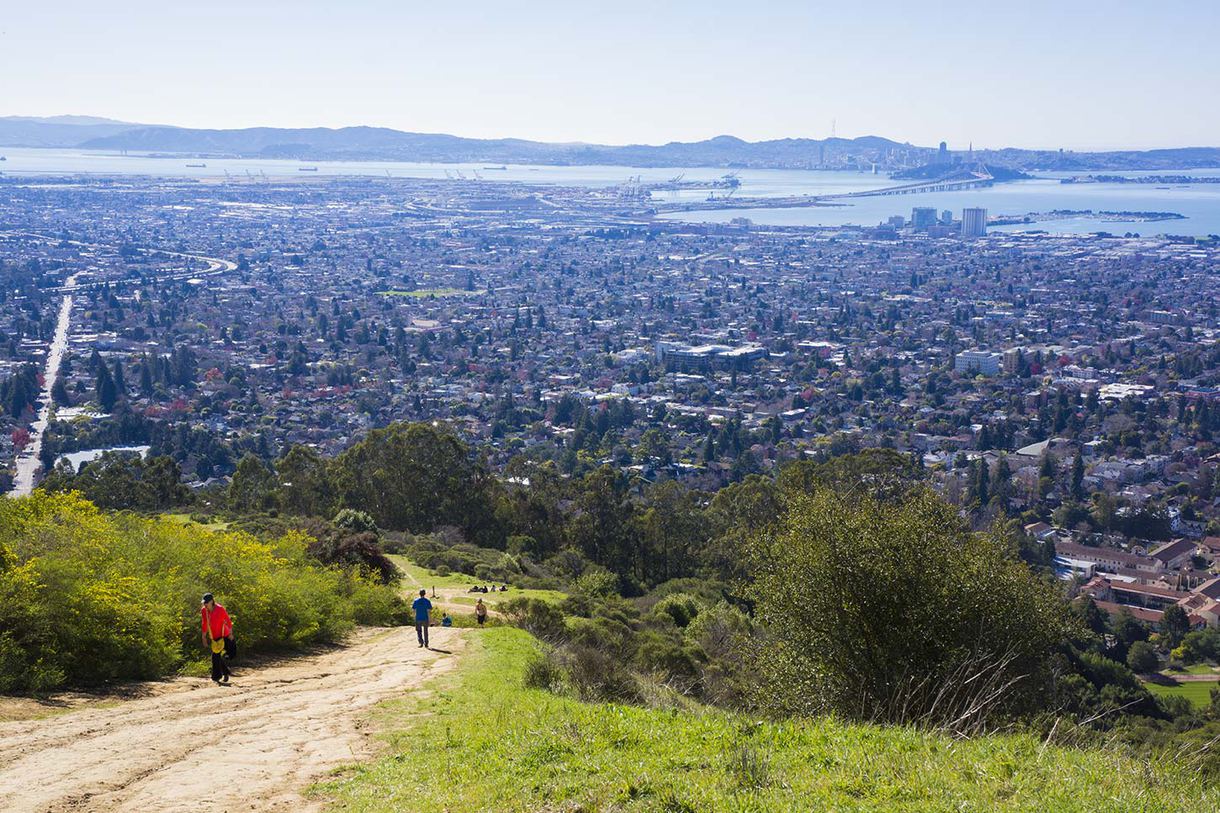 5. STONEWALL-PANORAMIC TRAIL

Location: Berkeley

Parking: Street parking is available on Stonewall Road (no special lot).

Round-trip length: 2.6 miles

Type: Out and back

Level of difficulty: Moderate

The Stonewall-Panoramic Trail is a great spot for squeezing in a vigorous summer workout and for enjoying splendid panoramic views of the Bay Area and lush forest. Terraced areas along the path allow hikers to sit back and enjoy the scenery and fresh air. As you follow the trail, you'll see a variety of trees, such as eucalyptus and bay laurel, as well as plants that attract coyotes, rare gray foxes, red-tailed hawks, and black-tailed deers. The trail is also one of the most dog-friendly hikes in the Bay Area, so don't forget to bring your pup with you.
6. DIPSEA, STEEP RAVINE, AND MATT DAVIS LOOP

Location: Stinson Beach
Parking: There are multiple parking areas, but they fill up fast, so arrive early to get a spot.
Round-trip length: 7.8 miles
Type: Loop

Level of difficulty: Moderate
Taking a hike from the Pacific Ocean and working your way up to the enchanting Muir Woods, the views of lush landscapes, waterfalls, and fairytale-like forests with wooden steps are pure bliss—you won't regret the 7.8-mile trek. You'll also see a very steep canyon surrounded by redwood trees and an amazing array of local fauna.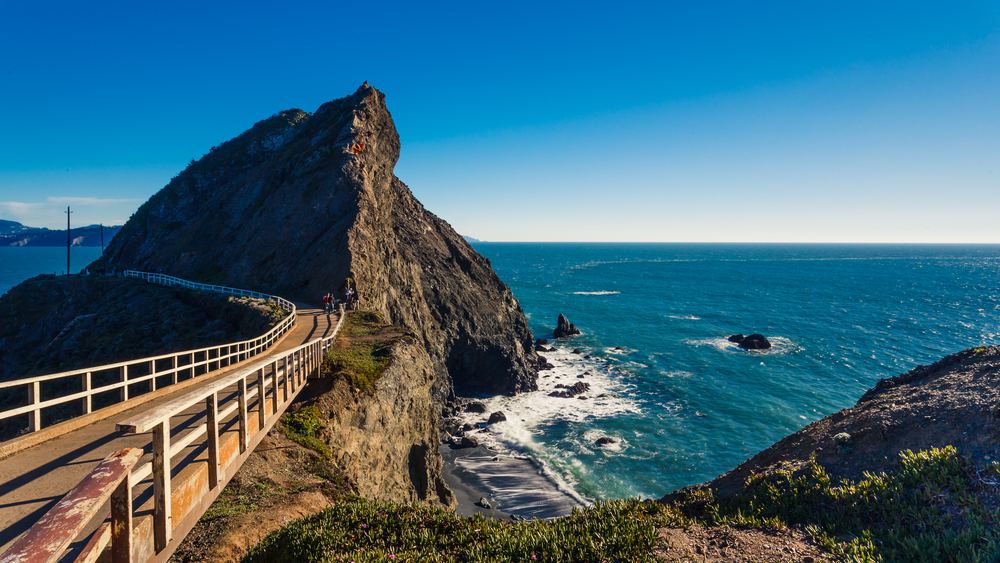 7. POINT BONITA LIGHTHOUSE
Location: Sausalito
Parking: The Point Bonita parking lot is easily accessible and has plenty of spaces.

Round-trip length: 1 mile
Type: Out and back

Level of difficulty: Suitable for all skill levels
Tucked away in the charming town of Sausalito, the Point Bonita Lighthouse offers a short but sophisticated trail that passes through a tunnel—which was carved out of the mountain in 1876—and crosses over a suspension bridge. During your hike, you can bird watch, admire the wildflowers, and take in the tantalizing view of the California coastline. The trail is stroller friendly and perfect for those in need of an escape from the hustle and bustle of San Francisco.

8. ANGEL ISLAND PERIMETER LOOP
Location: Tiburon
Parking: There are several parking lots in the area (the one near Beach Street costs $5).
Round-trip length: 5.5 miles
Type: Loop
Level of difficulty: Suitable for all skill levels
Angel Island—the largest island in the San Francisco Bay—offers a great hiking experience. The stroll-friendly Angel Island Perimeter Loop boasts jaw-dropping panoramas of the water and S.F. landmarks, including the Golden Gate Bridge, Bay Bridge, and Alcatraz Island. It's a great way to escape the city, as you can hardly spot a car in the area. The trail is also an ideal option for scenic bike rides, but no matter how you explore it, make sure to pack a picnic to enjoy during your Angel Island adventure.

9. LANDS END TRAIL
Location: San Francisco
Parking: There is a main parking lot as well as street parking.
Round-trip length: 3.4 miles
Type: Loop

Level of difficulty: Moderate
There is a wide variety of San Francisco hiking trails to cater to every interest. Whether you're a newbie or a professional hiker, the Golden Gate National Recreation Area has something for you. But the Lands End Trail is one of the most popular hikes in San Francisco—and for good reason. The heavily trafficked loop is dotted with wildflowers and historical sites; it also offers views of the famed Sutro Baths and a stupendous panorama of the Pacific Ocean. Since the trail boasts a 30-mile view of the coast, it's a well-known waterfront hike in the Bay Area.
10. MORI POINT PEAK LOOP TRAIL
Location: Pacifica
Parking: There are plenty of parking spaces in the lot if you manage to arrive early in the morning.
Round-trip length: 2.5 miles
Type: Loop
Level of difficulty: Moderate
Mori Point is ideal for experiencing the beauty of California's diverse landscapes and wildlife. The loop trail starts exactly where the edge of San Francisco ends, featuring dramatic coastal views and hills rich in flora and fauna. The peak is a famous spot to watch San Francisco sunsets, as the entire sky transforms into spectacular shades. (You might even catch a glimpse of the Golden Gate Bridge.) Aside from hiking, the Mori Point Peak Trail is also great for running and bird watching. Dogs are allowed, too, but they must be kept on a leash.
Gear up for the best summer hikes this weekend, and share your top Bay Area trails with us in the comments below!