By

California.com
September 30, 2020
As California mitigates health risks during the COVID-19 pandemic, some travel restrictions may remain in certain communities. Call the local and regional tourism offices to learn more about the restrictions in your intended destination. Thank you for reading, and stay safe.
Mugs of hot cocoa, cozy cuddles, and your favorite F. Scott Fitzgerald novel are the perfect way to welcome the fall season—especially as you cruise your way around the Central Coast in your RV. From oceanside fun to hillside escapes, California's campgrounds will take you to seventh heaven.
Gear up with your California camping equipment for memorable RV camping on the Central Coast. The mild autumn weather will get you in the mood for weekend and holiday hideouts in nature's refuge. Whether it's kayaking, whale watching, or visiting a beachside farmer's market, you'll keep boredom at bay when visiting the Central Coast. Hop aboard the RV train, and follow us to the top RV camping destinations on the Central Coast.
The Best Places for RV Camping In Big Sur

Limekiln State Park
One of the best places to RV camp in Big Sur is Limekiln State Park, which boasts 24 campsites. Many of the sites are scattered throughout the redwood-covered forests along Limekiln Creek, while others offer the blissful view of the Pacific. RV campers have access to a small beach and short hikes leading to Limekiln Canyon. Porter Ranch Trails is a combination of many trails amounting to 2.7 miles of wildflowers and gorgeous landscape. Bring your little pups along for the hike, but make sure they're always on-leash.
The campsites offer plenty of amenities such as picnic tables, firepits, and barbecue grills. Beach lovers: Pack a picnic, and enjoy your lovely lunch at one of the tables situated beachside. The sites are ideal for RV campers with trailers reaching 24 feet. Especially if you're spending a long weekend in the Big Sur, the campground is a pretty popular place, so make sure to book your site in advance.
Big Sur Campgrounds And Cabins
Big Sur Campgrounds and Cabins is a fully-equipped private campground with camping sites, rustic cabins, and more modern cabins complete with kitchens and fireplaces. RVs reaching up to 40 feet in length can fit in the campsites, which have firepits and picnic tables. In dire need of ice cream? Worry not, because the campground has a camp store suited for all your needs. If you're planning on staying a while, there are also laundry facilities available.
It's a family-friendly spot; take a dip in the river, go tubing, or float your boat to catch your evening meal. Let the kids expend energy as they roam about the campground playground—not to mention the miles of state parks. From Point Lobos State Natural Reserve, to Garrapata State Park and Beach, to Andrew Molera State Park, you'll never experience a dull moment in Big Sur. The RV-suitable campgrounds also have space where you can play a quick basketball game or volleyball match. This heavenly campground is definitely one of the best places to RV camp in Big Sur.
RV Camping Near Santa Cruz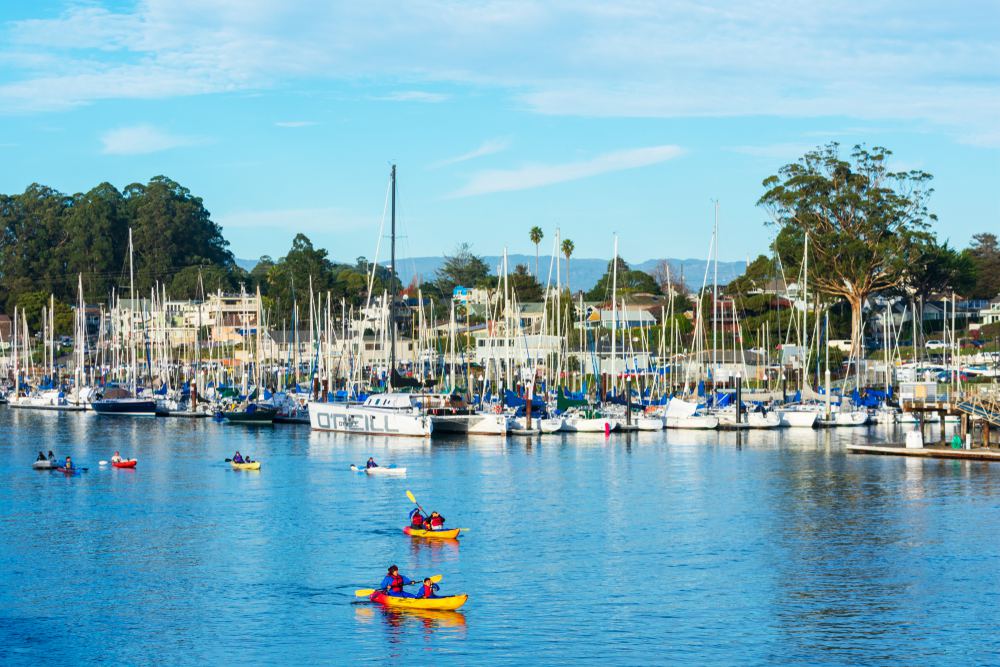 Santa Cruz Harbor RV Park
The Santa Cruz Harbor RV Park is only a 20-minute walk away from the iconic Santa Cruz Beach Boardwalk—it's definitely perfect for a sunset jog to the ocean. The RV park is located right on the harbor, offering fantastic ocean views of boats floating by and people having fun on the water.
One of the RV park's best amenities is the free water taxis available throughout the day, making it easy to explore the wonders of Santa Cruz County. Start your day at the Enchanted Trail, where you'll follow a loop trail at Wilder Ranch State Park. So, securely strap on your hiking boots—this path is known for its steep descents and narrow, zig-zag routes. You'll surely get your workout in along this on-foot roller coaster.
Santa Vida RV Park
Are you in need of seclusion amongst the redwoods? If so, Santa Vida RV Park, found north of the city of Santa Cruz, is just what you need. The park is situated in the center of a 23-acre redwood forest, giving you all the more reason to step out of your RV and explore nature. Hike among the trees surrounding the park and relax amidst the silence of Mother Earth.
The park boasts 45 sites. Of those, 40 are well equipped and provide hookups for electricity, water, and sewer. The RV recreational ground allows dogs, too, so be sure to bring your furry little friend along for the adventure.
Camping Near Pismo Beach

Pismo Coast Village RV Resort
Pismo Coast Village RV Resort boasts an expansive RV campground, easy accessibility to the ocean, and wonderful amenities. The campground is found along the Pismo Beach coastline, comprising 26 acres and accommodating 400 campsites. Young children can run wild at the playground while the older ones play arcade games. The campground also has shuffleboard, basketball, horseshoe pits, and a ping-pong table.
The RV resort is in a prime location; Pismo Beach and Pier as well as local shops and restaurants are within walking distance. The camp area is also a short drive away from many local attractions, such as Dinosaur Caves Park—grassy lawns, playgrounds, and a walking trail are all found within this 11-acre park. Feel the energy of friendly competition by racing quads at the beach with your travel companions.
Avila / Pismo Beach KOA
Surrounded by hills that act as barriers from the ocean fog, Avila / Pismo Beach KOA is found in the charming beachside town of San Luis Obispo. When camping here, guests can enjoy the gorgeous beaches nearby and visit the Central Coast Aquarium, Pismo Dunes, and Monarch Butterfly Grove. Situated just several steps away is Avila Hot Springs—unwind with majestic massages, soaks, and freshwater dips in heated swimming pools. And each morning, cross the street for fresh fruits, veggies, baked goods, and jams from Avila Valley Barn. The barn is also home to goats, sheep, and other farm animals, so definitely bring the kids along.
A weekend trip in the region wouldn't be complete without stopping at the Point San Luis Lighthouse, the only remaining Prairie Victorian model lighthouse in existence on the West Coast. After a full day of exploration, stop by Old West Cinnamon Rolls for a wondrous treat.

Holiday RV Park
This Pismo Beach campground provides visitors with enviable amenities and easy ocean accessibility. At Holiday RV Park, campers have many fun activities to choose from. From watching dolphins dance in the waters to horseback riding along Pismo Beach, RV camping has never been more exciting.
Whether you're here to relax by the sea or enjoy an adventure, Holiday RV Park has you covered. Head to the Pismo Beach Surf Shop, just an eight-minute walk away, to rent your surfboard and such, and get ready to ride the rad waves. Or, stop by BJ's ATV rentals to rent a four-wheeler for an adrenaline-boosting ride along the shore.
Bella Vista By The Sea
Are you on the hunt for an oceanfront RV spot? If so, look no further. Bella Vista By The Sea is a relaxing beachfront camping spot with hookups for water, sewer, and electricity.
Take in the stunning views of Cayucos Beach or stroll along the sandy shores as you watch the California sunset. Splendid views of Morro Rock and the historic pier of Cayucos await you. You can bring your four-legged best friend along for the trip and let them romp around off-leash in the water.
Local attractions such as Hearst Castle and Los Osos Oaks State Natural Reserve are within close proximity to the RV park, too. For delectable California, French, and Mediterranean cuisine, head to the nearby Windows On The Water.
RV Camping Spots Near Santa Barbara

Flying Flags RV Resort And Campground
With a variety of activities, Flying Flags RV Resort and Campground accommodates all interests, juxtaposing luxury and camping. Non-RV owners, don't fret. The resort is fully equipped for you to rent RVs and Airstreams. While the campground keeps it real with traditional camping amenities, you can live it up in a pool cabana and TV lounge or get your workout in at the fitness center—glam truly meets nature here.
Most visitors find it hard to tear themselves away from the resort; but for those who dare to do so, there are many nearby local attractions that await you. Make your way to the Circle B Bar Guest Ranch and Stables for an afternoon of horseback riding, or get in touch with nature on a short and quaint hike via the Nojoqui Falls Trail. After a day spent roaming in nature, stop by the chic Bell's Restaurant for a savory French-inspired dish.
For another all-day excursion, drive 45 minutes to the idyllic coastal town of Santa Barbara. From dining at world-class restaurants admiring iconic Spanish Colonial architecture and kayaking in the Pacific Ocean to sunbathing on the pristine sands, there's so much to see and do in this Central Coast gem.
RV Camping in Central COast Wine Country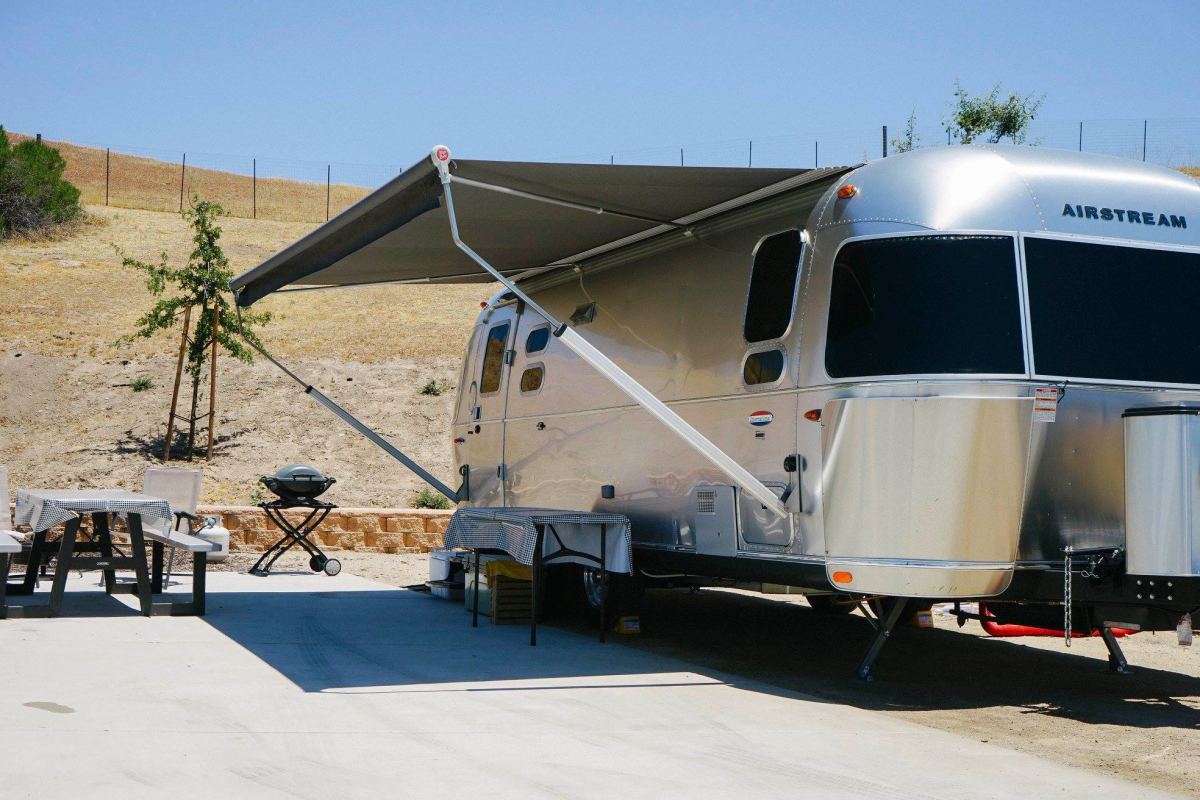 Wine Country RV Resort
In the heart of Paso Robles, Wine Country RV Resort is surrounded by vineyards, creating the ultimate atmosphere for a relaxing weekend escape. Guests can take advantage of the open-air bar, heated outdoor pool and a hot tub, adults-only hot tub area with a waterfall and a fire pit, a game room, or gym. There's even a general store and a dog park. The RV resort is also walking distance to Ravine Waterpark, so you can cool off on a hot day and enjoy some family-friendly fun.
When you want to step away from the resort—if that ever happens—downtown Paso Robles is just a quick drive away. Go back in time and stop by the Paso Robles Carnegie Library, now a museum. You can also spend an afternoon visiting olive farms and trying some of the best olive oils on the Central Coast. Golfers, you will want to head to the Hunter Ranch Golf Course, where you spend a day on the green and savor a delicious lunch at the on-site restaurant.